Two Points Separate Russell, Mullins Heading to Round 5
MORGANTOWN, W. Va. - The 2014 AMSOIL Grand National Cross Country Series presented by Maxxis makes a stop in Springville, Ind. this weekend, April 26 and 27, for Round 5 of the 13-race AMA National Championship series. Only two points separate the Factory FMF/KTM duo of Kailub Russell and Charlie Mullins in the championship chase, setting the perfect stage for Sunday's three-hour battle.
Kailub Russell heads into Round 5 with a three-race winning streak behind him. Photo: Hill
Russell, the reigning GNCC National Champion, enters the fifth round with a slim points lead and an impressive three-race winning streak behind him. However, while Russell appears to have an advantage over his teammate early on, Mullins is still within striking distance to reclaim the points lead with a victory at Sunday's Dunlop Limestone 100.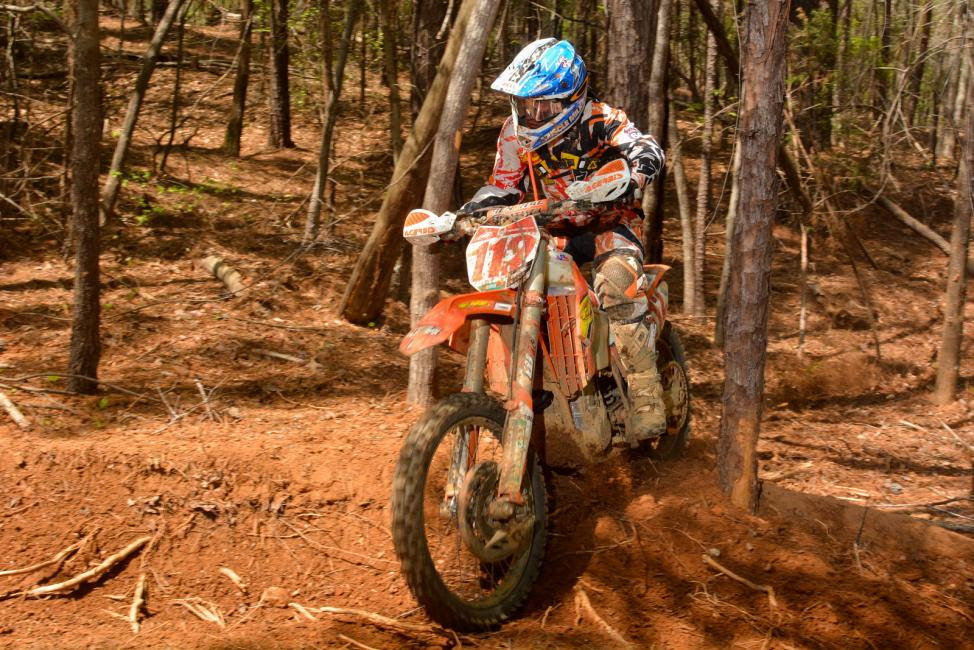 Charlie Mullins has the opportunity to reclaim the points lead this weekend in Indiana. Photo: Hill
Mullins and Russell are the only riders to capture an overall victory at the Limestone 100, as Mullins won in 2013 and Russell claimed the inaugural victory in 2012. This Sunday, both KTM riders will attempt to become the first repeat winner at the third running of the Limestone 100.
The potential spoiler could very well be Rocky Mountain ATV*MC/N-Fab AmPro Yamaha's Josh Strang, who currently sits third in the championship standings. Strang's consistency has paid off as far as the point standings are concerned, but the 2010 GNCC Champion is still searching for a spot in the center of the podium.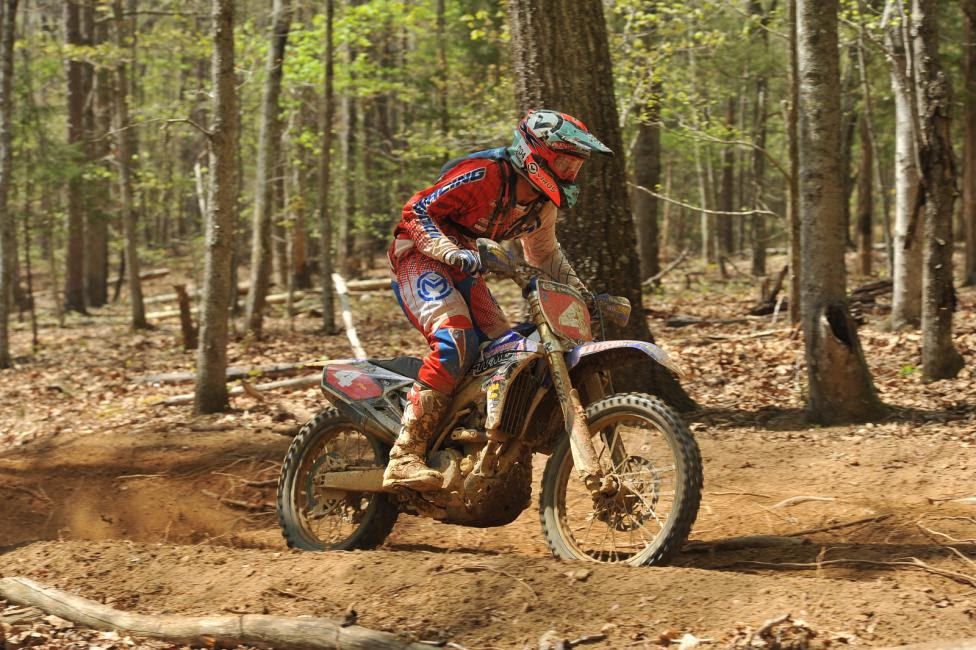 Josh Strang has been the most consistent rider of the season. Photo: Hill
N-Fab AmPro Yamaha's Jordan Ashburn has put forth a consistent string of finishes through the first four rounds, where he sits fourth in the standings. With one podium finish behind him already, Ashburn is looking to make a return to the box on Sunday. N-Fab AmPro Yamaha's Paul Whibley sits in fifth overall with three solid finishes behind him, but a mechanical issue at Round 3 gives the two-time GNCC Champion a big deficit from the leaders early on.
In his first full season back from injury, Factory FMF/KTM's Stu Baylor Jr. sits in sixth overall, while Factory Husqvarna's Andrew Delong sits in eighth and RideMPS.com/AMSOIL/Honda's Thad DuVall sits back in eleventh after two scoreless finishes due to mechanical issues.
Paul Whibley (5) and his teammate Jordan Ashburn (7) have been strong contenders this season. Photo: Hill
The ultra-competitive XC2 Pro Lites championship chase ensues this weekend with a tight-knit battle between the top three contenders. After a big win at the last round, reigning XC2 Pro Lites Champion Grant Baylor now holds a three-point lead over Raines Riding University/Atlas Cycles' Ricky Russell in the standings, but XC2 rookie Trevor Bollinger sits only three points behind Russell in third.
With two wins under his belt, Baylor is the only multi-time winner in the class thus far, which could give the young gun the edge he needs to gun for a second consecutive title. However, Russell has been consistently up front all season and the Washington native is looking for his first win of the season this weekend.
Grant Baylor (1) has his hands full in the XC2 Pro Lites class this season. Photo: Hill
In his first year of XC2 Pro Lites competition, Bollinger has already made a big statement by capturing the Round 3 victory and securing two podium finishes in the first four rounds.
Factory FMF/KTM's Kacy Martinez tops the WXC class after four rounds, followed closely by N-Fab AmPro Yamaha's Becca Sheets and her teammate Jessica Patterson. Last round, Patterson put an end to Kacy's three-race winning streak with a big victory in South Carolina.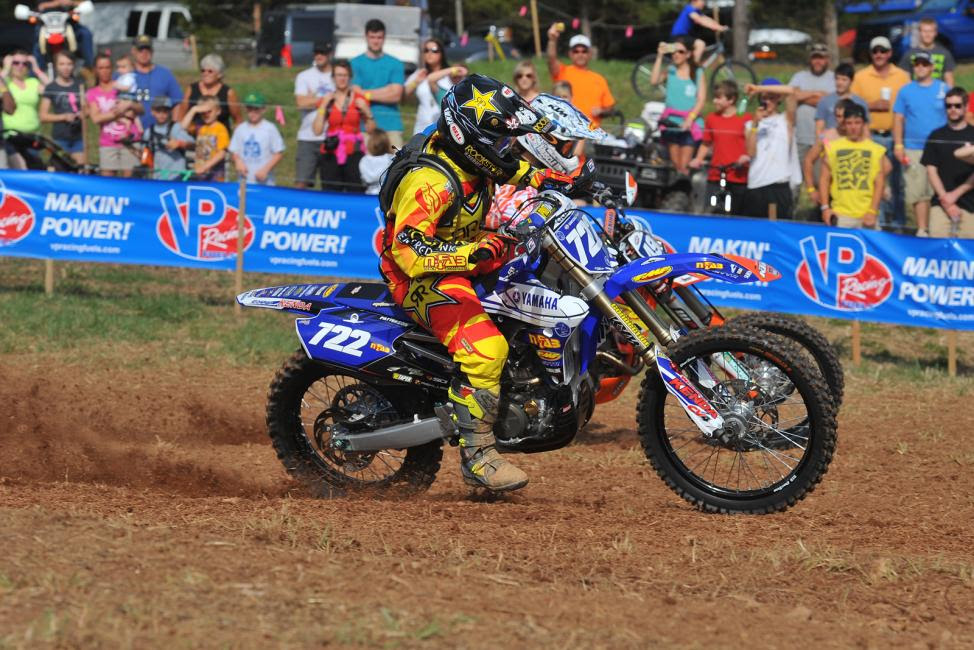 Jessica Patterson (722) and Kacy Martinez (behind) will continue their battle. Photo: Hill
Youth bike racing will take place Sunday at 8 a.m., followed by amateurs and Women at 10 a.m., while the top amateurs and pros race at 1 p.m. Local racers are invited to compete at this event, as GNCC Racing offers classes for riders of all skill and experience levels. The amateur racer entry fee is $40 and riders can sign up at the track.
Adult (12+) gate admission is $20 for the full weekend and $10 for kids (6-11). Kids five and under are free. All admission includes pro pit access.
Tune into RacerTV.com on Sunday at 1 p.m. Eastern to catch LIVE coverage of the Pro bike race at Round 5. For more information on GNCC Live coverage, visit www.racertv.com.
The 2014 AMSOIL Grand National Cross Country Series resumes this weekend, April 26 and 27, with the Dunlop Limestone 100 GNCC. For more information on the series, visit www.gnccracing.com.
Stay up-to-date with exclusive content from the AMSOIL GNCC Series by following the series Facebook, Twitter and Instagram.
Previous Round Results:
VP Racing Fuels Big Buck GNCC
Union, S.C.
Round 4 of 13
Sunday, April 13
XC1 Event Results:
Kailub Russell (KTM)
Charlie Mullins (KTM)
Josh Strang (YAM)
Andrew Delong (HSQ)
Paul Whibley (YAM)
Jordan Ashburn (YAM)
Steward Baylor (KTM)
Jason Thomas (KTM)
Ryan Sipes (KTM)
Takeshi Koikeda (HON)
*Overall National Championship Standings:
Kailub Russell (97)
Charlie Mullins (95)
Josh Strang (79)
Jordan Ashburn (65)
Paul Whibley (59)
Steward Baylor (57)
Grant Baylor (52)
Andrew Delong (48)
Ricky Russell (44)
Trevor Bollinger (44)
*Indicates that the Overall National Championship Standings will determine the 2014 National Champion.
XC2 Event Results:
Grant Baylor (KTM)
Ricky Russell (YAM)
Trevor Bollinger (HON)
Layne Michael (HON)
Jesse Groemm (KTM)
Callan May (YAM)
Sam Evans (YAM)
Shane Hufford Jr (KTM)
Jedediah Haines (YAM)
Mark Heresco Jr. (KTM)
XC2 Series Standings:
Grant Baylor (96)
Ricky Russell (93)
Trevor Bollinger (90)
Shane Hufford Jr (65)
Rory Mead (56)
Callan May (56)
Layne Michael ()
Sam Evans (51)
Chris Douglas (36)
Jesse Groemm (31)