Time to assemble the troops again to tackle the latest gossip in the Monster Energy Supercross pits. Be sure to drop your take below.
1. With Ryan Villopoto almost a guarantee to wrap this thing up, who will get second in the SX series? Does it even matter? Keep in mind there are usually big factory bonuses for top three in the series and Dungey was barely edged by Millsaps in this same scenario in 2013.
Jason Thomas: I have to give the nod to James Stewart at this point. With two races left and one of them being Las Vegas where Stewy is notoriously fast, it's looking like Dungey will once again just miss out on the runner up spot. I'm not sure how much emphasis these guys put on being 2nd or 3rd, but there is definitely money on the line. I think Stewart is only interested in winning races at this point so that could also come into play if Stew makes a mistake pushing the limit.
David Pingree: Stewart gets second. Of course one good digger and that prediction is out the window, but Stew has been riding really well lately and it wouldn't surprise me to see him post at least one more win this season. In fact, if I had to bet on a horse, and instead of horses we were talking about riders, I'd throw down some cash on James winning the next race in New Jersey. Does it really matter? Not to me ... I don't see a bonus check from any of these guys. There may be some bonus money on the line for second and third but we aren't going to remember who got second or third in this series.
Steve Matthes: I hear that guys like Dungey and Stewart only have title win bonuses in their contracts and NOT second place. As far as the supercross series' bonuses, it's 100K to win, 35K for second and 25K for third. I don't think the ten grand difference between second and third is much for these guys. I guarantee Stewart probably has four to five grand in his couch cushions. So for them, there's no money on the line, but there is pride and ego. Stewart's won five races to Dungey's one, so even if Dungey gets James for second, does anyone not think Stewart was the second-best supercrosser this year? Unless your last name is Dungey or you make money off of him, I would think not.
So I've laid out all the reasons why it DOESN'T matter, but here's one reason why it would: Ego. Yep, these guys don't get to be "these guys" without some ego (or self-confidence if you want to be nicer about it) so, yeah, I think it does matter who gets second to them. I could be wrong, but in my opinion getting second would be something to hang your hat on.
2. If you were Blake Baggett, would you skip the last two supercross races this year? If he scores 14 more points he is eliminated from 250 eligibility in 2015. Staying home until Glen Helen would virtually guarantee him a solid contract in the 250 class for next year.
Thomas: If I was Blake Baggett, yes I would. There is virtually nothing to gain by racing other than prize and bonus money. I'm not sure how his team would feel about not having him there but if Mitch has him in his plans for 2015, surely he can see the logic. With so many riders looking for deals in 2015, it would be nice to have that 250 eligibility up my sleeve.
Ping: Absolutely. Blake is an outdoor specialist. That isn't to say he doesn't ride supercross well but he excels when the racing moves outside. It would be idiotic to minimize your options going into the 2015 season by pointing out. Plus, he is a favorite going into this summer for the 250 National Championship. He should be burning laps at Glen Helen and testing while the rest of the class is riding supercross for the next couple weeks.
Matthes: I most definitely would skip the last couple of supercross races if I was Baggett, but I don't think that's going to happen. I was at KTM in 2001 when Broc Sellards won his heat and then, mysteriously, got "sick" right before the main event. And he just happened to be able to race 125SX for a few more years. Oh, and then Ping … hey, it happens. Baggett hasn't proven enough in 250SX in my opinion for a big-dollar ride next year on a 450 team so yes, absolutely, I would pull a hammy or something if I was Blake.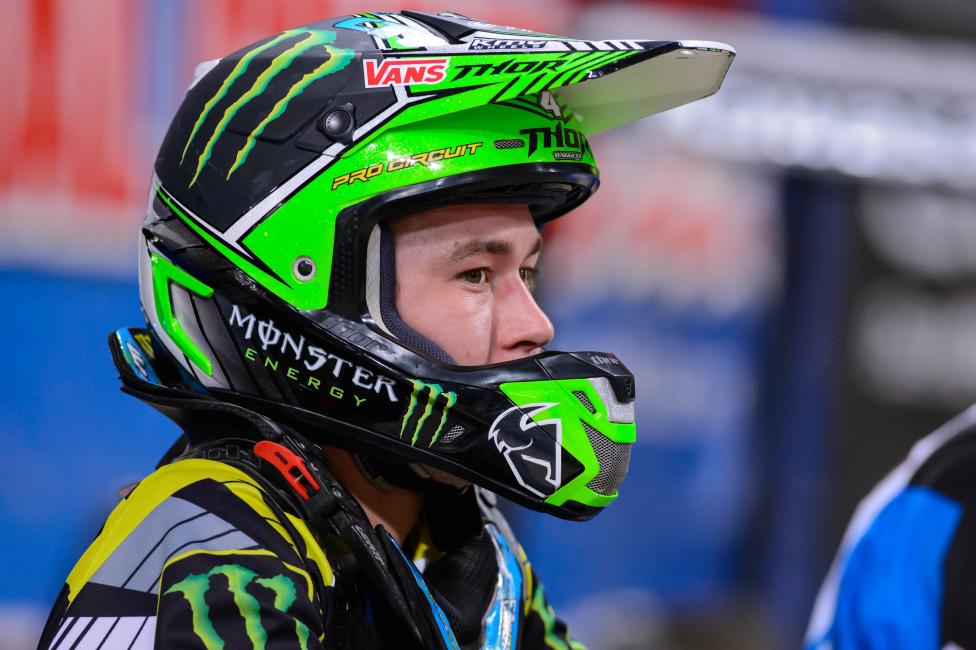 3. Rumors are swirling that Ryan Villopoto might be out of the Lucas Oil Pro Motocross Championship due to an injury. If (and right now we must emphasize that it's just an if) that happens, who would be the favorite for the 450MX title?
Thomas: IF, and I do mean IF, Ryan sits out this outdoor season, I think it opens the door for favorites. Dungey and Stewart come to mind immediately as they have both been down that road and are at the top of their game. There are other serious threats like Canard, Tomac, Barcia, Roczen and Reed who have to be taken seriously and then you have wildcards like Davi Millsaps. If I had to pick one favorite, though, it would be Dungey.
Ping: I keep hearing this and hoping it isn't true. With RV on the sidelines, or his couch in Florida, I think Stewart wins the title this summer. He looks more controlled and patient than I've ever seen him and without RV to push him I think he can go 12 rounds without grenading himself. If he does explode and DNF a round or two Dungey will be right there to capitalize and win his third title.
Matthes: We discussed this on the PulpMX Show this past Monday and here's the thing: Two years ago James Stewart was slightly better than Ryan Dungey through the first four motos. Last year Dungey was quite a bit better than Stewart. So this year, with James seemingly riding better than he has in years, where does that put him? To me, Dungey is better in MX than SX so he's going to be the favorite going into Glen Helen if RV is out. Has James done enough to close that gap that was there last year? I'm not sure, to be honest. Dungey's in great shape and hauls ass outdoors.
My sleeper pick for the nationals is Eli Tomac. I think we will see a WAY better Tomac outside than we've seen indoors this year.