Centurylink Field
Seattle

,

WA
Seattle
Monster Energy AMA Supercross Championship
Ryan Villopoto has ripped off two straight wins to tighten his choke hold on this 2014 Monster Energy Supercross Championship. Prior to this, James Stewart had won three straight, and looked dangerously close to going on a run to the finish. The momentum pendulum was swinging back and forth and opinions were swinging even more wildly. Stewart had convincing wins in Detroit, Toronto and St. Louis. While RV had an illness up north, he had to helplessly watch the #7 triple and quad his way past everyone and into the supercross record books. It was clear to everyone that Villopoto needed to make a statement before this series wrapped up if he wanted to avoid hearing critics detract from his legacy. In the past two weeks, he has done just that. While the title was basically decided already, the race within the race, though, was very critical this weekend in Seattle.
In Toronto, Stewart found rhythm sections and ways to put the track together that made all the difference. As we have often seen him do, he saved his sneaky jump creations for the main event. As Ryan was just trying to circulate the Canadian course, sick, James put it into overdrive, jumping triples and rhythms few would dare even in great conditions—all on a track filled with ruts and holes. His bravery and willingness to jump seemingly impossible combinations made the difference. On a track that was deteriorating by the lap, he was able to rise above the fray and jump his way onto the top step of the podium in convincing fashion.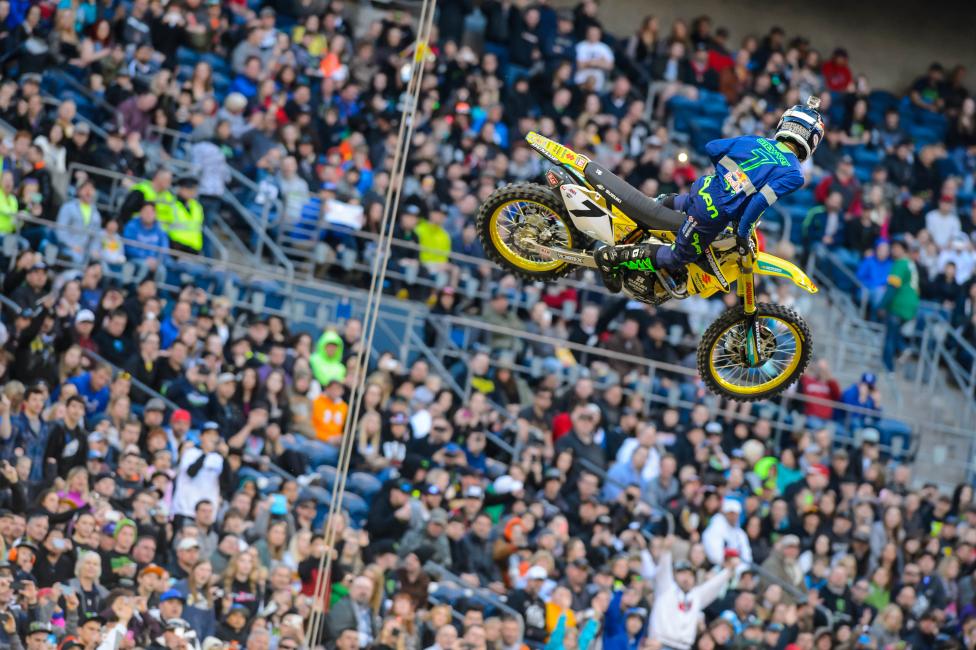 In Seattle, James found himself in a very similar situation entering the main event. The soft, Pacific Northwest dirt had broken down and left most of the track looking like post-Saddam Baghdad. James had a few special lines up his sleeve, though, and unleashed them early in the main event. He executed a quad and also was launching over almost the entire whoop section before the finish. Even though he did these clean more than once, he also had a few extremely close calls along the way. He came up way, way short on one quad attempt and also rode his front wheel almost into near oblivion in his whoop section maneuver. Both of these were scary enough to send even the most casual of fans reaching for their hyperventilation bags. The reason he was pushing the limit, you ask? Simple. Villopoto was five seconds ahead and simply on rails.
Villopoto won the race and did it the old fashioned way. He wasn't jumping anything spectacular, he wasn't leaping seven whoops at a time … he was just going fast. He was going fast the way that Ricky Carmichael went fast. He was braking late, carrying momentum and eliminating mistakes. He was hitting every line he aimed for and seemed relentless in his task. The last few weeks have created a bit of a power struggle between RV and James, and this was the chance to claim superiority. Neither rider wants to lose at the hands of the other. For Ryan, it was his chance to show why he has the #1 on his bike and a 40-plus point lead. For James, it was his opportunity to display his prowess and skill at piecing together these unlikely rhythm lanes—and make a claim in the mental wars, regardless of what the series points say.
These two were trying.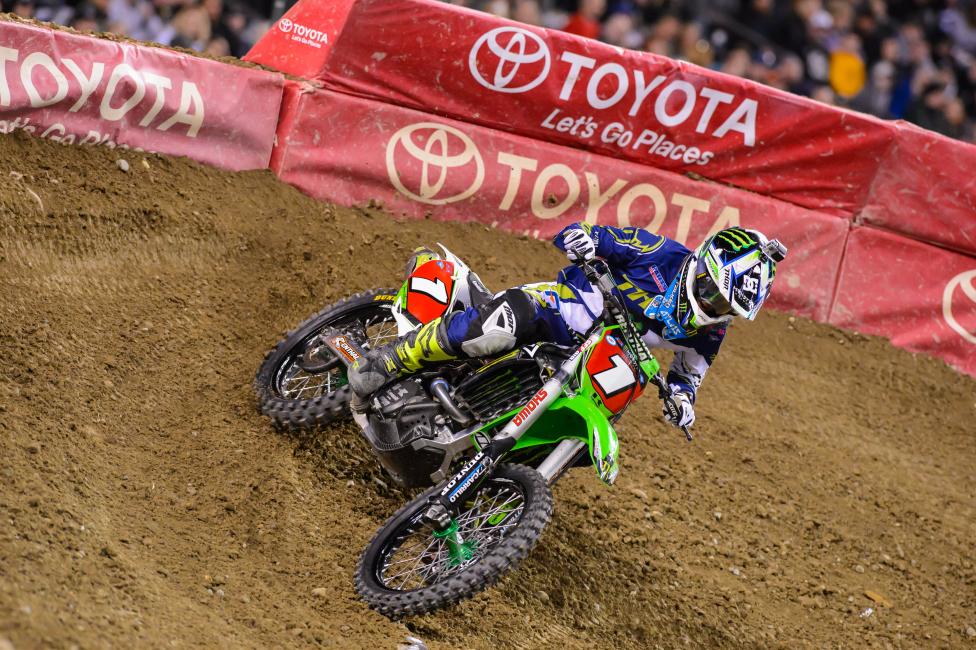 It was truly a battle of wills and also of different approaches. The media, the teams, and the fans were all watching in breathless anticipation as these two supercross legends waged war.
Years from now, people will look back and most likely see that Villopoto won the 2014 SX title by a wide margin and yawn. It will be his fourth-straight championship, tying Jeremy McGrath for the longest streak in history. By then, many will forget the fact that Stewart came back onto the scene with force, winning five-plus races and at times casting doubt onto Villopoto's superiority. Most will remember the Seattle round as just another stop on the way to Vegas. For two of the best riders in the sport, however, it was a race that held much deeper meaning. No, there weren't any bar banging highlights but looking deeper into the psyche and mental war that has begun to rage, it was certainly memorable to me.