Centurylink Field
Seattle

,

WA
Seattle
Monster Energy AMA Supercross Championship
Welcome to Racerhead, coming to you from high above Middle America as we head to the races—but not the races you think. While some of the crew is headed to Seattle for the fifteenth round of Monster Energy AMA Supercross, I am actually on my way to Austin, Texas, for this weekend's U.S. MotoGP at the Circuit of the Americas. I haven't been to a MotoGP in some time, and I am looking forward to seeing some old friends like Nicky Hayden, the soon-to-retire Colin Edwards, and of course The Doctor himself, Valentino Rossi.
But the real action as far as our readers are concerned is taking place in Seattle. Monster Energy Kawasaki's Ryan Villopoto could easily wrap up a historic fourth straight SX title on his Mike Williamson-tuned #1 Kawasaki KX450F, which would make him only the second rider to win four titles in a row. RV got a lot closer last weekend with a flag-to-flag win in Houston's Reliant Stadium, taking advantage the red-hot James Stewart's illness to score his fourth win of the season.
But even as RV was winning and closing in on that milestone title, I'm hearing and seeing that he may not be 100 percent, and he has a knee situation that may need correction as soon as the series-ending Las Vegas Supercross happens. Needless to say, I really, truly hope that's not the case.
In the 250SX class it's the penultimate West Region round, and Rockstar Energy KTM's Jason Anderson took a big step closer to what would be his first professional title with another impressive win in Houston after seven weeks off. Ando came out firing, and now he can manage this championship with some smart, smooth racing. But this is Seattle, where the dirt can be a real wild card, as you will be reading below.
In fact, let's go there now to start Racerhead:
PRO PERSPECTIVE: SEATTLE SOIL (Ping and Jason Thomas)
PINGREE: As we head to Washington this weekend, the dark cloud hanging over the event could literally be dark clouds hanging over the event. The weatherman says there is no chance of rain this Saturday, but I think that's a little optimistic. That would be like saying there is zero chance of walking around in Mexico City and not seeing pollution or zebra donkeys. 
Even with good weather, the track in Seattle is made of softer soil to accommodate the rain when it does fall. This could make for a rough, rutted track and some good racing. Mistakes create opportunities to pass and make up time, so for me, the more technical the course, the better the racing.
The 250 class should provide good drama between TLD Honda's Cole Seely, who is in a must-win situation, and Rockstar Racing KTM's Jason Anderson, who is on fire. Add to the mix Dean Wilson, who's all-in, and Justin Hill, who will have the hometown crowd behind him, and we could have a real barn burner.
The big class could be good if Stew is healthy and back to form and RV decides he doesn't want to lose in front of his hometown fans. Either way, it should be a good show on Saturday. But keep an eye on the track later in the night as it starts to deteriorate. It could get interesting.
THOMAS: Seattle is one of those races where even if the weather is ideal, the track is still tough to maintain. The dirt is just softer than the rest of the series and breaks down, forms ruts, and generally wreaks havoc on riders. The practice sessions are usually full of yellow flags as riders are trying to jump through ruts up to their footpegs and end up jumping through the air sans bike.
The main event is all about consistent laps. Sure, speed is always a must but picking smart lines and being able to see where the track is still optimal is a key element. Getting out of those main grooves that are simply blown out can both lower risk of crashing and also help maintain that lap time. Being mentally sharp and aware is always imperative, but when the track presents issues like Seattle does it becomes even more crucial.
The 250 class is anyone's guess, but I look for the same group to be up front. Wilson's shoulder is a question mark but Seely and Anderson both know what they have to do. These kids are fearless, so I don't expect anything less than full noise from the lot of them.
Moving to the 450s, I think RV will try to clinch this thing this weekend if at all possible. Of course, if Stewart is up front and in the mix, that removes that possibility, but if Ryan does see a shot at it, it's on. He would love nothing more than to win this title in front of the home crowd and end it with six weeks to prepare for Glen Helen. That is what I would consider his goal: Go win the race and hopefully the points sheet says +51 at around 10 p.m. For James and Dungey, they must do everything possible to mathematically stay in this fight. Anything can happen, just like RV in Seattle 2012—one slip and it's game on. There will be lots of team staff with calculators and points tabulations going on mid main event, all monitoring the different scenarios. It adds a bit of suspense to a series that is otherwise lacking at the moment.
NEWS AND NOTES (Steve Matthes)
Things are starting to shake down for the upcoming Lucas Oil Pro Motocross Championship. Sure, there are three races left in the Monster Energy Supercross Series, but the 450SX title is all but decided. RV can clinch this weekend in his hometown race (he'll need Ryan Dungey to get third and James Stewart to get fourth, though, so it's a little doubtful he manages to make it happen) and Rockstar Racing's Jason Anderson has a good little lead of 11 in the 250SX West series.
And don't forget, after a week off for Easter, the Eastern 250SX series picks up in New Jersey with Pro Circuit's Martin Davalos holding an eight-point lead over GEICO Honda's Justin Bogle.
So with that recap, let's get into the motocross series and what we should expect to see when the series kicks off at hills of Helen.
- Pro Circuit should get Darryn Durham back for the outdoors and GEICO guys will have Zach Bell ready to rip it up. Both riders missed the majority of supercross with injury.
- With the news that Josh Hill is not going to be going outdoors with the RCH team, might someone take a look at Hill for a spot somewhere? I don't know what level of team Hill would be agreeable to going to, but one would think there would be a ride for him somewhere, no?
- Taking Hill's spot on the RCH team is the veteran Ivan Tedesco (who won't be doing any more supercrosses for the Rockstar KTM guys), who the team valued for his testing ability, and he's only there until the injured Broc Tickle comes back, which, keep in mind I'm no doctor, won't be until at least halfway through the series.
- Yes, the SmarTop/MotoConcepts team is racing Glen Helen and then heading to Canada, but 250SX West rider Kyle Cunningham is going to stay in America and race the nationals on an MCR 250 with help from owner Mike Genova.
- Brett Metcalfe will be racing Glen Helen and then heading north to battle Alessi and the others up in Canada. Fantasy dorks, beware: Metty is a top-five-ish guy for the opener. Kyle Chisholm is also racing the Canadian nationals but I would imagine he'll be at The Helen as well.
- The Valli Yamaha/Christophe Pourcel effort will be at Glen Helen and word is they're hiring a team manager who's been around and should do a great job. Look for this to be official soon.
Good luck to Denny Stephenson this weekend in Seattle—he's the test mule for the Rent-A-SX-Star Pulpmx Show Program this weekend and we hope he survives.
Some other stuff:
He's pretty good at racing so he should stick to that for now but the injured Adam Cianciarulo joined Weege and I to talk about the 250SX West series on this week's Fly Racing Moto:60 Show presented by N-Fab here.
Jason Thomas and I argue about the upcoming 250MX series in this Hammerhead column here.
The great Paul Buckley is doing a weekly photo column over on Pulpmx and here's his first column with two of his favorite photos ever.
What did David Vuillemin think of Houston SX? Glad you asked! Here are his thoughts.
RIDE FOR RYAN LONGSTRETH (DC)
Longtime motocross enthusiast Ryan Longstreth, the brand manager for Cycra, passed away last November after colliding with a deer while riding his street bike. Now his friends are rallying around the wife and daughter he left behind with a memorial ride day next month.
The memorial Ride for Ryan Longstreth will be held on Saturday, May 3, at Briarcliff MX. "It's a race weekend just like Ryan would want it," wrote Jeremy Osborn, the owner of Briarcliff MX. "I personally will be donating a percent of the gate to the family, plus the landscaped area for the memorial. We will also unveil the permanent monument that will adjoin the new viewing deck area that we are building very soon. We will also dedicate one of the jumps to Ryan's memory."
Osborn and friends are looking for donated items for a silent auction to help further raise money for Ryan's family. Any help you can give or donate here would be greatly appreciated. All donated items can be shipped or mailed to:
Briarcliff MX
ATTN: Jeremy Osborn
4265 Briarcliff Road
Nashport, OH 43830
We will have more information as the date gets closer. In the meantime, MX Sports has donated two VIP weekend tickets for the High Point National, and Racer X has donated a signed cover banner, subscriptions, T-shirts, and more.
LOOKING AHEAD (DC)
The rebirth of the East Rutherford, New Jersey, stop of Monster Energy Supercross is almost upon us. There's a week off for Easter, and then it's time to head for my favorite city on the planet, New York City. Sure, MetLife Stadium is actually in New Jersey, on the other side of the Hudson River, but most people will probably stay in Manhattan for the April 26 race.
It's the first time we've raced there in more than twenty years, and the last time (1991) was one of the most memorable moments of my own journalism career. Why? After Jean-Michel Bayle clinched the 1991 AMA Supercross Championship there, as I was interviewing him on the bumper of his Honda box van, he told me he thought he was ready to quit racing SX/MX because "my dream has not come true," explaining that he wanted to go road racing as soon as possible. I didn't really believe him at first, but he was dead serious, and one year later he was well on his way back to Europe to race the 250cc FIM Road Racing World Championships, never to seriously race motocross again. In hindsight, it was probably the biggest scoop I ever stumbled across.
I doubt anything like that happens up there this time, but Feld Motor Sports is pulling out all the stops to make sure this return to the Big Apple is a very big deal. Click here for tickets.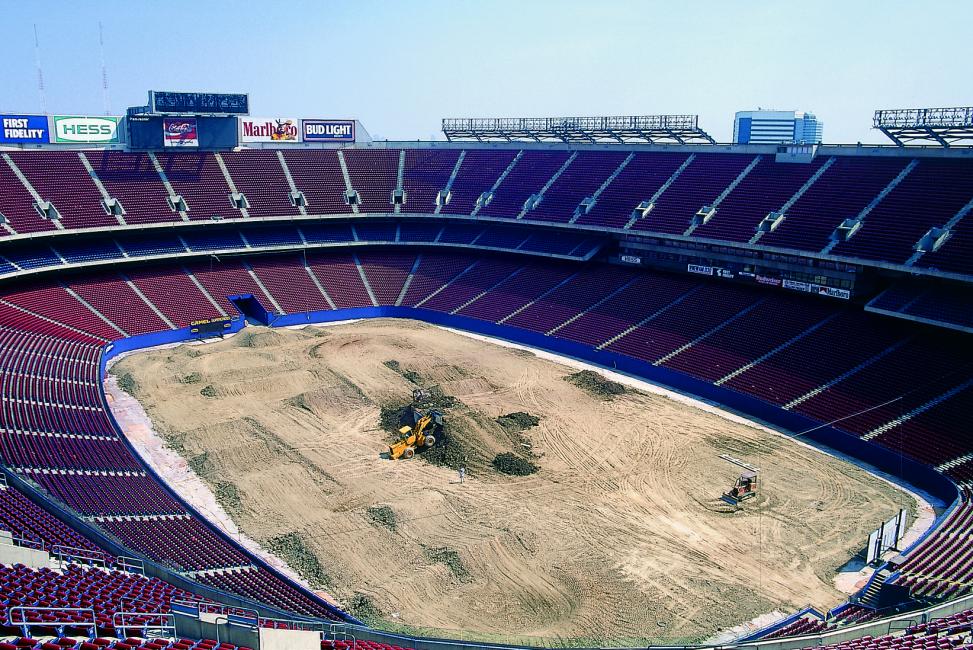 CROWDSOURCED TRIVIA (DC)
I need a little help from my fellow bench racers out there. I am working on a history piece and am trying to figure out what ever happened to two old tracks that used to host outdoor nationals: Baldwin Motocross Park in Baldwin, Kansas, and the Gran-Am track in Hamersville, Ohio. I usually have a pretty good grasp on motocross history, but these two facilities were ahead of my time. Anyone who knows what's going on at either facility, please shoot me an email: DC@racerxonline.com.
IN THE MAG - "Super Something"
With the final three rounds of what is the 40th anniversary of the first AMA Supercross Series—a three-night, two-week affair between Daytona International Speedway and the now ancient Houston Astrodome—we are running out of time to celebrate this milestone season. In the new issue of Racer X Illustrated, there is a pretty big feature we were able to pull together about that very first Yamaha Super Series of Motocross tour, which we now know as the 1974 AMA Supercross Championship. With the help of some old friends who were involved—Roger DeCoster, Bill West, Gary Bailey, and even Dave Despain—we pieced together what that whole deal was like, and whether or not those men knew what they were up to when they put that abbreviated tour together. If you're into the history of our sport, please look for this one on the newsstands soon.
And belated happy birthday from everyone here to Santin, who celebrated reaching a new age group on March 28: "I turned from Super Senior to Masters class!"
Also, here's a link to some of the work Ed and friends have done on sound issues.
Here's some very good and long-awaited news on paralysis, specifically the use of electric currents to help stimulate voluntary movement. It's a development that experts are calling "staggering," according to this report.
"The message here is that patients with spinal cord injury may no longer necessarily say it's a sentence of complete, permanent paralysis," said Roderic Pettigrew, director of the National Institute of Biomedical Imaging and Bioengineering, the federal agency that helped fund the research. "Spinal cord injury is devastating, but now there is hope."
Dedicated Ride Co. has released the limited-edition Jimmy DeCotis T-shirt, which is now available for purchase as part of their rider-support program. Proceeds go directly to DeCotis to support his racing efforts. Go to www.dedicatedrideco.com and order yours today!
Ken Faught of Pole Position Raceway sent us this note with some good news for off-roaders in California.
Rory Mead was severely injured at Round 3 of the GNCC in Morganton, North Carolina, and is now receiving treatment at the Shepherd Center in Atlanta for a spinal-cord injury. His road to recovery will be very long and costly. A group of riders and companies have offered product to help make this benefit raffle and auction a success.
For the latest from Canada check out DMX Frid'Eh #16.
That's it! Thanks for reading Racerhead, and we'll see you at the races, whether they're in Seattle, Austin, South Carolina, or at your local track.