Jason Weigandt: About a month ago word started running through the pits about SmarTop MotoConcepts heading to Canada for the summer instead of racing the Lucas Oil Pro Motocross Championship in the U.S. Team owner Mike Genova explained on Matthes' PulpMX.com show that the team is concerned about getting exposure and sponsorship in the States, since they finished second in the 450 class with Mike Alessi in 2012 and netted no additional help or sponsors for the next season. So since success didn't beget more success, would they maybe be better off trying something different?
Only for them. During that '12 season I talked to MCR Team Manager Tony Alessi extensively and he simply couldn't understand why Suzuki wasn't setting them up with any works parts or assistance despite the strong season. What he conveniently left out was the most obvious factor of all: Genova and the Alessis run counter-culture to the rest of the pro pits. The Genova/Alessi marriage is strong because of this, but the union's relationships with the rest of the industry have not always been great. They run white bikes and demand everyone call them MCRs instead of RM-Zs and CRFs. Mike Alessi has raced for several factory teams and things did not always go smoothly (Mike's stint on the actual factory Suzuki team was especially drama-filled). These things are not forgotten, even when a rider is routinely pulling in podiums.
For many other riders, second in the series might have been enough to pull in more support. But the reputation the Alessi family has built means that Mike is—unfortunately for him—not just any other rider. So maybe the move to Canada is the right one for them. The team has been running counter-culture for the last few seasons, and the Alessi crew has been doing that for a lifetime. This all seems similar to Mike racing the Four-Stroke class and Open A in his final year at Loretta's instead of racing a 250F like most top ams, and then doing his first pro national on a 450.
For twenty years, the Alessi family has been showing up at races anywhere and everywhere, and this would be just another example of that. Too bad for Mike, though. I'm sure he'd rather mix it up down here.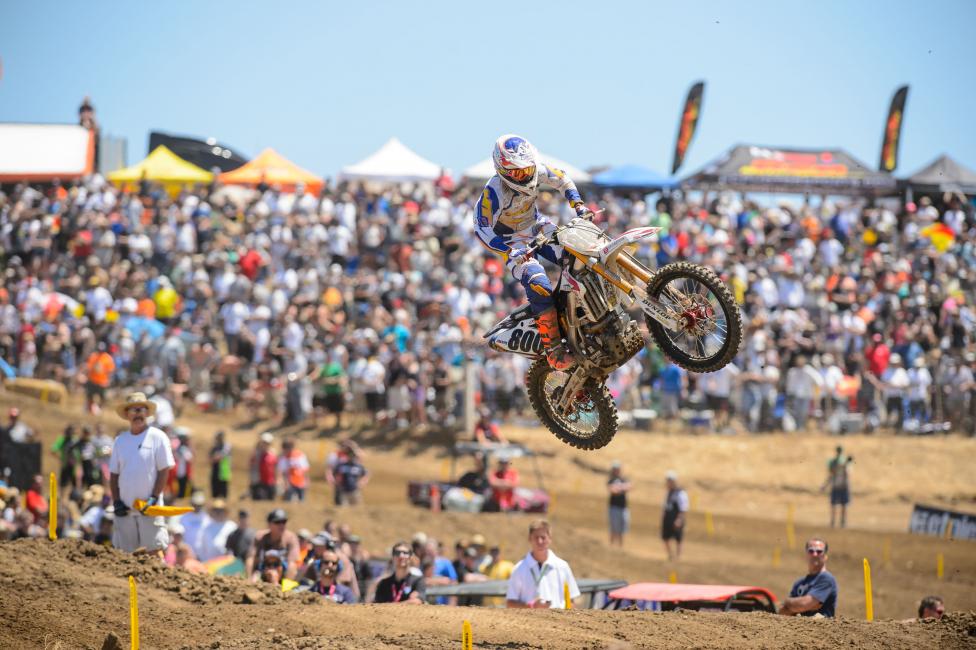 Steve Matthes: I just don't know what the deal is with MotoConcepts heading to Canada. Like Weege says, I know what Genova said on the Pulpmx Show—that he didn't get any additional help after a terrific summer of racing in 2012. And I get that he might be a bit upset about this, but the solution of heading to Canada to race the ten rounds up there and spend MORE money than what he spent in 2012 seems weird and strange.
The good thing out of this is that the team has decided to give Canadian rider Jeremy Medaglia a ride as well, and this is cool. Medaglia's a great rider and I'm happy he got a ride. But guess what: He's somewhat controversial up north and didn't have a ride this summer despite finishing fourth overall in the MX1 class and winning one race. He's left a few teams up there shaking their heads wondering why he makes some of the decisions he does … so he's perfect for MCR, I guess!
I'm a proud Canadian, and I follow the series pretty closely and do some podcasts on the series over on Directmotocross.com and Pulpmx.com. And I try to hit up one race a year as well. But riders like Brett Metcalfe, Matt Goerke, and even Damon Huffman back in the day went up there because they didn't have rides in America. They didn't head up there when they have a ride and are on top of their game like Mike might be this summer.
Alessi is a world-class outdoor rider and the riders who race the Lucas Oil Pro Motocross Championship are the best in the world. He should stay in the USA. Winning the Canadian MX1 title won't increase Mike's career cachet nor make him any more money. A guy like Metcalfe was battered from injuries and had no rides in the USA that were worth it for him so hence the trip up north.
Maybe this is an April Fool's joke or something—I'm not sure. All I know is that this decision baffles me. But good luck to the team and Mike. Things should be interesting.
Aaron Hansel: The drama and counter-culture dynamic of the Alessi clan has already been looked at here so I'll examine a different angle. Whether SmarTop MotoConcepts ends up racing an entire season in America or Canada (the fact that they brought on Canadian star Jeremy Medaglia makes me believe they're leaning toward Canada), someone's getting hosed.
If the team decides to stay in America, it's Medaglia who will be getting the short end of the hockey stick. The 2014 Canadian Arenacross Champ finished fourth overall in MX1 last year and even took a win over Brett Metcalfe along the way. Clearly, he's doing well up north, and while you can't argue with the allure of the Lucas Oil Pro Motocross Championship, one would think Medaglia would benefit more from putting together a championship run in Canada than possibly struggling in America. Then again, I don't know the terms of his contract with MotoConcepts.
For team rider Kyle Cunningham, who is finally coming into the summer healthy for the first time in a long time, it's a bit of a lose-lose situation. If he does well, he'll just be living up to expectations; no disrespect to the Canadian Championship, because it's home to some fantastic riders, but winning races up there isn't likely to raise Cunningham's stock in America. And if for some reason things go wrong for him, it could decrease his value stateside. Cunningham's easily a top-ten guy in Lucas Oil Pro Motocross (he was fifth overall in 2011), and that's where his team should keep him.
DC: Canada's gain here is America's loss. Love him or hate him, Mike Alessi is still one of the biggest names in motocross here, and he's always been a rider to watch. He's had some truly bad breaks over the last ten years, preventing him from a lot more wins and even a 450 MX title run in 2009. Of course he's also made some poor decisions out on the racetrack that have cost him fans and friends in the pits. But through it all I have never seen Mike quit, and I believe he has more work to do here in, well, Central North America. Despite the drama and ensuing nonsense that went down at Washougal, it was good to have the MotoConcepts team in the paddock and to see #800 out on the track.
As for the racing, I've been to Canada a few times. They have good tracks, great fans, and the riders are much faster up there than American fans may realize. And with Brett Metcalfe back to defend his title, the summer just got a whole lot more interesting for the fans and industry up north. I hope #800 does well and brings some confidence back home when he returns.