Edward Jones Dome
St. Louis

,

MO
St. Louis
Monster Energy AMA Supercross Championship
By Chase Stallo and Steve Matthes
Ryan Villopoto, Monster Energy Kawasaki, 2nd in 450SX
You rode well, have to be okay with second. Maybe not stoked.
Obviously the bottom line is in the beginning of the season we put the work in to put ourselves in this position with four rounds to go to have a good points lead. So I don't have to go out there on nights like that and push the envelope. I would have loved to win, wanted to win, but for me I've got to think of the big picture. That being said, I can't take anything away from James, he rode well. I was struggling in the whoops and after the whoops in that turn. That was my worst section of the track, everywhere else we were close. So, that was my weak point and he was able to bridge the gap by being better there.
That quad that Brayton was doing, did you look at it?
I didn't clean it to go triple. I did it in practice but I figured for 20 laps that wasn't going to be able to be done. – Steve Matthes
Ken Roczen, Red Bull KTM, 4th in 450SX
Good ride, good battle with Ryan [Dungey]. You have to be pumped with that ride?
Yeah, you know it's definitely not where I want to be. The last few races it just seems like it didn't come together. It was not the best race not the worst race. I was actually really happy today with the bike setup, but, actually, it's a long season. I'm struggling a bit now with, not that it's a long season … I definitely still feel good, but it's definitely long. The legs start to feel it and stuff.
You mentioned that in Toronto.
Yeah and it's still there a little bit. I wouldn't say I was 100 percent in the main, and that's too bad because I felt really good in practice, really loose. But honestly it wasn't that bad of a race, a couple of mistakes here and there, and that allowed Barcia to have a little bit of a gap. It was a solid race; I'm just trying to hang in there. It's my first year and I'm enjoying it still. I'm just learning it for next year, even though the season is not over yet. – Steve Matthes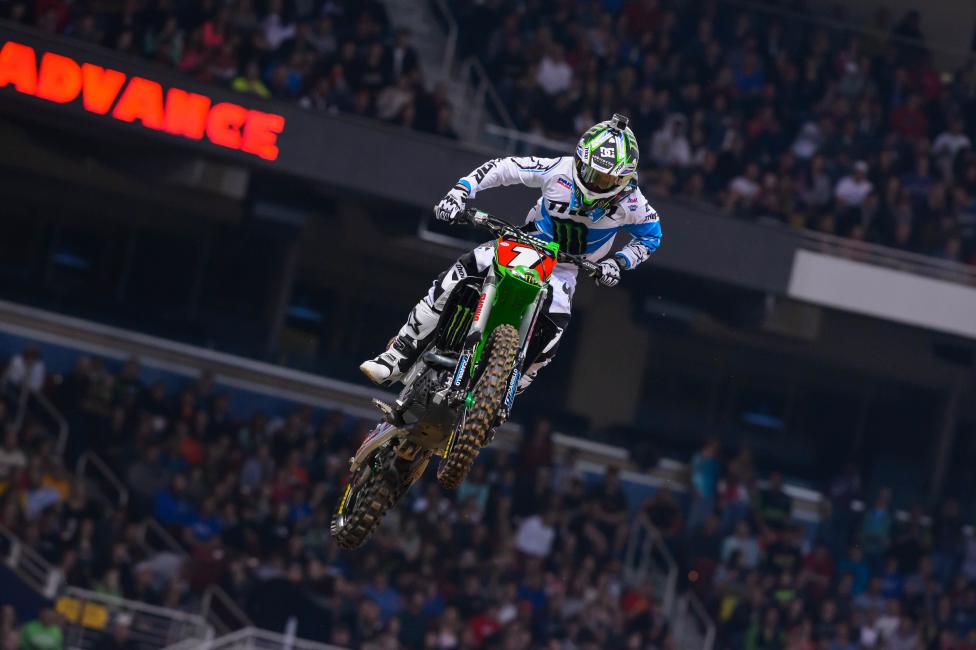 Trey Canard, Honda Muscle Milk, 5th in 450SX
Feels good. Glad to get the first one out of the way. I was nervous all day, but I thought it went pretty good. I'm excited to be here. The first practice, I was real nervous. The night show was kind of the same thing. As laps progressed I got more and more comfortable. The first few laps really killed me. I went back really far. It was a good night, though. Fifth was my goal. I got a two-for-one there at the end, but all in all, it was a good night. Dungey went down, Brayton hit him, and I was able to get around him. The one thing you can't replicate at home is that first-lap carnage.
Hey, I was impressed, in practice you were balls out, trying to go over that table, the wheel tap thing was great. Not scared, no rust.
Thanks, I felt pretty good. That stuff I don't seem to have too big of a problem with.
How was the fitness for 20?
I felt good after the race. I was holding my breath the whole time! It's just going to take that time, and that's one of the main reasons I came to race these, I didn't want to just start outdoors without that intensity. – Jordan Roberts/Steve Matthes
Andrew Short, BTOSports.com KTM, 8th in 450SX
You had a good battle with Josh Hill most of the night.
It was decent, I struggled all day in practice and turned it around when it was time to go racing. That's really hard to do, but I still feel like I'm feeling some lingering effects from overdoing it before Canada. I had more laps in me here than I did there, definitely steps in the right direction.
Track?
Track was good, I really liked it but it's scary seeing people weed themselves. Goerke crashed, Wil [Hahn]. I feel bad, last few weeks, Tickle, everyone works hard and to have your season end like that, I feel bad for those people. – Steve Matthes
Justin Brayton, JGR Toyota Yamaha, 10th in 450SX
You won the heat, only guy doing the 4-3-3, then you went down on the last lap when you didn't see Ryan. I don't know if this is good or bad!
I'm right there with you! I was just saying to some of the guys here, we did some really cool stuff today. One of the first guys to wheel tap before that triple, one of the first guys to go over the quad, I felt like my bike was really good, I won a heat race. But it kind of stinks, I broke my foot hitting Barcia's bike, and then the last lap crash hitting Dungey's bike. Kind of out of my control, but my foot wouldn't hurt as bad if I had gotten a fifth instead of a tenth.
Did the foot hurt?
The two right hand turns did for sure, when I would dab it. Everywhere else I was fine, but I was still doing all the way over the table after the finish, and the ruts started to get really bad, and I dapped it once really hard and that kind of took the wind out of my sails. I just kind of settled in, I would have had sixth easy. Then I came over a double and there weren't any yellow flags. Once again I was in the air thinking "Uh oh, this isn't going to be good." Kind of like the first heat where I landed on Barcia's bike.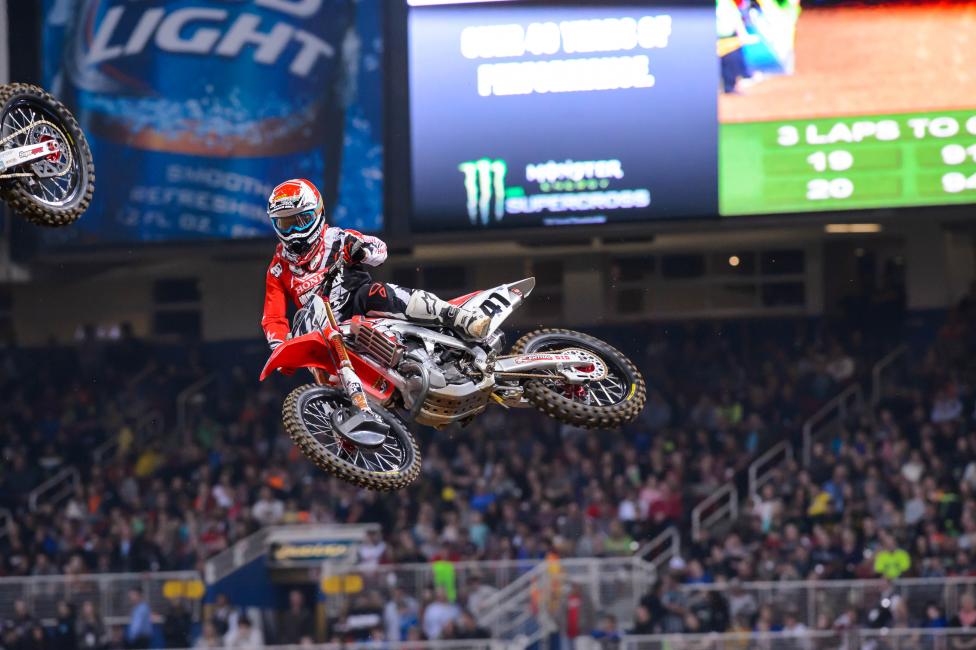 AJ Catanzaro, Factory Metal Works/ClubMX, 5th in 250SX
Great race for you. Take us through it.
Practice went really well and I was just enjoying myself doing whips. That's when I ride my best. I was just relaxed. There were a couple technical sections I was doing that nobody else was. I think it just gave me a little confidence boost and I just carried it throughout the night.
This is your best ride since Indy a year ago. What was the difference tonight?
Just confidence and having fun, riding loose, just like I was in Indy last year. It was pretty much ‪déjà vu. Indy first practice I was doing a rhythm that nobody was last year. I think it just makes it that much more fun and I'm excited to get out there. When I ride like myself I do well but unfortunately myself doesn't show up that often. I just got to make the Cat show up more often.
You damaged your MCL before Detroit. How much is that bothering you?
I'm not really able to practice and in timed qualifying it definitely bothers me quite a bit because I'm thinking about it. I threw down a good time in practice and I dabbed it in the last turn and actually pulled off early in the second practice with like five minutes to go. But to be honest with you, in the heat race and the main I don't even think about it. My adrenaline's going so much I could have that thing dragging behind me and I wouldn't care.
The track was very technical today. What were you able to take advantage of and what were some of the weaker points?
When the track's technical I always get a little bit excited for it. That's what I'm good at, a little tire tap and whoops and just stuff like that. So as soon as I see it on track walk I get a little excited. I was able to do a rhythm that I don't know if anyone in the 250 figured out or not. I just had fun with it. – Chase Stallo
Vince Friese, Factory Metal Works/ClubMX, 11th in 250SX
Take me through that crash. What happened there?
I was having a good race, starting to kind of find my groove. I think I was in 4th or 5th, I'm not really sure. I was coming up on Alex Martin in the whoops trying to pass him and he got sketchy coming off that dragon's back at the end of them and just kind of came across me. I just had nowhere to go and he took me down. He took Jeremy [Martin] down too. I think all three of us went down in that. I just hung up on a tuff block and it took me forever to get my bike off the tuff block. After that it took me a good 20-30 seconds to get my bike fired up. They were already coming around to lap me by the time I got back going. I got back going and rode the best I could and came back to 11th. Not a great night, especially since it's my hometown race. I was really looking forward to trying to have a good race. I felt really good in that main event. Obviously I was running up front, 4th or 5th. I think I could have had a solid race but it's part of it.
We've talked a lot recently about getting that podium. Did you feel you had that in you tonight?
I think so, yeah. I don't know. It sucks to say that after the fact but I think I could have done something, at least been up there inside the top 4. We'll have to wait until next weekend. We've got a couple more weeks until New York now.
What are the plans for you? Do you go into outdoor testing or do you stay in supercross?
I'm planning on racing Houston next weekend on the 450. I'd like to get some outdoor testing in. I don't really have a bike yet for outdoors, so if anybody out there wants to help me out for outdoors and get me a bike that'd be awesome. Right now I only have supercross stuff. I do want to get started testing and riding outdoors but I just don't have any equipment yet.
What are the plans for outdoors? Would it be 450 or 250?
I'll ride whatever I can get a bike for. Obviously it's a little bit cheaper to keep up a 450 for the outdoors, but I'll ride whatever at this point. – Chase Stallo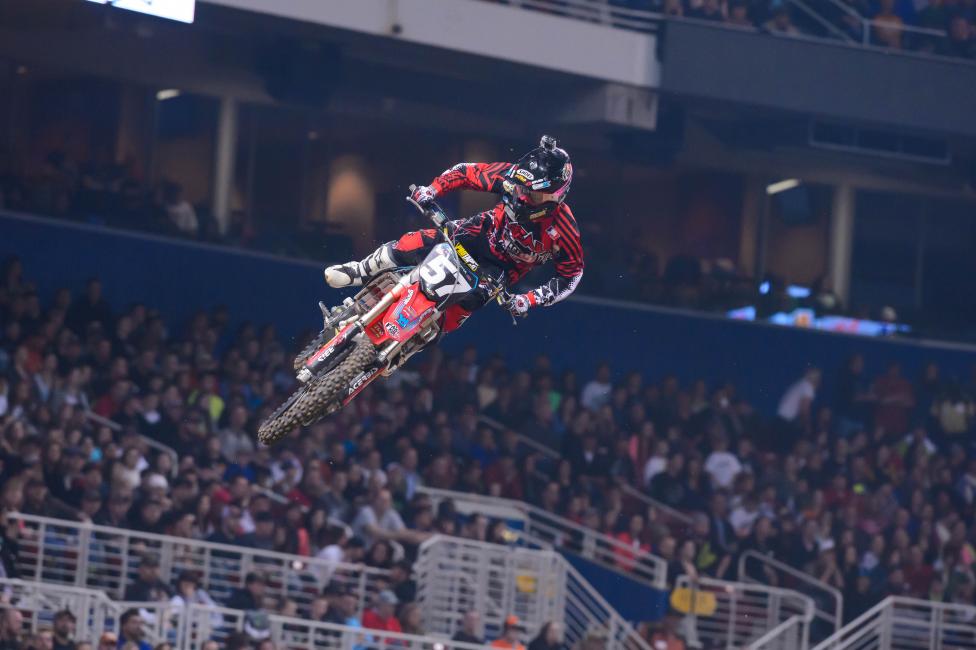 Jeremy Martin, Yamalube/Star Racing Yamaha, 20th in 250SX
Leave it up to Alex to take the whole group out.
[Laughs] We were battling there in the main and I almost got Vince. And then Alex just totally cowboyed it through the whoops and crashed off the dragon back and took Friese with him [laughs]. I was able to get through them barely and I was still in 4th gear unfortunately and I tried to double the next little transition there. I endoed into it and went over the bars.
Before that, even in practice, you were second before they took your time away, you were really fast. It feels like things are getting to where they should be. Are you feeling like that?
For sure. We made a change with the engine and things are really coming around. I've been out in California for a little bit. Excited to get back to the Carmichael farm and start riding there again with Dungey and stuff. I'm finally getting back to where I should be. I'm starting to ride like I should, like I do during the week. I've got two supercross races left and just try to do the best I can do and then come outdoors and try to live up to that Rookie of the Year.
Does that put added expectations since you were Rookie of the Year last year?
No, I don't think so. I really enjoy outdoors, personally. It's whoever's the toughest. It's gnarly. I really enjoy those type of conditions and I want to win. That's what I'm here for. That's why people are standing behind me. That's what I want to go for.
What are the plans? Go back to Ricky's, start outdoor training?
I'll be out in California the next two or three weeks testing. Once we get a decent bike setting and I'm happy we'll go from there. – Chase Stallo
Nick Schmidt, The Privateer Journey, 17th in 450SX
Nine main events now. It's not even a surprise anymore. Is it to you?
No, it's been good. I just want to get out of the heat one of these times. Semi's good; I think I got fourth place tonight. So just keep the momentum rolling into Houston.
The track today was very, very technical. What were your thoughts on the track? Where did you think you were not making the right moves?
I struggled all day in practice. Just the rhythm section, it was kind of softer than it usually is, the dirt. I wasn't really adapted to it until the race came around and I kind of got the flow going. You kind of just had to have fun out there and solid laps and you're good to go.
You've dropped 30 pounds since November. So you're really making an effort.
Definitely. I've been putting my head down, losing more weight. Actually just keep plugging away, getting ready for outdoors. I'm going to do all the outdoors too, so getting ready for that.
You guys know what you're doing yet?
No, not really as of right now. I'm probably going to do the first three or four then if anything happens that'd be sweet. Other than that, just keep plugging away and hopefully get some help.
And you actually consider yourself more of an outdoor guy, right?
Yeah, usually more of an outdoor guy. That's more my kind of style, bigger dude kind of hangs it out. But supercross, I'm getting it down apparently because I'm 9 for 12 or whatever it is. So it's been good.
Does it even surprise you anymore? Do you come to races saying "I will get in, now I just need to get to 15th or 14th"?
That's the plan. I think A1 I got 14th and I rode my own race. I've just been trying to do that. It's so hard, especially when you get the blue flags, to keep your momentum going. It kind of gets you out of your groove. I think I got 16th or 17th tonight. Being in the top 12, that's my goal. – Chase Stallo