Mullins Heads to Round 3 with Points Lead
MORGANTOWN, W. Va. - Following an exciting second round of racing, the 2014 AMSOIL Grand National Cross Country Series presented by Maxxis picks up this weekend in Morganton, N.C. with Round 3 of the 13-race AMA National Championship series. While it's still early in the chase, only 10 points separate the top five XC1 Pro riders in the National Championship standings.
Each of the top five riders has captured one podium finish through the first two rounds, but not one rider has managed to finish inside the top three at both events. Perhaps this can be attributed to this year's deep field of talent in the XC1 Pro Class, or the grueling and unpredictable conditions that three-hours of GNCC Racing lends itself to. Factory FMF/KTM's Charlie Mullins has put himself in a favorable position early on as he leads the field into Sunday's FMF Steele Creek GNCC. Although Mullins has one win under his belt, the 2011 GNCC National Champion has an onslaught of talent close behind.
Charlie Mullins holds the points lead after two rounds of racing. Photo: Ken Hill
N-Fab AmPro Yamaha's Paul Whibley sits only two points down from Mullins in the standings. As a two-time GNCC National Champion in 2009 and ?12, the 36-year-old New Zealand native has proven himself worthy in a young man's sport and shows all signs of fighting for a third title this season.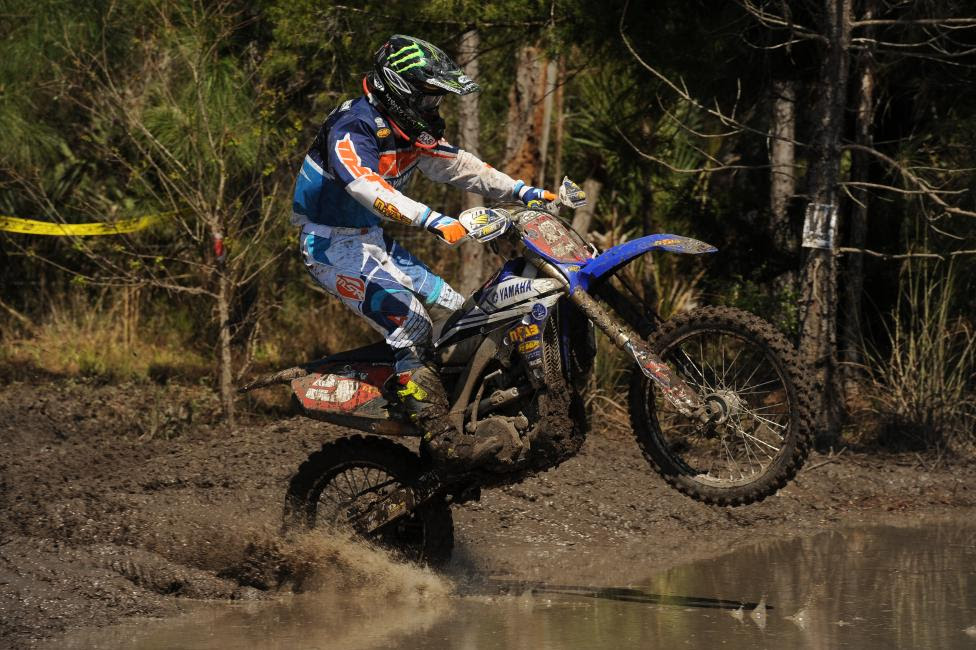 Paul Whibley is gunning for a third GNCC National Championship in 2014. Photo: Ken Hill
And then there's reigning champion Kailub Russell, who heads into the third round with an eight-point deficit from Mullins, whom he battled head-to-head for the 2013 championship. Factory FMF/KTM's Russell capitalized on the treacherous conditions of Round 2 with a big victory, following a fourteenth place finish at the season opener. Heading into the third round, Russell is tied with Josh Strang for third place in the point standings.
Rocky Mountain ATV*MC/N-Fab AmPro Yamaha's Strang has gotten off to a favorable start this season with two consistent finishes in the top five. Strang is yet another GNCC National Champion (2010) fighting for this year's coveted title, and it may be notable to add that the Australian native is still seeking his first GNCC win since 2011.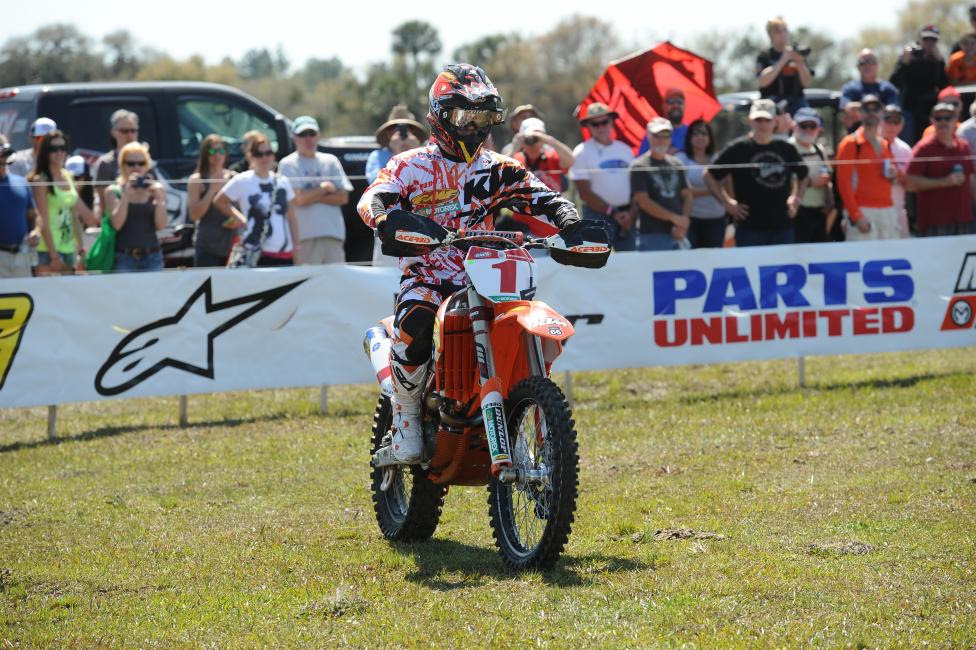 Kailub Russell has the #1 plate but continues to work his way out of a points deficit. Photo: Ken Hill
N-Fab AmPro Yamaha's Jordan Ashburn earned a hard-fought podium finish at the last round, showcasing his bid for the championship chase as well. Like many others in GNCC Racing, Ashburn has found much success moving through the ranks, and now the 23-year-old is settling well into the ultra-competitive XC1 Pro Class. Ashburn sits only two points behind Russell and Strang for fifth place in the point standings.
Josh Strang will attempt to put his new Yamaha ride in the center of the podium this season. Photo: Ken Hill
RideMPS.com/AMSOIL/Honda's Thad DuVall began the season on track with a fourth place finish, but Round 2 brought on mechanical issues that overtook his race. DuVall wasn't able to finish, thus missing out on valuable points towards the championship.
With the XC1 Pro Class stacked to the brim with talent, there's no telling who will come out on top each weekend. But perhaps the biggest wild card of the season may come with 16-year-old Grant Baylor, who nearly made GNCC history at Round 2 by battling it out with Russell for the overall win from the XC2 Pro Lites Class. By a slim four-second margin, Baylor came just short of topping Russell on the adjusted time clock, a feat that would have altered more than just the history book. Since the GNCC National Championship is based off overall finishes, every position counts. Baylor's interjection from the second row could potentially spoil the outcome by way of simple math, taking away valuable championship points from the XC1 competitors.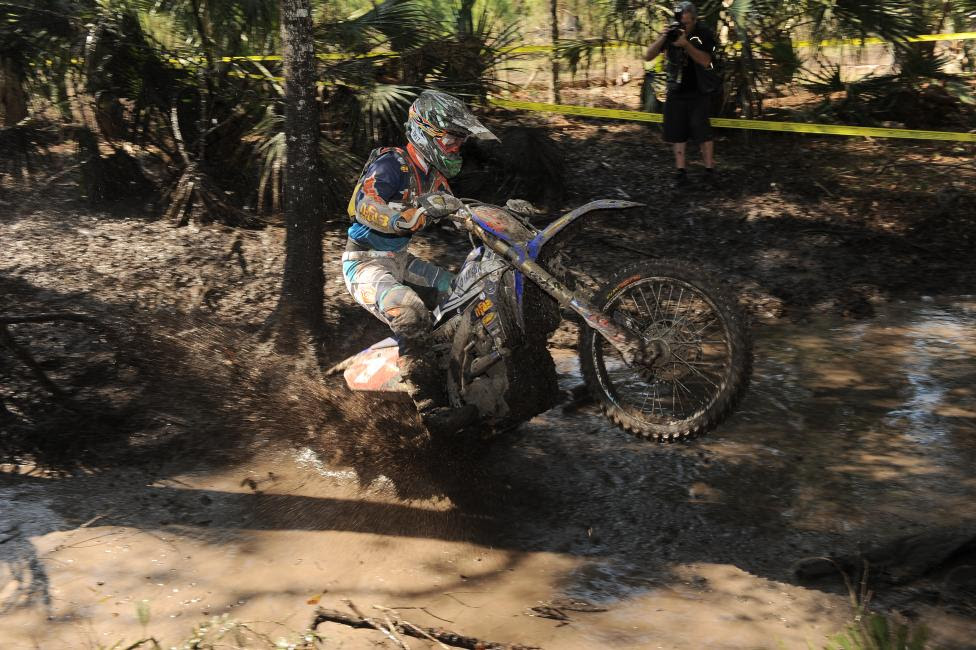 Jordan Ashburn is coming off a solid third place finish at Round 2. Photo: Ken Hill
While Grant Baylor is making a splash in the overall results, the FMF/KTM rider and defending XC2 Pro Lites Champion trails the class championship by six points early on. Maxxis/KLIM/DirtWise KTM's Rory Mead tops the standings with two solid podium finishes. The New Zealand native looks to be Baylor's fiercest championship competitor this season, although there are several other riders up for the challenge. Raines Riding University/Yamaha-backed Ricky Russell sits only two points behind Baylor in the class standings with a second and a fourth place finish at each of the first two rounds.
You can never count out riders like KR4 Performance's Shane Hufford Jr., or North Carolina's Trevor Bollinger, who have each put forth solid top five finishes thus far. Bollinger, an XC2 Pro Lites rookie, holds fourth in the standings, while Hufford rounds out the top five.
Grant Baylor has tasted an overall victory already this season. Can he achieve it? Photo: Ken Hill
Factory FMF/KTM's Kacy Martinez holds the WXC points lead heading into the third round, with N-Fab AmPro Yamaha's Jessica Patterson and her teammate Becca Sheets close behind.
Youth bike racing will take place Sunday at 8 a.m., followed by amateurs and Women at 10 a.m., while the top amateurs and pros race at 1 p.m. Local racers are invited to compete at this event, as GNCC Racing offers classes for riders of all skill and experience levels. The amateur racer entry fee is $40 and riders can sign up at the track.
Adult (12+) gate admission is $20 for the full weekend and $10 for kids (6-11). Kids five and under are free. All admission includes pro pit access.
Tune into RacerTV.com on Sunday at 1 p.m. Eastern to catch LIVE coverage of the Pro bike race at Round 3. For more information on GNCC Live coverage, visit www.racertv.com.
(left) Trevor Bollinger will look for another podium finish at Round 3 this Sunday. Photo: Ken Hill
The 2014 AMSOIL Grand National Cross Country Series resumes this weekend, March 29 and 30, with the FMF Steele Creek GNCC. For more information on the series, visit www.gnccracing.com.
Stay up-to-date with exclusive content from the AMSOIL GNCC Series by following the series Facebook, Twitter and Instagram.
Previous Round Results:
Maxxis General GNCC
Washington, Ga.
Round 2 of 13
Sunday, March 16
XC1 Event Results:
Kailub Russell (KTM)
Jordan Ashburn (YAM)
Paul Whibley (YAM)
Josh Strang (YAM)
Charlie Mullins (KTM)
Steward Baylor (KTM)
Chris Bach (HON)
Ryan Sipes (KTM)
Takeshi Koikeda (HON)
Adam Bonneur (HON)
*Overall National Championship Standings:
Charlie Mullins (45)
Paul Whibley (43)
Kailub Russell (37)
Josh Strang (37)
Jordan Ashburn (35)
Steward Baylor (28)
Grant Baylor (28)
Rory Mead (27)
Ricky Russell (22)
Trevor Bollinger (21)
*Indicates that the Overall National Championship Standings will determine the 2014 National Champion.
XC2 Event Results:
Grant Baylor (KTM)
Rory Mead (KTM)
Trevor Bollinger (HON)
Ricky Russell (YAM)
Shane Hufford Jr (KTM)
Layne Michael (HON)
Sam Evans (YAM)
Callan May (YAM)
Zach Love (KTM)
Steven Squire (YAM)
XC2 Series Standings:
Rory Mead (51)
Grant Baylor (45)
Ricky Russell (43)
Trevor Bollinger (39)
Shane Hufford Jr (37)
Callan May (27)
Sam Evans (20)
Phillipe Chaine (18)
Chris Douglas (16)
Ryan Lojak (15)