Rogers Centre
Toronto

,

Canada
Toronto
Monster Energy AMA Supercross Championship
In 2007 Matt Lemoine was one of the hottest prospects to enter the professional ranks. He was battle tested—having spent his amateur days battling the like of Dungey, Hill, Hahn and Tickle. He was a proven winner—two-time AMA Amateur National Champion at Loretta Lynn's. And had speed you can't teach. For him, the sky was the limit.
Inked to a professional deal with Star Racing Yamaha, Lemoine finished fourth in his second ever main event at Phoenix in 2007. Podiums would be a common occurrence, with titles the ultimate goal. Yet here we are in 2014, and Lemoine just reached the box for the first time.
"No, I didn't think it would take this long by any means," said Lemoine when we talked to him yesterday. "I would thought I would have a 100 of them by now [laughs]."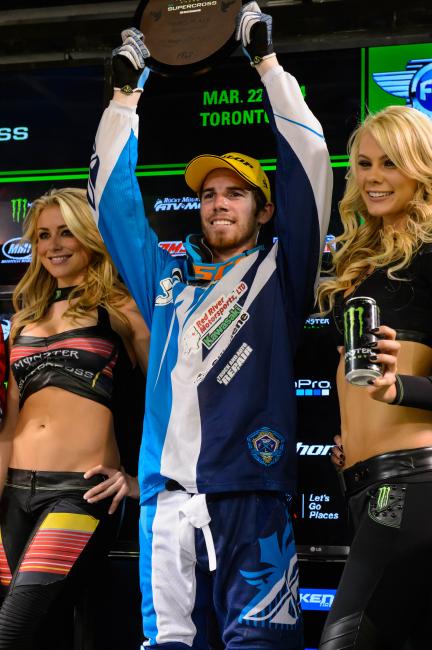 Following three productive seasons with Star Racing—twelve SX Lites top tens during that span—Lemoine bounced around, including short stints with the now defunct Suzuki City in 2010 and HRT in 2012. Although he was producing, a young Lemoine was still trying to figure out his place.
"Coming up as an amateur you don't know where you are, or where you fit in," he explained. "You kind of just go out there balls to the wall kind of thing. Over the years, we've had some ups and downs with injuries and stuff like that and I think you lose a lot of confidence in yourself."
Through it all, his father Bruce has been by his side. For the last two seasons, Lemoine has raced for JAB Motorsports, and his father has worked as team manager.
"My dad is there every step of the way," said Lemoine. "He is the biggest part of my racing. Whenever I'm down and over it at the track, he's there to say c'mon, we have another moto to do."
Lemoine has found a new comfort level in 2014. Not just on the track, but off it, as he's reunited with mechanic Tim Bennett, whom he worked with from 2010-11. Surrounded by the right support system, Lemoine is enjoying his best season since 2011—which was sparked by a fifth in Detroit and exploded on a career night in Toronto. Before the podium, he scored a heat race win, his first since 2009.
"It's been a long time," he chuckled. "They brought up the statistic to me and I was like. 'We don't need to hear about all that!"
His heat race win was just the start of a night more than six years in the making. In the main, Lemoine would hold off valiant charges from factory-backed riders Jeremy Martin and Blake Baggett to secure his first career podium.
"I knew someone was behind me," he said. "My dad would have whooped my butt if he had seen me looking back and trying to check and see who was behind me. At that moment, I didn't really care who was behind me, I was just racing forward.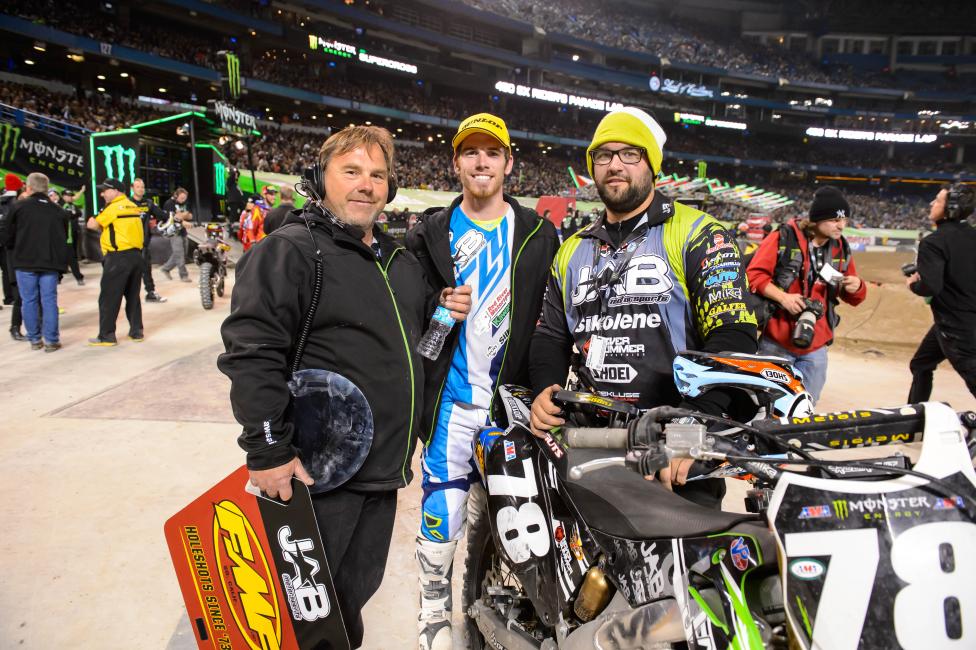 "I knew Jeremy [Martin] was behind me because I could see his mechanic putting the board out in front of me saying, "Get 78, get 78." And I was like, 'Nah, you're not going to get 78 [laughs]."'
For Lemoine, the podium wasn't as much of a surprise as it was expectancy.
"I know I belong up front with those guys, so it's awesome to finally put it all together," he said. "All the love and stuff from all the people that have support me that I've let down so many times … everybody is finally relieved, like "Thank God, he finally did it [laughs]."
Long after the celebration of his first ever podium ended, Lemoine boarded a plane to head back to Texas. But the celebration had just started as family and friends greeted him at the airport.
(Video courtesy Georgia Albertson.)
"I was last person off the plane, so I was just taking my time. I was planning on my wife Hannah picking me up and we were going to go eat and go to Bass Pro Shop [laughs]. I turned the corner and everyone is standing there with balloons and signs and everything. I don't really get embarrassed very much, but it embarrassed me so bad. I didn't know what to think," said Lemoine.
Lemoine received a hero's welcome when he arrived home. A welcome he's been fighting toward for seven years.