Ford Field
Detroit

,

MI
Detroit
Monster Energy AMA Supercross Championship
Monster Energy/Pro Circuit Kawasaki's Adam Cianciarulo capitalized on an early mistake by teammate Martin Davalos Saturday night inside Ford Field and held off a hard charge by GEICO Honda's Justin Bogle to capture his third win of the season. Cianciarulo now holds a seventeen-point lead over Davalos with just four rounds remaining in the 250SX East Region. We caught up with Cianciarulo following the races inside the Monster Energy/Pro Circuit Kawasaki rig.
Racer X: Run us through your race tonight.
Adam Cianciarulo: It was definitely a race that I thought going in that I was going to have to just ride consistent laps, not necessarily fast, but I ended up having to ride very fast and consistent laps at the same time in order to win this one. Justin [Bogle] was riding good all day and I knew he was going to be there without a doubt. He was behind me the whole race and I actually started behind Martin [Davalos]. Just tried to pressure him right away. My speed was pretty good tonight. I was able to stay right on him. Normally he pulls out a little gap on me, but I knew I had to get around him or else Justin was going to get around me for sure. So I tried to keep the pressure on. He ended up making a mistake, falling down before the finish line. I went around the outside. Then basically it was Justin and I duking it out the whole time. He was right behind me. Every now and again when I jumped the finish line I would look at the big screen and I could see him right behind me. It's pretty scary to know that you have like eight more laps left and there's a guy right on your back tire. Especially the way the track was tonight, it was very slick. So just had to ride perfect laps. If I made a mistake—and we even talked about it on the podium, Justin and I—he was going to pass me for sure. He said he was just waiting for a mistake. Fortunately for me it didn't happen—that mistake. It was all about limiting mistakes. Very happy to get a win and have pressure from such a good guy the whole time.
And mentally what are you thinking when that's happening? You know a guy's there the entire time, and like you said, you had eight laps to go.
Just hitting your marks, really. Same thing I think about during the week is just going out there, doing motos and hitting my marks every single lap. You've really got to focus on just you and not focus on the guy behind you. If you start focusing on the guy behind you, he's going to go around you for sure. It was hard because you couldn't push too hard without making a mistake, it was so slick. I felt like I could maybe go a little bit faster but it was one of those things where I felt like if I went faster there were going to be areas where you could possibly screw up. I was sitting well in the points with the championship and all that so I just tried to limit the mistakes and bring it home.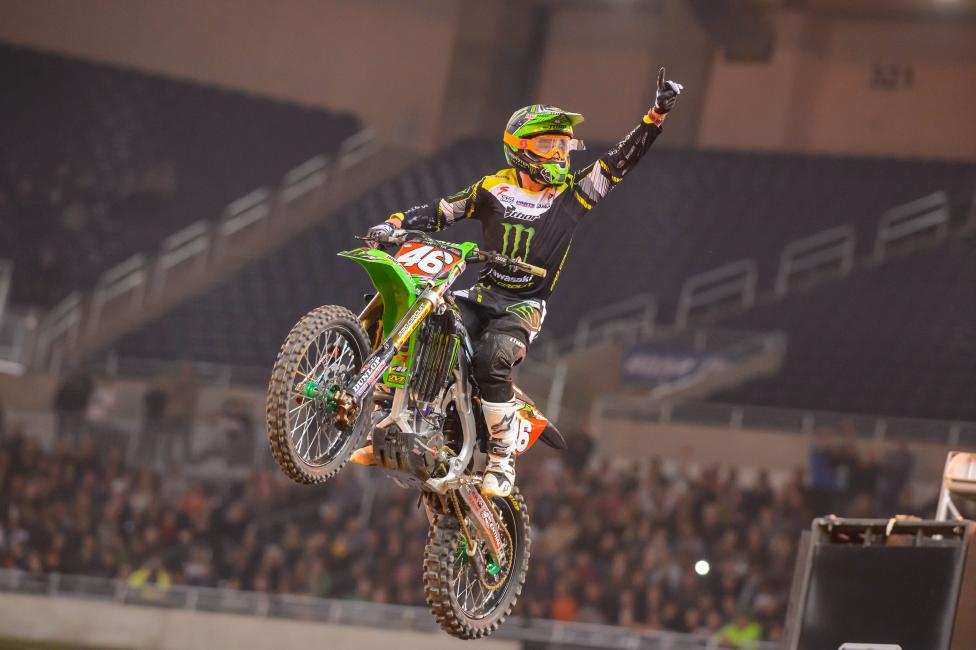 How has your focused changed since the beginning of the season to now?
It really hasn't changed at all. My goal is just to go out there and ride my laps the best I can, focus on myself and nobody else. If I get a good start and I do that I know I can be up there on the podium with the guys. There's been two races where a guy's been pretty much hounding the whole 15 laps and maybe that's taken a few years off my life but it's definitely good to get a win like that, to have somebody make you earn it, somebody especially as good as Justin, as good as Blake [Baggett] was at Dallas. It definitely makes the win feel a lot better when somebody makes it that hard on you.
Are you more comfortable in the position you're at now?
Maybe a little bit because I feel like my confidence is really good. With the combination of the starts and my speed and how I'm feeling on the bike fitness-wise, I definitely feel really confident going to the gate. Obviously it's supercross, anything can happen. One little mistake can put you on the ground. You saw that with Martin in practice today; it was a gnarly crash, and something like that could take you right out of the championship. I do feel confident and I do feel comfortable but at the same time I have to stay on my toes to keep continuing the success. As soon as you let your guard down… Obviously I haven't done this before but I would assume it doesn't end very well.
And with Martin's mistakes tonight you cushioned your points even more. What are your thoughts going forward with only four races left?
It's really the same. I don't see why I would change my mentality. It's been working for me well so far. I want to go out there and I want to get good starts like I have been. If you get good starts you're in a good position. If you get a bad start, especially on a track that was kind of easy like it was tonight, it's very hard to move forward. So if I get good starts and ride my laps, that's my goal. And I believe if I do that I can be on the podium every time. That's my goal just to ride my laps and do my thing.
You were so accustomed to winning as an amateur, 11 titles at Loretta's, and all the other amateur titles. How much does this help you now in this situation?
It helps me tremendously. I think it's good because in amateurs fortunately enough for me I was able to usually get the holeshot and usually win by a good margin but don't get me wrong, I didn't win by a big margin every time. I did get beat obviously, but I struggled with when I got a bad start at passing people. It seemed like I was out front a lot. Last summer I think honestly helped me out so much being in the back and battling with everybody, whether it was 17th or fifth. They don't give you an inch out there. I think that really helped me physically and mentality when I go to the line. I think in harder situations when you get more under pressure I tend to get calmer now instead of getting into more of a panic. I actually get calmer. I feel like I'm like that in kind of every way in my life now. It's changed a lot. I do credit a lot of that to last summer. It was a crapshoot. My goal going forward is just to keep my same mentality and keep doing the same thing.
Things must be comfortable if you've got time to look up at the big screen and see what's going on behind you.
You take a glance up there. I would check the lapboard and then I would check to see if he was close, because the crowd was going crazy. I didn't know if they were just going crazy because they were enjoying themselves or there was somebody coming in on me. I thought at any second he was going just pummel me in one of those berms. They were so big tonight. It's like they were asking for somebody to just get sent over the berm. Just checking the big screen.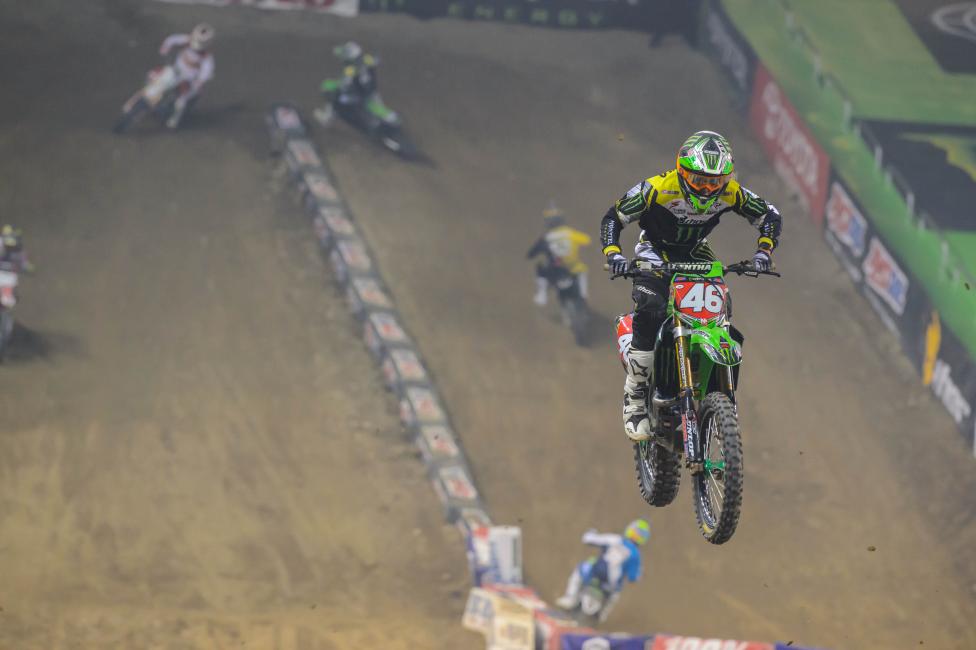 People say the tracks are slippery. Is it how hard you guys are pushing or is it that the tracks are really that slippery?
No, obviously the last two, Daytona and Indy, weren't slippery. They were very soft. It's weird coming from such soft tracks to like a Dallas and then here, I would actually say this was slicker than Dallas, to be honest with you. A lot of the transitions here were pretty steep and gnarly so you really couldn't soften your bike up for the corners. I think that's what made it very hard to manage the stiff suspension in the really shiny spots. Like that little left-hand corner before the mechanics area, going up over that wall after that. All those little times you're turning on blue rivets. You saw it happen to [Jeremy] Martin, you could wash the front at any second. I almost washed the front end probably, I don't know, 30 times. Every single time, literally, in that old Pontiac section that goes up in the stands, I literally washed my front end every time there. I thought I was going down any second, but couldn't let up at all. I think the tracks are slippery, to be honest with you. I don't think it has anything to do with how hard we're pushing. Obviously when you're pushing that hard it's easier to crash and make mistakes but this track anyway was super loose and just had an unbelievably hard base.
Training-wise, does anything change?
No, nothing changes at all. Basically at this point right now I have a good enough base in supercross that we're actually kind of ramping it up a little bit for outdoors to start making gains in that area. Nothing changes on my part. It's actually getting a little bit harder right now. But my fitness feels great, and especially in those kind of races where fitness plays a big role in it when you have a guy breathing down your neck the whole time.