"Obviously I was a little bummed thinking I might miss another shot at it, but at the same time life is going to throw you curveballs whatever you do, you just have to keep swinging the bat," said GEICO Honda's Justin Bogle before the 250SX East Region season opener, just months after suffering a broken scapula, along with factures in his L1 through L5 and a T3 compression fracture in an off-season crash.
With those injuries, Bogle was looking at another lost season of Monster Energy Supercross—his second in consecutive years. Injuries have limited the 2011 Horizon Award winner to just one full season of Monster Energy Supercross and Lucas Oil Pro Motocross since his full-time professional debut in 2012. With another lost season in sight, suddenly the can't miss kid was just … missing. But Bogle wasn't content on letting another year slip away.
"I've had to really bust my ass to make this happen and to be able to get back to a spot to where I can race … and feel like I can be competitive, [I had to] put a whole lot of time in and fully dedicate myself to this," said Bogle in February.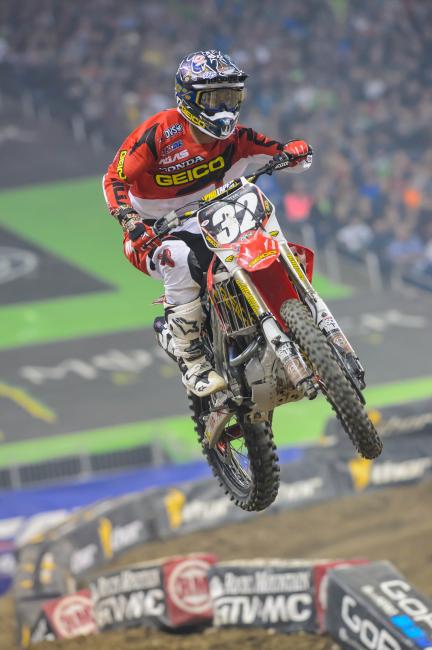 While championship aspirations have dwindled this year—he's currently 25 points back of Adam Cianciarulo—Bogle is starting to find his stride. Through five rounds he's finished no worse than fifth, has collected three podiums—including a career high second in Detroit—and is the only non Monster Energy/Pro Circuit rider to finish on the podium. His Detroit ride was his best of the year—which means his best, really, in two years—with the second fastest qualifying time and a runner-up finish in the main. After practice, we asked Bogle what the difference was for the weekend, and he simply stated that he's really only been back on the bike for seven weeks since his pre-season crash. He's simply getting stronger in each race.
"It's a good confidence builder this weekend, I know I can make stuff happen," Bogle told Racer X Films following Detroit. "I have the speed, I have the fitness, [I] just need to put myself in good positions for here on out and it should be good."
From a season on the brink, to a breakout season, Justin Bogle has continued swinging the bat through it all.