Daytona International Speedway
Daytona

,

FL
Daytona
Monster Energy AMA Supercross Championship
By Jason Weigandt and Chase Stallo
Ken Roczen, Red Bull KTM, 2nd in 450SX
Got a little bit tangled up and had to find my way through. Took me a little bit. In the beginning everyone's basically going the same speed, so it's very hard to pass. But I had some good lines and I just stayed in there and came up 2nd. Got a little bit weird in those last few laps because I got a lot of sweat in my goggles and it would just be running up and down, I would barely see. Luckily I could pull it off. I was about to take my goggles off actually. It would have been another lap or a couple. But I'm satisfied with my performance tonight. Good 2nd place. Another good week.
Talk about running down Dean Wilson and passing him.
He was a little bit of a road block but it was hard to pass. I got next to him one time and was about to make a pass but he stayed in it, normal. But it actually didn't take me too long to get by him. I think he got tired towards the end or something. He was going a little slower. I think I passed him past the mechanics area right there. I charged the whole way and I think he got a little bit tired, so we made quite a bit of difference in lap time and I got by him pretty good. – Jason Weigandt
Ryan Dungey, Red Bull KTM, 3rd in 450SX
This is your fourth podium at the Daytona Supercross by Honda. Take us also though the finish.
It was good. We got up to about a 3rd place start there and had a hard time getting around Wilson. Every time I'd get right up on him he was able to get a little bit more drive and edge me out. I came close a few times but use a lot of energy doing that. Then Ken was right there, and he actually came up, got alongside, we were all three side by side there for a little bit. So Ken got by me and then I was able to get by Wilson a little bit after that. I was right behind Ken the whole time, just running in for 3rd, but not bad. It was a good night. It could have been a little better, but we'll take it.
You looked like you had a good battle with your teammate. Talk about that.
Yeah, once Kenny got up there and we were running 2nd and 3rd there wasn't really much to do different on the track. By the end of the race there was a few key good lines, inside or outside. I tried to switch some stuff up and it was hard to make up ground. Physically felt good and everything but the track was just starting to go. So he got away a little bit but it was good. He ran a good race.– Jason Weigandt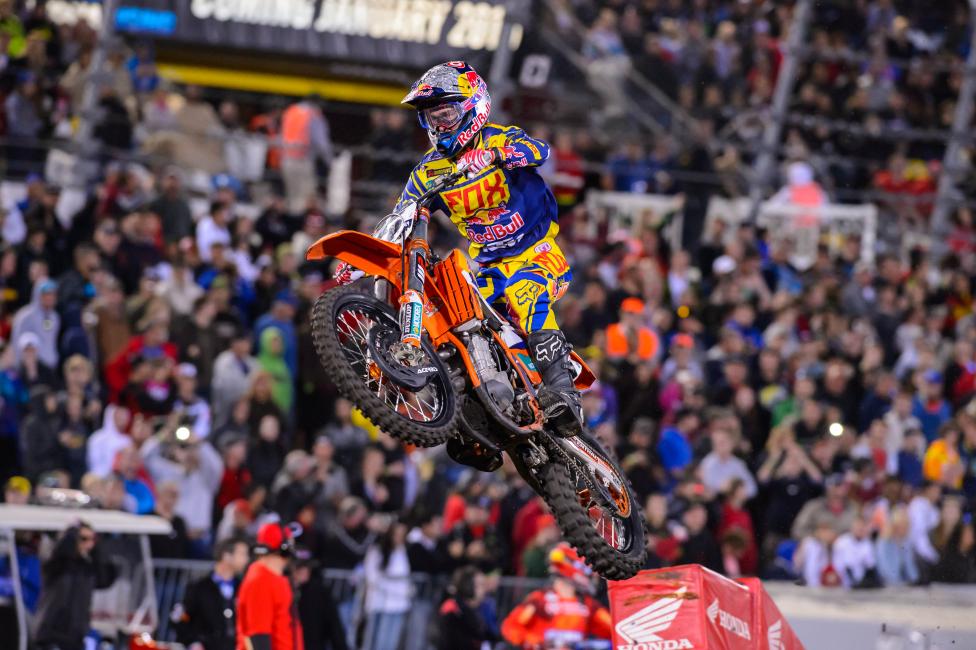 Adam Cianciarulo, Monster Energy/Pro Circuit Kawasaki, 2nd in 250SX
You always had the Spring Nationals so that kind of played a little bit of a role of me not coming, but in the beginning I always came. It was my first supercross ever, back when they had it during the day. I came here for a few years and then obviously was doing the Spring National thing forever. Actually last year I had a shoulder injury so I got to come back, which was cool. Always growing up, pretty much was here most of the time.
So you kind of envisioned what it would be like to race?
For sure. I really didn't know. I probably took five years off of not coming here until last year. I definitely got an idea coming last year of kind of how it was, but today was a lot different than I expected. Obviously we had some rain on Thursday so I think that made it a lot softer. The Daytonas I've seen in the past looked a little bit rougher to me but a little bit more bermy. It was pretty tough out there. The ruts definitely kind of caught me off guard a little bit.
Does it seem like a track where you're just riding the track instead of battling other dudes? It seems like there's hardly ever a side-by-side lap.
It is. Even when I had to pass Martin, it's hard because you do have to race the track and if you're not in right line, or you go to make a pass and they set you up wrong, it's really hard. Even Indianapolis you were pretty much riding against the track and if you pass somebody you just so happened to pass somebody. Once you get in a line you're kind of stuck in it. I was kind of bummed out. Heat race obviously just had a bike malfunction. It is what it is, it happens. Started close to the box. It was an awful gate. The inside gate was good and it seemed like every other gate had a big hole. It was super deep. Got a decent start. I never remember what happens in the first laps. But the first lap, I know in the second corner I came in on Martin, tried to come in, and he got me, then Blake got me. The first lap I didn't ride very good. It definitely wasn't my strongpoint. I rode too conservative. Before I was kind of hanging it out but making mistakes. I kind of went the opposite direction. Definitely got to clean that up, but was happy how it ended.
You're only four races in to this. Are you learning every week? Since you're the points leader it seems like you've figured it out, but I've got to think you're improving, right?
Definitely. I feel like I've kind of been dealt a different situation every week. Dallas, obviously Martin led a little bit but I pretty much led every lap, got the start. Then Atlanta, crashing, LCQ, more time, back to the gate. Then Indy, obviously super rutty, behind Martin again, kind of same deal. And here, it was just kind of survival of the fittest. I passed Martin which took up a lot of energy. It's basically like throwing down a heater lap and then you got to throw down another heater to stay in front. If you make one little mistake, cross-rut or something, he's right back by. So I got by him. Fitness feels good and all that. Just really didn't have Blake's speed in the end tonight. I maybe could have gone faster but didn't want to throw it away. I was able to pick up a couple points which was good, but it's all right.
Did you figure out what happened with the bike?
I don't know right now. Obviously nobody's fault. It happens; it's dirt bike racing. No big deal. They pulled the motor super fast and it was ready for the main.
Was this a night to just salvage points, so the speak?
Not so much of a salvage points, but definitely when you're thrown adversity like that in the heat race it's pretty hard to put behind you. Your night's going so well and then that just hits you right in the middle and kind of screws up your gate pick, screws up a couple different things. Definitely happy to stay on the podium. I don't think I really rode too special in the main event. Definitely got to clean up a a few things, but it is Daytona. It is completely different than what I'm used to. Happy to get out of here on the podium. Definitely have some things to work on but at least I know and I can fix them this week before Detroit.
First time here, what were your thoughts on it?
I thought it was going to be a little more bermy than it was rutty. Obviously we got some rain on Thursday so it got a little bit more rutty than I thought. It was a little bit less rough than I thought as well. I thought it was going to be more bermy and rough than rutty and kind of a little bit smoother. But it's Daytona, it changes every year it seems like.
If you're this good in four races, by race 6 or 9 or next year… you got to be learning a lot. You've only done 50 laps or so of this.
I think today was good too because I got to pass some people. If you look back at the last three races I really can't think of a time where I had to pass a single person. So to be able to pass Martin, and I had to pass Jeremy Martin in the heat race. So to get some passing down, it was good. Different situations every weekend have helped me learn a lot. I've kind of been thrown around everything. Bad gate pick in the heat race, everything. I feel very confident that no matter what I'm dealt I can be up there at the end of the night if I ride smart. Maybe I could have been closer to Blake tonight, maybe if I made it happen sooner, but maybe I would clip something and maybe I got 5th. So I'm happy to get 2nd. 1, 2, 1, 2… it's on the podium so before the season if I were to see those results I would be really happy. Obviously after you get a win, the win feels really good and you want that to happen every weekend but you can't be naive to the fact that you can't win them all. Happy to be on the box definitely. – Jason Weigandt/Chase Stallo
Wil Hahn, GEICO Honda, 6th in 450SX
You were pretty good down a stretch, you were digging.
Yeah, I just blew it at the beginning again. My starts just aren't there. It's the opposite of what I normally do so I got to fix it.
Do you feel like you rode good then?
I feel like I rode good. I felt strong. Yeah, I wanted the result to be better than what it was but from where I came from and who I had to pass and everything like that, yeah, I'm happy.
How much different is it, 450, more laps, and all that stuff, compared to what you experienced here before?
Well the track was easier this year. I don't want to take away from it like it wasn't hard, but compared to last year the track was definitely easier. And I don't know if I was because I was in a title hunt or anything like that last year but I got tired here last year, no doubt about it. Not to say I didn't get winded in that one, but it was easier this year.
No rider ever admits he gets winded.
I know, I got arm pump, I got tired. It happens. So it was just one of those things where I actually felt comfortable that whole main event. I think it was because you're never in that… Last year I got 2nd but I was nowhere near Marvin and 3rd was behind me a ways, so you're by yourself. And this one I could always see someone in front of me. I'm always trying to click off that next guy. So the motivation was there, the carrot was there.
You still down at K-Dub's?
Yeah.
The injury's behind you, everything's going good now?
Things are clicking. He's making it click for me along with my trainer and we're having a good program right now. – Jason Weigandt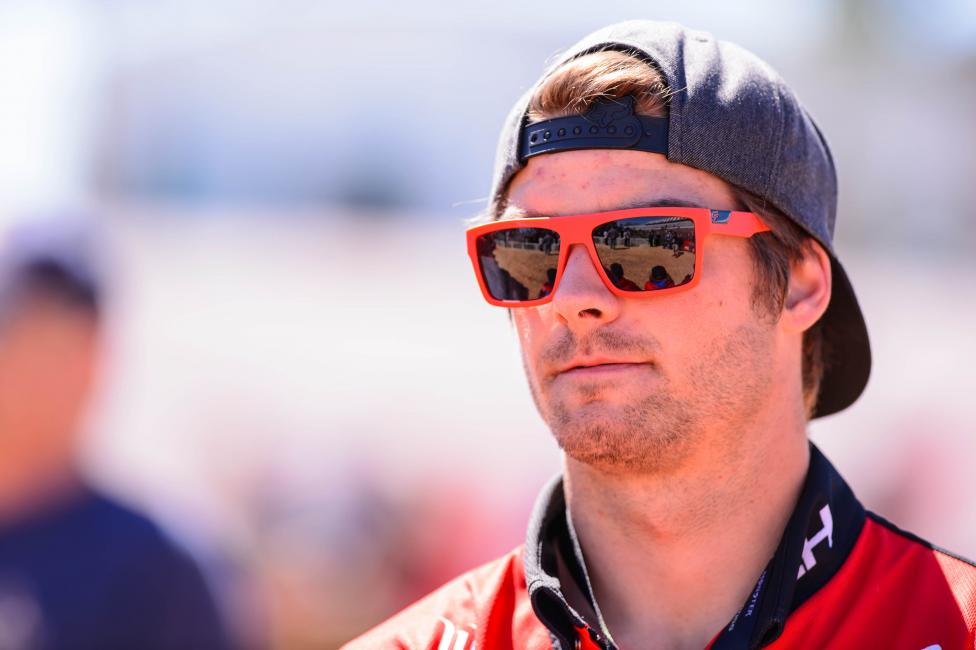 Broc Tickle, Soaring Eagle RCH Suzuki, 4th in 450SX
Is this a career best for you? Do you feel good?
Yeah, I'm pumped on it. I really didn't start the day out that well. I qualified 16th into the night show and finished 7th in my heat, finished 4th in my semi. Just never really felt comfortable in practice. We changed a lot before the night show and I felt a lot better and started building. I relied on myself being solid for 20 laps, kind of to bump up my confidence just because I was struggling with the track a lot. It was a good solid 20 laps for us. I got off to probably a 10th place start, picked off some guys, and then Barcia took out Malcolm and they both went down. That gave me two more and then Wilson there at the end, so it was a good night for us.
We were discussing your practice before the pre-race thing, and we're like, wow, he's sucking, what's going on? What did you change though? As a former top mechanic in the sport, what did you change to help yourself?
Well, we went to Ricky's this week and I felt comfortable with what I had. We made a couple little adjustments and when we got here the track was soft. I just never really felt that comfortable in practice, so what we did was we just made the bike more comfortable for me. Obviously it helped out. I don't really know what they did; they kind of did it themselves. I think it was just some fork change and a shock change. I don't even know what it was, but they just wanted to get me comfortable and that's what my notes said after practice. I want to get comfortable.
Didn't almost the exact same thing play out for you at Indy? It didn't start out so good, you weren't feeling it, and then in the main event it all comes together?
For sure. Last weekend it was the same exact thing. I qualified 9th which is a lot better than 16th for me, but I still didn't feel that good. But now I have something to back up on and look at it and know that I can still finish a night well if I didn't start it out that well. So I'm pumped that that's in my corner. Obviously it'd be better to have better practices just to be there.
You've really become quite different than cheese pizza lately. Next step for you is podium?
Yeah, I had actually a supreme pizza this week so I think it got me hungry for this weekend. Some extra sausage, extra pepperoni, extra onions, everything.
We could make the podium here!
I'm looking forward to it. I don't want to get overconfident right now. I just want to keep doing what I'm doing because it's working and the team's working really hard and working well together so just stay humble and keep working hard. I think that's what going to pay off at the end of the season.
Is next week a home race or no?
It's my wife's home race. I live there. Swizcore will be in my corner. He'll be over here helping me out, getting me motivated for the races. So don't worry about practice next week; he'll have me ready to go.
So sort of a home race?
Yeah, I'm looking forward to it. We're going to have a suite and have 50 or 60 people there. So it's going to be really, really exciting for me. – Jason Weigandt/Steve Matthes
Malcolm Stewart, Lucas Oil/Troy Lee Designs Honda, 21st in 450SX
You had a good solid race going. I don't know what happened.
There's different angles of it. The day was actually going really good. I definitely want to say thank you for Troy [Lee]. He definitely made this happen for me. It was actually a dream come true for me to race Daytona on a 450. I didn't think the deal was going to happen and then we made it all happen. Definitely huge thanks to him. Practice went okay. Heat race was great actually. I didn't have to go to a semi. That's what I was more nervous about anything. I just wanted to make it. Main event was riding good, got a good start. Me and [Justin] Barcia went down and he busted my radiator and that was pretty much the end of my 450 debut season. I can't take anything away from it, anything but positives actually because I know that I can run up there. I was riding good. I don't know if Dungey or Roczen got around me, but I just know that I belong up there. It's kind of like the same thing as how I ride against those guys in outdoors. I'm just looking forward to that. It's fun battling with those guys up there. It gives me confidence that I can do it. I guess I won't race them until Glen Helen.
It's a one-race deal no matter what, right?
Yeah, it's just one race.
Do you think you'll be even stronger on the 250s when they start? Does it do anything or is it too far away?
It's kind of a little too far away, but I don't know. I'm kind of speechless right now. I can't take anything away. I'm just happy that I got the opportunity to ride here. Just glad that I came out safe, nothing happened. I did get a few burns from that radiator; that thing was shooting everywhere. That's the only thing that sucked. – Jason Weigandt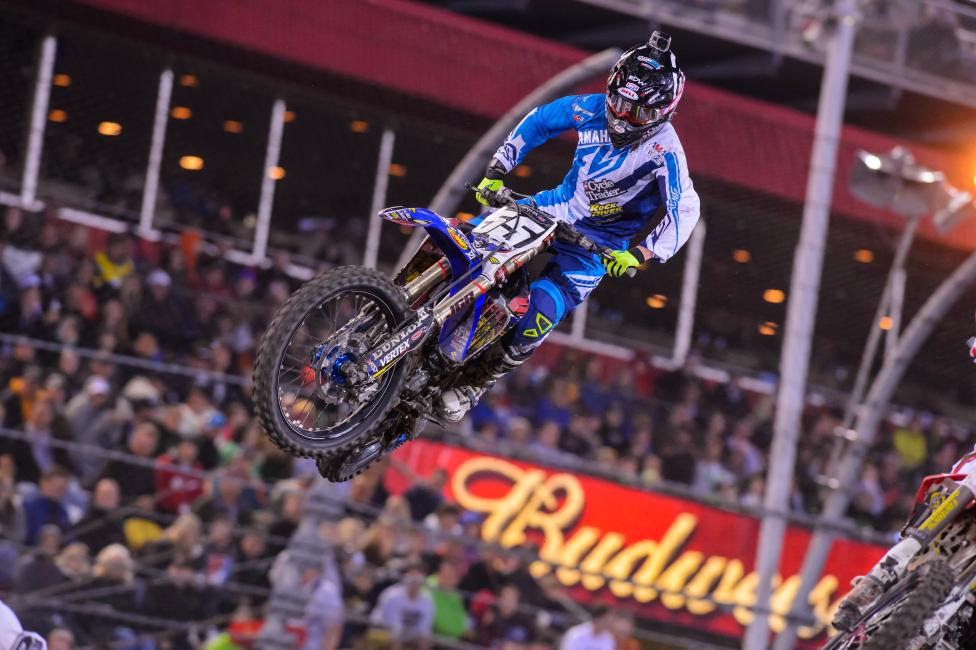 Alex Martin, CycleTrader.com Rock River Yamaha, 14th in 250SX
It looked like you were up there and then you fell back a little bit. What happened there at the end?
Yeah, felt like I was riding well all day. Qualified 5th in the heat race and in the main just had a pretty intense battle with Vince Friese there for seemed like the entire race. He was I think in 8th and I was behind him, and then my brother was in there at one point, and we were all just kind of going at it. The track was breaking down really bad, the ruts were getting really deep. I was endoing off ever jump pretty much. I almost died probably six or seven times. Lucky that I rode through it and then on the last lap I lost my balance coming off a triple face and went off the track and spun on the grass and crashed.
The brother rivalry is always strong. You guys were going at it. Does it push you more?
Absolutely. Seeing him there, it actually makes me be a little bit more comfortable too. I know he's not going to do anything crazy and take me out, come in hot in a corner and stuff me or something. So I can relax kind of and focus on myself. But at the same time I don't want him to beat me because he's my little brother. That's not right. Not the way it works. [Laughs]
This is your kind of track. You grew up on stuff like this. Did you feel more at home this weekend?
Yeah, probably not. It breaks down so much and the track gets so gnarly. It's so hard to even get around the track at that point, especially in the main. Throughout the day it's not bad but in the main it just breaks down so much that it's like survival mode out there.
Was it better than practice? In practice it looked super tough, but in the main it looked a little better.
I'd say the best it was all day was probably in the heat races. In the main, just things broke down so much. In practice it wasn't bad because they would fix it in-between every session. So you had 10 minutes on it, they'd fix it. In the main it was probably almost 20 minutes.
A lot of people talked about the track being shorter this year. Did you see a difference or did you even notice it being shorter? What are your thoughts on it?
I don't really know what the problem is there. It's 10 seconds shorter. I don't know why that's a problem. The track was cool. It was a little less busy I think. I shouldn't say less technical but it seemed like there were more straightaways compared to years past, but at the end of the day it still got gnarly, it still got rough, and we're 10 seconds less a lap. That's okay.
And you still got to rely on fitness.
Yeah, exactly. Still way longer than any other supercross we're going to race this year, so fitness definitely played a part of it. – Chase Stallo
Kyle Peters, Grunnaid Energy/AG Motorsports/Peters Auto Mall, 11th in 250SX
Take us through the crash. What happened there?
We were first or second lap in and Bisceglia just got around Zimmer right in front of me and jumped the finish line, somehow cut over really hard and took out Zimmer's front wheel. I was right behind him; nothing I could really do. Bike smacked me in the face pretty good and I just went down pretty hard.
And then made it through the LCQ so not the best gate pick going in. You came back to around 11th?
Yeah, I got 11th. I've been working on holeshots all week this week, like insane. But got a good start in the LCQ and then I had a good jump in the main and just some people didn't turn and pushed me wide. That was kind of game over. I had to work my way up to 11th. I'm pumped with where my fitness is. All those guys are kind of dying in front of me and if I had a couple more laps I could have got them. But regroup for Detroit.
And Daytona usually distinguishes who's putting in the work and who's not, so you got to be happy with coming back from where you started.
Definitely. Daytona's definitely really gnarly. She's a beast. I wish I could have got a good start and been up there with those guys and show what I got, but Detroit's coming quick. Work on some more starts and sprints and watch out.
What do you do to train for Daytona since it's so different?
I was down there at Club MX. We've been training down there. They kind of made a full-on sand supercross kind of thing. The thing was insane. Made it and pretty much didn't touch it. It definitely got us prepared for this track for sure.
And bike-wise, what you do different? A lot of people say you try to keep it soft but not too soft.
Honestly I went I think two or three clicks softer and that was it, and just kind of ran it. - Chase Stallo