BUNNELL, Fla. - Less than thirty minutes away from the Daytona Bike Week festivities, the 2014 AMSOIL Grand National Cross Country Series presented by Maxxis and sanctioned by AMA, kicked off its 13-round series with the inaugural running of the Moose Racing Mud Mucker GNCC. The event held true to its name as Saturday's ATV competition saw some of the wettest terrain of the entire circuit, but that didn't stop five-time GNCC National Champion Chris Borich from taking the first win of 2014 in Bunnell, Fla.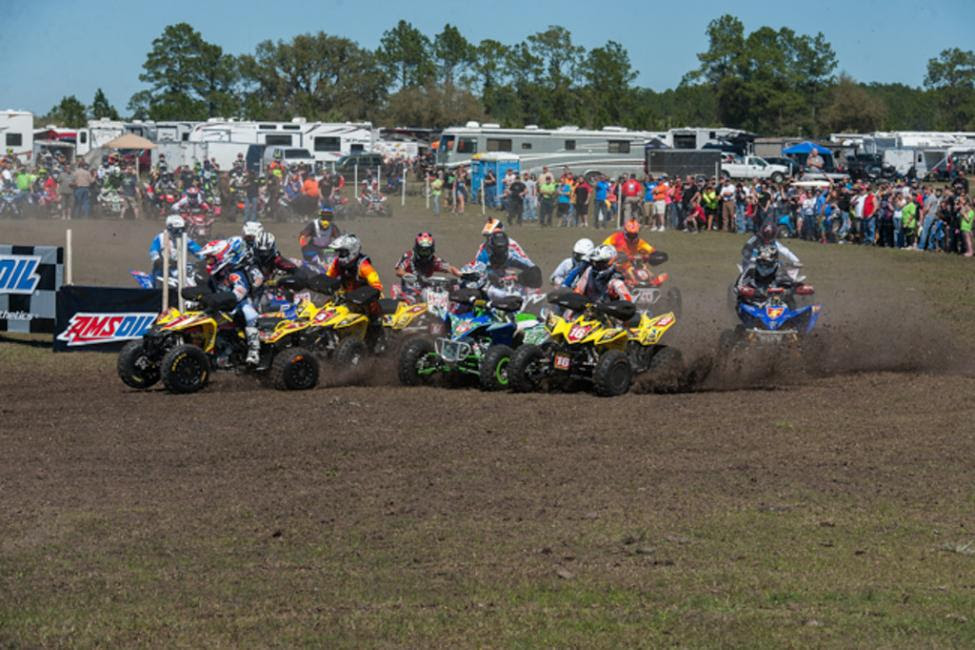 Borich grabbed the $250 Twin Air/DeRisi Racing XC1 Holeshot Photo: Ken Hill
Borich got off to an early start aboard his Maxxis-backed machine after grabbing the $250 Twin Air/DeRisi Racing XC1 Holeshot ahead of nearly twenty other XC1 Pro competitors. Precision/Maxxis Tires/Suzuki's Chris Bithell, who took over the lead on the opening lap, quickly challenged Borich. GT Thunder-backed Brian Wolf inserted himself into the lead battle early on, breaking up the Suzuki duo of Bithell and Borich. However, Wolf ran into mechanical issues that caused him to fall outside the top ten by the second lap.
Meanwhile, N-Fab/AmPro Yamaha's Walker Fowler worked his way through the pack from a start outside the top five. Fowler jumped in behind Borich and Bithell to begin an exciting three-way battle for the lead.
Adam McGill only completed three laps at the season openerPhoto: Ken HIll
RacingPowersports.com/CST Tires/PirateMX.com's Adam McGill put himself within striking distance of Fowler and the leaders in the early portion of the two-hour competition but as the race wore on, McGill's machine wasn't able to withstand the muddy conditions. McGill pulled off after the third lap and never returned to the course.
It was also a tough day for BNR Motorsports/Loctite's Kevin Yoho as the Ohio native experienced mechanical issues early in the race. Yoho was running inside the top five before his machine broke down on the course.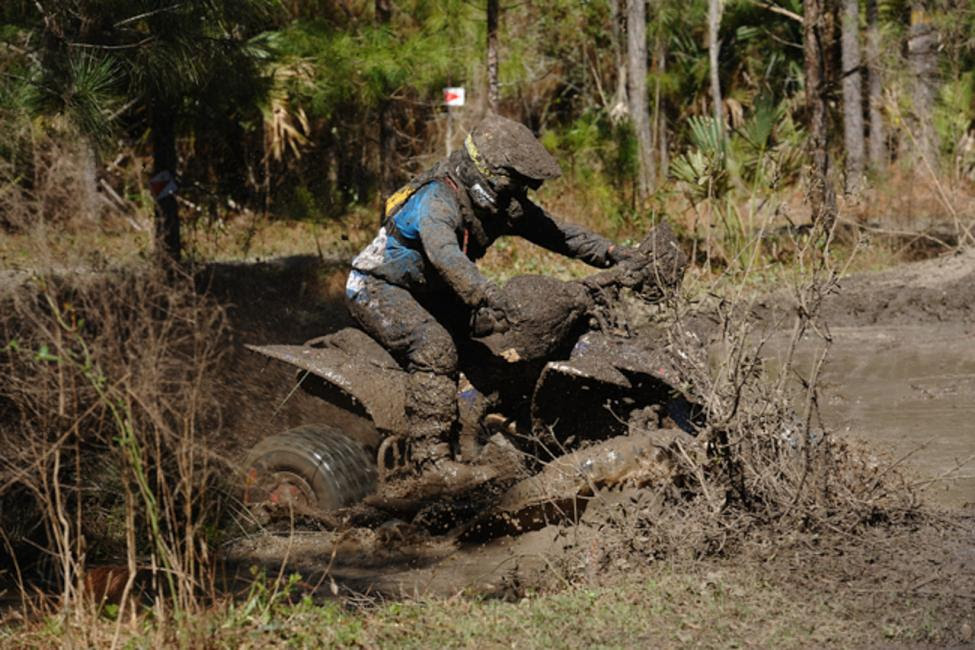 Walker Fowler finished third overall Photo: Ken Hill
The three-way battle for the lead position became more exciting as the race wore on as less than ten seconds separated the top three runners throughout the second half of the race. As the two-lap card fell, Bithell and Borich were wheel-to-wheel, even swapping the lead a few times on the final lap.
Borich said, "There were so many lines out there and I think he [Bithell] bobbled a little and I was able to get by him. On the last lap a stick poked out and grabbed my tether and killed the bike, so he was able to get by me again."
However, it was the reigning champ who prevailed in the end after putting his patented last-lap pass on Bithell to take over the lead as the duo came into the final turns within seconds of one another. Borich went on to capture his sixty-eighth career victory to put him in the lead for all-time ATV wins. With Saturday's win, the current points leader is now tied with Barry Hawk for all-time GNCC victories with sixty-eight.
Chris Borich made his patented last-lap pass for the lead Photo: Ken Hill
"It's definitely pretty cool to tie Barry's record for all-time wins!" Borich said. "The track was pretty brutal out there. It wasn't the sandy whoops like we're used to here in Florida, it was a lot of mud bogs everywhere but I just tried to be smooth, patient and stay out of the roost as much as possible to make the bike last."
Despite leading four of the five laps in the two-hour race, Bithell secured a second place finish to gain valuable points in the championship chase.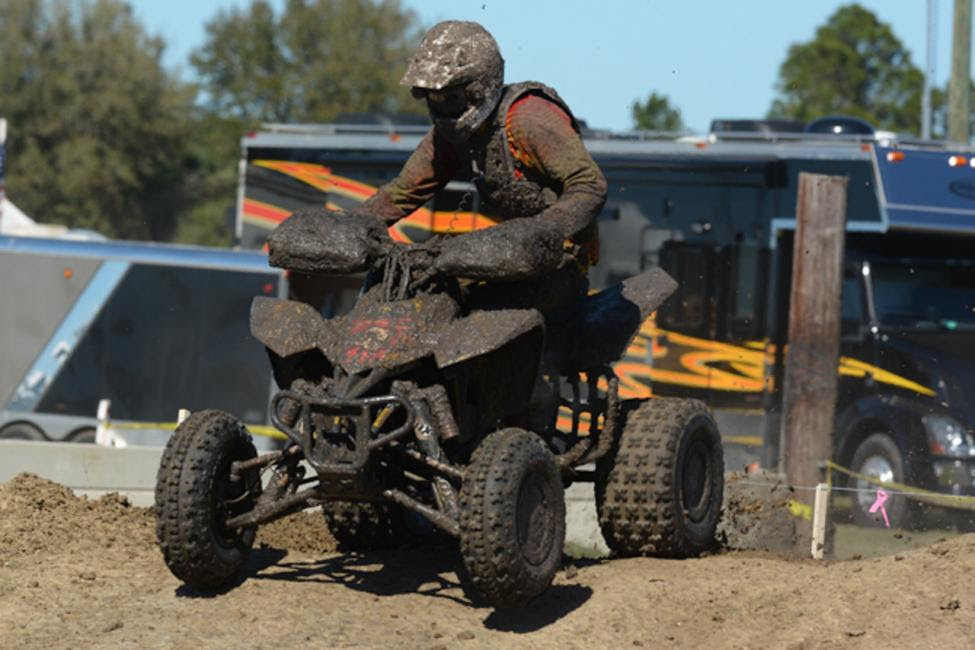 Chris Bithell lead four of the five laps on Saturday afternoonPhoto: Ken Hill
"Second place is actually my best finish ever in Florida, so I'm pumped right now," Bithell said. "It was nuts out there! The last mile before the finish Borich and I were neck-and-neck. My bike blew a little antifreeze so I just kind of backed down. I knew I had Walker by then so I figured it was better to finish second than to break down."
Fowler put forth a valiant effort to finish forty-seconds behind Bithell for the third and final podium position.
"It was a fun day, I got some valuable points and I'm able to get up on the podium and thank everybody that needs it," Fowler said. "We started off the year on a good note and I couldn't be happier about that."
Bithell is all smiles after a second place finish Photo: Ken Hill
DWT Racing's Jarrod McClure began just inside the top ten but the Pennsylvania native moved his way through the pack early on. Although he wasn't within striking distance of the podium battle, McClure put in a solid ride to finish fourth in XC1 and fifth overall for the day. Another notable performance came from Ohio's Josh Merritt, who claimed a fifth place finish in his XC1 debut.
Cole Richardson took his first-ever XC2 victory at Round 1 Photo: Ken Hill
In his XC2 Pro Am debut, N-Fab/AmPro Yamaha's newest addition, Cole Richardson, put forth an impressive performance at the season opener. While it was New Jersey's Randy Hamilton who claimed the All Balls Racing XC2 Holeshot, Richardson took over the early lead and never looked back. Richardson led all five laps of the XC2 competition, while landing a fourth place overall finish for the day.
XC2 Podium: (left) Fred Marley, Cole Richardson, (right) Thomas Koontz Photo: Ken Hill
Fred Marley got off to a great start, following closely behind his SICC Racing teammate and fellow Indiana native Marshal Goings early on. Running in the second place position, Goings made an impressive run on his Maxxis-backed machine before a mechanical issue kept the young gun from finishing in his XC2 Pro Am debut. Marley was able to hold strong to capture second place in the XC2 Class, with tenth overall for the day. BNR Motorsports/Loctite/Lobar's Thomas Koontz Jr. rode a consistent pace, maintaining a top five position all afternoon. Koontz secured the third and final podium position in the XC2 Class, capturing a career-best eleventh place overall for the day.
Todd Demaree took the Top Amateur honors, along with the Vet A (28+) victory Photo: Ken Hill
SICC Racing's Todd Demaree not only took the Vet A (28+) Class win, but the Indiana native also grabbed the Top Amateur honors, finishing thirteenth overall for the day.
The muddy conditions of the 10 a.m. race were very conducive to the 4x4 ATVs and it was no surprise to see five of the top six overall finishers aboard a utility machine. The highly anticipated 4x4 Pro Class made its debut in GNCC Racing, starting on the front row of the morning race. It was UXC Racing/Factory Polaris-backed Michael Swift who led the overall chase early on but a mechanical issue kept him off the podium at the opening round.
4x4 Pro Overall: (left) Bryan Buckhannon, Kevin Trantham, (right) Rick Cecco Photo: Ken Hill
It was all about Can-Am X-Team's Kevin Trantham, who made the jump from the 4x4 Lites Class this season to take the very first 4x4 Pro victory, as well as the morning overall win. ATV Parts Plus/Can-Am's Bryan Buckhannon finished second overall and in the class, while Coldcock Whiskey/Polaris-backed rider Rick Cecco claimed the final podium position. Other heavy hitters in the class include Can-Am's Jordan Phillips who finished fourth overall and BNR Motorsports/Can-Am's Robert Smith, who took sixth overall for the day.
It was a good day for 4x4s in the muddy conditions Photo: Ken Hill
In the sport division, it was a battle of youth once again as young gun Westley Wolfe grabbed the Schoolboy (13-15) Class win, as well as the GT Thunder Amateur Overall Award. Multi-time Youth Overall Champion Hunter Hart made the jump into the 10 a.m. race, where he secured a second place finish in the Schoolboy Class, ahead of the #201 of Cody Collier.
The all-new WXC Premier Women's Class debuted this weekend as well, bringing back big names like past champion Angel (Atwell) Knox, who claimed the victory over a group of fast up-and-comers. Ohio's Kara Merritt put in a solid ride to finish second in the premier division, while newcomer Kristen Deloach finished just behind for third place in the class.
Youth Overall: (left) Rhett Cox, Brandon Frazier, (right) Cameron AbeePhoto: Ken Hill
Florida's Brandon Frazier claimed his second career Youth Overall, with Rhett Cox and Cameron Abee rounding out the overall podium.
The 2014 AMSOIL Grand National Cross Country Series returns next weekend, March 15 and 16 in Washington, Ga., for the Maxxis General GNCC. For more information on the series, visit www.gnccracing.com.
Stay up-to-date with exclusive content from the AMSOIL GNCC Series by following the series Facebook, Twitter and Instagram.
Moose Racing Mud Mucker GNCC
Bunnell, Fla.
Round 1 of 13
Saturday, March 8
XC1 Event Results:
Chris Borich (SUZ)
Chris Bithell (SUZ)
Walker Fowler (YAM)
Jarrod McClure (HON)
Josh Merritt (YAM)
Braden Henthorn (HON)
Johnny Gallagher (YAM)
Brycen Neal (HON)
Jeff Pickens (YAM)
Craig Bowman (YAM)
*Overall National Championship Standings:
Chris Borich (30)
Chris Bithell (25)
Walker Fowler (21)
Cole Richardson (18)
Jarrod McClure (16)
Josh Merritt (15)
Braden Henthorn (14)
Johnny Gallagher (13)
Brycen Neal (12)
Fred Marley (11)
*Indicates that the Overall National Championship Standings will determine the 2014 National Champion.

XC2 Event Results:
Cole Richardson (YAM)
Fred Marley (HON)
Thomas Koontz (YAM)
Martin Christofferson (HON)
James Green (HON)
Jay Humphrey (HON)
Ryland Johnson (HON)
Blake Kramer (YAM)
Brody Livengood (YAM)
Jonathan Fugate (HON)
XC2 Series Standings:
Cole Richardson (30)
Fred Marley (25)
Thomas Koontz (21)
Martin Christofferson (18)
James Green (16)
Jay Humphrey (15)
Ryland Johnson (14)
Blake Kramer (13)
Brody Livengood (12)
Jonathan Fugate (11)
About GNCC Racing
The AMSOIL Grand National Cross Country series presented by Maxxis is America's premier off-road racing series. Founded in 1975, the 13-round championship is produced exclusively by Racer Productions. Cross-country racing is one of the most physically demanding sports in the world. The grueling three-hour GNCC races lead as many as 1,500 riders through tracks ranging in length from eight to 12 miles. With varied terrain, including hills, woods, mud, dirt, rocks and motocross sections, GNCC events are tests of both survival and speed. The series draws talent from all over the U.S., Europe, Japan, Australia and New Zealand. GNCC Racing is televised weekly on NBC Sports and RacerTV.com. For more information, please visit www.gnccracing.com.