Lucas Oil Stadium
Indianapolis

,

IN
Indianapolis
Monster Energy AMA Supercross Championship
The vile remarks spewed on Mike Alessi's social media feeds last week following his highly-controversial heat race takeout in Atlanta showed the grotesque underbelly of the world of social media. We're not here to defend Alessi's move in Atlanta. It was bad racing. Pure and simple. But did Alessi deserve death threats and people wishing he would end up in a wheelchair? Absolutely not. It became such a distraction that Alessi removed the apps from his phone.
"It was a tough week for sure," Alessi told us after Indianapolis. "Mentally and physically tough. Just the comments that people were saying to me on Instagram and Twitter were tough and it got to the point where I just deleted it straight off my phone, the app Twitter and Instagram. I still have my accounts but I deleted the apps from my phone."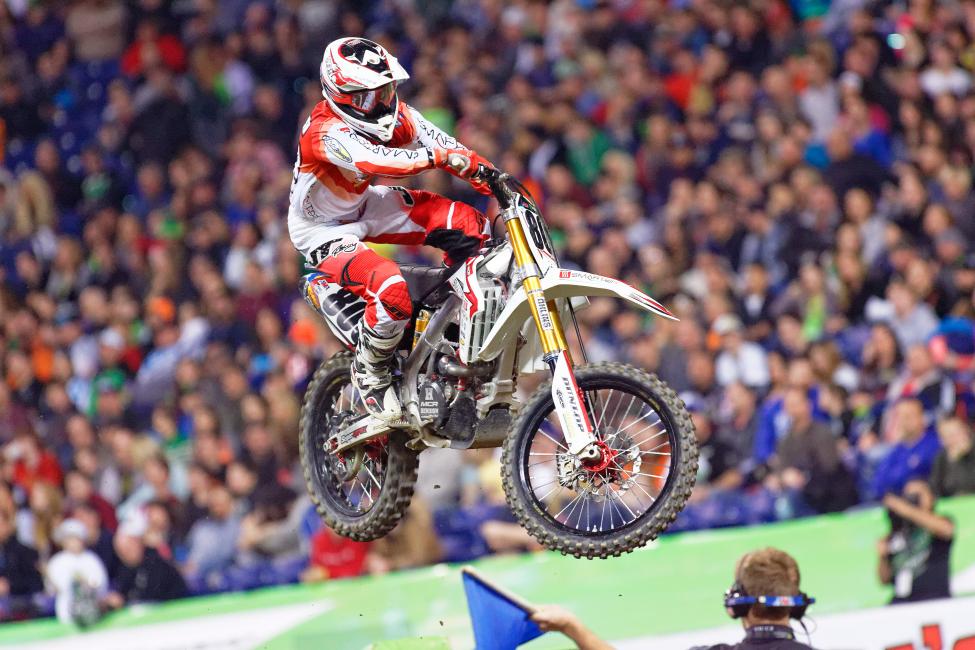 The irony in all of this: Mike Alessi has weathered the storm, and has actually strung together his best races of 2014—heck, some of the best races of his supercross career. He led the main event for a few laps in Atlanta. He won his heat race in Indianapolis. He again led the 450 Class around the first turn inside Lucas Oil Stadium and led for a bit, and was just laps away from his first podium since 2009. When he took his heat race win in Indy, fans booed Mike hard, as right now the focus is on Mike Alessi the villain instead of Mike Alessi the racer. But Mike himself has already moved on.
"As soon as I deleted it off my phone [Twitter and Instagram] and stopped looking at it I felt so much better and I was able to start focusing on the weekend and progressing and … let's go to the weekend, just put forth the good effort and do the best that we can. That's all we can do," he said.
"It's so mental, this sport, especially at this level," Alessi reiterated. "You've just got to believe in yourself and your ability and know that you can do it because all the riders are great and they're all competing super hard and it's very close this class right now. The 450 class is stacked."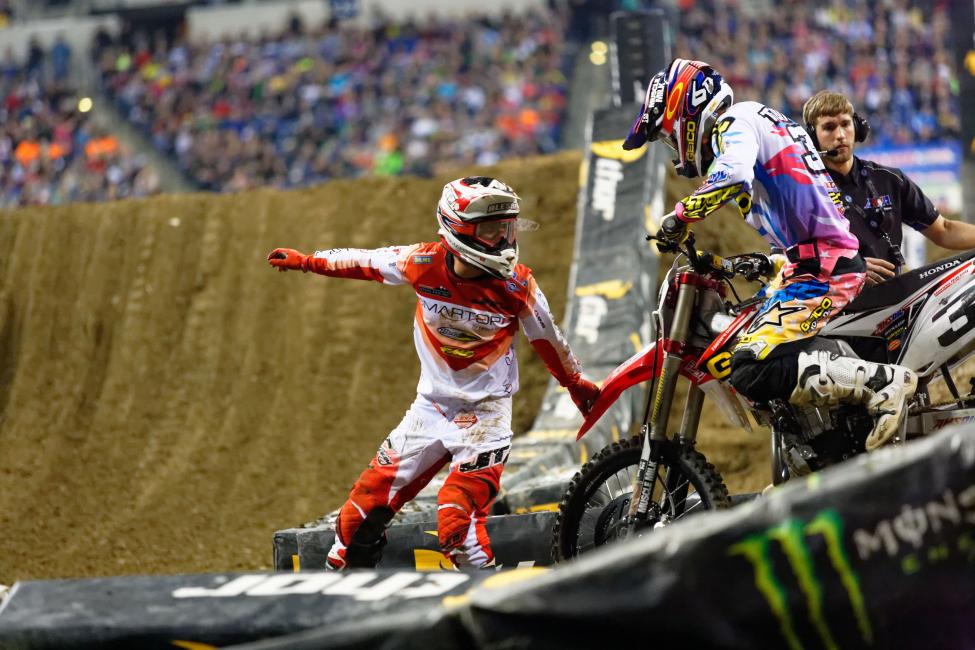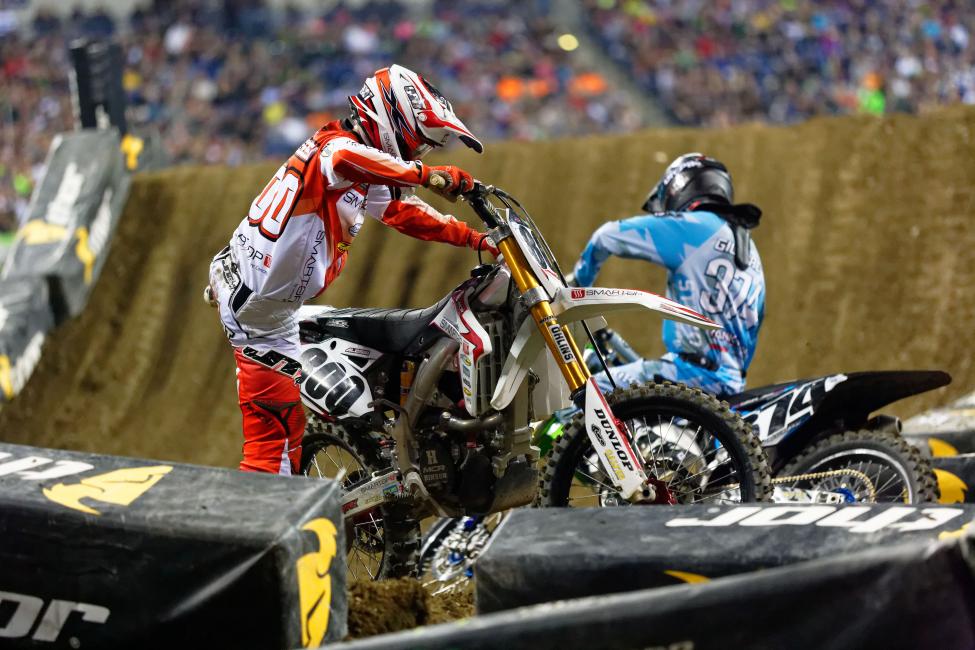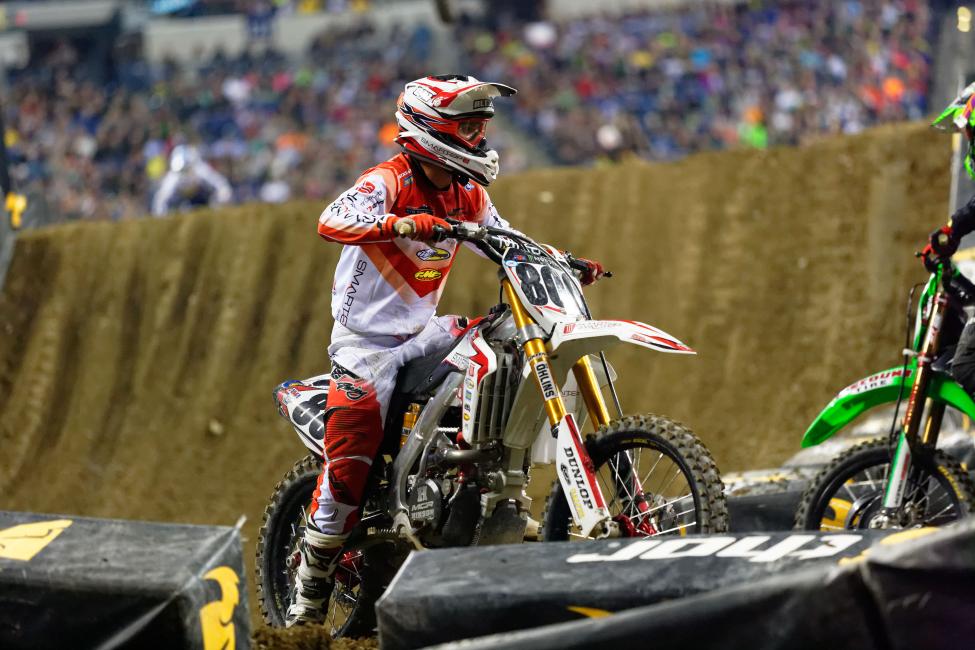 Alessi was able to block out the mental—the vulgar remarks, the threats on his life—and concentrate on the racing.
"The heat race was great," he said. "Felt like we were riding good. Main event, got the holeshot, put myself in a good position and led a couple laps. Dungey got by and he was riding good, so was in second. About lap 11 or 12, it was just a simple cross-rut. It was a tricky track tonight and she sent me to the ground. I can't say I was not trying, or I wasn't going for it, because I was. Just a simple mistake and that's part of racing. But we'll regroup and come back strong next week at Daytona."
Focused on the next week and the next race, again. There are many that will want to keep dwelling on Atlanta, but Mike is making sure he's not one of them.