The Grand Prix of Qatar was not for the faint-hearted or the weak-limbed. For a (un)healthy quota of the FIM World Championship elite the first of eighteen rounds – the longest slate in the series' history, which dates back to 1957 – either came too soon in their recovery from injury or the bumpy, square-edged holes of the hard-pack compounded problems. Red Bull KTM's Tony Cairoli is going for his eighth world title, his first in the new MXGP class, but conceded victory in this first thrust into the calendar to arguably his fiercest challenger to the crown, Monster Energy Kawasaki Racing Team's Gautier Paulin.
Cairoli went 2-3 and was grimacing after the first shortened moto (GPs now running Pro National-style 30+2 races) in the wake of aggravating his tender left ankle. While winner of the inaugural grand prix here in Losail almost exactly twelve months previously, Rockstar Suzuki's Clement Desalle, showed signs of rustiness having only competed once since the Motocross of Nations and that unfortunate shoulder break and subsequent operation. The Belgian was a meek seventh overall but expect much better some time soon.
Paulin confessed that his victory was earned with chalk and cheese performances. His flight to third in the first moto behind a runaway Max Nagl on the exotic Team HRC CRF450RW ('W' for works) and Cairoli left him unimpressed and cued a few necessary tweaks on the Kawasaki for the second moto. After a better start in Moto2, the Frenchman only had reborn teammate Steven Frossard for company at the front. Frossard's fourth overall and second place in the final moto of the day was vindication that the dry-humoured former championship runner-up still has goods to offer at the sharp end of GP.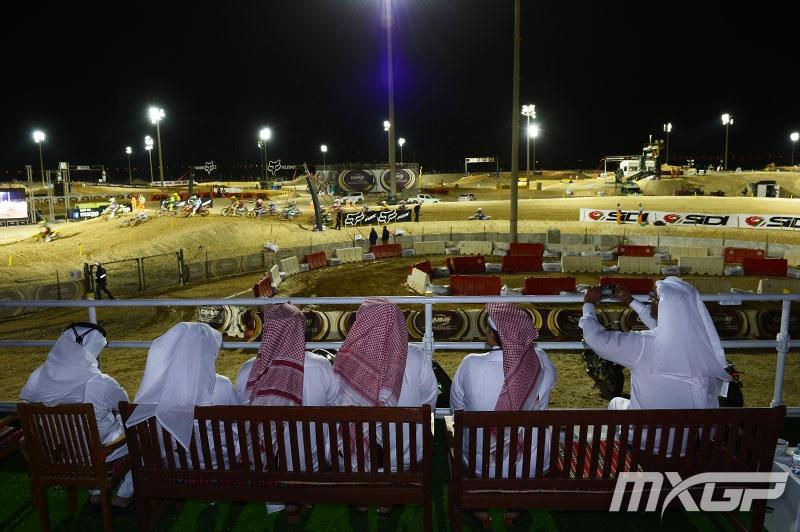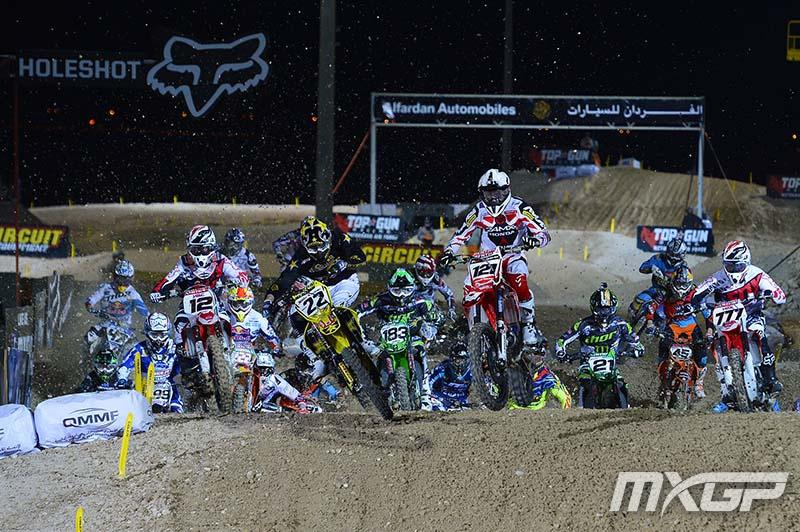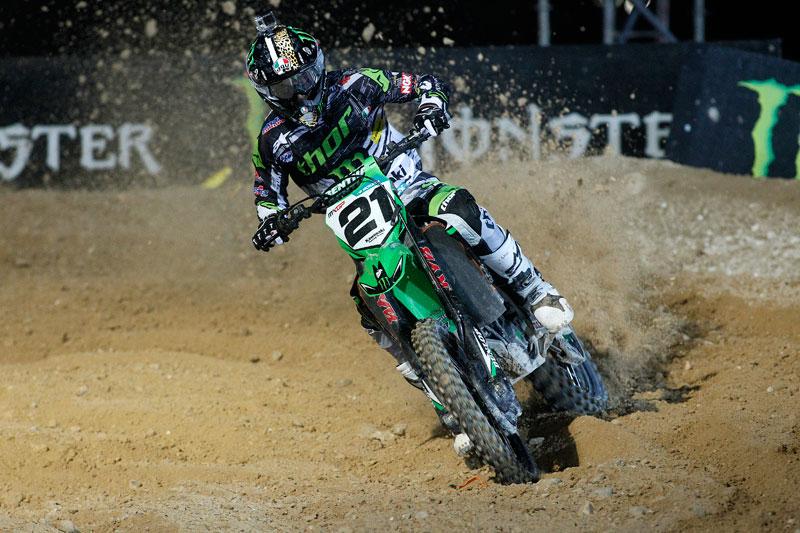 Cairoli, illuminated by 32 towering lighting poles and 360 fixings around the renovated Losail circuit, as well as fanciful LED patterns on his helmet and boots, gritted his teeth through a second sprint while Nagl played a cautious game to ensure his first podium for Honda and first since 2011. Like Frossard, the German has some motivation to show that he is not followed around by an injury 'black cloud' and even arrived late and packed his own food to avoid the chance of a repeat of the stomach virus he suffered at this venue last year, which ruined the start of his 2013 season. The Honda pit box was a busy one with at least five more Japanese technicians tweaking the prototype. "Every time I come back to the pit there are five Japanese engineers in the team," explained Nagl. "They all have laptops and if I have a question then I always get an answer when it comes to bike set-up. Just in these two days I was able to learn so much from them. It is a big change and for sure it pushes the team to the next level and I'm really happy and I really like it."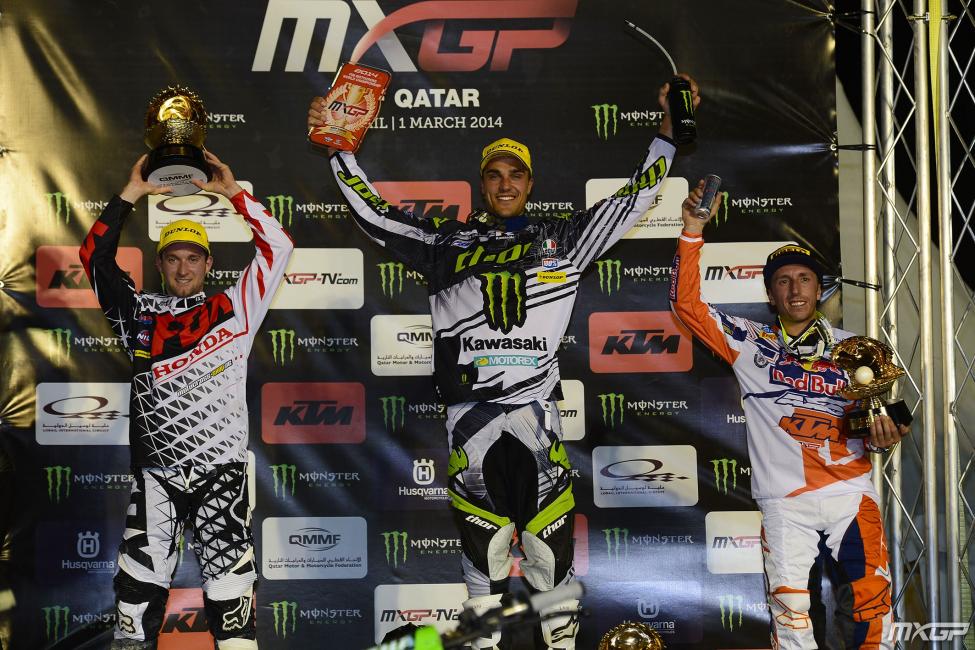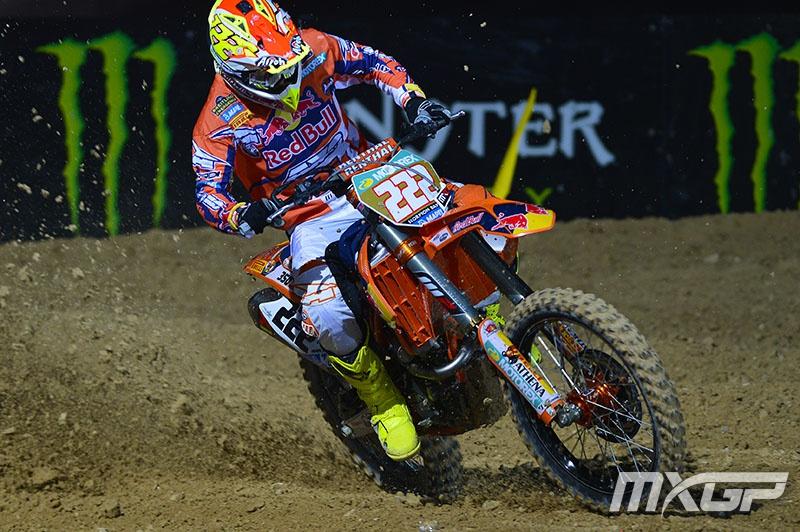 There was a hint of blue at the back of the leading group and two fifth positions for Yamaha's Jeremy Van Horebeek duly granted the same overall. The Belgian's works YZ450FM showed its prized status with an electric start. Back to the injury theme, Nagl's teammate Evgeny Bobryshev was another with a weak ankle and the many right turns of the punishing circuit caused the Russian to end the day almost writhing in pain. 777 was in the top ten but would surely have done better with his lively starts were it not for the twisted ligaments. Tanel Leok, Jake Nicholls and Tyla Rattray were the other walking wounded. Rattray actually sat out as bones in a broken little finger were shifting and causing the digit to painfully blow-up. An operation is scheduled in Belgium and the South African could miss another two rounds for an unfortunately limp start to his Husqvarna MXGP career.
Over to MX2 and Red Bull KTM's reigning double number one, Jeffrey Herlings, may have started where left off in 2013 – going 2-1 for victory – but this should and could have been Max Anstie's first Grand Prix win. The Bike it Yamaha Cosworth rider was clearly ahead in both races until mechanic problems ended his progress and shredded his patience. Anstie is on his fourth team in four years but really seems to have found his niche with the British crew that previously elevated Zach Osborne and Dean Ferris to prominence. A lack of testing time meant that Anstie rode Ferris' 2013 YZ250F at Qatar but Team Manager Steve Dixon insists the 2014 YZ250F will be even better and faster once dialled. Considering the potency of that carburetted package over the past three years then it is scary news for the MX2 field.
Herlings complained about his riding and at one point he did actually start going backwards in his chase through the field in the second moto but with just over three weeks of riding in 2014 due to injury recovery (stress fracture in his leg) he could not have expected more. He needs to improve his starts significantly to be able to win by the twenty-odd seconds that he claims is possible.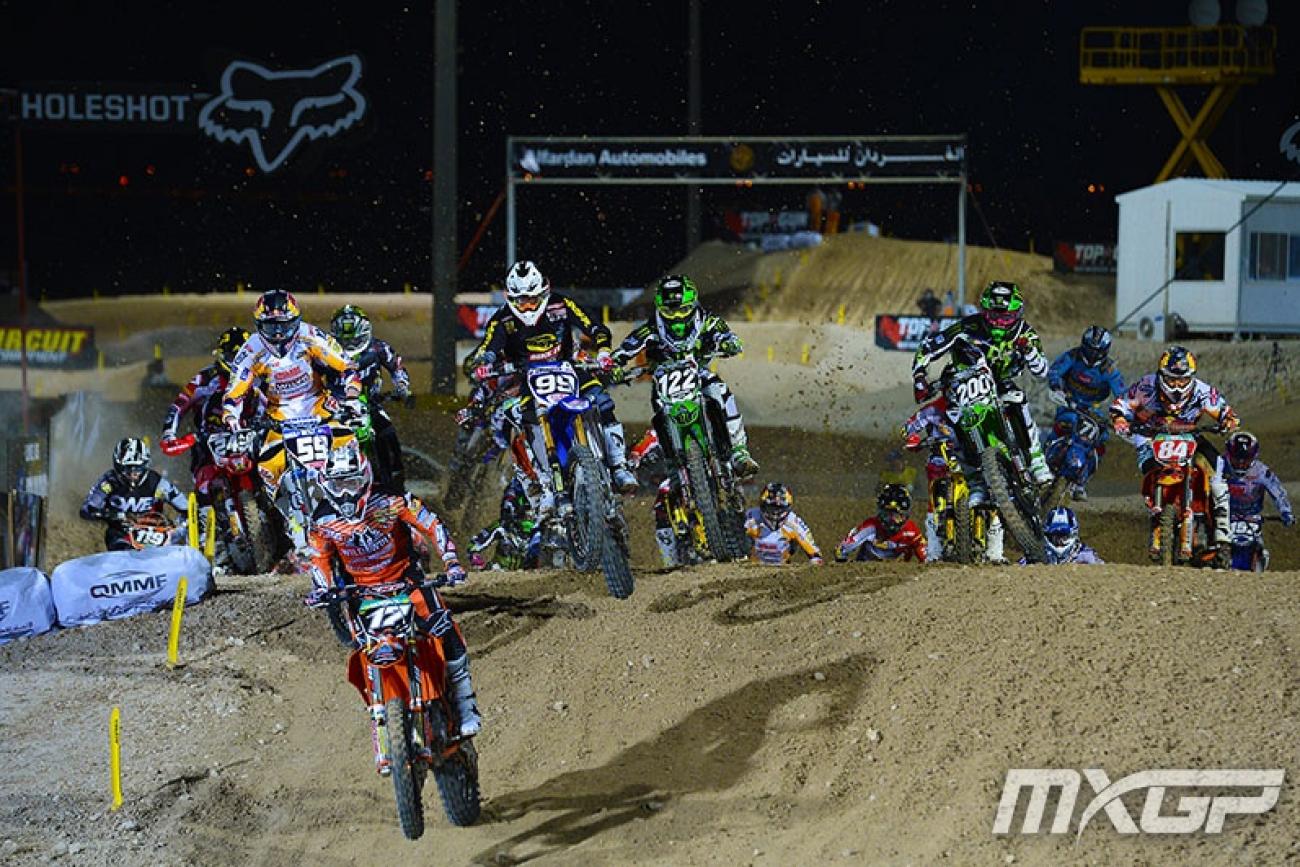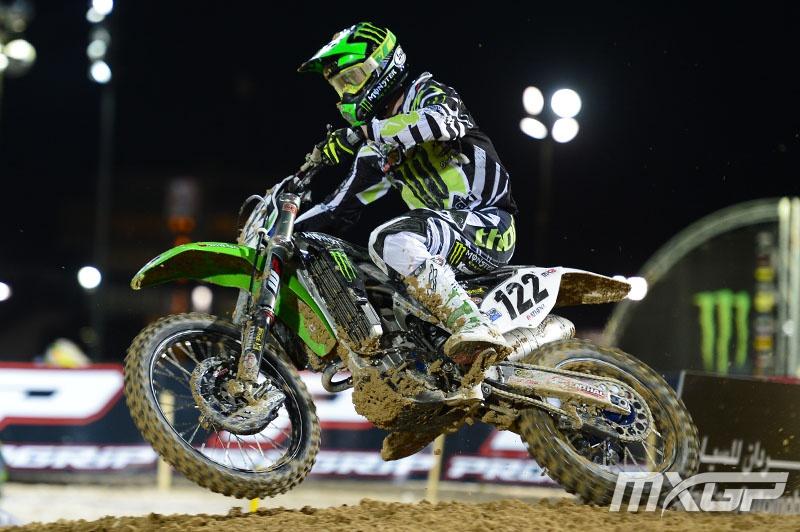 There seemed to be Monster Energy Kawasakis everywhere in the 250s. Dylan Ferrandis beat Herlings by three tenths of a second to win his first ever moto in what was his maiden appearance for the French factory-back CLS crew. Then AMA wild-card teenager Thomas Covington shone with a second moto blaze that saw him bounce between second and third positions for the duration, finally securing third. The Pro Circuit starlet was forced out of the first chase due to a malfunctioning clutch and it was a close-call to get the bike repaired and back in the gate for the second bite of the cherry. We'll have a full chat with Covington here on Racer X Online later.
Covington was actually bumped from second by Arnaud Tonus; yet another GP star almost forgotten through a succession of broken bones that has kept the Swiss largely a distant figure since pre-season 2012. Tonus arguably unearthed the 'ride of the race' as he ploughed through the ruts from outside the top ten to hassle Herlings.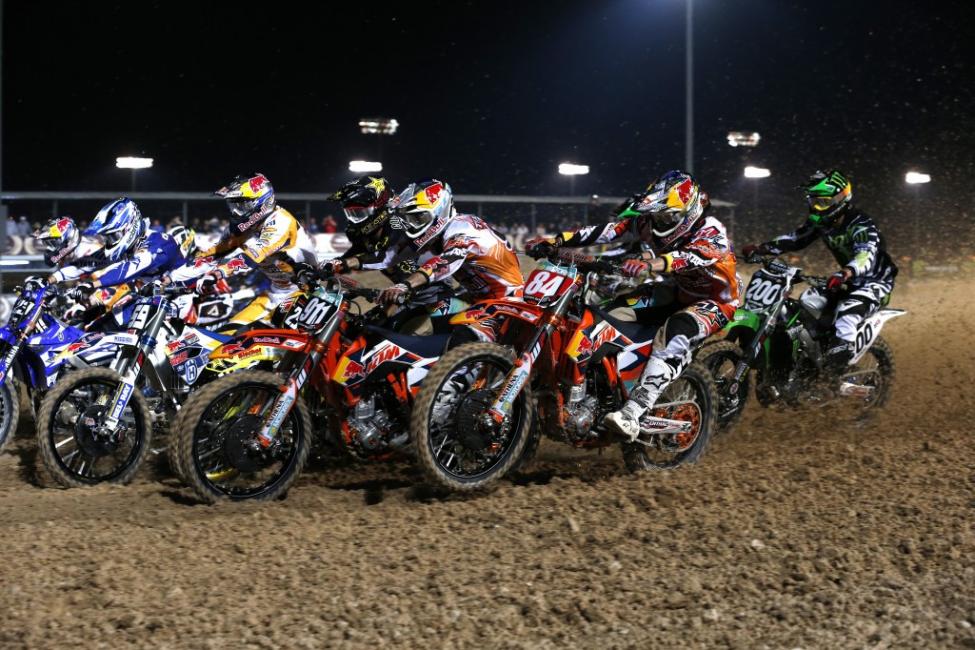 Also of note in MX2…Romain Febvre rounded off the top three at the place where he first trod podium steps in 2013. Significantly it was the first rostrum achievement in the new era for Husqvarna and their first trophy since Alex Puzar grabbed the last of his colourful career at Namur in 2003.
Changing colours and the Kawasaki 'greenery' did not end with the disputes at the front of the field. The first ever non-European round for the FIM Women's World Championship saw the girls in the unlikeliest of locations for racing but one that was also a key strategic political move by the FIM and Qatar Federation. Against a backdrop of admirable heavy proactivity for women's motocross, Aussie Meghan Rutlegde was invincible on her KX250F, topping Natalie Kane and Livia Lancelot, while defending number one Kiara Fontanesi was sixth overall after two crashes, one in each race.
The bikes were broken down and the crates swiftly packed early Sunday morning as the show freights to Thailand this week. Humidity and the undulations of Si Racha await for round two.
MXGP Moto 1
1. Maximilian Nagl (GER, Honda), 34:57.925;
2. Antonio Cairoli (ITA, KTM), +0:01.942;
3. Gautier Paulin (FRA, Kawasaki), +0:07.827;
4. Steven Frossard (FRA, Kawasaki), +0:15.643;
5. Jeremy Van Horebeek (BEL, Yamaha), +0:26.612;
6. Tommy Searle (GBR, Kawasaki), +0:31.196;
7. Kevin Strijbos (BEL, Suzuki), +0:33.585;
8. Evgeny Bobryshev (RUS, Honda), +0:34.386;
9. Clement Desalle (BEL, Suzuki), +0:34.597;
10. Joel Roelants (BEL, Honda), +0:50.077;
MXGP Moto 2
1. Gautier Paulin (FRA, Kawasaki), 35:04.471;
2. Steven Frossard (FRA, Kawasaki), +0:02.773;
3. Antonio Cairoli (ITA, KTM), +0:09.941;
4. Maximilian Nagl (GER, Honda), +0:13.124;
5. Jeremy Van Horebeek (BEL, Yamaha), +0:20.093;
6. Clement Desalle (BEL, Suzuki), +0:23.932;
7. Tommy Searle (GBR, Kawasaki), +0:25.651;
8. Kevin Strijbos (BEL, Suzuki), +0:38.386;
9. Evgeny Bobryshev (RUS, Honda), +1:02.213;
10. Joel Roelants (BEL, Honda), +1:05.317;
MXGP Overall result
1. Gautier Paulin (FRA, KAW), 45 points;
2. Maximilian Nagl (GER, HON), 43 p.;
3. Antonio Cairoli (ITA, KTM), 42 p.;
4. Steven Frossard (FRA, KAW), 40 p.;
5. Jeremy Van Horebeek (BEL, YAM), 32 p.;
6. Tommy Searle (GBR, KAW), 29 p.;
7. Clement Desalle (BEL, SUZ), 27 p.;
8. Kevin Strijbos (BEL, SUZ), 27 p.;
9. Evgeny Bobryshev (RUS, HON), 25 p.;
10. Joel Roelants (BEL, HON), 22 p.;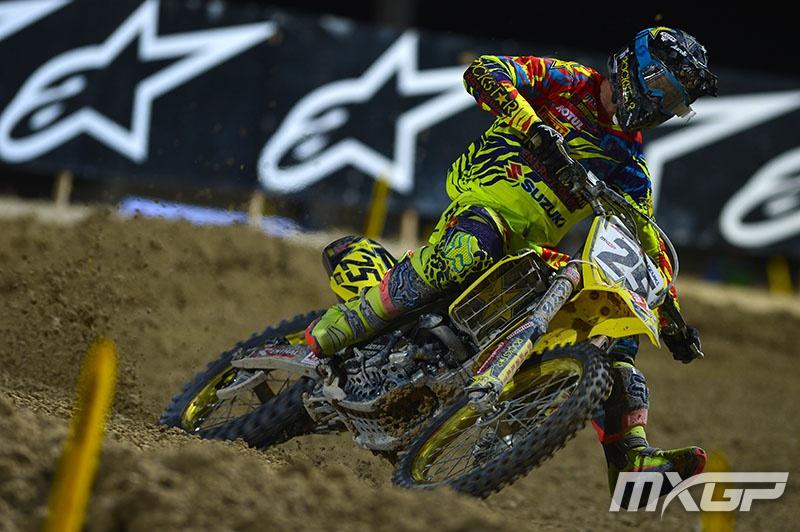 MXGP World Championship standings after 1 of 18 rounds
1. Gautier Paulin (FRA, KAW), 45 points;
2. Maximilian Nagl (GER, HON), 43 p.;
3. Antonio Cairoli (ITA, KTM), 42 p.;
4. Steven Frossard (FRA, KAW), 40 p.;
5. Jeremy Van Horebeek (BEL, YAM), 32 p.;
6. Tommy Searle (GBR, KAW), 29 p.;
7. Clement Desalle (BEL, SUZ), 27 p.;
8. Kevin Strijbos (BEL, SUZ), 27 p.;
9. Evgeny Bobryshev (RUS, HON), 25 p.;
10. Joel Roelants (BEL, HON), 22 p.;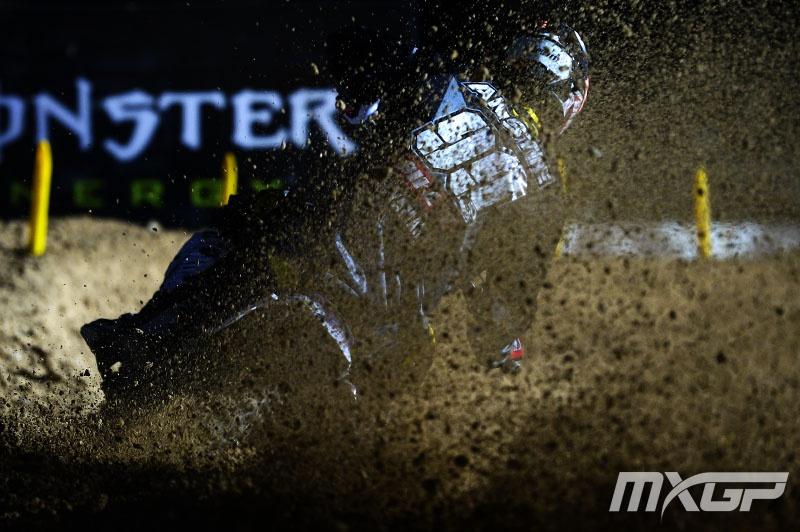 MX2 Moto 1
1. Dylan Ferrandis (FRA, Kawasaki), 33:53.328;
2. Jeffrey Herlings (NED, KTM), +0:00.329;
3. Glenn Coldenhoff (NED, Suzuki), +0:02.209;
4. Jose Butron (ESP, KTM), +0:13.569;
5. Romain Febvre (FRA, Husqvarna), +0:13.882;
6. Aleksandr Tonkov (RUS, Husqvarna), +0:21.091;
7. Jordi Tixier (FRA, KTM), +0:26.905;
8. Tim Gajser (SLO, Honda), +0:30.193;
9. Valentin Guillod (SUI, KTM), +0:32.229;
10. Arnaud Tonus (SUI, Kawasaki), +0:36.827;
MX2 Moto2
1. Jeffrey Herlings (NED, KTM), 33:49.169;
2. Arnaud Tonus (SUI, Kawasaki), +0:01.204;
3. Thomas Covington (USA, Kawasaki), +0:07.646;
4. Romain Febvre (FRA, Husqvarna), +0:09.683;
5. Aleksandr Tonkov (RUS, Husqvarna), +0:10.437;
6. Dylan Ferrandis (FRA, Kawasaki), +0:12.271;
7. Jordi Tixier (FRA, KTM), +0:12.453;
8. Jose Butron (ESP, KTM), +0:13.740;
9. Christophe Charlier (FRA, Yamaha), +0:14.739;
10. Tim Gajser (SLO, Honda), +0:15.526;
MX2 Overall result
1. Jeffrey Herlings (NED, KTM), 47 points;
2. Dylan Ferrandis (FRA, KAW), 40 p.;
3. Romain Febvre (FRA, HUS), 34 p.;
4. Arnaud Tonus (SUI, KAW), 33 p.;
5. Aleksandr Tonkov (RUS, HUS), 31 p.;
6. Jose Butron (ESP, KTM), 31 p.;
7. Glenn Coldenhoff (NED, SUZ), 29 p.;
8. Jordi Tixier (FRA, KTM), 28 p.;
9. Tim Gajser (SLO, HON), 24 p.;
10. Christophe Charlier (FRA, YAM), 21 p.;
MX2 World Championship standings after 1 of 18 rounds
1. Jeffrey Herlings (NED, KTM), 47 points;
2. Dylan Ferrandis (FRA, KAW), 40 p.;
3. Romain Febvre (FRA, HUS), 34 p.;
4. Arnaud Tonus (SUI, KAW), 33 p.;
5. Jose Butron (ESP, KTM), 31 p.;
6. Aleksandr Tonkov (RUS, HUS), 31 p.;
7. Glenn Coldenhoff (NED, SUZ), 29 p.;
8. Jordi Tixier (FRA, KTM), 28 p.;
9. Tim Gajser (SLO, HON), 24 p.;
10. Christophe Charlier (FRA, YAM), 21 p.;