Welcome to Racerhead, coming to you from the road to Indianapolis—we're driving west to watch tomorrow night's round of the 2014 Monster Energy AMA Supercross Championship at Lucas Oil Stadium. Red Bull KTM's Ken Roczen will be looking to double up with back-to-back wins while Monster Energy Kawasaki's Ryan Villopoto looks to get his first win since Oakland. RV is still the points leader, and we'll have more on him later. It also appears that the slump of the Monster Energy/Pro Circuit Kawasaki team is finally over too. We'll have more on that later as well.
But we have maybe 800 other things to talk about first. Okay, one thing: the brutal takeout of RCH Racing's Broc Tickle by the moto-man-in-the-black-hat himself, Mike Alessi. I say that jokingly. Alessi is not a bad guy, but he's made some bad choices and decisions—this one in a split second, but covered by four different camera angles, including Hi-Def slow-motion, and replayed ad nauseam. He was fined $4,000 by the AMA, which doesn't seem like much to some, though it's important to remember that his last fine for rough riding came back in 2005 at Glen Helen. (It was also $1,000 more than Josh Hansen got last year for taking someone out in the LCQ in the last turn for no apparent reason, hitting the kid so hard that it broke his knee brace.)
Alessi is not the most popular guy on the playground, and as a result the backlash was epic. It didn't help matters that the unfortunate target, Broc Tickle, is a well-liked, respected rider who never saw it coming. A lot of top riders and past champs took to their little shots, too, which is to be expected—it was a pretty obvious takeout by any standard.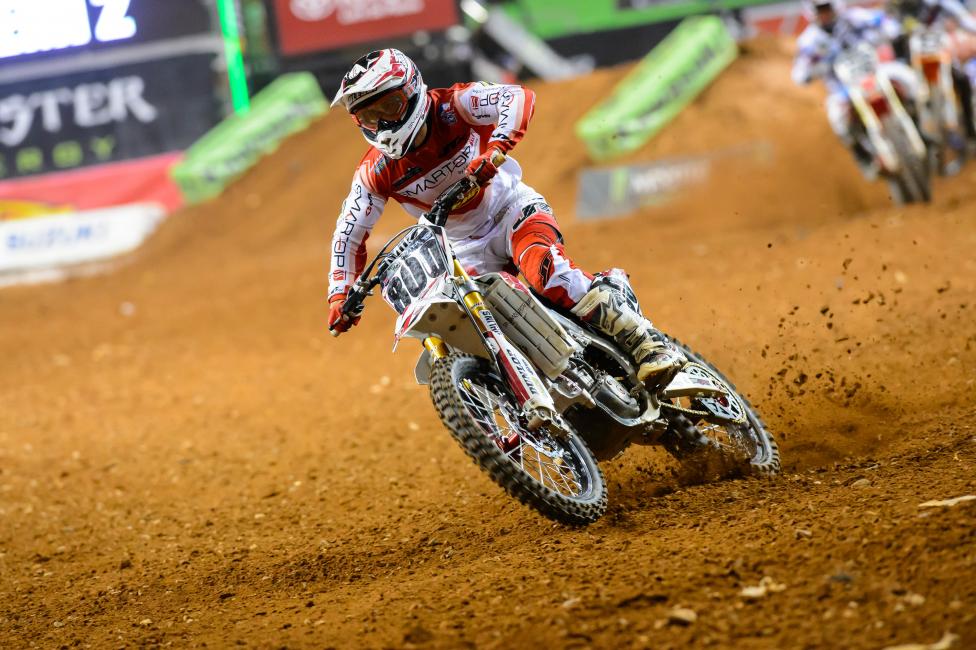 Still, what followed in the days after the race was harsh, sad, and even a little unsettling. Alessi started getting death threats on social media, his Instagram and Twitter accounts bombarded with hateful insults, and the message boards went into overdrive as posters tried to out-spite one another. Mike went on the PulpMX Show with his team owner, Mike Genova, on Monday night to explain his actions, apologize, and try to move on, but that didn't stop the bashing either. In fact, it probably won't ever really stop for #800. And that's unfortunate, because he's the sum of his parts in this case, with years of drama involving not only himself but his dad and his brother. It goes back to their minicycle days, all the way up through last summer's very strange day at Washougal, which Mike didn't even know about until the proverbial shit hit the fan.
I hope Mike only generates headlines and forum threads though his results moving forward. But social media can be a bloodsport when people don't like you or what you did, and he paid much more than $4,000 in that regard.
Let's get into the rest of Racerhead.
HOW TO WATCH (Chase Stallo)
An action-packed weekend of racing kicks off Saturday night with the Indianapolis SX airing live on FOX Sports 1 at 7:30 p.m. ET. Following that, CBS Sports Network has the opening round of the FIM World Championships from Qatar at 12:30 a.m. ET/9:30 p.m. PST. On Sunday make sure to watch episode three of Behind the Dream on CBS at noon ET. Also, round two of Amsoil Arenacross will air on FOX Sports 1 at noon. As always, make sure to follow Racer X Online on Twitter and Instagram (@racerxonlne) for news from Indy.
THE NUMBER: 3 (DC)
Three straight races, three straight new winners. Monster Energy/Pro Circuit Kawasaki sophomore rider Justin Hill got his first win at San Diego, followed one week later by rookie teammate Adam Cianciarulo getting his at Dallas. A third rider on Mitch Payton's team, Martin Davalos, made it three new winners in a row, all on Pro Circuit KX250Fs. Looks like the slump is over.
Who will be next? If there's another first-time winner, it won't be a Monster Energy rider—Blake Baggett has won 250SX races before. But never in the history of the sport have four different riders on one team won four straight races, and Baggett seems due.…
But if it's another first-time winner for another team, keep an eye on GEICO Honda's Justin Bogle or Yamahalube/Star Racing's Jeremy Martin—if he makes it to the main event!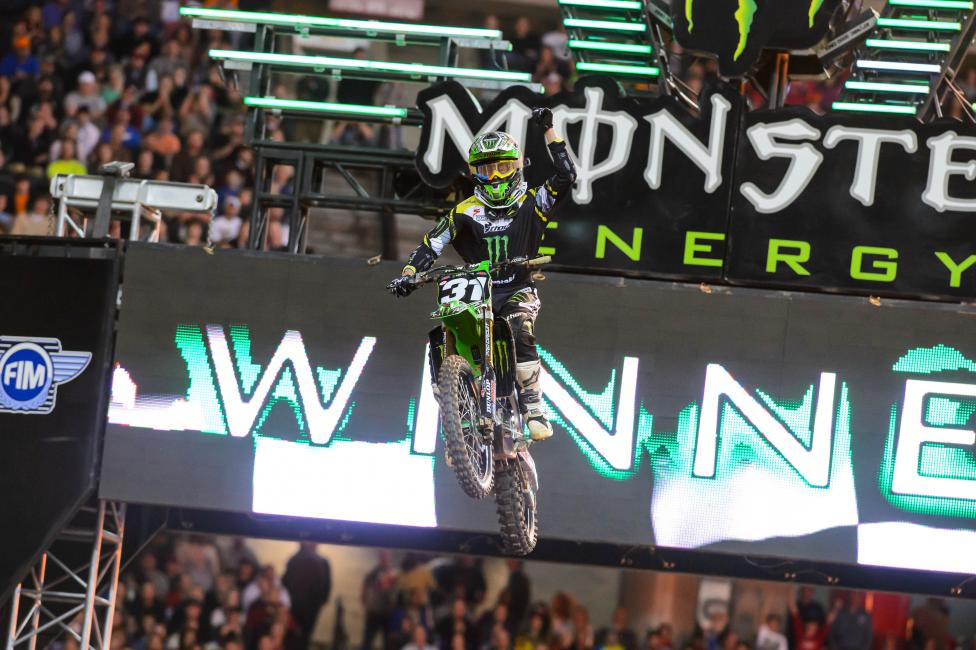 PRO PERSPECTIVE (David Pingree and Jason Thomas)
JT$: I have been taken out many, many times and it was usually by someone I expected it from. In all of my years of racing, there were a select few guys who typically rode dirty, and I hated them for it. I was there to put in a great result for my team and sponsors and make money to pay my bills. I always felt that dirty riding and stupid moves regarding it were very counterproductive; inevitably there would be retaliation which would further set both parties back as a result.
As far as my mental approach, however, that would be best described as unstable. I always had trouble controlling my temper with that kind of stupidity, and if I had been Tickle, even though it would have been foolish, I would have had to repay the favor. I always felt that riders went unpunished in situations like that, so I wanted to get my own sort of vigilante justice. Looking back now it seems very childish, but in the moment it felt very justified. I commend Tickle for taking the high road, because I know I wouldn't have been able to. Hopefully both sides have moved past this and can concentrate on their own race at Indy. I will have my popcorn ready, though, if they want to revisit the situation.
PING: I've been cleaned out a time or two over the years, and watching Tickle go flying through the air and hit the deck, it reminded me just how fired up I used to get when that would happen. To my own detriment, I raced with a lot of emotion, especially when I was younger. That's great at times but it also hurt me when a more rational approach would have been better. Any time someone knocked me down I would literally make it the focal point of my life to repay the sorry sonofabitch that hit me. Sometimes it would be later in the race or in the main event or even the next weekend if necessary.
Cooler heads did not prevail as often as they should have with me. Once again I will refer you to my championship trophy case to see how all that worked out for me. I'm sure Tickle wants to field-tackle Alessi during track walk this week, but his best move would be to forget about last weekend and focus on his own riding.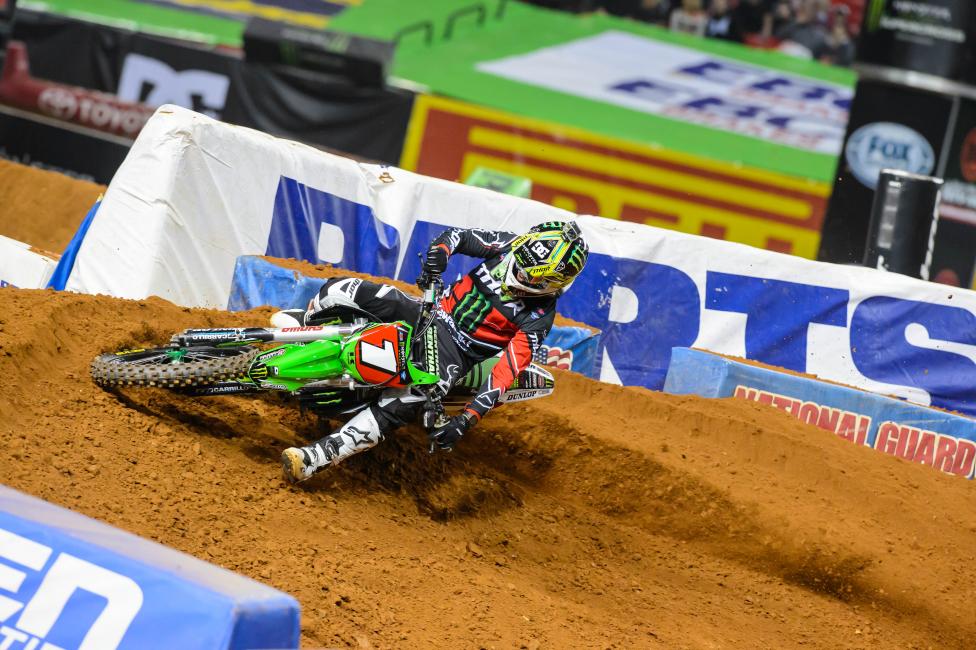 CHASING HISTORY (Chase Stallo)
Monster Energy Kawasaki's Ryan Villopoto is nine rounds away from his fourth consecutive Monster Energy Supercross Championship. He's also nine rounds away from joining Jeremy McGrath as the only rider to four-peat in the premier class. As Villopoto continues to amass wins and titles, his place on the Mt. Rushmore of Supercross begins to be etched. We caught up with the current 450SX points leader at Lucas Oil Stadium in Indianapolis during press day.
On what it would mean to tie Jeremy McGrath with a four-peat:
"It was be pretty cool in order to do that. For myself alone to make it four in a row it would be huge. I'm happy with where we're at right now with how the season has gone. Obviously, it could have gone better, but we're sitting in a good spot. For me, I want to start to get some more race wins and get those extra three points a weekend and get a little bit of a lead."
On what his legacy will be:
"I'm hoping it will be good. That's kind of a hard question to answer while I'm still here. Give it a couple of years once I retire and we'll see. One of the bummer thing of this sport is people tend to forget. You're only as good as your last race."
On if the thought of a four-peat creeps into his thought process:
"No. We are still way too far away right now. I'm just trying to concentrate on trying to get race wins, being consistent and staying out of trouble."
On looking back on personal accomplishments after retiring:
"I never had a goal to say I was going to break any records or any one record. Like I said, eventually, once that time comes, I'm sure looking back on it will be pretty cool, but as of right now I'm concentrated on trying to do my job."
On racing-strategy changes after eight rounds:
"We still need to be consistent, but we kind of need to start getting some race wins."
ANOTHER NUMBER: 5 (DC)
In the 450 class we have had four different winners in eight races, each with two wins apiece: Ken Roczen (Anaheim, Atlanta), Ryan Villopoto (Phoenix, Oakland), Chad Reed (Anaheim 2, Anaheim 3), and James Stewart (San Diego, Dallas). Of course Reed is now out, which means we're either going to have a third win for RV, Roczen, or Stewart or a fifth new winner, like maybe Ryan Dungey or even Justin Brayton or someone else....
But the number five has another meaning here. According to the preview notes sent out each week by Feld Motor Sports media man Denny Hartwig, Villopoto could break the record for consecutive wins at Lucas Oil Stadium in Indianapolis with a win. Last year he beat out Dungey here, and in 2012 he got the best of Justin Brayton (who was on a Honda that season). In 2011 it was Stewart (then on a Yamaha), and in 2010 it was again Dungey who finished second, this time on a Suzuki.
Not sure how RV's five straight wins at one venue stack up in the forty-year history of Monster Energy AMA Supercross. Sounds like a job for Hansel, or maybe our international statistician, Andras Hegyi!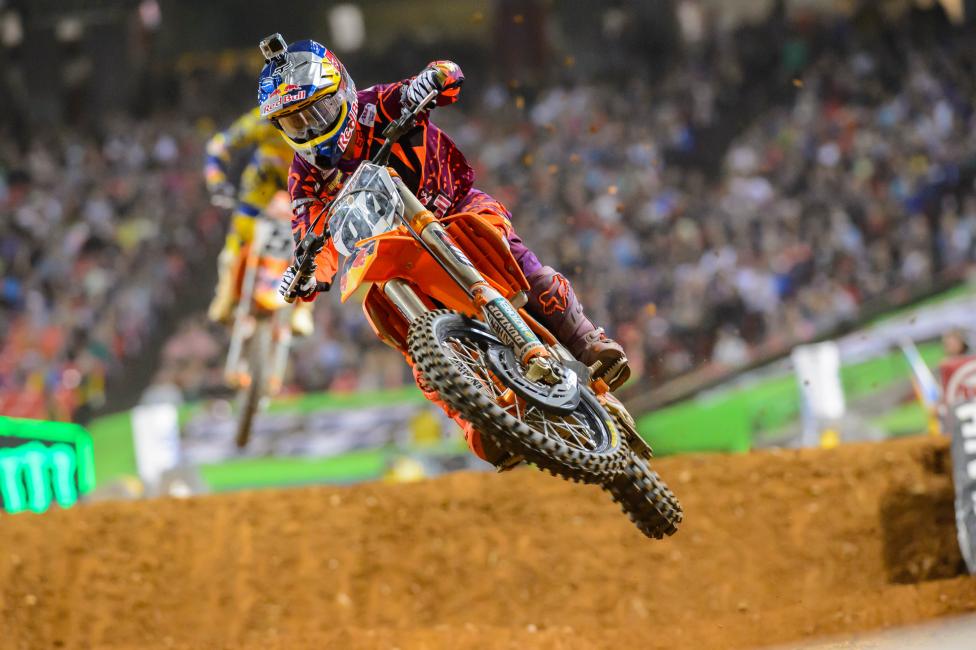 WELCOME TO THE CLUB (DC)
Hegyi sent us some interesting stats from Hungary (we're big in Budapest) after last weekend's race. Martin Davalos has been here on the U.S. circuit for some time, but he hails from Ecuador in South America. That makes him the third winner coming from south of our border. The first was Mexico's Pedro Gonzalez, and of course Costa Rica's Ernesto Fonseca is one of the best 125 SX riders of all time, as well as the first win a main event on a four-stroke Yamaha YZ250F.
Here are al of the international winners in the 250 SX division:
Mickael Pichon (French)
Stephane Roncada (French)
David Vuillemin (French)
Christophe Pourcel (French)
Marvin Musquin (France)
Grant Langston (South Africa)
Chad Reed (Australia)
Ben Townley (New Zealand)
Dean Wilson (Scotland)
Ken Roczen (Germany)
Martin Davalos (Ecuador)
Conspicuously missing? Canada, England, Japan, Italy (remember Alessio Chiodi coming here in 1999 and having his hands full on that Husqvarna?).
And here's a nod to the premier-class winners: Pierre Karsmakers (Holland), Jaroslav Falta (Czechoslovakia), Jean-Michel Bayle (France), Sebastien Tortelli (France), Greg Albertyin (South Africa), and then the guys on the above list who won premier-class races like Vuillemin, Reed, and Roczen. (And you could make a case for Gerrit Wolsink of Holland, who won a nighttime Trans-AMA race at the old JFK Stadium in Philadelphia, and New Zealand's Darryl Hurley, who won the 20003-'04 FIM World Supercross round in Spain, and Fonseca, who won the Arnhem, Holland, round that same year.)
As for Villopoto's fifth win, the record for one building is six straight, held jointly by Jeremy McGrath (Minneapolis '94-'99) and Bob Hannah (Pontiac Silverdome '77-'79, back when some venues hosted Friday-Saturday doubleheaders).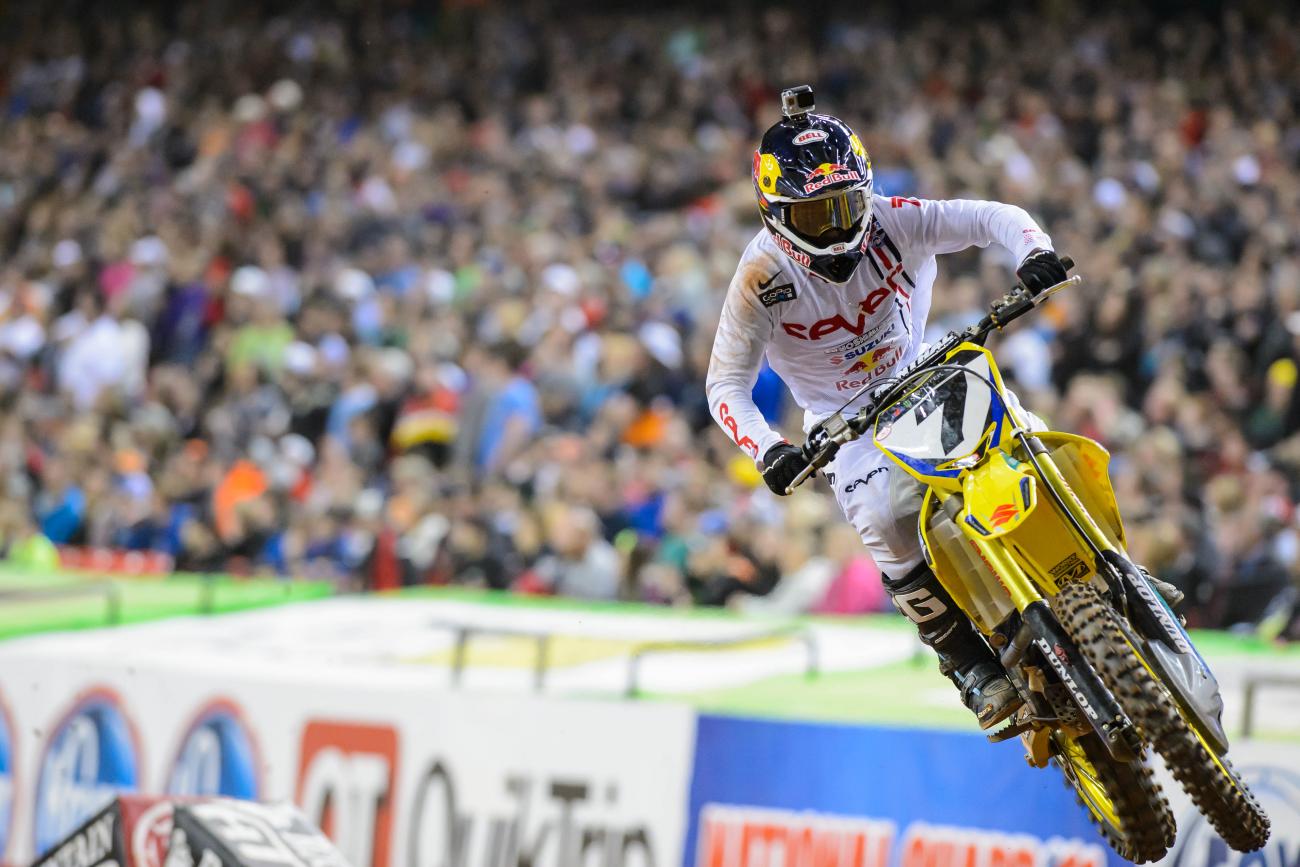 GRAND PRIX SEASON (Adam Wheeler)
There is a good five-minute walk out of the Losail permanent pit lane, across the asphalt where MotoGP bikes pass at more than 200mph, to the arrival at the motocross circuit that will host the second Grand Prix of Qatar this Saturday night. Several permanent light poles stood among numerous temporary units for 2013, but now over thirty high-reaching towers bathe the jumpy course with its humid, sandy, desert terrain in the full-lighting effect that the 1,000 poles and 3,600 fixings achieve across the MotoGP layout.
For the second year in a row, hot, dry, relaxed and well-organized, Losail opens Grand Prix (now eighteen rounds although the first ever Grand Prix of Ukraine has been frozen in status for the next two months while series promoter Youthstream keep watch on the unstable political climate in the country). What the event lacks in spectators and fans it makes up for with a different kind of efficient and novel atmosphere.
It is hard to find anybody unhappy to start the 2014 campaign here. Although there are a few still unaccustomed to the early, overseas launch—teams were rushing to be ready and hardly had time for preseason races in winter-struck Europe, never mind any kind of 2014 PR duties—and several more who would have dearly loved another couple of weeks to get into peak condition.
Six from the first top eight riders in the 2013 MX1 World Championship standings (now "MXGP") are carrying injuries or recovering from winter problems. Red Bull KTM's Ken De Dycker has not made the trip to Qatar and his broken wrist is proving to be a stubborn healer. The big Belgian and '13 MX of Nations winner is unlikely to be back for round three in Brazil toward the end of March, so he might not be seen until the Grand Prix of Trentino, Italy, in April.
Rockstar Energy Suzuki duo Clement Desalle and Kevin Strijbos seem in good shape but both lack bike time after broken-shoulder and fractured pelvis problems, respectively. The HRC factory team has Evgeny Bobryshev limping with a twisted right ankle, and MXGP World Champion of the Red Bull KTM team, Tony Cairoli, is also hobbling with a sore left ankle, courtesy of his Italian Championship mishap almost two weeks ago. TM's Tanel Leok only recently had knee surgery.
Over in MX2, double title holder Jeffrey Herlings has had a widely publicized protracted journey back to fitness from his shoulder and leg stress fracture, but the Dutchman blew away the competition in the sand of Hawkstone Park last weekend on the factory 250 SX-F. Herlings admitted he is almost certain to move to MXGP for 2015 at the media event on a traditional Dhow boat across the Doha Bay yesterday that only mistakes and a duff start can stop him winning come Saturday evening.
Lastly, it is quite significant that the FIM Women's World Championship is coming alive in Losail. It is part of the Qatar Motor and Motorcycling Federation and FIM's strategy to push "Women in Motorcycling" to bolder and bigger places. On the initiative to help the racers get out of Europe for the first time in the short history of their championship, QMMF President and Losail International Circuit General Manager Mr Nasser Khalifa Al Attya commented, "We need to show the world that we are giving equal chance to women as well as men. What does it matter what side of the world you are from? Sport makes people healthy. We are not just talking the talk but setting out to prove what we want to do."
Expect a tasty fight between double reigning champ Kiara Fontanesi and former title holder Steffi Laier, with Irishwoman Natalie Kane also likely to figure. And apparently the first round (the second moto of each class) can be watched on CBS Sports at 12:30 a.m. and 9:30 p.m. (PST) on Saturday night.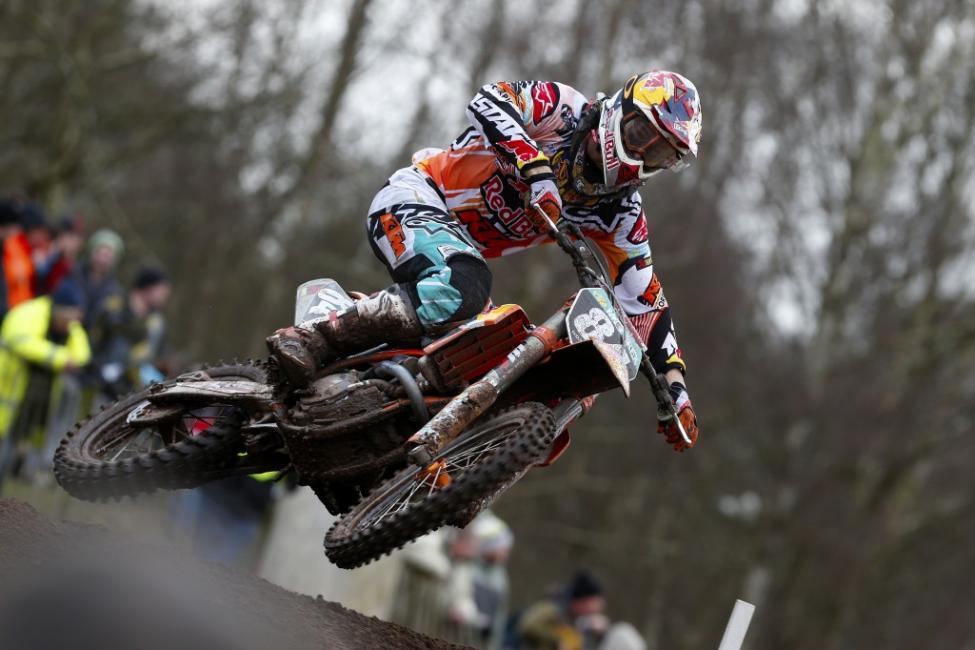 DAYTONA DIET (DC)
You have to admit that the internet is an equal-opportunity critic, because Mike Alessi wasn't the only one taking his licks this week. Ricky Carmichael, the designer of the Daytona Supercross track, and Mark "Bomber" Barnett, the builder, were flamed when the Daytona News Journal reported that this year's track would be shorter—by maybe twenty seconds—so that it works better for new broadcast partner Fox Sports.
People hate change—I know that more than I care to remember. When we went to Saturday nationals, some people were furious, but that was the trade-off for a much better TV package. Now that Speed is gone and Daytona will be featured on the same all-sports network as the rest of the SX series, the producers and the network would like it to fit into a similar time slot, which means shortening the track from its usual 1:20 lap times.
Either way, it's going to be as rough as ever—maybe more so, because with shorter lap times, more laps will be made throughout practice and qualifying.
As I posted on Vital MX, I wonder how many people complained when they shortened it the first time back in the eighties, when it used to run across the pavement, out past the infield wall, through another field, and then back through the wall and across the pavement....
Love it when the man says "Super whoop-de-dos, riding like jackrabbits on that part of the course!" (And they only did twelve laps back then, not the twenty we're used to.)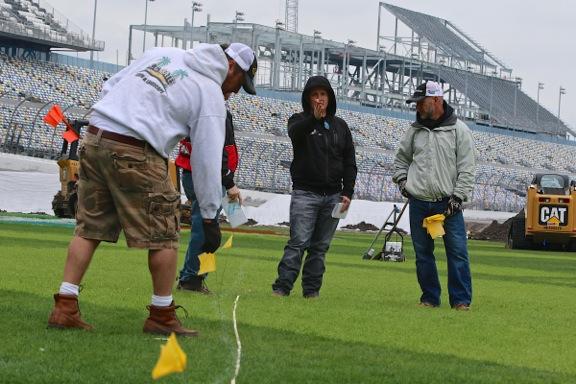 BAILEY'S TURN (DC)
Last week we posted the really funny story about David Bailey drinking a beer that a fan handed over the fence to him after crashed out of the 1984 Carlsbad 500cc Grand Prix. Kenny Wagner told the tale, and when we ran it here, we accompanied it with a photo from Gainesville the following year, since we didn't have anything from the day of the crash/beer.
David Bailey himself came to the rescue with the following email and photos!
Man what a small world! Here are the pictures that guy took, before he handed me the beer. I thought the crash was going to be really bad, but luckily when I jumped through the bars the bike stopped and just did a goofy cartwheel. I watched Broc go by for the win, had a beer, put my goggles back on and cruised the last lap visualizing a better day the next year.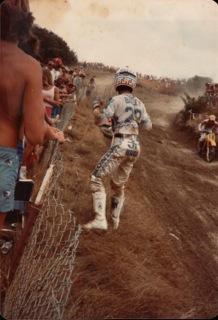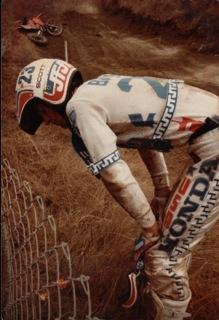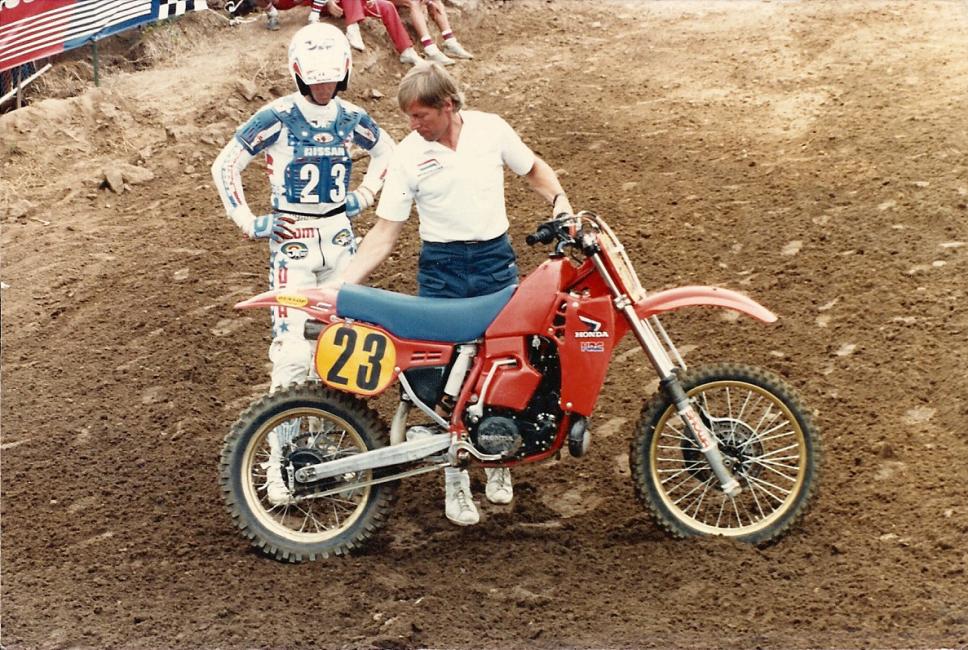 On a side note, John and Rita Gregory and I decided to make my pants out of 8 oz. lycra instead of the heavy-duty nylon. It's the only time I ever wore 'em. I put 'em to the test too and they were great! The only thing I had a hard time adjusting to was that they breathed so well I kept thinking my zipper was down. Not sure why I never wore them again. Maybe I deemed them unlucky since I broke my rear wheel in the first moto. Keith Lynas sent me that photo.
SAD NEWS (Aaron Hansel)
Last week the motorsports community lost 21-year-old pro snowmobile racer Raysha Nielsen. The accident occurred in Idaho after Nielsen's sled developed mechanical problems and she was forced to ride as a passenger on another snowmobile back to the staging area. On the way, the sled went off the main trail and struck a tree, resulting in fatal injuries for Nielsen. The news report can be found here.
Nielsen leaves behind her husband and 3-year-old son and a legacy of generosity: She raced a pink-ribbon-clad sled and used to donate her race winnings to Race for a Cure, a program that benefits breast-cancer research.
To donate to Nielsen's memorial fund, which will go toward her son's college expenses, get in touch with Renegade Sports in Logan, Utah, which is owned by her father.
HEADLINES OF THE WEEK
You have to see this, courtesy of a Vital MX thread. It's a Kickstarter for someone trying to make movie called Miles. It involves the future, computer-generated graphics, Hollywood, and motocross.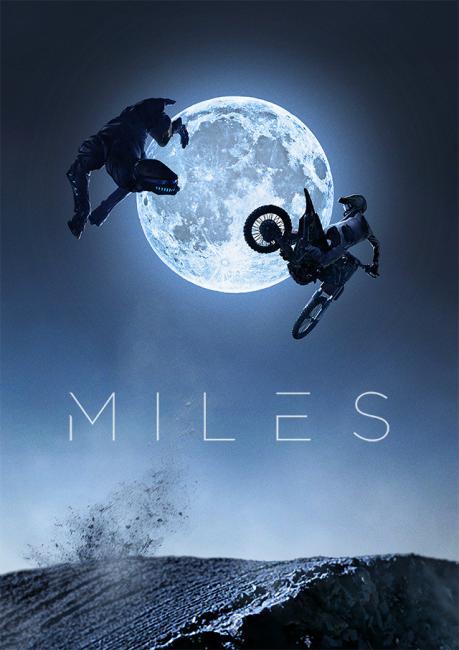 RANDOM NOTES
Here's a preview of two-time MX2 World Champion Jeffrey Herlings, from last weekend's Hawkstone Park International in England, where he went 1-1-1 in his two races and the SuperFinal deal. Herlings will begin his quest for a third title (and another try at an undefeated season) in the Qatar, which is in the Arabian Peninsula.
If you're interested in watching the 2014 MXGP World Championships, make sure you sign up for the online package at www.mxgp-tv.com. The price for the whole season (including the MXoN) is 99.99 euros, which means $137.50 here in the U.S. The per-race cost is 5.99 euros, or $8.25.
On Wednesday's List we posted some of those once-more-common race-win ads from years gone by, and we promised to run some more in Volume 2 of the series, which we will post in a couple of weeks. Dean Jocic, the longtime art director for Mechanix Wear and Renthal, enjoyed the piece and sent this note: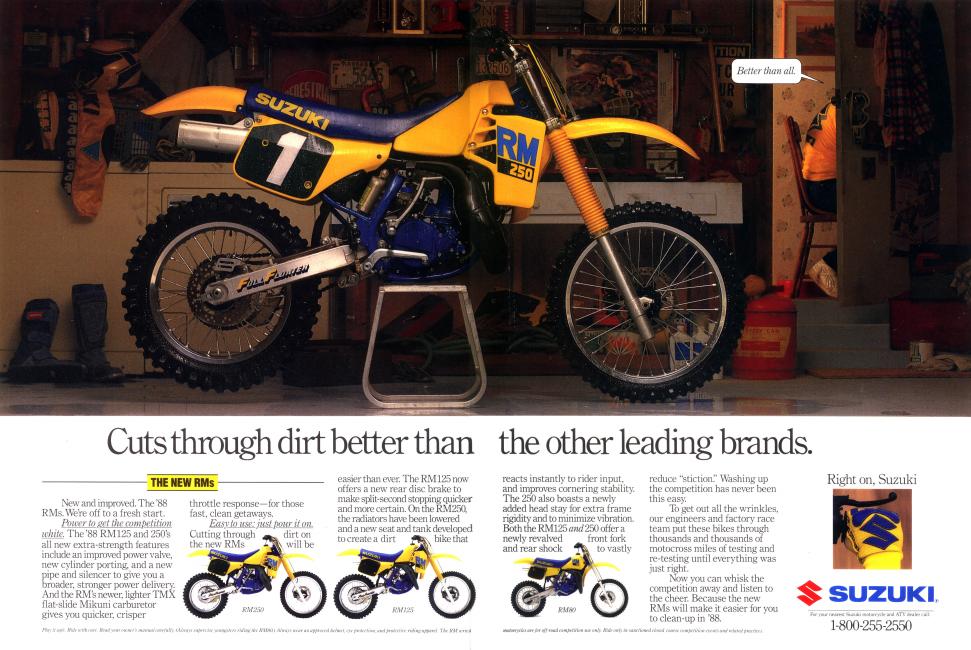 "Being an old ad guy, I love the Race Win Ads post on the website. Having worked at Dailey & Associates (Honda) and Dentsu, Young & Rubicam (Suzuki) I have a ton. This is not a race win ad but I thought you guys would appreciate it."
Gary Bailey also sent us this hilarious ad from Bultaco, which actually celebrated a DNF! How times gave changed....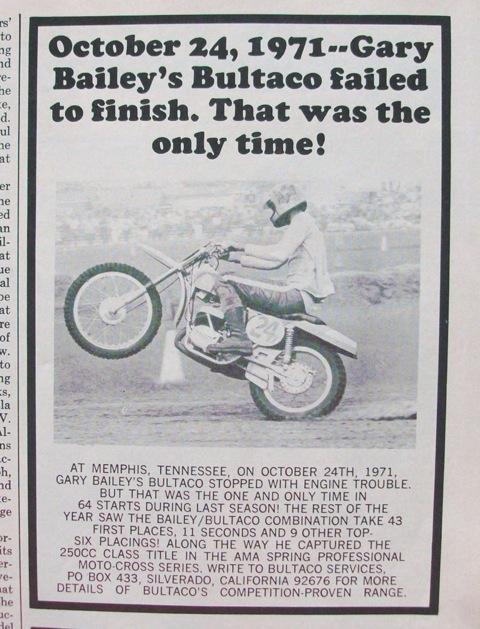 Here's a cool T-shirt fundraiser for the impressive Weston Peick, with proceeds going straight toward his racing effort. Somebody sign this kid already!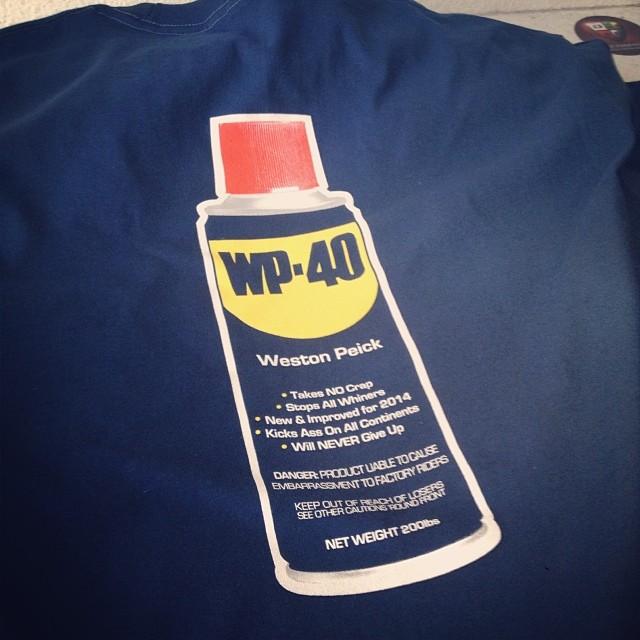 Headed to Indianapolis this weekend? Make sure to come by the Racer X booth to subscribe or renew—and get your Racer X wall-cling! Only $15 gets you 13 issues of Racer X plus a giant, wall-friendly Racer X decal featuring Villopoto, Dungey, and Stewart—and as an added bonus, you can give a digital subscription to a friend! (Are you in the U.S. military? Bring your military ID and we'll give you $5 off the subscription price as a small thank-you for your service.)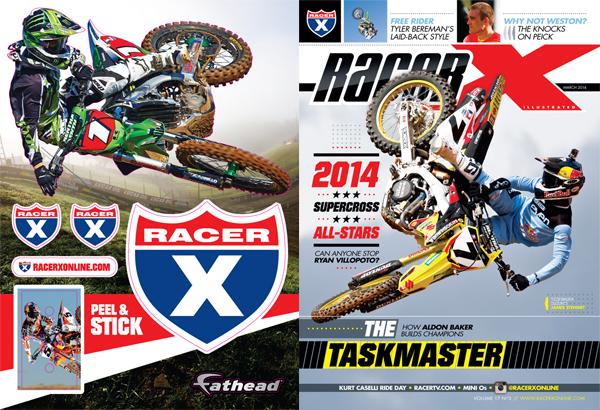 A couple of years ago, Jeremy "Hammer" Mallott from Red Bull suggested we check out a cutting-edge news site called Vice that liked to seek out adventurous, dangerous stories. It has since became an HBO show, and their big scoop last year was helping get Dennis Rodman into North Korea to meet the crazy little dictator over there. Of course Dennis then went a little more crazy himself and returned with a basketball team and became an international pariah, but I digress.… Here's a glimpse at Season 2 of VICE.
The March issue of Trials & Enduro News is live online, and this issue features a behind-the-scenes look at an off-road tire test with Kenda Tires, an interview with off-road/trials star Dougie Lampkin, a recap of the Barcelona X-Trials and SuperEnduro rounds, a look at the 2014 Montesa 4RT Repsol Edition, plus a story from Ryan Young about the art of "minding".
The HLTN Collective Spring 2014 Lookbook is now online and available for your viewing pleasure. Collection dropping worldwide at a shop near you March 14 and on HLTNCO.COM.
That's it—time to get back on the road. See you at the races tomorrow night. Thanks for reading Racerhead.