Lucas Oil Stadium
Indianapolis

,

IN
Indianapolis
Monster Energy AMA Supercross Championship
From unheralded rookie, to underrated top ten threat, privateer Mitchell Oldenburg has been but a shadow under the bright lights of Monster Energy Supercross. Buried under a rookie class that featured Jeremy Martin, Zach Bell and Justin Hill all on the same coast a season ago, Oldenburg showed flashes—including a career high seventh in Indianapolis—before a shoulder injury slowed his progress. A year later, in a much deeper East Region, Oldenburg continues to battle the factory boys—beginning the year with back-to-back top tens.
Oldenburg, alongside his brother, and current mechanic, McCoy, grew up honing his talents at Oak Hill in Decatur, Texas, after his parents took over operations in 2007. His Texas connections have paid dividends recently, as Mitchell spent the week before Atlanta training with fellow Texas-based rider Wil Hahn at Kevin Windham's place in Mississippi.
In a pivotal year for Oldenburg, the Texan by way of Minnesota is thriving … but is thirsty for more.
Racer X: You've had back-to-back top tens to start the season, how are you feeling so far this year?
Mitchell Oldenburg: Everything has been going really good, actually. It was a big weight off my shoulders to get these two top tens in. I just need to keep building. Nothing is ever going to be good enough for me. I just need to keep pushing and get a good start and push inside the top five, top three, whatever it may be. For me, I want to win. But it's a good start, that's for sure.
Is it gratifying to be having this success with this field after many said the East Region was weak a year ago?
For sure. Last year the East Coast was a little bit weaker than the West, and I think this year the West is a little weaker than the East. Regardless, I'm going there every weekend to give it everything I have. To get top tens this soon is very good for my confidence. We're just getting started, so I don't see why I can't get close to the top five. I think if I keep working hard it will eventually come.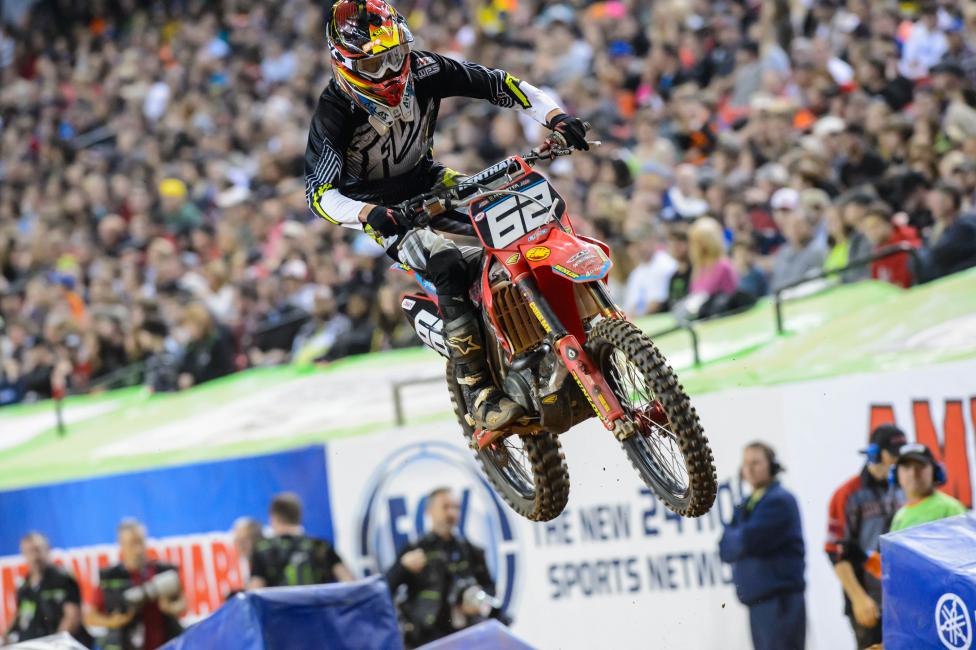 What will it take to make that jump?
Just some good starts and a solid fifteen laps. I think that's what has helped me out so much this year. I've been struggling a little with qualifying, but when it comes to the main I've been able to do fifteen solid laps. I just need to keep sticking to the program. I'm working hard, so eventually I think it will come.
Tell us what your program is like this year?
I've been working with Beau Boynton for the last five or six years. It's typically about four days a week in the gym and four or five days a week riding. Now that the season has started it has gone down a little bit just because of all the travel. We have a really good program. We've been working really hard on cardio and speed. I think my fitness has always been good, so the speed part of it is the tough part to get. I've been riding a lot with Matt Lemoine and Jimmy Albertson. I actually went out to [Kevin] Windham's house this past week with Wil Hahn and rode a lot with him. It's good to ride with those guys and see where I can go faster.
What are able to learn from those guys at the practice track?
Just the intensity. Also, they're not braking as much through the corners and stuff—they're carrying their speed a lot more. Their programs too, I've picked up a lot on that. [I've picked up] on how much they ride and how many motos they do. I've always done my own thing kind of, so to see what they do is a good spot to see what I have to do to get to that level.
You're back on Hondas again this season. Has anything changed as far as support goes?
No, not really. Hensel Electric ended up buying my bike this year for me and I still have Core MX doing my motors and suspension. Everything has been good. The bike feels better than it did last year, I think we figured some more stuff on the suspension and motor side of it. Overall, I think I have a really good package this year.
"Whether I'm riding for someone or riding for myself, it comes down to how bad I want it, and I want it bad."
Last year, you came in as an under-the-radar rookie, and surprised a lot of people. This year, you're no longer a surprise. Does it put more expectations on yourself to live up to the standards you set?
No, I don't think so. For me, I just want to go out and give it everything I've got every weekend and whatever result I get is the result I get. When it comes to racing for me, I just give it everything I've got and that's all I can ask for. And when it comes to the week just work harder and try to better that result every weekend.
A lot of people say the first couple years are very pivotal in a rider's career in terms of securing a ride going forward. Do you think this year, especially, is an important year for you?
Yes and no. They are signing people out of amateurs so early now that it's pretty tough to get a ride. But it's not do or die for me, I guess. I know I can do it without a ride. Last year I was always looking for that ride and trying to better myself to get a ride. But this year there has been so many people proving themselves on privateer bikes that I don't think you necessarily need the ride. Obviously it helps, but for me I just really want to win no matter what bike I'm on. Whether I'm riding for someone or riding for myself, it comes down to how bad I want it, and I want it bad. I think a ride would help, but I don't think it's a necessity anymore.
Are you able to look at Vince Friese's success this year, and even last year, as a base?
Yeah, exactly. Also, Cole Seely didn't have a ride for his first three years as a professional, or whatever it was, and look at what he has been able to do this year, or the last three years for that matter. He's an example I look at, someone who didn't have anything and then ended up getting something.
Last year, your brother McCoy was part of your program. Is that the case this year as well?
Yep. He was planning on racing the East Coast Supercross this year but he got hurt November 30. He's not released from that yet, so he has been my mechanic. But I think his plan is to race Houston and Vegas on the West Coast because those are close for us. But, yeah, he has been my mechanic all year and he's been riding to the races with me and it's been good.
Anyone that has brothers knows how that dynamic can work sometimes. Has it worked out well for you guys?
Yeah, it's worked out real good. He's there during the week, he's there during the races … he's always there for me with the pit board, and the times, and helping me with my technique, my speed, everything. It's always good to have people watch or tell you where you can go faster. For me, I don't think I could do it without him.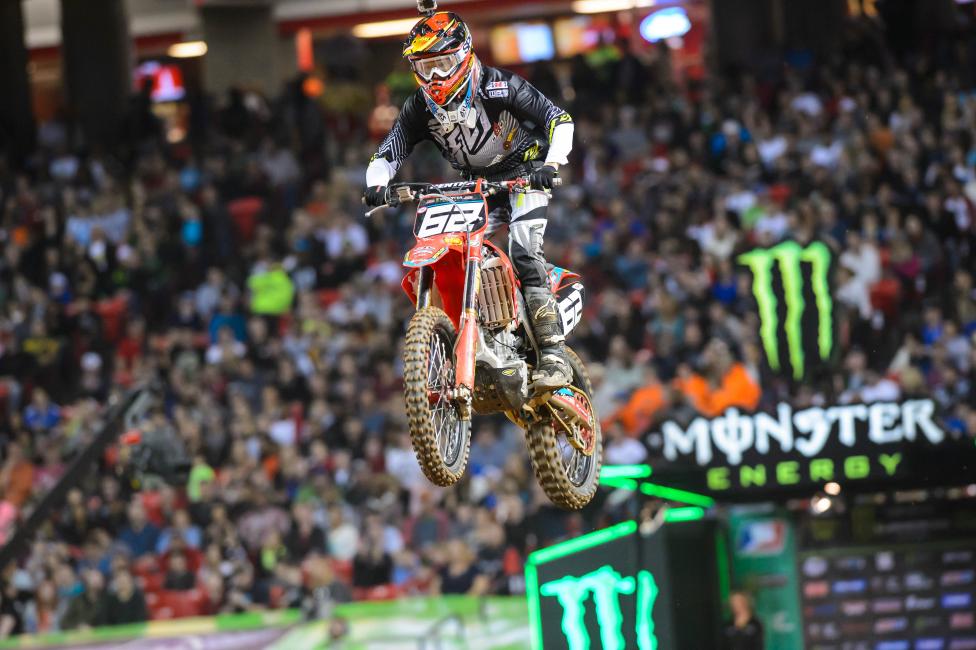 You're actually from Minnesota, but spent a majority of your amateur career in Texas. How important was it not only growing up, but even now, to be able to ride with guys like Hahn, Wharton, Lemoine and all of those riders?
It's huge. Last year getting ready for supercross I didn't really know where I was at because I wasn't able to ride with those guys much. Matt [Lemoine] was riding the 450 and Wil was out in California. But this year, I've been riding a lot with those guys and it has helped out so much just seeing where they go faster or what they do through the whoops. It's so much easier to pick up on things when you're watching someone do it, rather than guessing. I feel like I have been able to build every week riding just because I have someone to base my speed off of.
You had the chance to ride down at Windham's. What were you able to learn from one of the greatest riders of all time?
It was a great experience. I can't thank him and Wil Hahn enough for letting me come down there and ride with them. That guy is so talented on a dirt bike, it's not even funny. Seeing things he could do without even trying, and I'm just struggling to do, is unbelievable. The technical side of it was huge. He just has that so dialed. And I think Wil Hahn has that as well, especially in the whoops. I was just able to pick up a bunch of little things that all add up, as far as whoop speed and entrance and everything.
Thanks, Mitchell. Who would you like to thank for helping you this season?
I want to thank Core MX Performance, Hensel Electric, Peer Brothers Racing, Lewis Long Racing, Volkswagen of Corpus Christi, Verticle Adrenaline, Shoei, SPY, FLY, Silkolene, Dubya, FMF, Ethika, Atlas Brace, Works Connection, ICW Radiators, Beau Boynton MX Training, Fit-n-Wise Sports Medicine, OCD Graphics and my mom and dad.