Georgia Dome
Atlanta

,

GA
Atlanta
Monster Energy AMA Supercross Championship
By Jason Weigandt and Steve Matthes
Ryan Villopoto, Monster Energy Kawasaki, 2nd in 450SX
I'm bummed that I made that big mistake over there, couldn't jump the triple. But we were off all day, really far. To come out in the qualifier and be where we were and also in the main event with the track really deteriorating, I'm happy. I couldn't really ask for any more because we were way off in practice.
What happened when you made the mistake?
There was just a little rut before the triple and my rear tire just missed it. It wasn't a real rut, it was just a minor little edge that we were catching and my rear tire missed it.
You knew that he was catching you?
I actually thought it was [Ryan] Dungey that was there. I didn't know Kenny [Roczen] was there. KTM's a little quiet.
You mentioned being off in practice. What were you working on today?
Nothing, we were obviously trying things, kind of shuffling settings and stuff but ultimately we went back to what we were running—just a minor change, pretty close to what we showed up with today. Today I just felt pretty good everywhere, just struggled in the whoops really bad. Couldn't figure out what it was. We tried not to stray too far from what we had and just come back out in the heat.
That one set of whoops looked like they were really spaced out.
They were super close to the turn. They were really big. And then the turn before the long set was really super soft and rutty and the whoops were kind of dry and separate so it was kind of a bad combination.
Everybody used to look at this place as being really sticky.
Last couple years it's been kind of slippery. It hasn't been typical Atlanta.

Compared to practice, where you were struggling, not even top five in lap times, do you feel you just rode better in the night show or did things just come together? You didn't really change the bike much, you said.
Just minor [bike changes]. Obviously in practice the track was really hammered and I just struggled with it like that. It was really hammered in the main event also, but basically just rode better. In practice I felt like I was pushing and trying and doing everything that I could but nothing was coming up on the board.
How bad was the track at the end of the main? It looked tough.
There were certain areas that were really gnarly. Coming into the short set of whoops there was a huge hole coming in. There were a lot of big rocks and stuff out there. Some spots are really spongy after the triple and then the turn after the short set of whoops was like powder. A lot of different terrain.
So does Kenny get kicked out now?
If anybody wins, I'd like to see Kenny win.
Maybe next week? People are waiting for you two to fight!
[Laughs] I can't fight the German. – Jason Weigandt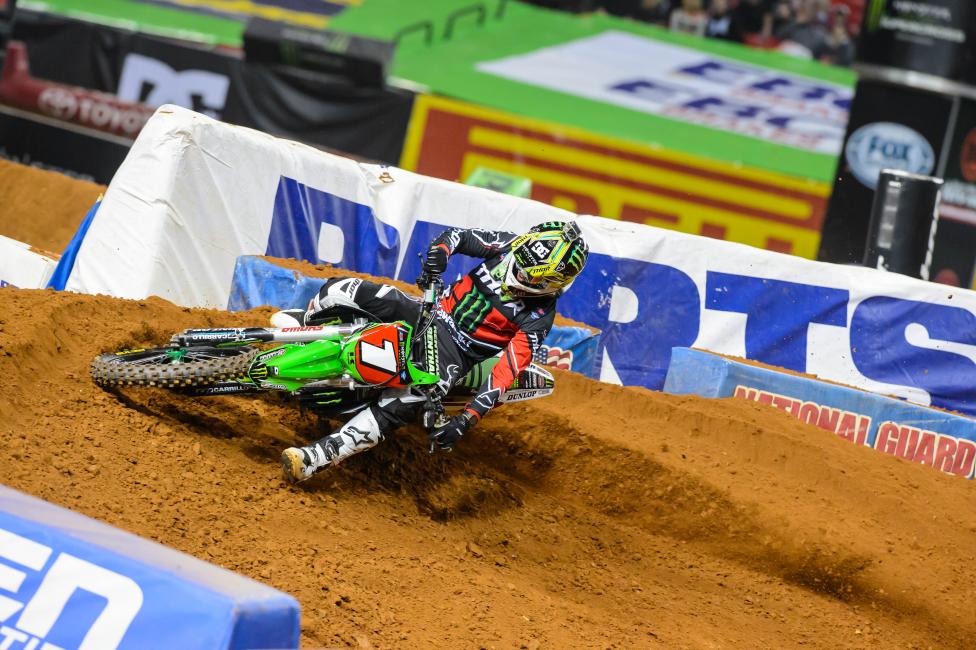 Adam Cianciarulo, Monster Energy/Pro Circuit Kawasaki, 2nd in 250SX main
That start from the LCQ gate pick, nice job on that.
First of all, the heat race, I felt really good the first lap, just was in the flow. Then I screwed up in the whoops, foot came off, right in the bales. It was RC's [Ricky Carmichael's] Houston heat race '01 to the T. Watch it, same thing. Then I bent my front brake rotor, went down again in the whoops. So it looked like I had no idea what I was doing! I pooped my pants on the line in the LCQ; I was that scared that I wasn't going to make it in. I was like, "Please don't come from winning the race to not making the main!" That would have not been good.
I can't believe I got the holeshot in the LCQ. The main event, I literally picked the worst gate I could possibly pick. I picked the one closest to the inside, but I should have gone farther out because my gate was so jacked up in the front of it. I did a sight lap start and it was so bad. I was like, "I'm screwed; it's over." And then something happened and I just got it right. I screwed up the first rhythm section. Marty got by me and then I'm like, okay, I've got to stay right by him. He pulled away from me a little bit and then I actually started catching him. I freaked out in the beginning because I didn't think I was going to be up there and then I was up there. I was making mistakes. Almost looped it up the dragon's back. So I was starting to catch him, I feel, and then the yellow lights popped out. I'm like, okay, yellow flags you can jump on, in my mind. Yellow lights, shut her down. I rolled the section twice and I lost eight seconds from the two times I rolled them. You can jump on yellow but you just can't jump on red flashing lights. I'm a complete moron! I'm not going to say that I could have won but I definitely could have given him a run. That was an unfortunate error on my part, but in the end I'm happy to salvage. I felt really good. My fitness felt amazing too. I literally could have done 15 more, no problem. So really pumped with that. But I'm happy for Marty, too. – Steve Matthes
Broc Tickle, Soaring Eagle Casino RCH Suzuki, 7th in 450SX
First let's talk about the ride. It was good. You were fast.
I felt awesome today. First lap on the track I kind of got comfortable and jumped everything right away. The non-timed practice I was third on the board. I just had a good attitude all day. I had a really good week last week and I think that's what it was. The team and I went out a couple days and got some stuff done. I felt like I did the best two days of practice I've done all year and in a long time. So it was really good to start out well here and I qualified third in practice. I felt like in the heat race I could have been right there with James if I would have been there. I felt like I was really strong in the whoops. I felt almost effortless. I felt like everything was coming to me. I know that's the way it's supposed to feel every time, but I felt really good out there.
Is that something repeatable? After some good days this week and how this night went, are you like, "Wait, I know this feeling, I can do again this next weekend?"
For sure. I feel like I'm just starting to build the momentum now. I'm not worried about anybody else anymore. I'm kind of worried about myself and I think that's what helping me. The team's done a great job with everything, getting us out when we need to try stuff and working on our starts. I think it showed today. My starts were pretty good all night. All three starts were decent, better than what they have been. We're all working good as a team. After practice and everything we were making adjustments in the right direction because we know where we want the comfort and we know this and we know that. I feel like we're in a good spot to keep building.
Talk about the whoops. You were killing them. By the end of the main event it seemed like there was nothing left, but when they were big you were crushing them.
I was just committed. I'd rather just rail the berm and whatever happened, happened, but every single time it was good. I only got squirrelly a couple times, but I was trusting my bike.
Was that part of it, is it setup?
For sure. As soon as I hit them a couple times I just felt some confidence in myself. Once I felt that I just said I didn't care anymore and I just kept doing it, and it was easy. I honestly wasn't even on the gas that much. I just carried that much speed into them. I felt like it helped me get up on top. I was pumped with tonight. It wasn't the best result. I got seventh again like I did last week. I feel like I deserve to be better than that. No doubt next weekend we'll have a better weekend and have another good week this week so we can get away from that cheese pizza [nickname]….
[Laughs] There was definitely some pepperoni on that pizza tonight. You had some spice! So, hey, anything else happen of note tonight? You were in fourth in your heat race and then, um, something happened.
I made a pass on [Mike] Alessi. Actually I started the heat race out really well. I was in third and ran into Wil [Hahn] a little bit and stalled my bike. Got back up, I was probably back in eighth or ninth and just made my way through the pack. I think the whoops were saving me. I just passed him in the first set of whoops, squared him up, ran down the straightway and before you know it I'm exciting corner and somebody's T-boning me exiting the corner and I go flying and whatnot. So it is what it is. We're going to erase it out of our book and I'm going to next weekend.
Has he [Alessi] said anything to you?
I won't accept anything from him. That's just stupidity, if you ask me. I've had some intense battles with certain riders on the track and nothing has even come close to that. So I'll just top it off with that. He put a cherry on top of that. – Jason Weigandt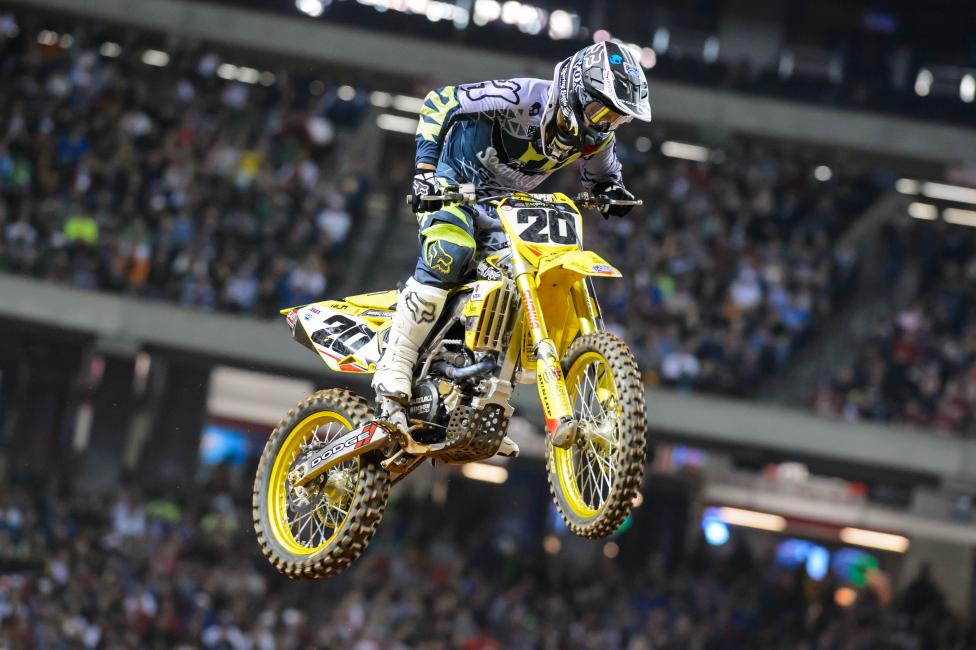 Justin Bogle, GEICO Honda, 3rd in 250SX
You talked to me last week and you were like, "Hey, I can get up on the box." Wharton was faster than you in practice. You were a little bit off the start, but you persevered and got a third.
I'm not much of a practice guy. At the end of the day I'm a racer. I feel like that showed in my heat race. I think I had fastest lap in that. Pulled a second on that, best heat race so far this year. I'm not doing myself any favors with the starts I'm getting, but a lot of testing last week and I'm sure I'll be doing some more this week and get that figured out. Just had to fight through and capitalize on some mistakes and make some stuff happen and got up on the box. I'm not overly happy. I'm happy, but I'm not satisfied. It's all good. We're making progress. Under the circumstances, the way everything's been the last few months for me I'm happy to be following the plan that me and my trainer Ryan have laid out for myself, so it's good. – Steve Matthes
Andrew Short, BTOSports.com KTM, 10th in 450SX
First of all, gnarly track. It took a lot out of you.
It was one of the better tracks I think in terms of being pretty technical and the dirt and all that. Unfortunately I think it was difficult to pass, so I don't know how great that was for the fans and even the riders. The start was really important. I like how the track crisscrossed a lot, but overall it came down to the start.
Your race, 10th place, kind of a lonely 10th?
Yeah, I didn't have a very good start. I started pretty far back and for me to finish 10th was decent but that's where I've been finishing a lot lately. I need to work on some intensity, especially at the latter part of the race. I think my sprint speed in practice, heat race, even my semi I ran a 52, which was a good lap time tonight, but in the main event I wasn't even close to that. I need to put it together for when it counts. – Steve Matthes
Jimmy Decotis, Riverside Harley Davidson, 7th in 250SX
You seemed a little faster than last week.
A little bit. I made a big change this week. I just kind of took it a little bit more serious this week on my riding and training. It's crazy because I had a good base going for training but last week I felt like I got tired and then this week I made a couple changes and I feel like I changed. The whole main event, I was fighting. Last weekend I would get passed and I get flustered and just give up on it. This weekend I really fought harder than I normally would. I had [Cole] Thompson pass me back twice and I got him back, and same with [Kyle] Cunningham and [Matt] Lemoine and all those guys. I felt like I charged a lot harder this week, so I was proud of myself. But my starts sucked and I need to do a lot more with those. Once I get those dialed I think I can definitely… I'm still a little bit off Davalos and those guys but I think me and Vince [Friese] are the next tier guys right there with them. So I just need to get a little bit more speed, little bit more strength, and it'll all come I think by the end of the season. – Jason Weigandt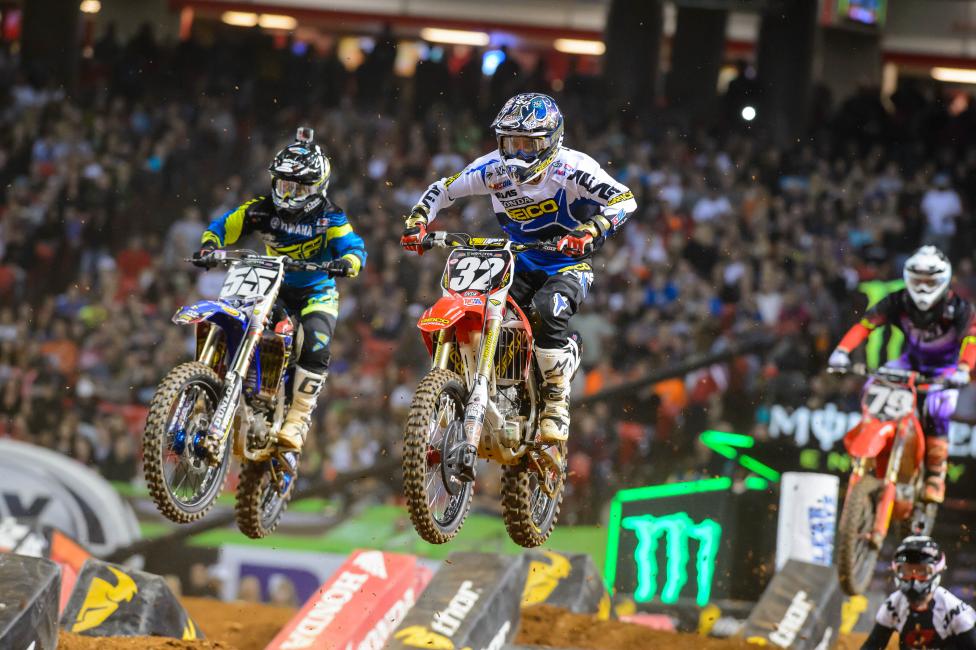 Cole Thompson, Rockstar Energy KTM, 8th in 250SX
At one point in the main event, first lap, second lap, you were way back. What happened?
Bad start. Me and [Blake] Baggett came together off the start. He was back with me. He was able to get to the front and I just wasn't able to. I didn't make enough passes early on and once people spread out it makes it a little hard. But all in all my bike was great, my team was great, just needed to be more aggressive and got to go back this week and work harder.
Something I wanted to ask you about, your first practice, first timed one went very good, on the board, riding well. Second one not so much. What happened in the third practice to knock you back in overall qualifying?
We did some changes. I thought the track was going to get a little bit more slick in the second practice, similar to what it did tonight. We went back to what we started with the day. I was comfortable with my bike. My bike was good all night, I just needed to get a better start. I need to find that aggression that everyone has but me. We're going to definitely work on that this week and get it done. – Steve Matthes