The record books show Josh Summey with exactly one amateur championship at Loretta Lynn's, and several podium finishes over the years.
After securing a top three finish in the A class in 2001, Summey turned pro later that fall. By 2005 Summey was top ten contender. He rode for several teams over the years and was mostly known for being a consistent rider, as well as one of the first riders ever hired by Joe Gibbs Racing (JGR).
Summey stopped racing in 2009, stepping away from the stadium lights rather suddenly. Summey is currently living in North Carolina where he has a job with the state. We caught up with him earlier this week.
Racer X: Hey, Josh, what's happening? That's for chatting with us. Your last year racing was in 2009, what is going on in your life today?
Josh Summey: Well, I work for the NC Division of Transportation and my job is a heavy equipment operator. I'm running pretty much anything that involves heavy equipment. I have been with them since January of 2010. Most of my time I'm up in a bulldozer or a backhoe. But if we are on a big job, it could be a motor grader or something else. But my primary machine is a bulldozer. Most of the stuff I do is building roads, stuff like extending an interstate or building a new freeway loop. But it's good. I'm home every night and during this time of year we start in the morning, around 7 a.m., and work until dark. Then it varies in the summertime, it just depends on what the schedule is and what the rush is. But it's certainly keeping me busy!
It sounds like you found a good gig, and pretty soon after stepping away from your career as a racer. Are you still riding at all?
As far as riding goes, I'm not doing much. But I did pick up a 2013 Honda CRF and have been doing some riding here locally. I'm just doing fun riding stuff, and no racing. But I try and get out and just hit local the tracks when I can.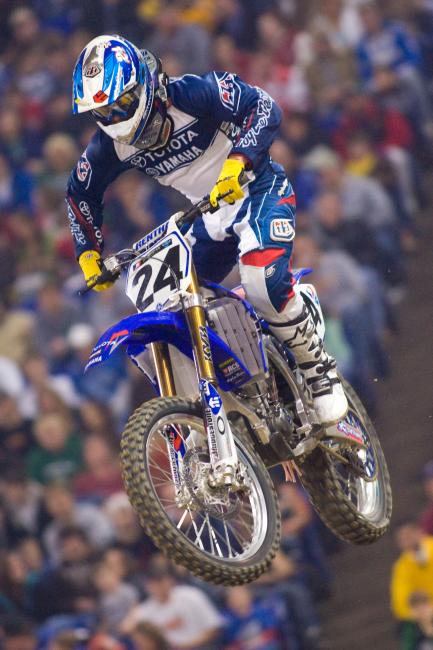 What about your personal life? Where are you living?
Well, I live about 20 miles west of Charlotte in Stanley, North Carolina. I've been in this area my whole life. I was one of those guys that hated California, and have stayed close to home my whole life. About a year and half ago, I got married to my wife Lindsay. We don't have any kids though! We got married on September 30, 2012. I met her through some mutual friends, and she is from just north of Charlotte in the Winston-Salem area and she works in the salon and hair business.
Let's change gears and talk about your career. You pretty much left the sport cold turkey. When and why did you stop racing?
Well, it was kind of funny how that happened. In 2009, I signed with the Jägermeister MDK KTM team. They signed Travis Preston and I. The supercross series was really up and down for me, but then I ended up breaking my hand. That put me out for the whole supercross season. I came back for Glen Helen, which was the series opener for the Nationals back then. I did Glen Helen, Hangtown, and Texas. But things were not going well. I think it was a mutual agreement between me and the team. We parted ways in an agreement that it was not working for either of us. But then I wasn't able to find the support to pick back up the next weekend after Freestone, so I stayed home. It was just one of those things, you know, maybe I should have tried for a different team or whatever, but then I couldn't really find a team that I was comfortable with. And that was when the sport was really contracting after the economy collapsed. So that was it.
Just like that? You raced Texas and then just stopped after nine years?
[Laughs] Pretty much! There was no team where I felt comfortable and that could give me a good ride, without me having to actually buy it. I just had to bite the bullet and accept the fact it was time and it was over for me. I wasn't mad or anything, I rode for some really cool teams over the years and it was awesome. Here and there I wish I had made some different decisions, but that's the way things go. You don't see those things at the time. But it's all good.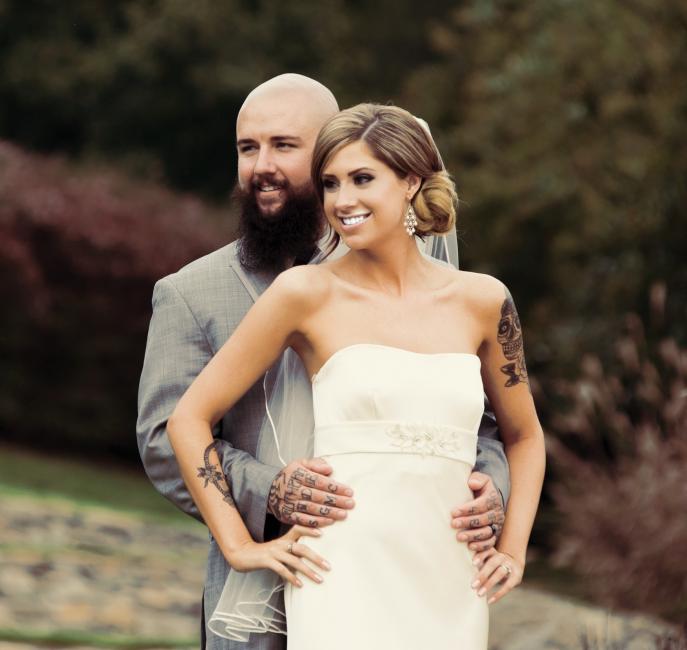 Which teams did you ride for?
Well, my first team was the group down in Texas. We had the TV show, The Reality of Speed. That was 2004 and I think it was called the Samsung-Yamaha team. I rode for them for two years. In 2006 and 2007 I rode for Moto XXX and Alan Brown, then in 2008 I rode for JGR, then 2009 was the Jager-KTM deal.
That's actually a pretty good run. You mentioned earlier you might have done some things differently, what were those?
Oh well, it's nothing major, or nothing I'm bitter about. But without mentioning names, just some of the decisions I made at home, be it with a relationship I was in or whatever, it took me in a direction that diverted my attention away from racing when I was maybe at my peak. On hte racing side of things, there were some other options, like in 2009, I could have gone back to Moto XXX, and I should have maybe signed with them instead. I knew the bike and the people over there. But it would have been for a lot less money than what the Jager program offered me. I'm not saying that the KTM or the team was bad, but I just felt like the bike wasn't as developed as it is now. I never felt real comfortable on it, and I was always chasing it around. But I'm not making any excuses; I had some good rides. I was hoping 2009 was going to be a breakout year, as 2008 was probably my best year, and I wanted to build on it. But it didn't go down like that.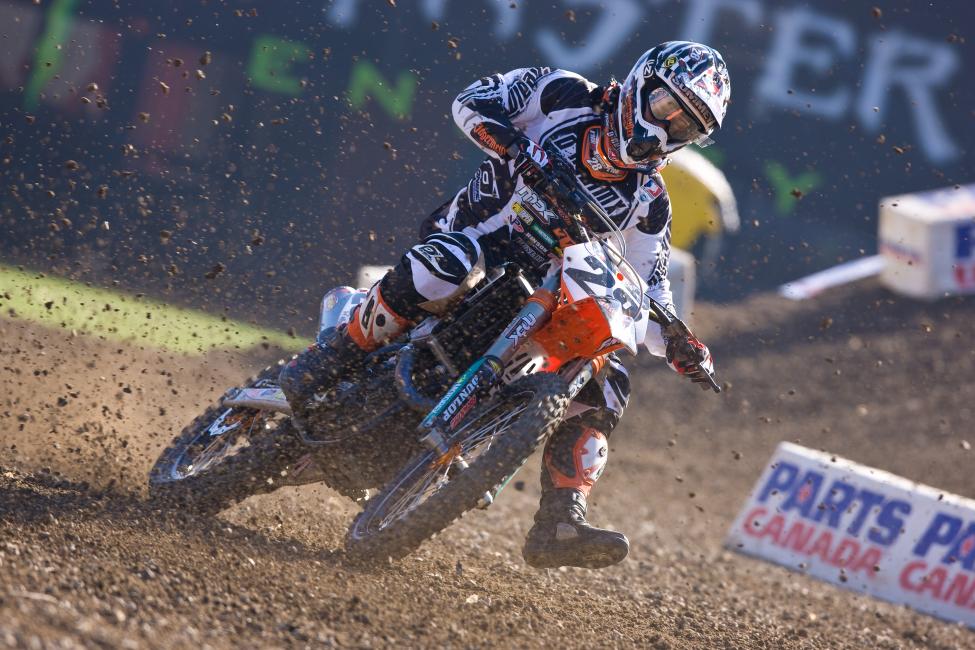 I ask this to many of the guys I speak with: how was the money for you?
It was good. The teams I was on, pretty much every year, except for the KTM program in 2009, they were all package deals. That included all the gear and everything. But I kind of proved myself; I think it was a good career for me. I was coming from not ever having a ride, and I wasn't on the podium every weekend. But I built up and improved my results to get me there. So what I had, it was really fair, and it was good. In 2009, I used O'Neal riding gear, and I got to do my own deals on clothing, goggles and boots. So I was a top ten guy and the money was good. Don't get me wrong, I'm not sitting back in Charlotte up on the lake with the NASCAR boys, but I think I did pretty good for myself. But I went from making good money to now I'm making an average person's salary. I wasn't able to save a ton, but I was able to buy some stuff that I still enjoy and use today, so I'm good with that.
You were one of the first riders to ride for JGR. What was that like?
It was really surreal! The JGR race shop is only 20 minutes from where I grew up, so that was really cool, as being part of such a big effort right in your back yard is really cool. Every other team is based out West. But not only working with the team, all the folks they had are top notch, so that was really cool and special. I would compare my position in the standings to that of Phil Nicoletti, he went with Alan Brown and N-Fab for a while, and I was kind of a lot like him. I had good rides, but that year I was really given what I needed. Riding for them was one of the top accomplishments for me, for sure. Those guys are all awesome. I'm still in touch with some of them.
Did you stop riding altogether back in 2009?
No, not completely. I was bummed out how things ended in 2009, but I wasn't bitter. There is a super cool group of guys that helped me when I first turned pro, and they jumped back in and helped me out again in 2009. I had a few bikes left over, and I went over and did some of the GNCC's. I did the Snowshoe event, as well as the Stomp in North Carolina. Steve Litz and Shane Gould, they really helped me through that transition. But those races were just for fun.
A lot of guys find trouble after quitting racing, especially if it ends rather suddenly. You seem like you are pretty grounded and solid, and you avoided trouble.
Well, everyone is different. But I was never a party guy. I kept myself away from those distractions for the most part, even after I got out of racing. I just never was around that kind of stuff growing up. I never had a draw to try drinking or drugs. I still hang around the same people that I'm friends with in this area. I think that has a lot to do it with—you can get caught up with the wrong people and get pulled away because you have the time and because you're not racing. It all comes down to the type of people you surround yourself with, even if you're not racing. Even for us guys who are working stiffs every day! I guess what's helped me the most is that the people around me are all good folks.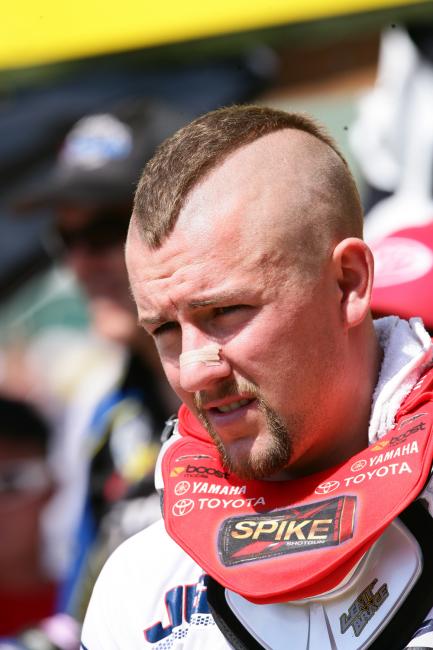 Your dad was a pretty fast racer as well. How involved was he with your career?
Yeah, my dad is Tony Summey. Like me, he had some factory rides and even earned national number 17 one year. So he was pretty good. He rode for factory Maico and Yamaha. He was a good part of my career, but more when I was a kid. He was super involved after the amateur stuff, but he was never jamming it down my throat. He wasn't training me or anything, we were just racing and having fun. He did stress if I was not putting 100 percent into it, but he wasn't pushing me that hard above showing my best effort. For him, I think it was hard, because when I was born, he basically stopped racing. But instead of being bummed about it, he got real big into fitness, and triathlons, and all that carried him after racing and kept him focused on his own accomplishments.
What are some of your favorite memories of your career?
I think probably the most fun I had, and the time I enjoyed the most, was riding for Moto XXX. I lived at Alan Brown's house, and I stayed with him a lot. We were close. Also, the first year with them, I was riding the 250 East Coast and I was bigger guy. I talked them into letting me ride the 450 outdoors because I was so big. I got a top ten overall my first time out, which was really cool and a good result for me at the time. The next race was at High Point, and becauase I was top ten in points, I was seeded straight into the first moto. High Point was kind of my home track, and I got a bunch more points that day. I would also say that second year riding for the Samsung team, I got a fourth in the 250 Class in supercross. In the 450 Class, as far as results go, I got a bunch of top tens in supercross, and a top five at RedBud one year. That was really cool. But the biggest things were Moto XXX, it was really fun for me. The JGR thing was totally different, but it was good as I was home and it was a great time.
Josh Hansen was your teammate that year at JGR. How was your relationship with him? People seem to either love him or hate him.
Oh, he is cool! Josh and I got along just fine. He was always doing something funny and making people laugh all the time. Me and him talk on the phone a couple times per month and we're still great friends. I have no problems with him. He was a good teammate for me and a very talented rider for sure.
Any closing words for us?
Not really, but I am good! I tried to get along with everyone and take it really serious, and I wanted to be known as a hard working guy. My results weren't on the podium, but I still gave it my all. But here I am, I still love it. I'm sitting in front of TV watching it live and still follow it every Saturday night. There are times I watch the race and want to still get out there and do it. A lot of the guys when they retire could care less about it [riding] but I'm the opposite of that, I still love it so much. I'm just happy to have done what I did.