Welcome to Racerhead, coming from West Virginia (where some of us are on a magazine deadline) and Atlanta (where some of us are headed to the annual DMXS Party, an epic pre-supercross gathering that makes those Wolf of Wall Street guys seem like Sesame Street characters). If you're in the ATL, the gate drops on that big bench-racing extravaganza at 9 p.m. at Tongue and Groove (Main St. NE, Atlanta).
Racing-wise, the Georgia Dome always delivers a massive crowd and some excellent racing. Monster Energy Kawasaki's Ryan Villopoto is still in control, riding point in the standings with his steady hand, while Ken Roczen is staying strong in second on his Red Bull KTM.
The man right now is James Stewart. The Yoshimura Suzuki rider became the first to win back-to-back main events with twenty near-perfect laps in Dallas, edging two other guys who may also finally be getting up to their expected speed, Red Bull KTM's Ryan Dungey and Honda Muscle Milk's Justin Barcia. I would not be surprised if any one of these five guys won tomorrow night.
You can watch the race live on Fox Sports 2 beginning at 7:30 p.m. (ET), 4:30 out west, with a replay on Sunday at midnight (ET) on Fox Sports 1. Stay tuned to Racer X Online and @racerxonline Twitter and Instagram for news and photos all day long. And for those of you who do keep your phones handy while watching on TV, check out the action photos that Simon Cudby (@cudby) has been posting in almost real time from the stadium floors this season. "The Guv" has been on his A game!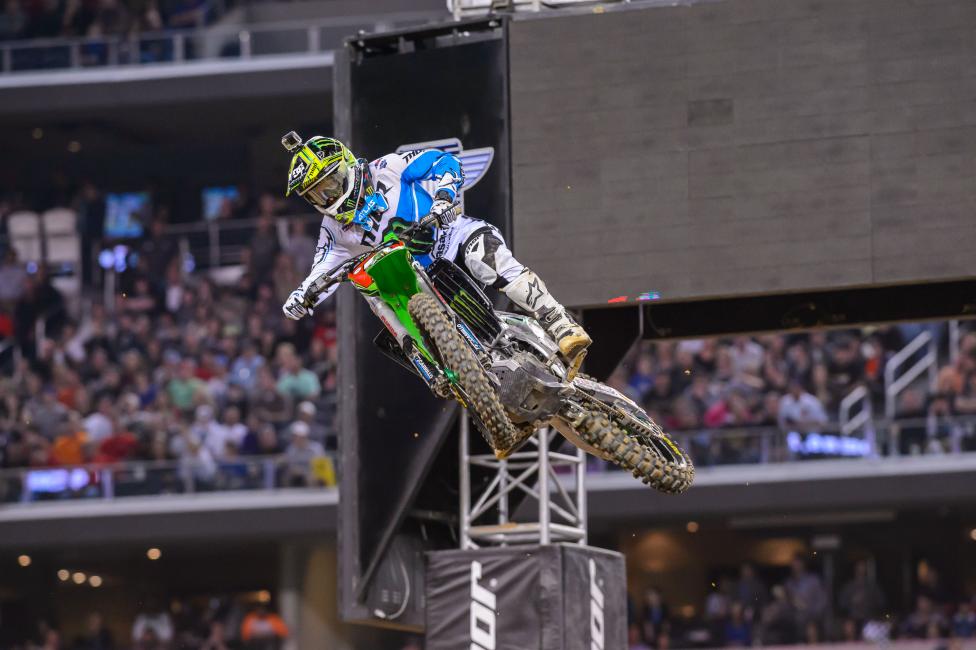 One person who will not be out there tomorrow night is Chad Reed, whose Monster Energy Supercross is over after that shoulder injury. Nor will you see his replacement rider, Dean Wilson, who will debut in Indianapolis next weekend. Wilson was hired in a very quick but complicated deal that included not only Chad's Discount Tire Kawasaki team, but also Mitch Payton's Monster Energy/Pro Circuit Kawasaki and Kawasaki proper's Reid Nordin. More on that later.
And also be ready to see some serious racing in the 250SX class, as Payton's boys—Adam Cianciarulo, Blake Baggett, and Martin Davalos—try to go 1-2-3 again, while guys like GEICO Honda's Blake Wharton and Matt Bisceglia and Yamalube/Star Racing Yamaha's Jeremy Martin try to recover quickly from unfortunate opening nights in the East Region. Which is where we should start the rest of Racerhead....
THE NUMBER: 62:1 RATIO (DC)
For those of you who like to crunch numbers, check out this little gem: Since 2006, Monster Energy/Pro Circuit Kawasaki's Martin Davalos has raced a total of sixty-two main events in AMA 250 Supercross racing, counting last weekend's Dallas opener. That's sixty-one races more than his teammate Adam Cianciarulo, who of course made his SX debut in Dallas and came away a winner the very first time. Davalos, unfortunately, has yet to win a main event, and many (myself included) thought and kind of hoped Dallas would be his night when he was leading early. Alas, he fell, Cianciarulo and Blake Baggett came on through, and the winless streak continues for the well-liked and highly respected Davalos. I was stoked that Adam won, but I have a feeling he's got years ahead of him to win. In the case of Davalos, time may be running out, and like Ryan Morais, I would hate to see his career end without at least one big win.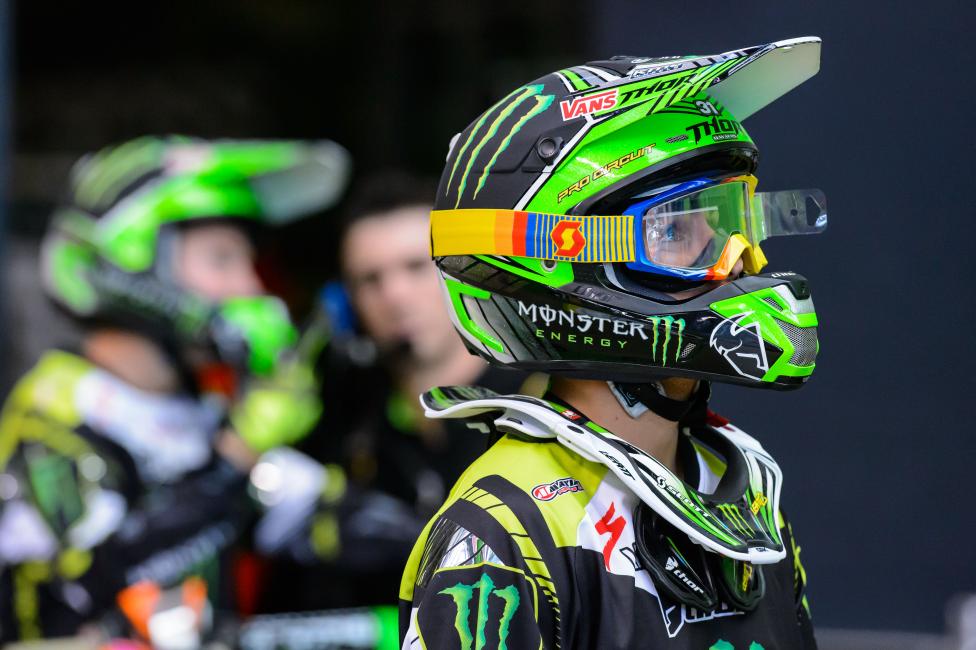 PAYTON'S THE MAN (Steve Matthes)
Dean Wilson with Discount Tire/TwoTwo Motorsports starting at Indianapolis next week is pretty remarkable, really. You don't find many people in the industry who would be willing to sign off on what is basically a team switch. Yes, Pro Circuit's Mitch Payton and Discount Tire Kawasaki's Chad Reed are close friends, and yes, it's still on a Kawasaki, but Payton is taking the bigger risk here, no doubt about it.
No, Wilson probably can't win this 250SX West title now, but he can certainly win the coming Lucas Oil 250 Pro Motocross title. And sure, someone can get hurt practicing as much as racing, but last time I looked, you didn't practice with twenty-one amazing other guys around you on a supercross track. Racing is inherently more dangerous than practicing.
And Payton's got no upside on this deal. If Wilson kills it on a 450, he'll be sure to get a ride with a 450 team, which is something Mitch isn't. If Wilson doesn't do well, he'll be getting a rider back under his tent even more depressed than he probably is now.
It's a win for Wilson (gets to ride a 450 and see where he's at) and a big win for Reed (the Discount Tire team keeps rolling and Reed takes another step toward being the owner of a team of multiple riders), but it's Payton who has the least to gain and most to lose in my eyes. And so because of that, a tip of the hat to Mitch for letting this happen. He knew it was the best for Dean and also the best for Chad, so he did the right thing, even if it could come back to bite him for the nationals.
To me, it doesn't matter. I'm excited about watching my favorite Scotsman since Jeff Ward race a 450 on a great team and bike!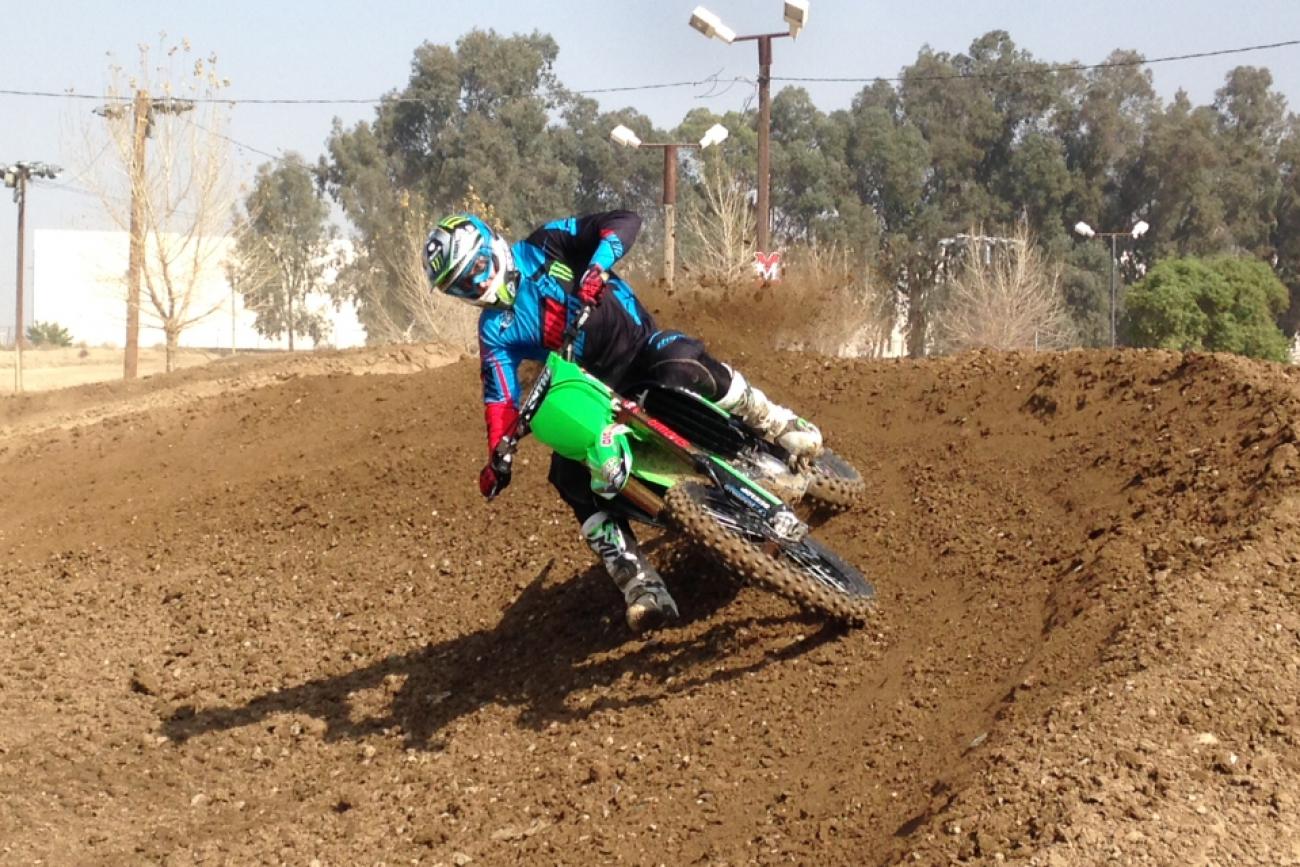 CLOSING IN (DC)
Stewart's back-to-back wins marked the first time he's done it since April 2011, when he topped St. Louis and Seattle in the late stages of the series. He's now closed within one race of #2 Ricky "I'm Burnt Toast" Carmichael on the all-time wins list, with forty-seven career premier-class wins to RC's forty-eight. Of course Jeremy McGrath holds the record with seventy-two wins, which seems unreachable at this point to pretty much anyone currently competing in this class.
Stewart's resurgence dovetails with the unfortunate exit of Chad Reed, the best story of the first six weeks of the series. Reed, of course, suffered a shoulder-breaking crash at the San Diego SX while trying to pass Ken Roczen on the last lap of the main event. Reed did his best to try to race in Dallas, but after just a couple of laps of practice he pulled out and headed to the hospital for more X-rays. Racer X Online reported at that point that he was out for at least six weeks, which brought some heat from the Discount Tire Kawasaki team. We hoped we were wrong, but we all know now that Reed's 2014 supercross season is over.
Regardless of what happens in the future with Chad Reed, his efforts in January and early February must be considered a major highlight of his long and very successful career. To return to the top after such a dismal 2013 season—and to do it on his own team, on a different bike, and at the age of 31—has been as impressive as it was inspirational. I can't wait for him to come back and get back up there and fight, because that's what Chad Reed does.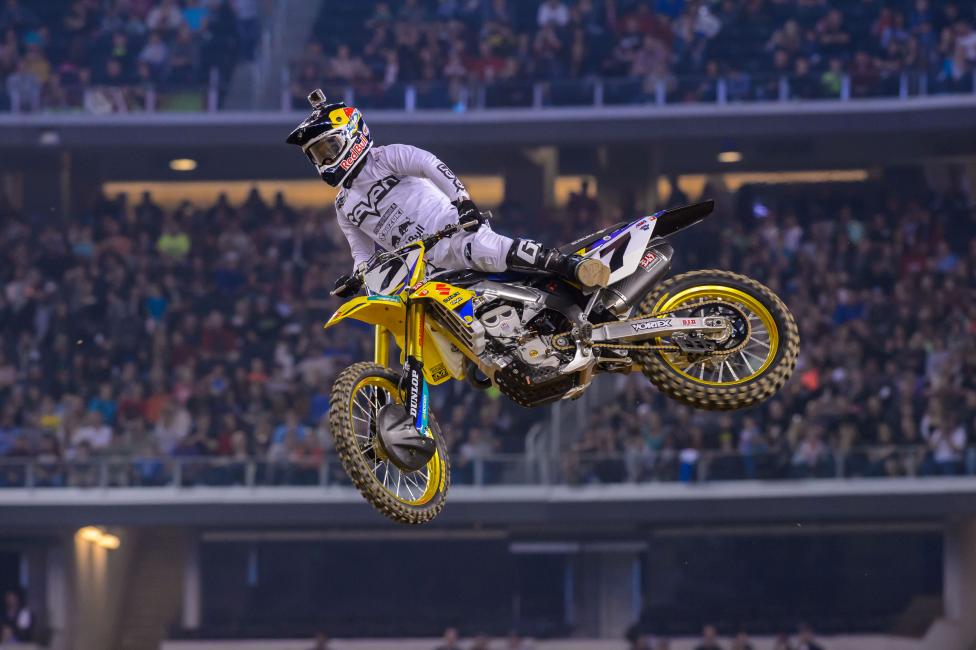 MARTIN (DC)
Jeremy Martin can take some solace in this little factoid: In 2007, Ben Townley got dead last in his first 125 supercross race, at the Georgia Dome in Atlanta. Riding for Monster Energy/Pro Circuit Kawasaki at the time, it was considered a huge letdown for the former MX2 World Champion. But one week later in St. Louis, he won the main event, then he won the next main event in Daytona. By the time the East Region was over, BT101 had earned himself the championship title, even though he started with a big goose egg.
PRO PERSPECTIVE (David Pingree and Jason Thomas)
Ping: Jeremy Martin was expected to make a big splash last weekend at the East Region opener. Instead he fizzled and ended up watching the first race of the series from the stands for the second year in a row. It had to be heartbreaking for the speedy Yamaha rider.
So how do you move past a truly disastrous race like that and get your head back in the game? Personally, I liked to sulk around the house for a while and get good and depressed. After a day or so my wife would tell me to put on my big-boy pants and get over it. At that point you have to get back to work. Sometimes you just have some bad luck and there is nothing about your program you need to change. Other times something puts you in a bad position, like your starts. I've found that a good start or bad start can be the difference between having the best weekend of your life (Cianciarulo) or the worst (Martin).
After reflecting on where things went sideways, Jeremy needs to address those issues and pretend last weekend didn't happen. He is effectively out of the title chase for now, so he should focus on singular race results and let it rip each and every weekend. In that sense, something like this can be liberating. Here's hoping he sorts it out and finds the lead group in Atlanta.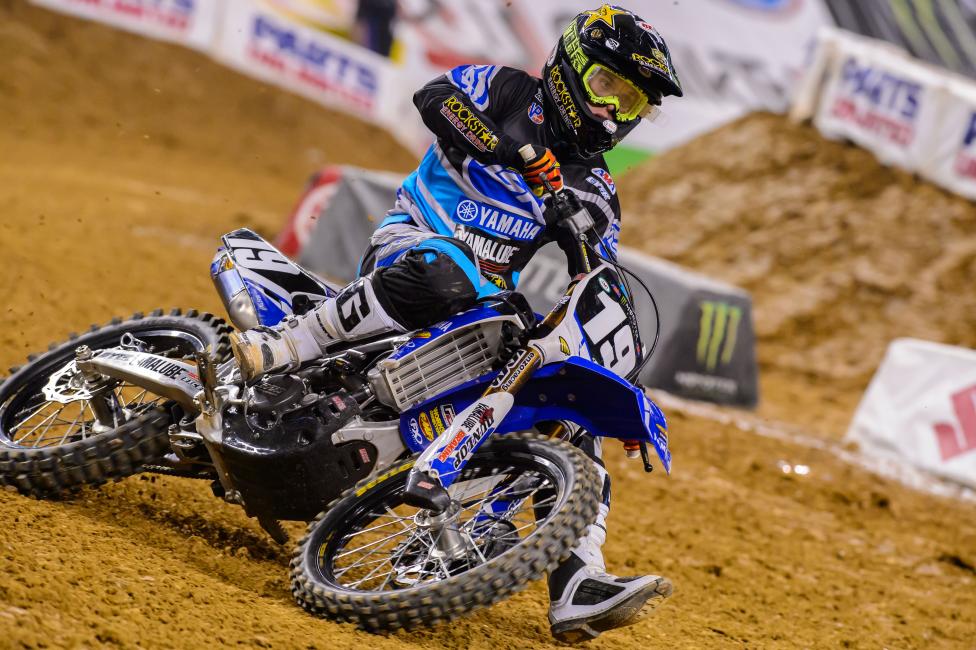 JT: I am no stranger to having a horrible weekend. I usually responded by hurling my race helmet for distance, followed by kicking the nearest chairs into the next team's pit area. I generally made a fool of myself, yelling obscenities at anyone nearby. (Sorry, Chappy.) After a good hour or two of that, I calmed down and resolved to fix the issues that led to the problems.
For Jeremy Martin, I don't think he had many shining moments last weekend but, as Ping said, his starts were glaringly obvious. I watched the replay of his heat race start and it was puzzling as to how he could have blown it that badly—and that great slo-mo camera they are using this season made it look ever worse! That one bad start led to his crashes with guys he wouldn't normally be racing around, which led to an outside gate pick in the LCQ. Once that snowball starts rolling downhill, it's tough to stop.
The biggest key is to just start over. Jeremy needs to pretend Dallas didn't occur and enter Atlanta like it's the first round of the East Region. The points won't agree with that theory, but I feel it's the best approach. Go out and ride without pressure. Let the other riders worry about making the mistake—just go do what you know how to do. As we have seen with these regional championships, anything can and often does seem to happen. Winning races usually has a way of healing point deficits.
THE OTHERS (DC)
The 1-2-3 of Cianciarulo, Baggett, and Davalos got much of the notice in the week after Dallas, which makes sense since it was the turnaround race the Pro Circuit team needed. Sure, Wilson and Justin Hill won races out west, but the title will be settled between Rockstar KTM's Jason Anderson and Lucas Oil/Troy Lee Designs Honda's Cole Seely. But in Dallas there were some new or unexpected names up near the front that everyone should keep an eye on moving forward. Vince Friese finished a career-best fourth after dropping down from the 450 while riding for the Factory Metal Works/Club MX team. Friese is notorious for being a rough-and-tumble rider, but in Dallas he looked comfortable and confident. With another good start he might be in the podium mix.
GEICO Honda's Justin Bogle was in the same LCQ that Jeremy Martin didn't make it out of, so to end up fifth from in the main at the end of the night is a pretty acceptable finish. And both Gavin Faith and pure rookie Anthony Rodriguez were riding extremely well until they each crashed. It was cool to see new guys up there, even if they didn't finish as well as they started. Keep an eye on all of the names in this space.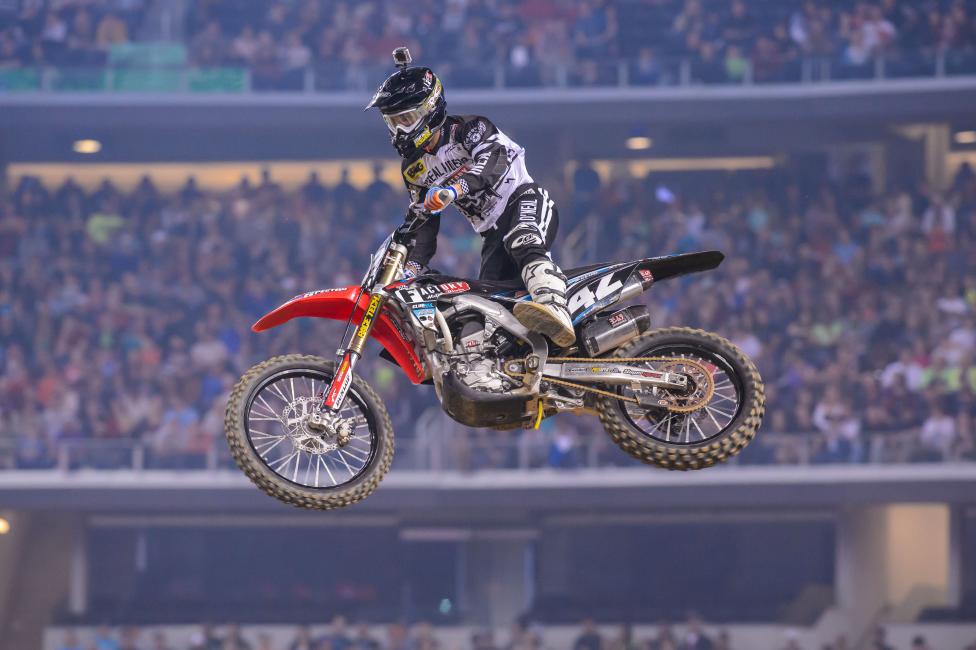 JACE GOT JACKED (Matthes)
Want a sleeper 250SX rider for this weekend? Team Factory Metal Works/Club MX rider Jace Owen made his supercross debut at Dallas, and although he didn't make the main, he was still impressive. In fact he was somewhere around fifteenth fastest but got his best time taken away after doubling the triple in his qualifying session. His next best time was twenty-third, and bad starts doomed him in Big D. He was still very fast and I predict he'll be in the main this week and sniffing toward the top ten. He's got some skills. Keep an eye out for the #410 out there and thank me later for looking smart to your buddies.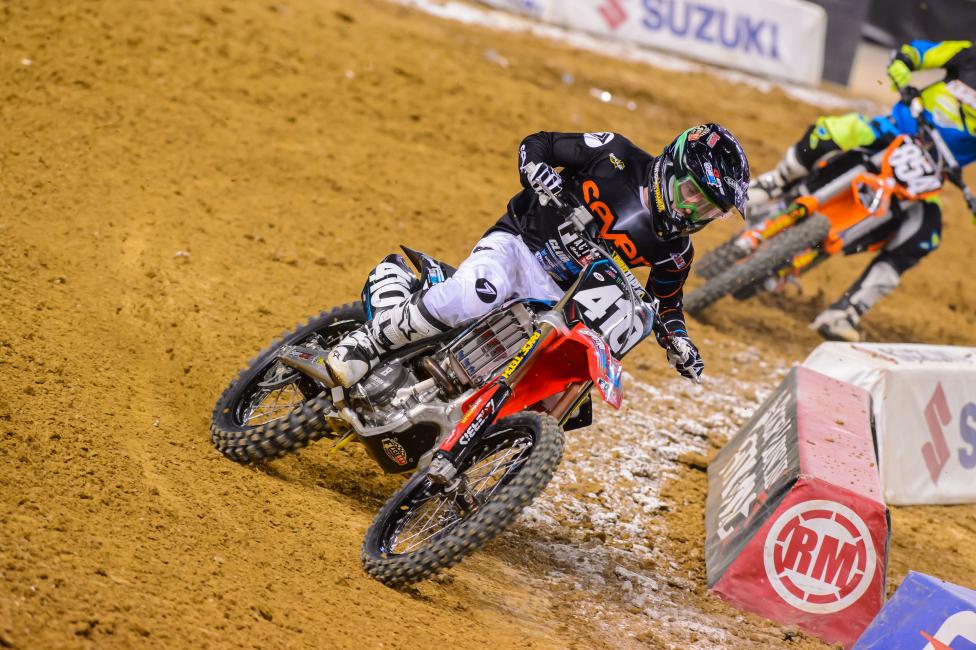 MAD SKILLS MOTOCROSS 2! (Bryan Stealey)
Most of you probably know that Mad Skills Motocross 2 was released on the App Store and Google Play Store yesterday, and it's pretty well blowing up. As of now it's the #8 overall free iPhone app in the USA and the #9 overall free iPad app (where it just passed Angry Birds Rio), and it appears to still be climbing. It's already a top-five app in Italy, France, Australia, Sweden, Belgium, and Austria. Not sure how it's faring on the Android side of things, as the charts there seem to be a little behind.
We're stoked to have been involved in bringing some great companies to this game: Suzuki, Fly Racing, Motosport, GoPro, and Red Bull are all major supporters of the game. They're also all repeat sponsors of the Mad Skills franchise of games.
Wish we could take more credit for this awesome game, but the truth is, the brilliant skeleton crew at Turborilla AB, an indie developer based in Umea, Sweden, are the geniuses who made it happen. Tobias, Peter, Michael, and Benjamin worked their butts off, and the result is an app that appears to be becoming a global sensation. It's their best game yet.
If you don't have it yet, grab it free for iOS or Android here. Make sure you figure out how to use national and state leaderboards, because that's when it gets really fun.
DAVID BAILEY MOMENT (DC)
From time to time friends and readers will share stories and memories with us of one of the most influential men in the history of motocross, David Bailey. I always get a kick out of them because David is a lifelong friend and someone I was lucky enough to work with for several years on television, as well as a longtime contributor to Racer X. This one came from Jeff Greenberg, who was told it by his friend Kenny Wagner, an eyewitness and participant to the short, funny memory: In 1984, at the Carlsbad 500cc U.S. Grand Prix of Motocross, Bailey was flying down the big hill, the Carlsbad Freeway, in the center of the track on his works Honda. It was a horrendous get-off about thirty minutes into the moto. As Bailey stood there, his race ended, Wagner said, "I handed him my beer and he drank the whole thing!"
So add David Bailey to the short list of iconic riders who stopped in the middle of a moto to drink a beer, joining Hakan Carlqvist and later Stefan Everts, each of whom stopped while winning the Belgian Grand Prix at The Citadelle in Namur—Carla doing it on the road alongside the Monument Cafe!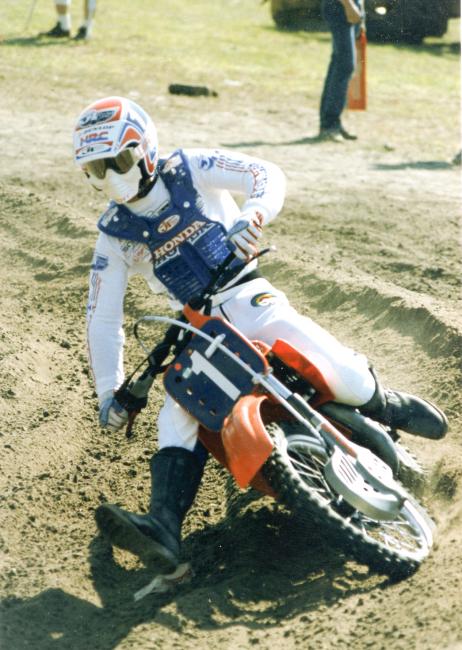 FOX RACING (DC)
There was an interesting announcement this week that Pete Fox had resigned from his role as CEO at Fox Racing, to be replaced by Nick Adcock, an action-sports veteran who recently worked with DC Shoes (and was coincidentally brought in by Pete a few years back). Fox Racing is still owned by the Fox family, started by Geoff Fox back in 1974 in NorCal, and it is now one of the most recognizable brands in the apparel world, let alone action sports and motocross. This all came just a couple of days after Pete, a lifelong motocross enthusiast with all kinds of creative talent—he even shot a race-action cover photo for Motocross Action back in the early nineties—posted a picture on his personal Instagram of one of his most innovative designs.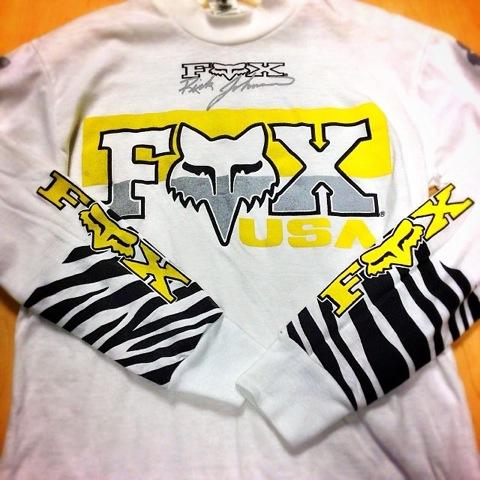 "foxpetefox I designed the Fox zebra print gear when I was 18 years old and dreamed big. Before that all MX gear was solid primary colors. When I first showed this design, everyone thought I was crazy. No one supported it. Not even people at Fox. I believed in my heart, and I fought hard to bring it to life. By the end of the first year it was Fox's best selling gear of all time. It also forever changed the way people thought of Fox. We were no longer a 'me too' brand. We became an innovator and leader, and the brand changed from that one design."
I have been friends with Pete and his entire family for many years, and I believe he is responsible for not only some of the best motocross gear the sport has ever seen, but also some truly exceptional advertisement campaigns, including "Youth Gone Wild" and the "Dream On" series, plus the iconic photo of a nude Ricky Johnson, recreated as Rodin's Thinker (and recreated again by Ryan Dungey last fall) and Doug Henry "scar" ad that asked "What's Holding You Back?" He's also worked with and sponsored some of the best motocross riders of the last thirty years, both as amateurs and pros, including Johnson, Henry, Damon Bradshaw, Donny Schmit, Jeremy McGrath, Jeff Emig (Shift MX), Ricky Carmichael, Travis Pastrana, James Stewart, and now Ryan Dungey, Ken Roczen, Chad Reed, and many more.
It was Pete and his brothers Greg and John who okayed ads in our little regional newspaper back in the day, the 'zine that became Racer X Illustrated. And when we turned that paper into our magazine, they were the first to sign up for advertising, taking the inside-front cover spread. They have stayed there since Volume 1, Issue #1, back in February/March of 1998.
With all that said, I am not quite sure what's going on at Fox Racing, but I truly hope Pete Fox stays put in regard to his creative visions and also at the helm of their motocross team. He has been the game-changer in many regards in the motocross world, and I am sure he's got much more to offer.
DAYS OF THUNDER (Andy Bowyer)
The 56th running of the Daytona 500 takes place this Sunday in Daytona Beach, Florida. The Budweiser Dual 150s ran last night—qualifying races that set the starting lineup for the 500—and both were won by Joe Gibbs Racing drivers Matt Kenseth and Denny Hamlin. The first 150-mile race ran caution-free but produced a spectacular three-wide finish. During the second, all was well until the final corner of the final lap when Jimmie Johnson ran out of gas at the front of the field, triggering a massive multi-car smash up that included the #15 car of Clint Bowyer (yes, my brother!) performing a complete mid-air barrel roll before touching back down on four wheels and actually completing the race.
The lion's share of the attention on Sunday will focus on rookie Austin Dillon, who will become the first driver to race with the famed #3 in Sprint Cup competition since the legendary Dale Earnhardt Sr. died on the last lap of the final turn in the 2001 Daytona 500. The grandson of Dale Sr.'s car owner, Richard Childress, Dillon will start from the pole position in "The Great American Race." While polarizing to traditionalist fans, it will be a special moment to see the most iconic number in the history of motorsports racing around Daytona again.
EUROPEAN WEATHER (DC)
The United States isn't the only country that's been battered by recent weather. Over in Europe the French had to cancel the annual Vallence International motocross, one of the biggest of the preseason races. With only two weeks to go before the Grand Prix tour opens in Qatar next Saturday, the cancellation sent riders scrambling. Gautier Paulin, who hopes to be healthy enough to make a run at Tony Cairoli, ended up heading to Italy for the Elite Italian MX Championship and a race with Cairoli, the Red Bull KTM rider. Paulin ended up winning, and Cairoli severely twisted an ankle that swelled up enough for an Instagram picture post. Cairoli raced anyway and finished fourth in the second moto behind Paulin, the back-to-healthy Steven Frossard, and Belgium's Jeremy Van Horebeek. The winner of the 250 Class was another Monster Energy Kawasaki rider like Paulin, Arnaud Tonus. He hopes to make a run at Jeffrey Herlings in the MX2 class this summer.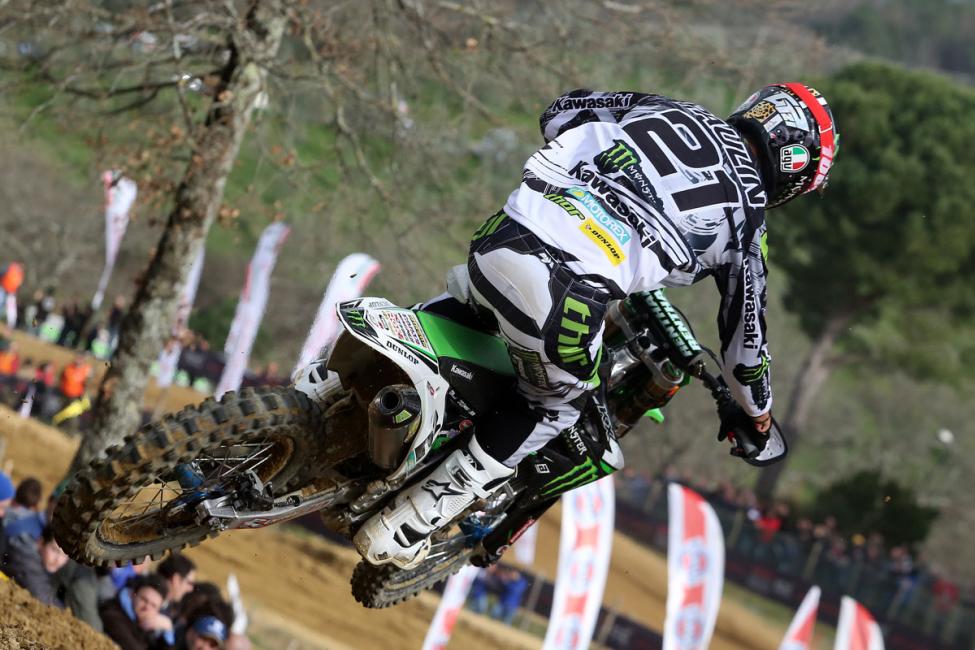 This weekend there's another race in Hawkstone Park in the UK, but there's fear that one may get hit by weather too. It was flooding so bad in England last week that the royals were helping people to place sandbags on the banks for rivers. No wonder everyone rides so well in the mud!
And don't forget to check out www.mxgp-tv.com, which is the new home of the FIM World Motocross Championships' live-streaming webcasts. There are packages for single races like the opener coming up in Qatar, and for the whole season that follows.
HEAD-SCRATCHING HEADLINES OF THE WEEK
RoadRace Factory Completes Preseason Testing Despite The Bad Chicken
TMZ: "Snake Salvation" Star Dies After Holy Snakebite
Daily News: EXCLUSIVE: National clown shortage may be approaching, trade organizations fear
HEY, WATCH IT!
A videographer named Andre Barbosa posted a short outdoor-testing video featuring West Region SX contenders Jason Anderson and Cooper Webb, plus a cameo appearance by none other than Christophe Pourcel, who will race the 250 class this summer in Lucas Oil Pro Motocross. It's a good video and it's cool to see Pourcel riding again.
The 28th Annual Monster Energy Geneva Supercross will air this weekend on MavTV, here's the promo.
RANDOM NOTES
Classes are filling up for the Ricky Carmichael Daytona Amateur Supercross on March 9-10. This is the only opportunity of the year to race on a professional supercross track along with being in the legendary infield of Daytona International Speedway. Ricky will be designing the track and interacting with riders throughout the event. OEMs, sponsors, and the industry's top amateur and professional teams will also be on hand for the two-day event. Get registered today on www.racedaytona.com.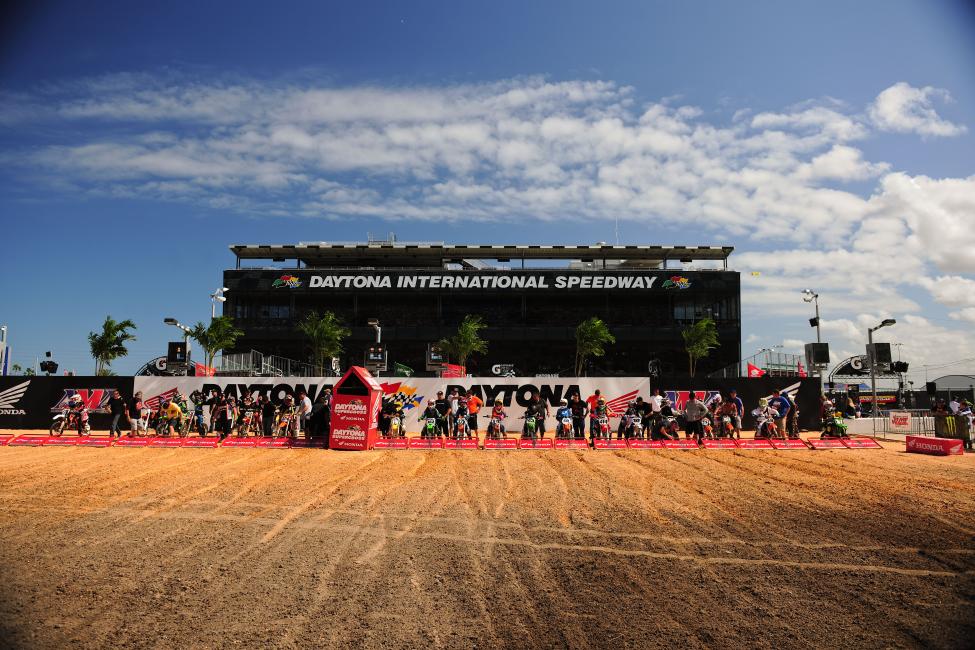 If you follow auto racing at all, you know that all-time great Michael Schumacher is still in coma from a skiing accident he suffered several weeks ago. Now there's a report out that his crash, on a dangerous slope at the French resort Meribel, which caused the brain damage, may have been the result of a helmet camera he had mounted on his head. He was wearing a skiing helmet, which is much smaller than a motocross helmet, and he landed flat on where the camera was, according to reports in the auto world.
Weston Peick, Cooper Webb, Wil Hahn, and Jimmy Albertson have all suffered some bad crashes this year caught on film. Because it's the Olympics, here are those crashes scored. Congrats to Hahn on winning!
Headed to Atlanta this weekend? Make sure to come by the Racer X booth to subscribe or renew—and get your Racer X wall-cling! Only $15 gets you 13 issues of Racer X plus a giant, wall-friendly Racer X decal featuring Villopoto, Dungey, and Stewart—and as an added bonus, you can give a digital subscription to a friend! (Are you in the U.S. military? Bring your military ID and we'll give you $5 off the subscription price as a small thank-you for your service.)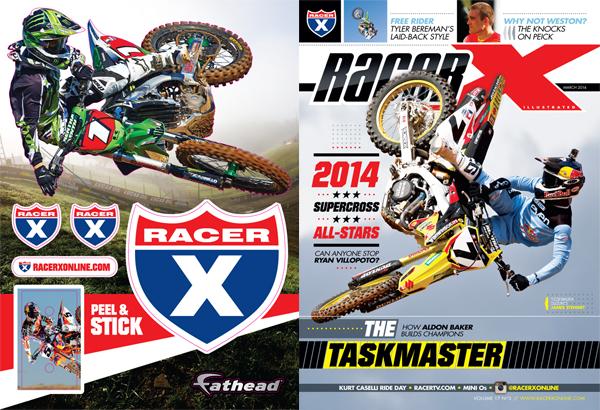 The February 2014 digital issue of FLMX Magazine is now up at www.flmxmag.com.
Another race to keep your eye out for will take place in Reno, Nevada. That's where Amsoil Arenacross will be taking place, with a new face in the crowd. GEICO Honda prospect R.J. Hampshire will make his professional debut at the eighth round of the championship, hoping to start the ball rolling early on his professional career and getting his points in order to be ready for supercross as soon as next season. We've seen RJ race at Loretta Lynn's, the Daytona Amateur Supercross, the Mini Os, and the Monster Energy Cup, and while he's something of a late bloomer for motocross, he's definitely going to be someone to watch in the near future. Good luck to RJ, we'll see how Tyler Bowers and the boys treat him in the deep end of Arenacross!
Former factory rider and eleven-time AMA SX and MX winner David Vuillemin asked for your best Twitter questions and here are his answers.
Matthes and friends have privateer hero Adam Enticknap writing a weekly column over on Pulpmx.com detailing life on the road and trying to make it to the big-time. Read his latest here.
For all the latest from Canada, check out DMX Frid'Eh Update #8.
Okay, that's it for Racerhead. Thanks for reading. See you at the races!