Georgia Dome
Atlanta

,

GA
Atlanta
Monster Energy AMA Supercross Championship
450SX
Jimmy Albertson – Knee and Wrist
Comment: Albertson clipped a quad, launched off a berm and hit a wall in practice in San Diego, cutting his knee open and badly spraining his wrist in the process. Albertson received stitches on his knee and wasn't able to ride the week before Dallas, but still made the main. He will be racing in Atlanta.
Trey Canard – Broken Arm
Comment: Team Honda Muscle Milk's Trey Canard suffered a broken arm over Thanksgiving weekend while testing and had surgery to put a plate in the arm. The original hope was what Canard would return at Dallas, but that didn't pan out. He was released last week and has been doing some light riding, and the team is hoping to have him back on the line within several weeks.
Cody Gilmore – Broken Collarbone
Comment: Gilmore suffered a broken collarbone in practice at Anaheim 2. He underwent surgery to have a plate put in. He just started riding last week and expects to come back in Atlanta.
Josh Grant – Torn Shoulder Muscle
Comment: Grant suffered a torn muscle in his shoulder in practice at round two in Phoenix. He tried to race through the pain, but he wasn't able to perform to his potential. After two weekends off, he will return to racing in Atlanta.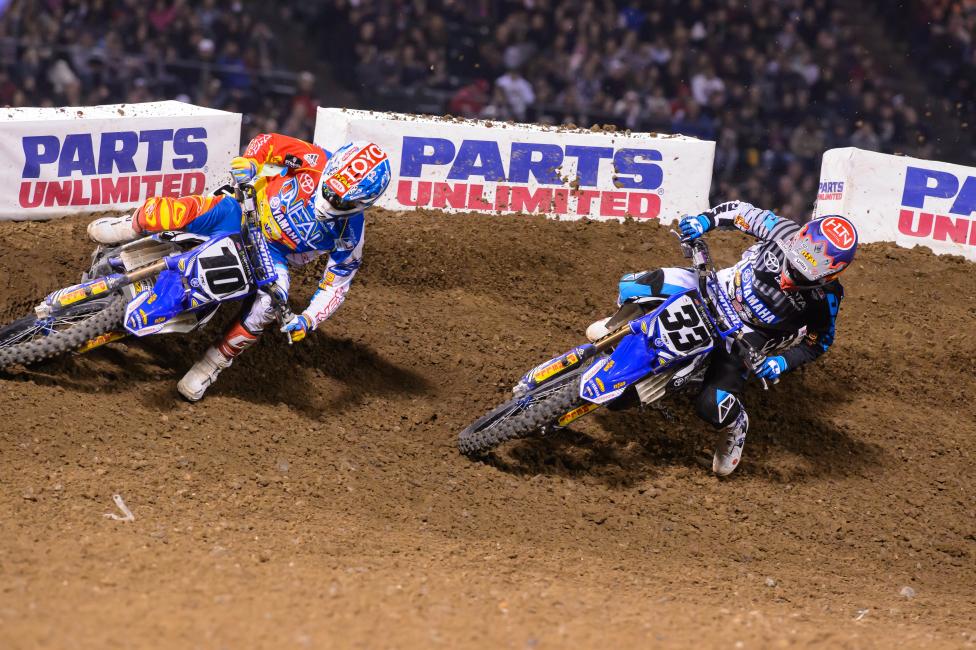 Josh Hill – Broken Collarbone
Comment: Hill broke his collarbone in Oakland, but somehow managed to only miss one race after getting the bone surgically plated. The injury is not expected to cause him to miss any more rounds.
Austin Howell – Lacerated Spleen, Punctured and Collapsed Lung, Bruised the other Lung, Broken Ribs, Fractured Collarbone, Fractured C-3 in Neck, Surgery on Wrist
Comment: Howell will be back on the gate in Atlanta and plans on hitting every race for the rest of the season.
Ben LaMay – Dislocated Wrist, Broken Upper Jaw, Broken Eye Socket
Comment: LaMay suffered a big crash right before Anaheim and has been out of action since. LaMay sustained some ligament damage that is slowing his recovery, but was released last week to start therapy on his wrist. He hopes to be back by Detroit. Earlier in the week he tweeted the following: "Today was the first day i put the wrist to the test and did my first road bike ride in 2 months. LOVE these country roads and blue skies, ILL BE BACK SOON IN ACTION."
Davi Millsaps – Torn ACL
Comment: Millsaps tore his ACL this off-season at Milestone and had surgery in mid-December. At Anaheim 2, Millsaps was hoping to be back by Atlanta, but has changed his return date to Houston.
Kyle Partridge – Torn ACL
Comment: Partridge underwent surgery earlier this week for his torn ACL and will likely miss the rest of Monster Energy Supercross.
Chad Reed – Scapula, Collarbone and T1 Vertebra
Comment: Reed went down hard on the final lap in San Diego. Despite his injuries he still attempted to race in Dallas, but it didn't work out. Said Reed in a press release: "For me I'm ready to heal up and get back into training and focus my time and energy on getting ready for Outdoors." Monster Energy/Pro Circuit Kawasaki rider Dean Wilson will fill in for Reed but won't start in Atlanta. Indy next weekend is most likely.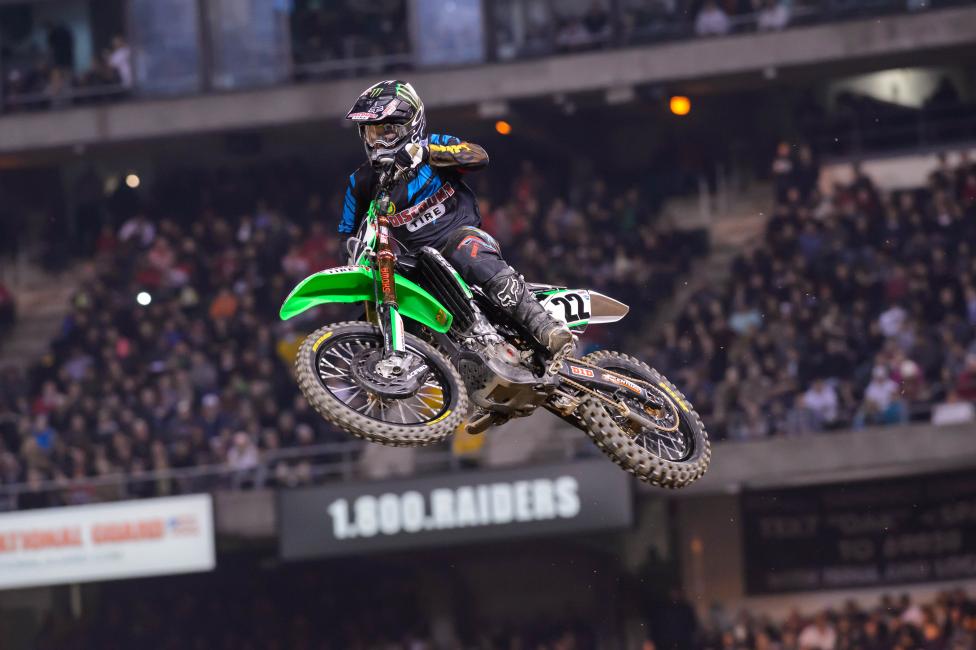 Broc Schmelyun – Broken Legs
Comment: Pennsylvania privateer Broc Schmelyun will miss all of Monster Energy Supercross after breaking both legs in a late December practice crash.
Shane Sewell – Broken Foot
Comment: Shane Sewell broke his foot at Anaheim 1 during the second 450SX heat. He plans on returning to racing in Indianapolis.
Jake Weimer – Shoulder and Hand
Comment: Weimer broke a bone in his wrist and dislocated his shoulder in qualifying in San Diego. He had the following to say about his injury on Instagram: "Ok so here is what I have going on. I dislocated my shoulder and broke a bone in my hand. My hand should be good in 4 weeks. My shoulder does not require surgery. I can't move it for 2-3 weeks then I start rehab which could be about 6+ weeks. My hope is things progress quicker than that and can get back to racing but I will not come back until my shoulder is healed, strong and I am ready. I will do everything I can to get back on the track healthy and strong."
250SX
Zach Bell – Broken Collarbone
Comment: Bell was claimed by a tricky triple-triple-triple section featured in Phoenix. The bone, which required surgery, was broken in three places and will sideline the Western Regional 250SX rider until Lucas Oil Pro Motocross.
Darryn Durham – Concussion
Comment: Durham had a big crash in practice at A2 and was knocked out. He missed a few races, but will race again when the Western Regional 250SX Championship resumes in Houston. Durham tweeted yesterday that he's, "Hoping to ride any day now."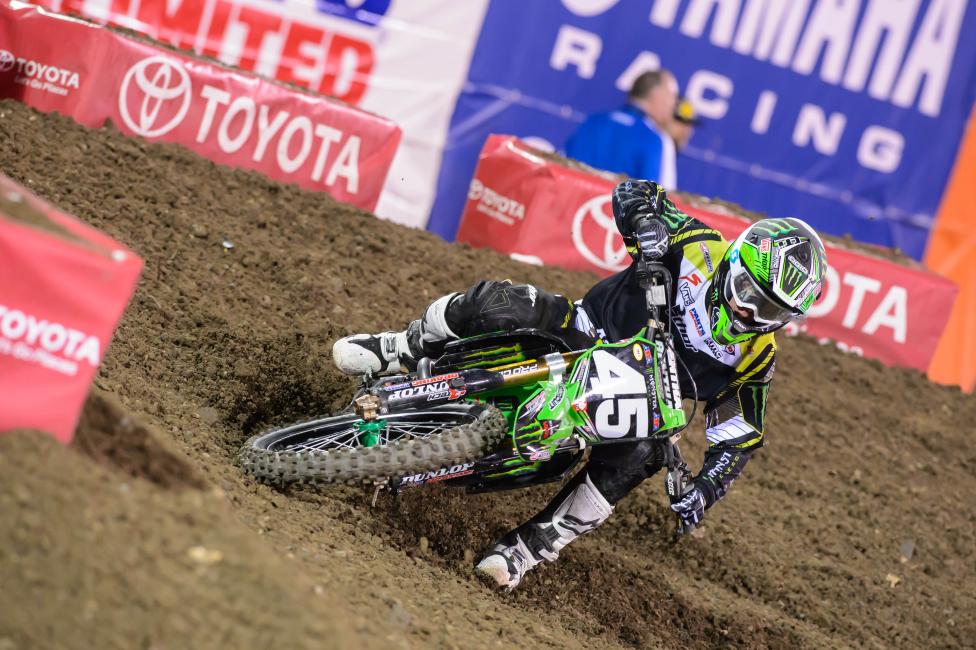 Casey Hinson – Crushed and Dislocated Right Wrist, Fractured Left Hand and Fractured Face
Comment: Privateer Casey Hinson is hoping to return late in the series after a December practice crash where he reportedly clipped a landing in a rhythm section and went headfirst into the ensuing jump.
Brady Kiesel - Broken Jaw
Comment: Kiesel broke his jaw completely through in two places and had to have it wired shut, along with chipping five teeth in practice in Dallas. Kiesel qualified for the night show but was unable to compete. He has already had surgery. He originally planned to race this weekend, but announced on Twitter today that he will miss Atlanta. He hopes to return at Daytona.
I would be racing this weekend if it was up to me. Unfortunately family doesn't feel like it's a good idea to race. But I feel like I can

— Brady Kiesel (@brady_kiesel) February 20, 2014
Cole Martinez – Broken Wrist
Comment: Martinez broke his wrist at A3. He had surgery and hopes to be back racing by Houston.
Marvin Musquin – Torn ACL
Comment: Red Bull KTM's Marvin Musquin suffered a torn ACL in early December and has already undergone surgery in his home country of France. We talked to the team last weekend in Dallas and they said that Musquin has returned to training in the U.S. but is not back on his motorcycle yet. Judging by a recent Tweet from Musquin, we won't see him in action until the 2014 Lucas Oil Pro Motocross Championship.
Zach Osborne – Broken Collarbone
Comment: Osborne sustained two small fractures in his clavicle at A3 during practice. He is expected to be ready when the Western Regional 250SX championship resumes in Houston.
Austin Politelli – Broken Femur
Comment: Privateer Austin Politelli suffered a broken femur while testing at Milestone the week before Phoenix. No timetable has been set for his return.
Joey Savatgy – Broken Wrist, AC Separation, Broken Ribs and Partially Collapsed Lungs
Comment: The 2013 SX Rookie of the Year is expected to miss some time on the Eastern Region after a huge crash at Milestone in early December resulted in a broken wrist, an AC separation, broken ribs and partially collapsed lungs. Savatgy has been visiting the doctor every two weeks to check on his progress, but is still not ready to race.