Arlington, TX
Dallas
Monster Energy AMA Supercross Championship
Round seven of the Monster Energy Supercross Championship (I can't believe we are at round seven already. We're almost halfway, bro!) saw the Eastern Regional 250SX class enter the fray, and after Dallas, the AMA is going to have order more yellow flags because they're all probably worn out.
The Dallas track was a lot like San Diego, just sort of okay. Back in the day, the Dallas SX featured unbelievably hard-packed dirt that would get as blue grooved as Carlsbad in 1986. Since the move to Jerry World stadium (okay, actually Cowboys Stadium, sorry, now AT&T Stadium, or regardless of name, an impressive 1.3 billion-dollar stadium built in 2009. Yes, that's billion with a "B") the dirt has been a little better for different reasons, but I'm afraid it's been trending more and more toward the old Texas Stadium in the last few years.
So it's with this dirt in mind that I say the track was just okay. You just couldn't push too hard or you would end up on the ground. All the top guys were basically going the same speed and it came down to the mistakes made by the riders. Yeah, a lot of races boil down to that but this one, in my opinion, didn't let you push. You rode at 85 percent of your speed and that was it. Anymore and you'd be on the ground. In the main event James Stewart busted out a triple after the finish that no one had really been doing, but soon enough all the frontrunners started to do it also. The race came down to the start and riding smooth, steady laps. The whoops looked to be a bit challenging to me until the great Kevin Windham told me they weren't. The quad at the end of the first straight was challenging, but again, mostly because of the dirt.
Looking at the 450SX main event, sixteen out of the twenty-two guys in there crashed at some point during the day. And that's just the crashes that I saw! And when you landed, the dirt didn't exactly provide much cushion. There was an avalanche of yellow flags throughout practice in Texas. Want proof it was a weird day? Even Windham crashed while practicing his transfer on Friday!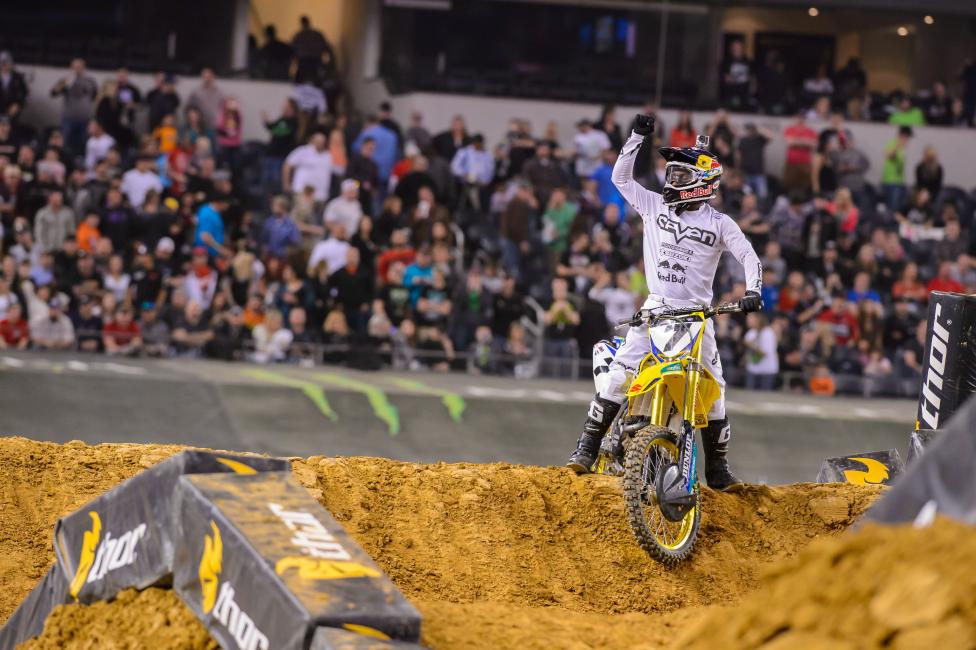 James Stewart reeled off his second-straight win and his speed was impressive (duh), but also his consistency. I've been preaching that the #7 is a different guy this year so I'm not going to beat that dead horse anymore, but I was talking to a team in the pits after practice (no, not Kawasaki) and they said that they had a camera just on Stewart and that he made a lot of mistakes. They thought that there was no way he could stay upright on the unforgiving hard-packed dirt. In olden days, I may have agreed with them, but not with the new 2014, steady and consistent James Stewart. He took the lead early from Ryan Dungey and rode pretty flawlessly the rest of the way. He even busted out that triple.
A few Mondays ago, Stewart was a guest on the Pulpmx Show, and former factory superstar David Vuillemin was asking some questions. Vuillemin launched into his tire speech (DV cannot understand why the riders of today, even on hard dirt, are using MX32s, which is the consumer name for Dunlop's softer terrain tire) and James basically said that he sort of agrees with DV, but everyone else runs the soft tire on hard dirt so that's why he does, too. (By the way, Chad Reed told me that the drive through the whoops was why he preferred the MX32). James then said that all riders are mental and they'd all copy each other almost no matter what.
This week Stewart switched to a hard-pack tire for the heat race (which he won and somewhere in Southern California I think I heard Vuillemin rejoice) but went back to the soft one for the main event. He was better in the main event than his heat (where Justin Barcia was catching him a bit). After the race Stewart said, "I think a couple other guys went to the hard-pack also. It was give and take. In the heat race I kind of had traction, (then) wheelied, and then I spun so I just went with what I know." Ladies and gentlemen, exhibit 743 on why riders are weird.
Well it seems that no matter what tire Stewart ran, Dallas was an announcement that he's back. It's met the new boss, same as the old boss. He's two points behind Ken Roczen for second in points and is now tied for most wins in the series with Villopoto and the dearly departed Chad Reed. Funny how that works, huh? All this talk about Barcia, Roczen, Trey Canard, Eli Tomac and the new wave of kids coming into supercross and look at what we have after seven rounds:
Ryan Villopoto (not an old guy but not a young guy either): Two wins.
Chad Reed (old guy): Two wins.
James Stewart (he's not that old age-wise but he last won a title in 2009. He's an old guy in terms of supercross mileage): Two wins.
Kenny Roczen (young guy): One win.
All other young guys: No wins.
I guess it goes to show you that the old dogs still rule this championship.
Justin Barcia, another guy that some "people" would say the Dallas SX wouldn't be good for (he's not a hard pack specialist), collected his first podium of the year. Amazing, right? He's aggressive, he attacks and he pins it, but for whatever reason it worked out for the kid and it's good to see. It's no secret that things aren't all roses over there at the Team Honda Muscle Milk truck right now. Barcia's not doing what he, or others, thought he would do and many times that leads back to the rider putting some blame on the motorcycle. I don't know if that's a real issue or not but I do know that I was a mechanic for a long time and I've seen it happen over and over. His contract is up, he's talking to other teams, the results aren't there and I'm sure the grass is greener over on another team. In fact, he probably wants any color grass other than red at this point.
But here's the thing. One good result, just one (and for Justin I'm talking a win) can turn everything around and love can begin to blossom again between Barcia and his motorcycle. You have to be careful in this sport writing in absolutes because you just never, ever know.
After the race Justin told me: "I feel like a few of the guys had their stuff dialed a little better for starts and stuff and my bike was a little off on the starts. The team's been working on it, working on it, working on it. They know there's a problem." Then later, "I'm not going to say it's all Honda and I'm not going to say it's all me. It's a team effort. The guys know there's a problem and I know there's a problem and [trainer, Jeff] Stanton knows there's a problem and everyone around me knows there's a problem."
I think this could be some kind of record for the most use of the words "problem" and "working" in one quote. Neither one is a good word in this case. Stay tuned…
Adam Cianciarulo, or "Baby Jesus," as some jokingly call him because of the hype and attention he gets (none of which he asks for, I might add) didn't do well in his pro debut last summer. Saddled by a virus, the kid basically ate mud and rocks throughout the Lucas Oil Pro Motocross Championship. It was perhaps the most inauspicious debut of a highly touted amateur since Eddie Hicks (Google it kids). Cianciarulo grabbed third in one moto (there was a fifth for Hicks at point) but overall it wasn't very good. There were lots of questions from lots of people, including whether he was really sick? (This sport sucks sometimes). Was he strong enough? Did his trainer over-train him? Was he nothing but hype? So on and so on.
Okay, STOP all those questions right now. Cianciarulo may not have been the fastest rider in Dallas (Martin Davalos was) but he took took advantage of a Davalos crash to win his first ever pro supercross race. He showed some great composure as his teammate Blake Baggett pressured him and made an aggressive pass, but Adam got him right back. He was smooth, he was fast and he looked to be in great shape. Truly an incredible night for a kid that had some real weight on his shoulders last summer while getting bumped around in the Nationals.
Adam was on the Pulpmx Show on Monday night and said he thought that he needed to get by Baggett right away after being passed. I disagree. Baggett didn't log a lot of time on the bike before the East Coast opener and probably isn't where he needs to be fitness-wise. Late in the race, Cianciarulo pulled away from Blake. And even if Blake led the race for a bit, I still think Adam's fitness is at a better point than Blake's is right now, since Blake only got a few days of riding in before Dallas. But hey, Adam's the racer.
Speaking of Baggett, I picked him to win this title before the series started and I still feel good about it. I think Blake will get better from here on out. But there's no doubt Dallas was a Davalos/Cianciarulo show in terms of speed. Blake's had a tough couple of years in supercross but he's a terrific rider, works hard and has won before. I'm still on the Baggett bandwagon. HOWEVER! There was one thing I definitely didn't like. As Cianciarulo and Davalos stopped on the face of a triple to celebrate the Pro Circuit 1-2-3 sweep, Baggett rode on by without so much as an acknowledgement. Blake and Adam aren't the best of buddies, and he was probably steamed at getting beat by "Baby Jesus," but he rode fine and the team swept the podium. A photo of all three of them with arms up celebrating would have been circulated everywhere! Maybe the next Renthal ad, maybe the next cover of a magazine, who knows? Well we won't know now because Blake chose to just ride on by. I didn't like it one bit and if I was the owner of the team I would suggest to Blake that next time he swallow some pride and be happy for the team.
I speak from some experience on this. I was on Team Yamaha in 2004 when the team swept Anaheim 1. Trust me, not everyone was buddies on that team either but they all stopped and celebrated an impressive feat. Sweeping the podium is a special thing and congrats to Mitch Payton and the crew. What was that stuff I heard about the guy in the chair losing his touch?
Let's take a look at the results shall we?
250SX Results
1 46 Adam Cianciarulo Port Orange, FL Kawasaki KX 250F
2 4 Blake Baggett Grand Terrace, CA Kawasaki KX 250F- I thought about it more and nope, still don't like Baggett cruising past his teammates. But hey, I'm not one to make a mountain out of a molehill. I'll just type a ton of words about it.
3 31 Martin Davalos Cairo, GA Kawasaki KX 250F- Davalos crashed twice in the main but was so fast, he still got third! Seriously, he's going to win his first career race this year. Stamp that. His speed isn't even the most incredible thing about him; it's the fact that even though the 250SX rules have been changed seventy-three times in the last decade, he's still been in the class for nine years. That, folks, is simply amazing.
4 42 Vince Friese Cape Girardeau, MO Honda CRF 250- Vince dropped down to 250s after being great in the 450s (and me saying he's silly for doing it). His team's trailer got jacked up this week and the guys scrambled together what they could and made it to the race. They didn't even have lights to work with after the race, just a bunch of mechanics and sweaty riders bumping into each other. No matter, Friese still put in a great ride to get fourth. Very impressive for him and his entire team.
5 32 Justin Bogle Cushing, OK Honda CRF 250- Bogle was SO bad the first lap of his heat that I tweeted he had a bike problem. Seriously, he was just idling around out there. But nope, no bike problems, just the worst first lap in supercross history! Bogle then had to go to the LCQ so this fifth is definitely acceptable. Considering all the injuries he had coming into this race, it's really, definitely, absolutely acceptable.
6 52 Cole Thompson BRIGDEN, Canada KTM 250 SX-F- On track walk I told Cole I had him for a sixth and he said he would take it. Not a bad finish. I have to admit, I cheer for Thompson. Something about being Canadian I suppose. Anyway, I have always thought that when Cole was a privateer and doing it himself his bike didn't look, umm, how do I say this without hurting people's feelings? It didn't look good. And some of that is Cole's fault as a rider. But now he's on a top team, with basically the exact same bike as Jason Anderson, and he can learn how to test. He'll be better after being on this team. And in the meantime, if he can get some top fives along the way he will do well. He's got good supercross skills.
7 36 Blake Wharton Beaumont, TX Honda CRF 250- A quiet night from Wharton and this is why he's a longshot to win a title. He has too many quiet nights but on certain nights here and there, he can show tremendous speed and win a race.
8 30 Kyle Cunningham Aledo, TX Honda CRF 250- I thought I'd see more flair from Cunningham. He rode a steady race but there was no Cunningham flair. WE WANT MORE FLAIR!
9 55 Alex Martin Millville, MN Yamaha YZ250F- Good start to the year by Troll. He was fifteenth after one lap y'know.
10 62 Mitchell Oldenburg Alvord, TX Honda CRF 250
11 47 Kyle Peters Greensboro, NC Honda CRF 250- A quiet race for Peters, who I thought would be better because of all the 450SX racing he's been doing on his 250F.
12 69 Levi Kilbarger Logan, OH Honda CRF 250- Kilbarger is the "lucky" guy this year who gets #69. Insert your own joke here but be warned, he's probably heard them all already.
13 57 A J Catanzaro Portland, CT Honda CRF 250
14 88 Jesse Wentland Elk River, MN Honda CRF 250
15 56 James Decotis Peabody, MA Honda CRF 250- Jimmy DEEEEEEEEE was ninth on the first lap before flying over a berm. He got up in twenty-first, so this isn't so bad.
16 533 Gannon Audette Cairo, GA Kawasaki KX 250F- Gannon's a good kid and a good rider. I hope he can stay healthy this year.
17 60 Jackson Richardson Wildomar, CA Honda CRF 250
18 72 Daniel Herrlein Bethesda, OH Honda CRF 250
19 96 Matthew Bisceglia Weatherford, TX Honda CRF 250- Another rookie making his pro SX debut, Bisceglia had rear brake problems right from the start of the main. As a result, his debut pretty much was the exact opposite of Cianciarulo's.
20 49 Gavin Faith Fort Dodge, IA Honda CRF 250- Faith was in third before crashing out which would have been a nice finish. Last year at this race, Faith won his heat race. He's got speed and will be a sneaky-good underdog from here on out.
21 78 Matthew Lemoine Pilot Point, TX Kawasaki KX 250F- Lemoine is another sneaky-good rider under the radar and he was eighth until he had a mechanical problem.
22 267 Anthony Rodriguez Cairo, GA Yamaha YZ250F- This Yamalube Star Racing Yamaha rider was third until he crashed out early in the race. I spoke with a lot of amateur MX "experts" who told me that A-Rod was going to be good but nothing amazing or anything like that. Well those experts can cram it up their cram hole because Rodriguez was great until he crashed. I hope he's okay for this weekend.
450SX Results
1 7 James Stewart Haines City, FL Suzuki RM-Z450
2 5 Ryan Dungey Belle Plaine, MN KTM 450 SX-F- Did you know this recent four-race podium-less streak for Ryan Dungey was a career worst? Yeah, me neither until I looked it up. His previous worst was three races a couple of years ago. Well that streak is now over with his solid ride in Dallas.
3 51 Justin Barcia Pinetta, FL Honda CRF 450- Many people were all up in arms over Barcia's whip at Roczen and yeah, it was gnarly and yeah Roczen has a right to be upset, but whatever, nobody crashed. But this Roczen/Barcia thing could be a rivalry for the ages, and we all like those!
4 1 Ryan Villopoto Seattle, WA Kawasaki KX 450F- Yeah Villo was off the podium but I really feel that if the Villopoto/Roczen starts and Dungey/Stewart starts had been reversed, the results would have been, too. The start was everything this weekend and Villopoto didn't get it. He couldn't push it like normal because of a lack of traction so he took what he could get and actually extended his points lead. No need to panic here, folks. By the way, if Villopoto was an actual Kawasaki employee and not a contract guy I could probably get him written up for HR violations each and every weekend.
5 10 Justin Brayton Cornelius, NC Yamaha YZ450F- Screw this fifth place, the most impressive thing I saw Justin Brayton do all day was on the very first lap of the first practice he nailed the quad at the end of the first straight. So yeah, approximately ten seconds into his first time on the bike, he aired out a 60-ish foot quad. Balls of steel, man, balls of steel.
6 94 Ken Roczen Murrieta, CA KTM 450 SX-F- Roczen was great. He was at the end of a pack of riders that finished eighth seconds ahead of Tickle, but he just made a few too many mistakes so he ends up with a sixth.
7 20 Broc Tickle Holly, MI Suzuki RM-Z450- A few years ago Tickle was a consistent eleventh place. I think he ended up with something like eight eleventh places one season. Well, he's missed two races with injury but he's now a consistent eighth place guy, with three out of his five completed races being that. Dallas was a season best seventh for my guy "Cheese" and it's a damn good ride at that.
8 23 William Hahn Menifee, CA Honda CRF 450- Hahn started twelfth and finished eighth in a nice ride for him and his team. I know he's buddies with Tomac and they're on the same team but any time Wil (on a production-based Honda CRF450) can beat Eli (on the works Honda CRF450) it's got to feel good for the 23.
9 75 Joshua Hill Yoncalla, OR Suzuki RM-Z450- Both Soaring Eagle Casino RCH Suzuki riders finished inside the top ten for the first time this year (Hill missed a race with injury, Tickle missed two) and I'm glad that the tea is seeing some success. It's been a bit of a rough go for these guys (injuries) in the one-and-a-half years they've been around. Hill's better now with his plated collarbone than he was at the start of the year. Maybe some sort of Terminator effect?
10 29 Andrew Short Smithville, TX KTM 450 SX-F- Short's been ninth or tenth in six of the seven main events this year and sits eighth in the series standings. And I know, I know, you're tired of hearing it, but he's one of only six guys to be top ten in every race. And the veteran rider is jumping more stuff than ever before. Plus, he's one of only five riders in the main event who has raced Tim Ferry in a 450SX main event. So that means he's old.
11 3 Eli Tomac Cortez, CO Honda CRF 450- Tomac was a little invisible out there in Dallas. He made some mistakes in the heat that took away a, I thought, sure qualifying spot and had to go out for the semi. And in the main, well it was just another decent finish but nothing that he's too excited about, I'm sure.
12 9 Ivan Tedesco Murrieta, CA KTM 350 SX-F- I had a theory that the KTM 350 would be very good on the hard-packed. I thought it wouldn't spin as much as a 450 and would put the power to the ground better. But then Ivan had to go to the LCQ and logged an average-for-him-in-2014 twelfth. So there goes another theory of mine out the window. I'm still clinging to the Basset-Hounds-are-smarter-than-dolphins theory though.
13 11 Kyle Chisholm Valrico, FL Yamaha YZ450F- Start to finish, Chisholm's best race of the year on paper and also, just watching him, his best ride of the year. He was charging and going forward out there.
14 27 Nicholas Wey Murrieta, CA Kawasaki KX 450F- Okay folks, Wey's getting a little pissed at people Tweeting him about all the changes he makes to his bike since I keep reporting it here and on Twitter. In fact his mechanic Mohead has been instructed not to tell me what he changes so I can't put it out there. He also swears this weekend he figured out his shock problem and won't be changing it again. He went out on his high-speed compression and then back in. And that's it. Just clicker changes. He pinky-swore and everything.
15 44 Matthew Goerke Temecula, CA KTM 450 SX-F- Matt's finally able to practice during the week so look for him to get better from here. At least that's what I heard.
16 132 Justin Sipes Flaherty, KY Kawasaki KX 450F- Hey, Pooh Sipes is back! Ryan's little brother showed up for his first race of the year and logged in a very respectable performance.
17 68 Chris Blose Phoenix, AZ Honda CRF 450-All #blosegate jokes aside, I said this before and I'll say it again. Blose is the least-supported guy in the main event each week. Even Teddy Parks has more than Blose! The new Factory Metal Works/Club MX team of Friese and co. are taking Blose's bike around but with their trailer getting jacked, look for Blose to be pitted out of a Ford Taurus this weekend. Seriously.
18 77 Jimmy Albertson Shawnee, OK Honda CRF 450- Jimmy didn't ride all this week due to a sprained wrist from San Diego (oh, by the way, over on Pulpmx --because we're weird like this -- we took the four worst crashes of the year on video and graded them Olympic style. Take a look HERE http://pulpmx.com/stories/crash-olympics ). Jimmy now is just trying to make the mains until he can get back practicing.
19 800 Mike Alessi Hilliard, FL Suzuki RM-Z450- Alessi went down hard in practice and looked to be out for a bit. Somehow he was able to race the night show and really just making the main event was a feat for the #800. It hasn't been a great indoor season for Mike after his pretty good A1. He's been taking a beating at a lot of races. I also heard from some reliable sources that the MotoConcepts team to the Canadian Nationals is really happening and that's too bad in my opinion. Mikey's a top-five rider outdoors and should be showcasing his skills down here on the world stage. The USA's loss is Canada's gain.
20 40 Weston Peick Wildomar, CA Suzuki RM-Z450- Did the Peick train derail this weekend? No. Peick still made it into the main via the heat race and he was in seventh in the main before going down. He looked great and was still super fast. Don't worry.
21 247 Teddy Parks Princeton, TX Suzuki RM-Z450- I have no idea who possessed Teddy Parks' body this weekend, maybe it was Jeff Stanton, but he looked about 10000 percent (all percentages are approximate) better this week than he had at any point the rest of this season. Congrats to Parks, and I stand by my desire to see the Teddy Parks Privateer Journey have an Anchorman-style brawl with Team Gus.
22 38 Phillip Nicoletti Bethel, NY Yamaha YZ450F- Filthy Phil crashed hard in the main event and afterward he was so sore he had to stop and breathe before he could put a sentence together. Of course his buddy Troll (Alex Martin) said he was fine and being a baby. #clubmxlife
Some other news and notes:
We all thought that it would be hard for Chad Reed to line up this weekend. But the 22 still tried. He rode two practices but his shoulder just wouldn't let him do much of anything, and that's a real shame. Look for Reed to go under the knife here shortly and miss a chunk of time. It was easy to cheer for Reed's resurgence, and it's also easy to think that the 2014 season as a whole lost some wind out of its sails.
Coach Joe Gibbs was in attendance and was interviewed on the big screen during the race. It's impressive that there were some real cheers for him and no sniper attempts on the life of the two-time Super Bowl-winning Washington Redskins' coach. Coach even made a joke about that! Props to the fans in Dallas for being classy.
I've been trumpeting privateer Nick Schmidt and his 1980s-hair-out-of-the-back-of-his-helmet style. Schmidt impressed with three mains out of the first four races but now he's missed the last three in a row and I don't know what's wrong with him. I feel like some of the "Schmidt magic" has been missing. C'mon, Nick!
Jeremy Martin was picked by many to be the 2014 Eastern Regional 250SX Champion and why not? He's superfast, has a new and great bike, works hard and has everything going for him. But in Dallas he shockingly didn't qualify for the main event. Yeah, I'm serious. And then Weege reminded me that he didn't qualify last year in Dallas either! Now that's just creepy.
Opening ceremonies this weekend were pretty cool. Lots of AC/DC for the riders and I for one, wholeheartedly agree with this move. Good job, guys!
The most impressive guy that I didn't really know what to expect from (okay, the second most impressive guy after Rodriguez) was Jace Owen. He didn't make the main (because of poo-poo starts) but only missed it by two in the heat and one in the LCQ. He had pretty impressive style. He was twenty-third overall in combined qualifying times and that's bizarre because he looked great out there.
Thanks for reading, I appreciate it. Email me at matthes@racerxonline.com if you want to chat about really anything. And oh yeah, Go Canada!