Qualcomm Stadium
San Diego

,

CA
San Diego
Monster Energy AMA Supercross Championship
The privateer road can be loathsome. You serve as your own agent, driver and sometimes mechanic. It's a road Scott Champion has traveled for many years—scratching and clawing his way just to line up on the gate some years. Sometimes, though, there is light at the end of the long, dark road.
Strikt Slaton Yamaha, a relatively young team managed by Marty Smith, made some noise this off-season when it was announced they would be receiving some Yamaha support. The team signed Champion, along with Zach Freeburg and Preston Mull. Through injuries, though, Champion has held the flag for the team.
For the first time in his career, Champion feels like he has found a good home. Being able to ride on the Yamaha test track—alongside Grant, Brayton and Webb—has seen Champion get off to the best start in his career. His eighth in San Diego marked a career high and only his second career top ten finish. We caught up with the laid back California native to talk about San Diego, the life of a privateer and more.
Racer X: This season has been your best season as a professional. What has changed for you this year?
Scott Champion: It's a combo of things. I've done this a few years now, and each season it feels like I'm coming in a little late—sorting out the support and trying to get the funds to do what I need to do. This year I did start late again, I was almost like a fill-in rider for this team. I got about two weeks of riding in before the season. The Strikt Slaton Yamaha team had a lot of the pieces put together already and I've just been able to take advantage of it. It's great to have Yamaha helping us and being able to go out to the test track [Yamaha test track] and ride with [Josh] Grant, and Cooper [Webb] and [Justin] Brayton on a daily basis. I had my best finish ever, which was really cool to get before the break. I know I should be in the top ten every weekend, but my starts haven't been as good as I needed. My fitness is getting better, though. Being able to do 15 laps … it's a sprint and each weekend I've been able to sprint longer and have less mistakes later in the race. I love the Yamaha; it's awesome this year. We have Ohlins helping us out with suspension and Frenchy is building my motors again. He's done my motors in the past and I have nothing but good things to say about him. It seems like I'm just now getting to where I should have been at A1, but now we have a break so that's a bummer.
How hard is it to feel like you're finally hitting your stride and then have to take six weeks off racing?
It's definitely a little frustrating. I was trying to find a way to get a 450 and do some of the East Coast rounds in the meantime, but I don't think that is going to happen. I'm going to take a week off and regroup. I just got some outdoor suspension that I'm going to put on and ride some outdoors to change it up and just have fun with it. I have been exploring some new trails on my mountain bike and just trying to keep it fresh and fun.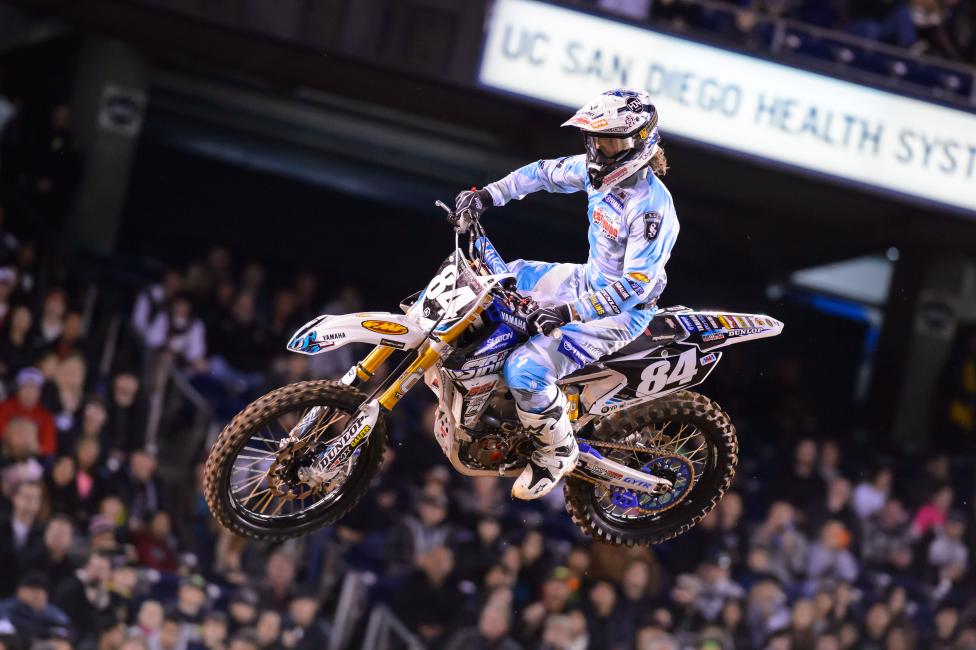 How difficult is it to stay in race shape?
It's really tough. You really feel it if you slack during the week. I'm definitely not going to lose anything. I think I'm going to build a lot with these few weeks off. I'm really hoping to keep progressing so I can be strong for these last few rounds.
After being in the week-to-week grind over the last month or so, how challenging is it to stay motivated and on point both mentally and physically?
It is tough. You just have to keep going. You can't slack. Like I said, you have to keep riding. It will be interesting to watch some East Coast races and see who's up there. It is nice to take a breathe for a second because we have been wide open for the last few weeks. I'm definitely bummed that we have a break, but it is what it is and well just get more prepared.
Last year, I got a ride on Christmas day and the year before I had a torn ACL for three months and got a ride a few weeks before Anaheim. People have been like, "This is the best you've ever done," but I kind of expect to but up there, I've just struggled with being prepared with that. My preparation is everything and if I can prepare well on this break I think top ten, top five is where I'll be.
What are the major challenges when you secure a ride a week or two before the season starts?
It's so hard, because there are so many pieces of the puzzle to put together that not many people don't see or even know about. Your bike setup is pretty big, but also having your body ready to go and in shape, and mentally it's tough too. It's all those things that you have to put together and it's been tough for me the last few seasons. But I've been making it work and finding ways to get out there and race. I'm super thankful for Marty Smith getting me on this team and Bruce and John Slaton for helping me this season. Also, I'm thankful to have help from Yamaha and Braap Shop Yamaha. Everyone that is part of this team has been the best team I've been on as far as getting on track and getting me prepared. I've been a privateer for how many years now and I feel like I can never keep building because I'm always treading water trying to save money to go practice. Sixty-five dollars a day at Milestone, so I would have to plan out my week based on how much money I had because I didn't have enough to go ride. But I think little things like that this year have helped me.
We've been so close to the top ten and he's been pushing me and when we got inside the top ten I thought I'd won.
The Strikt Slaton Yamaha is relatively young team that has seemed to grow this year. Tell us about how the team operates and what you see in this team.
It's good because Marty Smith is the team manager and has a lot of knowledge and connections that have helped the team. He helps us on race day, keeping us motivated and feeling good about things even if we're struggling. Bruce and John Slaton have really been helpful. They don't put a ton of pressure on us. Bruce always let's me know that this isn't my first year and that I really need to take advantage of what I got and work hard and stay healthy. It's cool to have that reminder and at the same time not have that much pressure. My teammates have had some bad luck this season with getting hurt and there have been quite a few rounds where I'm the only rider and they have really encouraged me and they want to see me do well. Brett from Braap Shop Yamaha comes out every weekend and has been really supportive. And Billy Urban and everyone at Strikt gear … everyone has been really supportive. It's a family vibe and really fun to show up on Saturday and have fun with it.
You've touched on how important it is to be able to ride the Yamaha test track this year. What are some of the big differences in having a test track rather than having to go to Milestone or somewhere else?
I knew when Marty mentioned the Yamaha test track to us that I wanted to do the deal because I knew if I had that part of it I knew I would progress more than I have in the past. In the past I've just been able to go out to Milestone or Pala, and it's okay to practice out there but when you get to the race on Saturday you don't feel prepared. At least I didn't in the past. The way they build the practice tracks are super mellow and the dirt is almost sandy at Milestone, which is the complete opposite of what we race on the West Coast. Yamaha has a few tracks we can ride and it' really cool to ride with Grant and Brayton and Cooper because you get to see different lines and figure out bike setup. At Milestone the whoops aren't even close to what they are at the race. So you can set you bike up at Milestone and think, "Yeah, it's sweet," but then you get the race and you're struggling and you don't know why. It's always a challenging to get your bike setup, but I have learned a lot this year. I've never had that so I'm just taking it all in.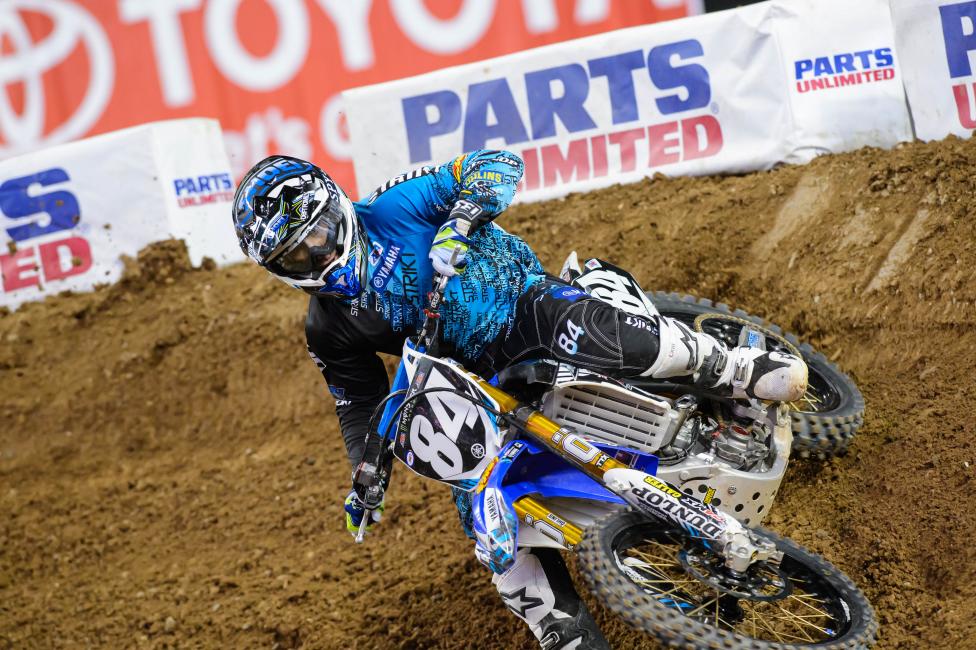 Privateers have increasingly had to find ways to market themselves. Deft Family has been a big supporter, placing you in a lot of ads and you've also done a lot of testing videos. [Disclosure: Champion has been a test rider for Racer X in the past] How do you go about marketing yourself as a privateer?
As far as marketing and getting my name out there ever time someone asks me to do something or help them with something I always take the opportunity to do it. In the past a lot of people have asked me, "Why are you doing that? You're not getting paid. What's the point?" But I've always taken advantage of those opportunities. In 2010, Yamaha invited me to Washougal do the YZ250F intro and it was like a three-day deal. By the third day Yamaha asked me if I wanted to race their factory bike that weekend. So, it's crazy how things have worked out for me by being proactive and taking opportunities to do things because you never know where it will take you.
As a privateer you are your own agent, driver, mechanic and whatever else needs to get done. How overwhelming can that be coming into a season?
It is overwhelming. With my deal this year Marty Smith had told me when I signed the deal that I would have to bring my own mechanic and pay my entries and flights and I didn't know what I was going to do, but I said, 'Okay, I'll figure this out.' I try and not stress because I've learned in the past that things will work themselves out most of the time and I just focused on getting ready and get prepared. I was blessed to have Duke be my mechanic this season. He's been behind me 100 percent. He meets me at the test track every morning with the bike ready to go and then takes it back home and cleans it for the next day. On the weekends he is working all day Friday getting the race bike ready, which is always perfect on Saturday. It's cool to have people like that, that aren't doing it for the money. They have passion and they just love it. When I got fourth in the heat this weekend I thought I had won the main event, he was so pumped. We've been so close to the top ten and he's been pushing me and when we got inside the top ten I thought I'd won. It's just so great to have that guy behind me and working with me. He's just a really cool guy. I've had some outside sponsors helping me. Hot Boxers is a new underwear company that Jeff Patterson has started and he has been helping me out and helping me get to the races. I've been blessed to have the support of all those people this year. Otherwise, it would be hard to do it.
You've been around the sport for a while now, mostly in the privateer ranks. What keeps you motivated and pushing to keep going?
I started riding a motorcycle when I was 4 years-old and each year my main goal is to be out there because I enjoy racing and riding my motorcycle so much. Over the past few seasons, it's been like let's get out there and get through it. It's cool, we will make some mains, it's fun, I'm making a little bit of money and it's been cool. At the same time I've been learning, but now I'm at the point where I have an opportunity to get to the next level and that's what I've been searching for the last few seasons—something that I can have for more that a few races. I've had a few factory rides at a few outdoor races that have been one-race deals. They almost expect you to go out and kill it, which is almost impossible. It just wasn't possible for me because I wasn't prepared for it. Now, my goal is to have opportunities to have deals that will allow me the opportunity to grow because that's what it takes.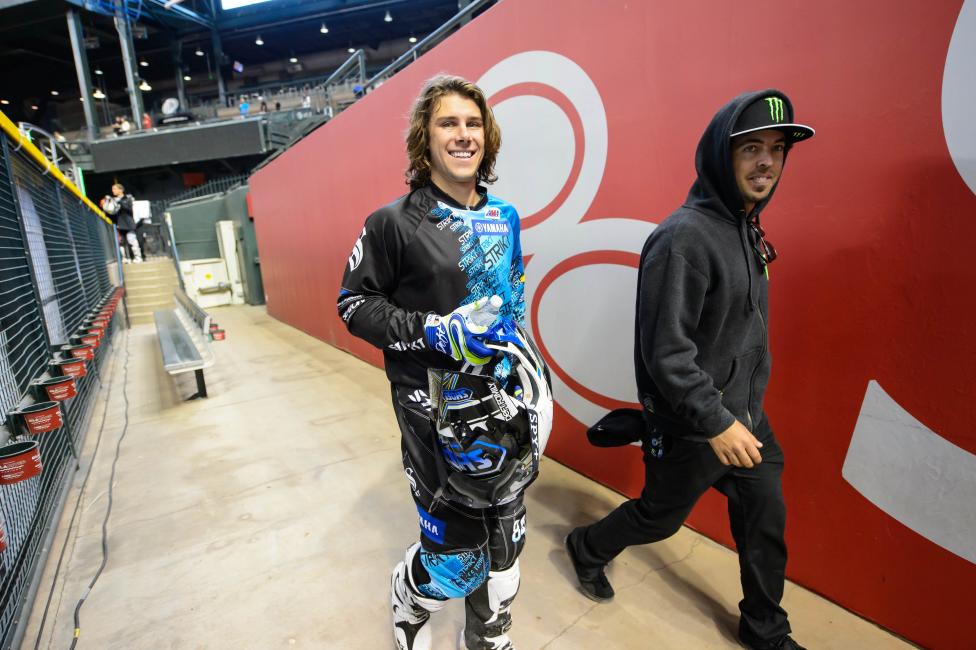 Do you have any plans for outdoors this year?
No, the team is not planning on doing outdoors. I know Glen Helen is the first round and I'll try and be there for that. But other than that, that is all I have lined up for outdoors. That's kind of been my story the last few seasons—nothing for outdoors. The last three of four years I haven't had a solid program for outdoors. It sucks because I've had a top ten overall outdoors and I enjoy racing the outdoors. I haven't figured out a way to get an outdoor ride. I guess part of being an agent; I haven't figured that part out. [Laughs] I have the West Coast supecross agent lined up, but the outdoor agent isn't doing too good. [Laughs]
Thanks, Scott. Who would you like to thank for helping you this season?
I want to thank Strikt Slaton Racing, Marty Smith, Braap Shop Yamaha, HotBoxers.com, Toyota of Escondido, HLTN, SPY, Shoei, Dunlop, GYTR, Rekluse Clutches, Deft Family, Alpinestars, Rad Manufacturing, FMF, Motoseat, Ohlins, DT1, Yamalube, Works Connection, C4MX, Galfer, Motopro Graphics, VP, Mika Metals, ODI Grips and DC. Also, special thanks to my mechanic Duke for all his hard work and keeping everything going! I also want to thank my Mimi and Popi, mom, dad and everyone who has been behind me this whole time.