AT&T Stadium
Arlington

,

TX
Dallas
Monster Energy AMA Supercross Championship
With the 250SX East Region starting this weekend there's a lot to talk about. Something to keep in mind is how hard it is for a rider to get his first career SX win and also win his first title in the same year. A lot of riders advance in steps, learning to win races first and later contend for titles (just look at Jason Anderson and Cole Seely's ascension in the West). Yes, Wil Hahn did get his first career win and the title last year in the East, but Dean Wilson was the only rider in the 2013 East field that had ever won a race before. Once he crashed out, a first-time winner/champion was a guarantee (credit to Wilbur, who was leading the points at the time, anyway).
There's a similar situation this year. The 2014 250SX Eastern Regional Championship features just two riders that have wins in the 250SX class—Monster Energy/Pro Circuit Kawasaki's Blake Baggett and GEICO Honda's Blake Wharton.
Wharton was a fill-in for the injured (and now back) Justin Bogle, but the GEICO team is keeping him on board. I caught up to him at San Diego to get his take on the upcoming season. And as usual with Wharton, you get more than the usual answers.
Racer X: Okay, Blake, East Coast this weekend. You ready? What do you think?
Blake Wharton: I am ready. I've been looking forward to it for some time now. Obviously Dallas is good for me. I like Dallas and it's my hometown so it's pretty much a home race for me. So that's always good. We raced Dallas last year; I did well. We raced Houston last year and I did well. So it means a lot if I can do well in Texas. But it's the first round and things happen. In one way you want to get through it and in another way you want to go out and kill it. So we'll do what we can. We'll start it off and see where it goes.
It's been a few years since you've been with GEICO. What's changed on this team bike-wise and team-wise? What's it like being back at GEICO?
I started here in late 2008. To be brought back in the way it happened is neat because it doesn't happen all the time. Obviously we all want to have big rides going into the season and everything done and secure, but for myself I didn't really have a ride going into this year. I was planning to do something. I had some ideas. But the way it came together is unfortunate because a rider was injured, but for me to come back and kind of be reunited with the team … as I said, I started here, and potentially this is my last year in the 250 class so maybe I'll end here in the 250 class. And that's cool. That's something I don't think a lot of people can say. So I look forward to it. I do intend making the most I can of this opportunity.
I can't remember a time when a race winner from the previous year, in any class, indoor and outdoors, didn't have a ride that next season. Were you frustrated at times?
It's interesting because I think there are certain years that are harder to get a ride than others. Sometimes they cut back in the money department. Sometimes it just so happens that everyone is already signed up for that year, and it's the next year that the rides open up. Sometimes the teams stop believing in you as a rider, but sometimes its just circumstance. We don't know. I needed to get some things straightened out last year, just feeling better. I think we all want to feel good. If we can feel good, we can ride good. I know what I can do as a racer; I've done it before.
So yeah, it's frustrating at times, but that's in the past and that's behind me. I have this to look forward to now. It's something that just opened up and I'm like, "Hey, this is here and I'm here now and I want to do the best I can."
I heard that there's a chance if you ride well and things are going well you can ride outdoors. Is that what they told you?
We haven't really even talked a lot about it because you know how it is; sometimes they need you if there's an injury. And unfortunately in the sport, we have a lot of injuries. I think it's something that could potentially be talked about, but for right here right now what's in front of me is supercross. If I can go and just do what I know how to do in supercross I'll be pleased with that. And if I can do something in outdoors, that'd be great. If not, then I'll be getting ready for supercross a little earlier than everyone, which is not a bad feeling. So that's it. Just take it for what it is.
Let's talk about your competition. Bogle, Baggett, Cianciarulo, Davalos, Cunningham, Jeremy Martin … What do you think? You've raced against all those guys in SX, save Cianciarulo, at one point or another.
It's getting to the point now where I haven't raced some guys because they're younger than me. Where before it's like I haven't raced them because they're older than me. But most of the guys this year on the East I have raced with. I guess I'm becoming one of the veterans now. Which, hey, I'll take it. With that comes experience and comes some things that you should be trying to do better.
I think all the guys will be going good. It's supercross—there's never really a shortage of competition. One way or another you always find someone to do battle with. All these guys are good. They've all done well. They've all had good results. And I have raced with them at some point. This is like the amateur days again. Let's just go racing.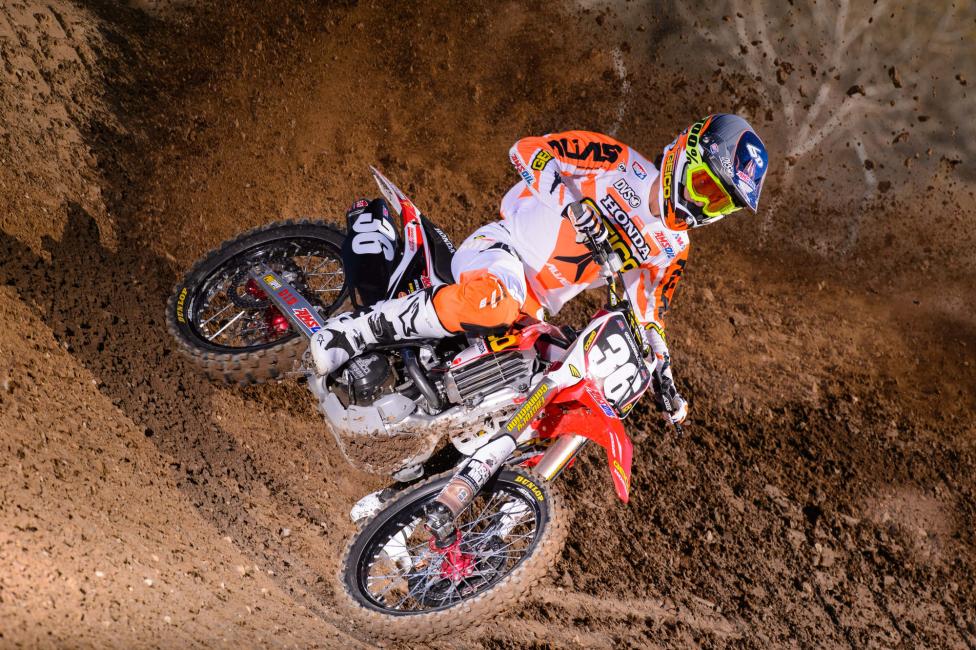 What would make you happy at the end of the series? What kind of goals do you have?
I guess there's a few ways to look at it. Some guys have their goals all lined up and some guys don't and they take it for what it is. I expect certain things of myself, and sometimes a race deals you a batch of cards that's just unfortunate but you have to make the best of it. No one that I've ever seen has every race run at their absolute best. But there's a certain bit of consistency and experience I do expect to show. I feel good on the practice track. I've won races and I won for this team in 2009 so it's like, "Hey, I can do it again." What I expect from myself is to just do what I know I can.
So no numbers, no wins or points?
Numbers dance around a little. I'll just do what I can. I know if I do that I'll be happy.