Angel Stadium
Anaheim

,

CA
Anaheim 3 (A3)
Monster Energy AMA Supercross Championship
Hello, everyone, and welcome to the Rev Up. Business is picking up as we return to Angel Stadium in Anaheim, California, for the third and final time of the 2014 season, and round five of the Monster Energy Supercross Championship has as much potential as its four predecessors to be a barn burner. It's particularly exciting to me as the race could cement some trends that are manifesting, or smash them into renewed chaos, especially with the return of a new contender. We'll get into that in a little bit, but first I wanted to share an experience I encountered at round four of the Amsoil Arenacross Series in Greensboro, North Carolina, last weekend.
My family attended as guests of Ricky Carmichael, who was making an appearance to support the Ricky Carmichael Road to Supercross. The program requires all rookies to race some arenacross before they can graduate to Monster Energy Supercross. I was pumped to attend, because I raced what was once called the PJ1 National Arenacross Championship from 1995-1997. I was eager to see how much things have changed, and came away amazed at the progress. The program as a whole is a scaled down version of a supercross event complete with Monster girls, pyrotechnics, and rider intros that allow prospects, like eventual hometown winner Jacob Hayes, and up and coming racers Keith Tucker and Aaron Plessinger, to get a feel for the big show that may lay ahead of them. They raced in front of an almost sold out crowd, and had a microphone shoved in their face seconds after taking the checkered flag. Granted, the track is a far cry from a supercross, but as far as the overall environment, which can actually be the bigger transition to a new pro, they nailed it. This program can only help better develop future pro products.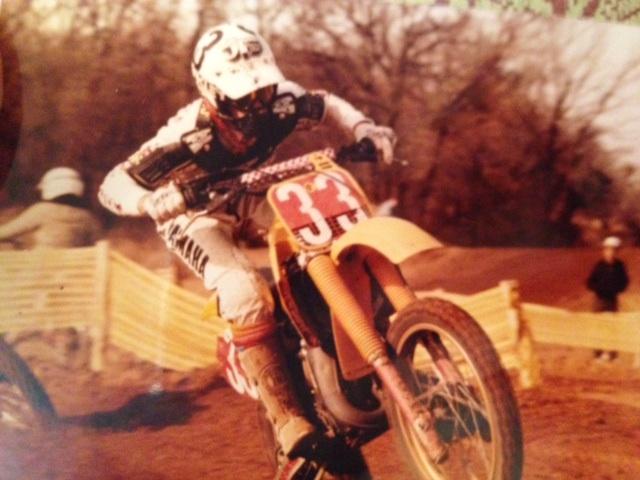 Another aspect I was keen about was the attendance of former rapper icon, and current reality television star, Robert Van Winkle, aka Vanilla Ice. "To the Extreme" was the first compact disc I ever bought back in 1989 and I couldn't wait to meet the man who had always spoke of his motocross passion. His part of the show was brief; he came out and said a few sentences to the crowd welcoming them to the race in more of a guttural, heavy metal voice than an urban tone. Afterwards he joined us in the suite that J.H. Leale (Carmichael's agent/travel coordinator) had reserved. In the same row of seats were NASCAR's Austin and Ty Dillon, Clint Bowyer, Mr. Van Winkle and Carmichael himself. As far as star power goes, the seats held almost a million twitter followers, three NASCAR premier series titles, 11 million records sold, and 15 professional motocross championships. The Fox Sports TV folks took turns pulling each aside to seek their perspective on the race, but what was really cool was they were all making hand shake bets about who would win the wild head-to-head races. In general, they were just being moto fans. Also, if you think RC's, "Oh! oh! oh!" banter is wild during his broadcasts you should see him when he's not in the booth. There is no one more fun to watch races with! The next thing I knew I was doing the same with Van Winkle and we just started bench racing. He told me he just got his hands on a new 2014 KX450, then thumbed through his cell phone showing all kinds of old pictures of him racing in the early to mid '80s. He was as humble and friendly as could be and just a true motocross geek like the rest of us. As depicted in the picture above, he had some serious style when he was racing. What a picture!
Now, Anaheim 3.
With Ryan Villopoto winning two out of four and having a woulda/coulda shot at a sweep so far this year (the two races he didn't win this year, he led one and was going for the lead at the other), he has a lot of momentum. That said, there have been two other winners and five or six guys that are definitely on the pace. I see some separation at the front with RV, James Stewart, Ryan Dungey, Ken Roczen, and Chad Reed establishing some recent consistency, with Justin Brayton and Justin Barcia also showing winning speed.
Yesterday, I spoke with Wil Hahn about what the front of the field feels like. He had a taste of it in Oakland and he said, "The difference with those guys is their comfort at that pace. I feel like I can put down a lap like them, but it's on the edge. They ride that edge at ease and that's what I'm working on. After practice last week I told my mechanic the bike felt like a 250F, which for me is really good. The team hasn't placed any pressure on me and I'm pleased with myself by keeping it on two wheels, and if a 12th or a 8th comes my way that's fine right now. But, I'm starting to get a feel for what it takes to run at the front, and I'd like to stay in there around the top seven and knock on the door of some top fives. I need to fix my starts to do that. So far, so good though."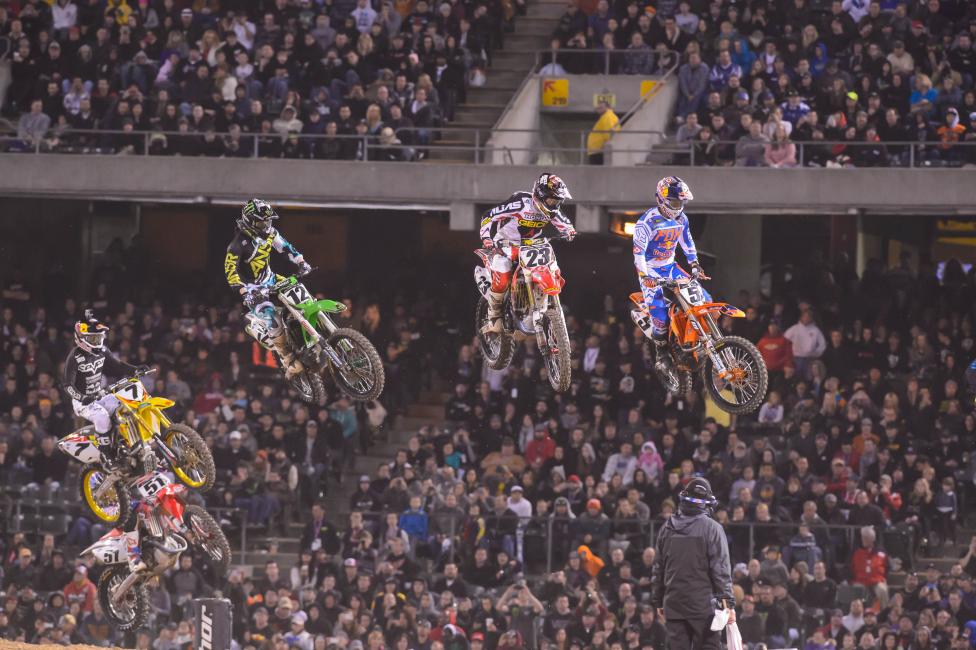 I'd keep an eye on the #23 to progress as the charge carries on.
Speaking of contenders to watch out for this weekend, Red Bull KTM's Ryan Dungey has been waiting for his moment in the 2014 series. The last time he visited Angel Field he was on fire and led a good portion of the race before sliding out. With the return to more of a hard pack soil composition, one that has seemed to suit the KTM riders well, I think Dungey chances to pick up a win are looking good. In addition, he won A3 in 2013.
However, the big bad wolf struck pretty viciously last weekend. While Ryan Villopoto's winning presence cannot be denied, he has had a sour go of it in Anaheim recently. Conversely, Anaheim is the favorite hunting ground for Chad Reed and James Stewart. We all remember what Reed did at A2, and Stewart owns eight Anaheim victories and contended for the win at both Anaheim races this year. Both former champions seemed to have found their groove and like I mentioned at the top, it will be interesting to see if that trend continues.
A couple of riders who can buck their recent roll are Ken Roczen and Justin Barcia. Oakland was the least spectacular round for Roczen thus far, and Barcia is in an early season slump. I wouldn't be quick to write off either rider, or the surge of Justin Brayton, who has turned into a top five machine.
"It's the same dirt. We have been watering it since yesterday (Monday) morning to get as much moisture into it as possible. The issue this year in Anaheim (and all of California) is the lack of rain." - Dave Prater
So, we're returning to Anaheim. The question of having three Anaheim rounds is popular, but I respect it as part of the tour. It's the closest venue for most of the teams, and once the series begins the East Coast swing in two weeks the travel is arduous. More along those lines, they do a good job of getting people in the seats and while the 40,682 count of A2 was down from the reported sell out of 45,050 at the opener, I expect there to be around 35,000 very avid fans in the stands this Saturday night. On an interesting note, I've heard 182,905 tickets have been sold in the Monster Energy Supercross series so far. Ho, ho.
Another question about Anaheim has been the dirt, which appeared to be a little rocky, broken down, and dry the last time we visited. However, it did produce the greatest race of the season thus far. I reached out to Director of Supercross, Dave Prater, this week and asked if any new soil would be used this weekend.
He commented: "It's the same dirt. We have been watering it since yesterday (Monday) morning to get as much moisture into it as possible. The issue this year in Anaheim (and all of California) is the lack of rain. That, coupled with high temperatures and some wind is a recipe for dry, dry dirt. I don't ever remember Anaheim dirt being even close to this dry."
Two weeks ago, the race saw temperatures in the mid 80's and some wind, but this Saturday's forecast is more seasonal, with daytime temperatures in the high 60's and only a slight breeze. This is a far different track design than the previous two Anaheim rounds—I think it is going to be great. After all, it's Anaheim, baby!
It's that time of the week again and we can all feel the tension building into the upcoming gate drops. The 250 class only has two more main events before their long break, and the Monster Energy/Pro Circuit squad is pointed in the right direction. Dean Wilson can jump right back into the title fight with some wins, and his teammate Justin Hill is on the gas. Can Jason Anderson and Cole Seely keep them at bay? Will surprising rookie Cooper Webb stick a fender into the fight? We'll soon find out!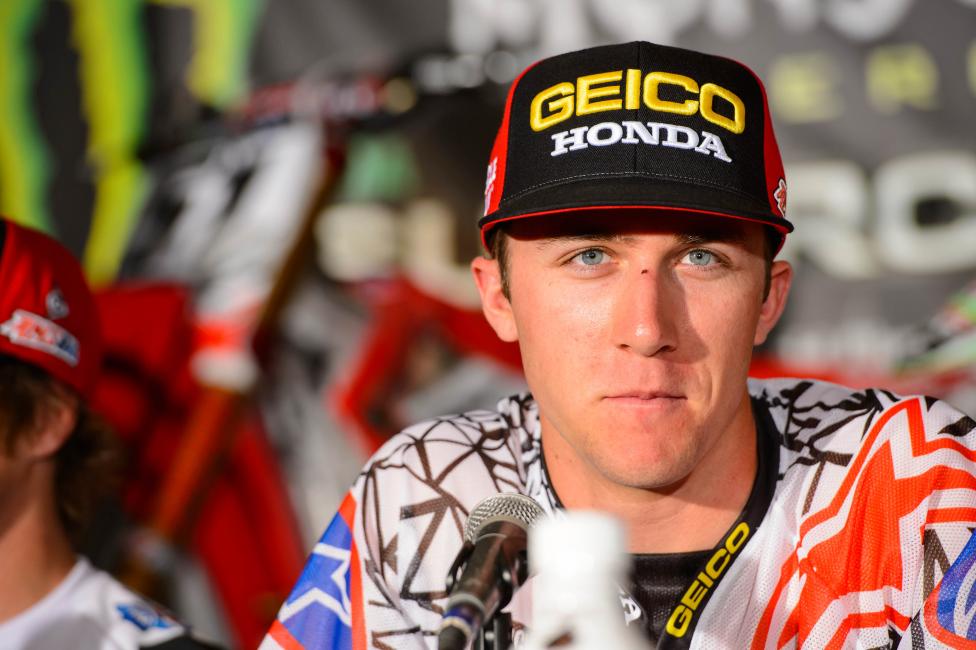 In the 450 class there have been two different (albeit jaw-dropping) Anaheim winners, and I think we'll witness the third this time around. I can only speculate who that may be, but Ryan Dungey is hungry and overdue. Will the top five continue to roll, or will we see a trend kill?
And just in case you missed the press release that dropped a few minutes ago, GEICO Honda's Eli Tomac will make his return to action for Saturday night!American supercross is absolutely on fire right now, that much is certain. Time for round five!
Thanks for reading, see you next week.