O.co Coliseum
Oakland

,

CA
Oakland
Monster Energy AMA Supercross Championship
BTO Sports is your number one source for all of your motocross parts, gear, accessories and apparel. BTOSports.com is a motocross company who is truly dedicated to the sport and to the customer. Proud sponsor of your Racer X Podcasts and the BTO Sports race team.
Round four of the Monster Energy Supercross Championship took place in Oakland and it was a welcome relief for many of the racers. Finally, in the fourth round, there was traction! The folks at Feld must be loving this series so far. Three different main event winners, a rejuvenated Chad Reed with a win and out of three main events, six heat races, six semi races and three LCQ's, only Kenny Roczen had managed to win more than one race. Yes, I'm serious. Parity, thy name is supercross!
The dirt in Oakland was soft, moist and chewy, much like a Toll House cookie. The ruts got pretty bad in practice and it was definitely unlike the other races that we had seen this year. The track was pretty cool, featuring a big set of whoops, a split-lane and then later on, a quad developed. The whoops were really big for the first two practices and then tamed for the third one and then again for the night show. By then, they weren't nearly as tough as before but most riders were okay with it. The split lane was cool, almost always one side works out better than the other (I remember Houston in the late '90s had one and riders were actually jumping across lanes by the end of the main event) but in Oakland, they truly were the same time and therefore the dynamic of having riders on the ground next to a guy in the air was pretty cool.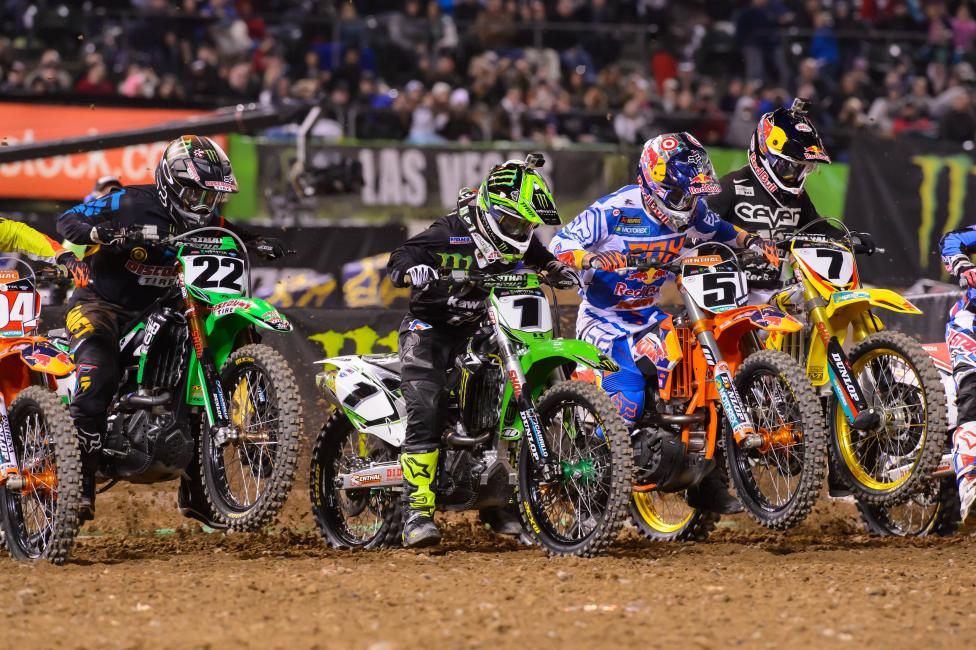 Yes, the quad. During the track walk, there was much debate with Andrew Short, Zach Osborne and myself on the fastest way to attack the section. The two riders predicted exactly what most of the riders ended up doing. I guess the riders really know something, right? I suggested that some of the "top riders" (when I didn't include either one of those guys in my speech it seemed to tick them off) would jump off the second tabletop and single out, "they" said I was an idiot and that it wasn't feasible. I also saw Wil Hahn and Mike LaRocco and they seemed to agree with the other riders. But I was proven right when the big number 10 of Justin Brayton did indeed jump off the tabletop in practice.
I feel like this should be the end of the story and I should be proven right but for the sake of accuracy it must be pointed out that Brayton cased the crap out of it and never did it again. So, yeah, I'm not exactly a supercross expert, it seems.
While we are there discussing this thing, the #800 Mike Alessi walks by and I ask him what he thinks. He looks at it and says, "I think they'll be quading it" and keeps walking. That's right, Alessi called it right then and there, and sure enough, Wil Hahn busted out the quad in practice (maybe he was playing coy?) and then in the main another three riders would join him.
On TV, Ralph and Jeff were VERY excited about the quad, and I think that they had a right to be. I've written many times that what I love about supercross is that it's very dangerous and takes a high level of skill to make it around a track. When a track offers something only the best can do, that's exciting to me. You're seeing real skill and bravery coming through. I think that's something the track designers should strive for. The downside of doing this is that it's dangerous, but that's supercross. It's not now, nor has it ever been, for the faint of heart.
I wasn't surprised at all that Ryan Villopoto grabbed the holeshot and took off for the first repeat win this year (he also retook the points lead) because this track and its soil allowed him to grab a handful of throttle and rip around berms. That's his specialty. With no fear of sliding out and losing traction, Villopoto didn't even need to do the quad jump to win the race. Nope, he just passed holeshot man Vince Friese (!?!) and rode an uneventful twenty laps.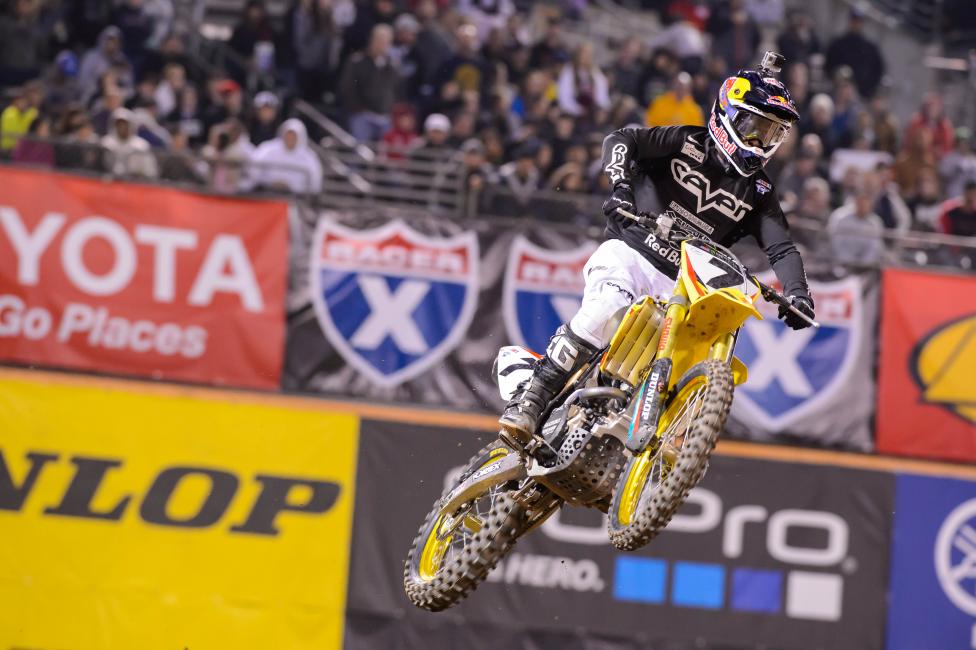 I've gotten some emails and Tweets from James Stewart fans and (ahem) non-fans (NO ONE has as many non-fans as James Stewart, I can tell you that without a doubt) who are either worried (fan) or happy (non-fan) that the #7 hasn't won a race and sits eighteen points back of Villopoto. If I'm James Stewart I'm not worried at all about my early season races. I'm also sitting in my mansion in Orlando on the water while I'm not worrying, by the way. Let's look at his first three races:
Anaheim 1- Came from about tenth and was going for the lead when he went down in the whoops and was unable to finish due to pretzeled handlebars.
Phoenix- Rode to a mostly uninspiring fourth while reportedly being under the weather. A fourth isn't so bad when you're sick.
Anaheim 2- Led for a while before getting caught first by Ryan Villopoto and then Chad Reed. He finished second on the night and it was somewhat overlooked by what is now known as the Reed Tsunami of press. A good, not great, race for JS7.
After starting around ninth, Stewart finished second in Oakland. So between the last two races, Stewart has caught and passed Chad Reed, Justin Brayton, Ryan Dungey and Ken Roczen. Every single guy he's going to be battling for this title except for, well, the giant green monster known as Ryan Villopoto and Justin Barcia (but he's beaten Barcia soundly the last two races so I'm not sure JB should be listed in here but I'm president of the "Justin Barcia will challenge Ryan Villopoto for this title" club. Currently the membership is at three with me as president, Lorraine Barcia as vice president and Jeff Stanton as club treasurer). He's doing fine. Nothing to worry about here, and I think we'll see Stewie win real soon.
Is it me or does anyone else think something is up with Ryan Dungey? The Dunge had an ok race but surprised the crap out of me by adding #ballsydungey to his #angrydungey tag—he busted out the quad in the main event! Something seems up with Ryan this year (and in case you're wondering if his KTM looks any better in the whoops this year with the move to more in-house suspension tuning, the answer is no. When the whoops were big, Dungey's bike looked a bit more buck wild than his main competitors). I don't know what it is. Last week we saw some aggression from him but it just seems that he's not as sharp as usual. Two weeks in a row with no podiums has got to be tough for Ryan. Watch, now that I type this, he'll go out and dominate A3.
Wil Hahn has had a quiet start to his first full-time 450SX season. A few years ago, Hahh filled in for Honda on a 450 and went 10-13-9 so this season's 11-10-12-8 is in line with those finishes. The difference is the deeper field. You usually can count on good starts from Hahn, but we haven't seen that yet this year. Well, some testing took place and Wil found a milder motor setting to help him keep the front end down and rear tire hooked up. And what do you know? Hahn got a good start in Oakland! Yes he got "Barcia'd" (I and Wil thought the pass was fine, it wasn't any worse than what Dean Wilson did on Justin Hill, but others felt like Barcia was out of line) and had to work back up. But there's no doubt that with Hahn qualifying straight out of the heat, jumping the quad first, and fighting to the front, Oakland was his best-ever 450SX. Let's see what that confidence does going forward from here.
If you see Jason Anderson in front of you in the line for lottery tickets, just leave. It's over, he will win. Dean Wilson should've won the 250SX main but a bike malfunction on the last lap allowed a charging Anderson to fly by for the win. It's Anderson's third win in four races with a last-lap pass!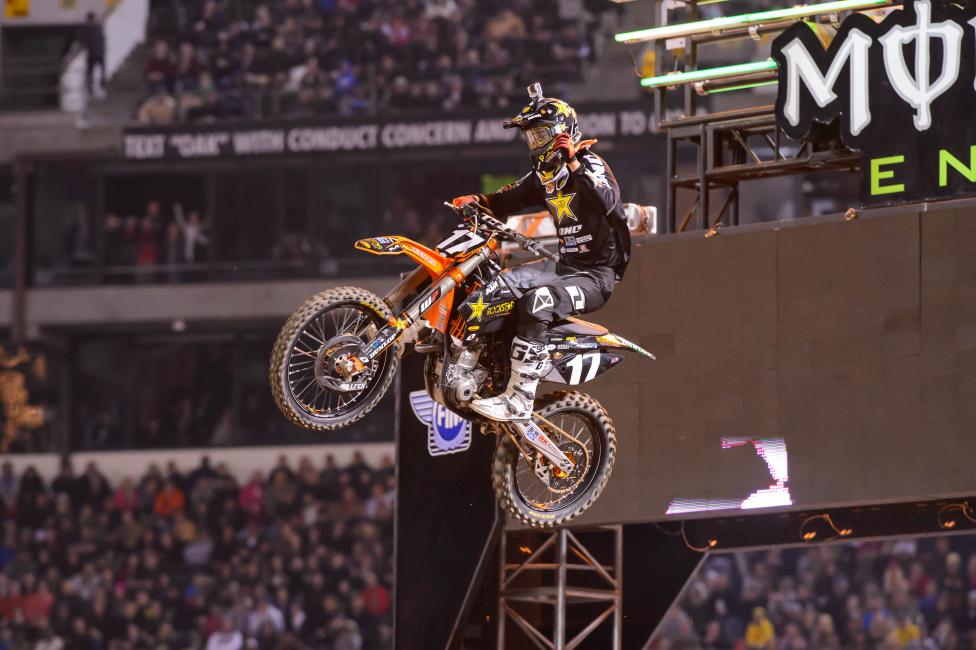 Three wins and six laps led. I don't think I've ever seen anything like it! One thing about Anderson is that he's really fit and he never, ever gives up. He's over-jumping things, revving the crap out of bike and pushing hard every single lap. Or at least it looks that way, but I can't discount the fact that his jersey is always untucked and flapping in the wind to give the illusion of more speed. Hard to believe this is the same guy that was sent home his rookie year because he was so out of shape and not very fast. Anderson looks awesome, and yeah he got lucky, but he still made up approximately 1.6 seconds on Wilson in three out of the last four laps. He just never gave up and it put him in position to caplitalize.
As for Wilson, I've been thinking that it was time to panic for Dean and his team. The first three races have been worst-case scenario. But in Oakland he rode fantastic all day long and should've won the race if not for a weird deal where a bunch of gas got dumped into the motor and it stalled out. Something with the EFI, ignition mapping or maybe even rider error (although that's pretty slim chance) but whatever it was, it cost Wilson the race.
In points, Wilson's margin of error is pretty slim, but he's still in this thing if can rip off a bunch of wins. There's no doubt in my mind that he can do just that, but anymore mistakes and this title is gone. I know the Pro Circuit guys worked with him on suspension to help out his arm pump issues, and maybe that's it, but I've got to think a lot of Wilson's issues were upstairs and now, with no pressure on him, he's able to relax and ride to his capabilities.
Let's take a look at the results shall we?
250SX Results
1 17 Jason Anderson Rio Rancho, NM KTM 250 SX-F- Anderson loves, loves, loves to get out in practice first. And with the way things are going for him it's obviously working. Now here's where I, if I was one of his main competitors, would try to jack with him and get out front. Whatever I needed to do to try and rattle him or get him upset, I would do it. Even if it takes running over an AMA guy, I would make sure that I led practice around.
2 15 Dean Wilson Wesley Chapel, FL Kawasaki KX 250F- Another positive for Wilson is that his qualifying time was the fastest out of anyone in Oakland.
3 35 Justin Hill Yoncalla, OR Kawasaki KX 250F- Hill followed up his great night last week (last to fifth) with an even better ride this week. The "Hill-Billy" passed Wilson for the lead early on and led a number of laps before settling for a lonely third. Hey, maybe there is hope for Justin here after a so-so rookie year on the powerful PC team.
4 21 Cole Seely Lake Elsinore, CA Honda CRF 250- Quiet night for Seely. But if you can get a fourth on a night when you didn't really shine, that's not too shabby.
5 16 Zach Osborne Chesterfield, SC Honda CRF 250- Saw Osborne and his wife (Brittney) at the Starbucks the morning of the race and the big one-six was kind enough to buy mine and James Lissimore's coffee. What a guy, huh? Hey Zach, I appreciate that. I bet that Ryan Dungey would've just poured hot coffee on me instead of buying me a cup! As far as his fifth, I don't want to talk about it.
6 89 Michael Leib Menifee, CA Honda CRF 250- Great ride for the privateer kid that's pitting out of Kyle Peters' semi. Leib's got some serious skill and in talking to him he really wants to get a ride with a top 250 team. That's all well and dandy but he's got to do some outdoors to get noticed, in my opinion. But he told me he doesn't have the money to do the outdoors, so it's tough for him to get noticed when the West Region is almost done by mid-February.
7 50 Jessy Nelson Paso Robles, CA Honda CRF 250- The TLD team has four guys in the top ten. That's pretty awesome and on another note did you know that in my SEVENTEEN years of following the circuit I've NEVER said a word to Troy Lee? Seriously, how weird is that? I tried to ask a couple of people if he would do a podcast with me and was told that it would be impossible to get him to sit and talk for that long. I don't know, man, I've seen a guy that they say is Troy Lee but I can't be sure, seeing as how I've never spoken to him.
8 87 Shane McElrath Chesterfield, SC Honda CRF 250- When anyone asks me how GEICO Honda's Matt Bisceglia is going to do in his rookie season in 250SX East Region I always say that people should just watch McElrath, as I think they're pretty similar riders. I guess we'll see if I'm right real soon.
9 37 Cooper Webb Newport, NC Yamaha YZ250F- Webb was lucky to even be lining up after a bad practice crash that I, unfortunately, predicted was going to happen on Twitter. You could see the riders jumping further and further into the set of single jumps going into the turn after the second triple. Soon a triple-in became a quad-in and then Webb went for a penta-in (that's the word for five. I swear it is, a reader sent me a tweet after we struggled with it in the Racer X Podcast) and caught the last one. An ugly cartwheel ensued and Webb went flying onto the pavement. [Here is a video of the crash.]
10 111 Dean Ferris MURRIETA, CA KTM 250 SX-F- One of the things that has been bugging me is supercross announcer Erv Braun repeatedly saying that Ferris is from Murrieta, California, despite EVERYONE knowing that the Australian was a big signing by KTM in December and Murrieta is just his mailing address. Erv is like Ron Burgundy where he just reads what's on the sheets and I guess with MURRIETA being in all-caps on the form, Erv figures that Ferris must REALLY be from there. That's all I could come up with as far as why the announcer at supercross can't inform fans about Ferris and his backstory.
11 66 Jake Canada Sun City, CA Honda CRF 250- Canada made his return to the series after hurting himself in Phoenix and put in a respectable ride.
12 84 Scott Champion Orange, CA Yamaha YZ250F- Champion, a veteran of the series at this point, is having a nice season with four mains and he's fourteenth in the points. We've got to do something about that gear though.
13 83 Dakota Tedder Surfside, CA Kawasaki KX 250F- Good ride for the Tedder kid this week as he came from the back to get this spot. Does anyone else think he should put the bear from the movie "Ted" on this back of his pants like I do?
14 737 Valentin Teillet Lake Elsinore, CA Kawasaki KX 250F-Yet another career best finish for the Frenchman! I should know that my love of the stylish and talented Teillet is wrong seeing as how actual real live Frenchmen that I know don't think he can do much in this coast.
15 97 Topher Ingalls Carmel, CA Honda CRF 250- Ingalls has been hurt and made his return in Oakland. I still think he should go back to the black and orange CRF250 from a couple of years ago.
16 34 Malcolm Stewart Haines City, FL Honda CRF 250- Mookie was taken down by Cooper Webb in a pass that made him so mad he actually pushed Webb a bit while Cooper laid there. Bad pass make Mookie mad! When Mookie mad, Mookie crush little Webb! ARRGHHHHHHH!!!!!
17 142 Cole Martinez Rimrock, AZ Kawasaki KX 250F
18 397 Brandon Scharer Gardena, CA Suzuki RM-Z250
19 830 Ruben Alanis Pharr, TX KTM 250 SX-F- The Ruben strikes back! After making the main in Phoenix, Alanis returns to the main and last time he was in I said that I didn't really know anyone named Ruben other than the actor Ruben Blades. So some reader sent in, "What about the Ruben sandwich?" which is a complete failure because I was talking about people named Ruben and not food. But thanks anyway, dear reader.
20 416 Austin Burns Scottsdale, AZ Honda CRF 250- NOT related to Brian Burns is what I've been told.
21 574 Brian Burns San Clemente, CA KTM 250 SX-F- NOT related to Austin Burns from what I've been told.
22 360 Aaron Siminoe Reno, NV Kawasaki KX 250F- Somewhere out in Omaha (in the middle of America) a guy named Denny sheds a tear as Siminoe tries to make the #360 proud.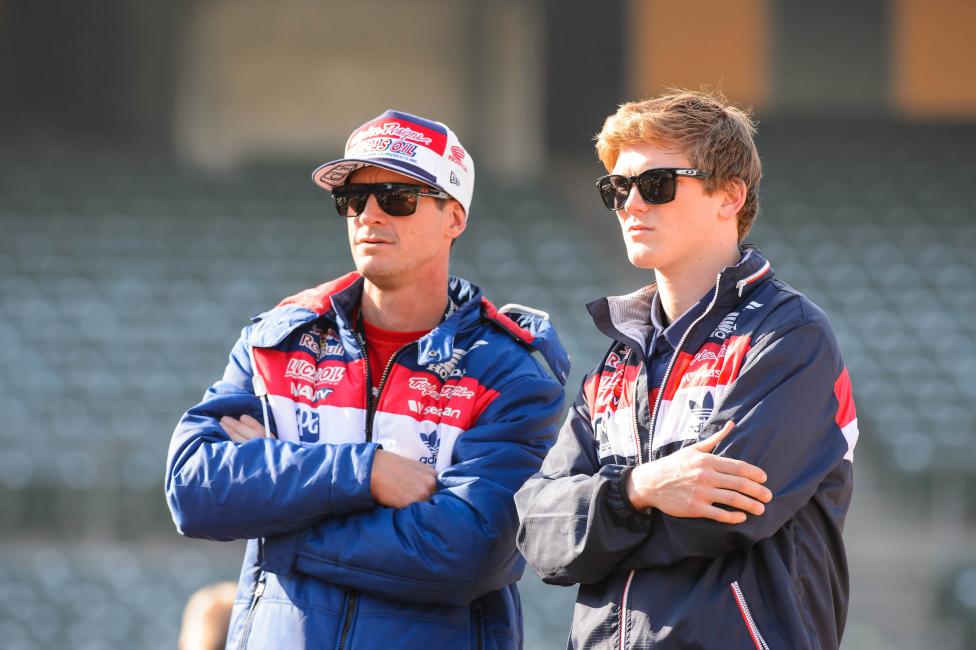 450SX Results
1 1 Ryan Villopoto Seattle, WA Kawasaki KX 450F- RV's all black Thor gear was pretty sweet. It looked logo-less out there and it reminded me of what it would be like if Darth Vader could triple.
2 7 James Stewart Haines City, FL Suzuki RM-Z450- As I said, good race for James and it's even better that he's finally ditched those boots that look like they were modeled after a tube of toothpaste.
3 22 Chad Reed Dade City, FL Kawasaki KX 450F – Reed backed up his A2 win with a solid ride in Oakland. Still my Reed highlight of the day was before practice when I stopped by to interrupt a Reed/Kenny Watson conversation and Chad started telling Watson that I was a good rider. The lowlight was Kenny saying that he saw me ride one time and I looked like Santa Claus in my gear.
4 5 Ryan Dungey Belle Plaine, MN KTM 450 SX-F- #angrydungey #quaddunge
5 10 Justin Brayton Cornelius, NC Yamaha YZ450F- Good news/bad news kind of race for Brayton. The bad news is he seemed to get rattled when he was passed by Stewart for third and dropped back pretty fast to sixth before regrouping and getting Roczen back. The good news is that we're even discussing the whys and hows of Brayton not getting a podium. He's clearly taken a step up into the top five group this year.
6 94 Ken Roczen Murrieta, CA KTM 450 SX-F- First Barcia, and now I hear that Roczen is already in talks with some teams for next year. Sheesh, this stuff is starting earlier and earlier. I suppose with everyone not named Villopoto, Dungey or Reed having contracts up this stuff starts to happen teams start to line up for a shot. I would think Kawasaki would be all over him, but how could Red Bull not just hand over a blank check and tell him to fill it in to keep this kid?
7 51 Justin Barcia Pinetta, FL Honda CRF 450- I don't know anymore. At least this week Justin got a start, was charging hard with the lead pack before he went down. That was a bit of a change.
8 23 William Hahn Menifee, CA Honda CRF 450- New nickname for Hahn on back of his pants should be "Quad God".
9 12 Jacob Weimer Rupert, ID Kawasaki KX 450F- Another not-so-good start from Weimer. Insert what I said last week about him and we should be good.
10 29 Andrew Short Smithville, TX KTM 450 SX-F- So Short gets taken down WWF-style by Tedesco early in the race and is twenty-first on the second lap. The old guy gets busy and works his way back up to tenth while also catching and passing Tedesco in the process. But Ivan gave him a wide berth and Short stayed classy. I'm not sure he always does though. Keep an eye on this battle as we go forward. As usual, Short's quietly having a good season.
11 33 Joshua Grant Corona, CA Yamaha YZ450F- A quiet night for Grant but the highlight might have been his good battle with Brayton for a few laps in the semi.
12 9 Ivan Tedesco Murrieta, CA KTM 450 SX-F- Tedesco took revenge on Andrew Short for his Anaheim 1 move by getting the #29 early in the race in a move that I didn't see but Tedesco admitted it afterwards in THIS interview. So now the ball is in Short's court as far as whether this beef is settled. Supercross is sometimes like the wild west folks, and things just get handled out there. By the way, Ivan admitted that racing all three races (heat, semi and LCQ) might have caught up to him in the main.
13 800 Mike Alessi Hilliard, FL Suzuki RM-Z450- I'd say the highlight of the night for Mike was correctly predicting the quad, wouldn't you?
14 42 Vince Friese Cape Girardeau, MO Honda CRF 450- Friese holeshot the main event to put a stake in the ground for privateers everywhere!
15 27 Nicholas Wey Murrieta, CA Kawasaki KX 450F-Wey went to the LCQ after a rough semi race so I thought this finish was okay for the veteran. And I bet he's the only rider who changed a shock before practice started.
16 44 Matthew Goerke Temecula, CA KTM 450 SX-F- Goerke had surgery on his finger after A1 and he hasn't been able to ride during the week. So these are the types of finishes that you end up with. Matt's better than this but not right now.
17 11 Kyle Chisholm Valrico, FL Yamaha YZ450F- Chisholm is by far the highest profile guy to miss the most mains this year, but he put it into the main for the second time this year. At the first three races, he didn't have much preparation and even switched suspension companies. I think he'll be in every main from here on out.
18 77 Jimmy Albertson Shawnee, OK Honda CRF 450- Twice this year Albertson has been given a gift into the main event when riders have gone down on the last lap in the semi's, but he also earned his way in, in his other main with an LCQ win. Jimmy Albertson is clearly living on the edge. By the way, the Crossland Racing group has had had Chipotle catering at every round so far and I think I'm on some sort of streak with four weeks in a row of eating there.
19 415 Nicholas Schmidt Riverside, CA Honda CRF 450- After missing out last week, Nick and those flowing locks of hair made it back into the main this week.
20 56 James Decotis Peabody, MA Honda CRF 450- Jimmy DDDDDDDDDDDDDDDDDDDDDD!!!!!! Makes the main event in the 450SX class for, I think, the first time ever. Because he's so small it sometimes seems that he's just barely hanging onto his Honda but hey, it's working.
21 82 Kyle Partridge Canyon Lake, CA Honda CRF 450- After the second practice, Kyle was over a second faster than anyone in the unseeded group and thirteenth overall. He was killing the big whoops. Then the track guys rolled them down, and so went Kyle's chances of having a career night. I'm surprised he didn't just lay down in the whoops as a form of protest before the track guys got there.
22 40 Weston Peick Wildomar, CA Suzuki RM-Z450- Peick's having a crappy season if you look at the points, as he only has last week's seventh in the register because he's had one bad crash and DNF (Phoenix) and two mechanicals (A1 and this weekend) but he's been riding great. Qualifying through the heat this weekend was impressive for sure.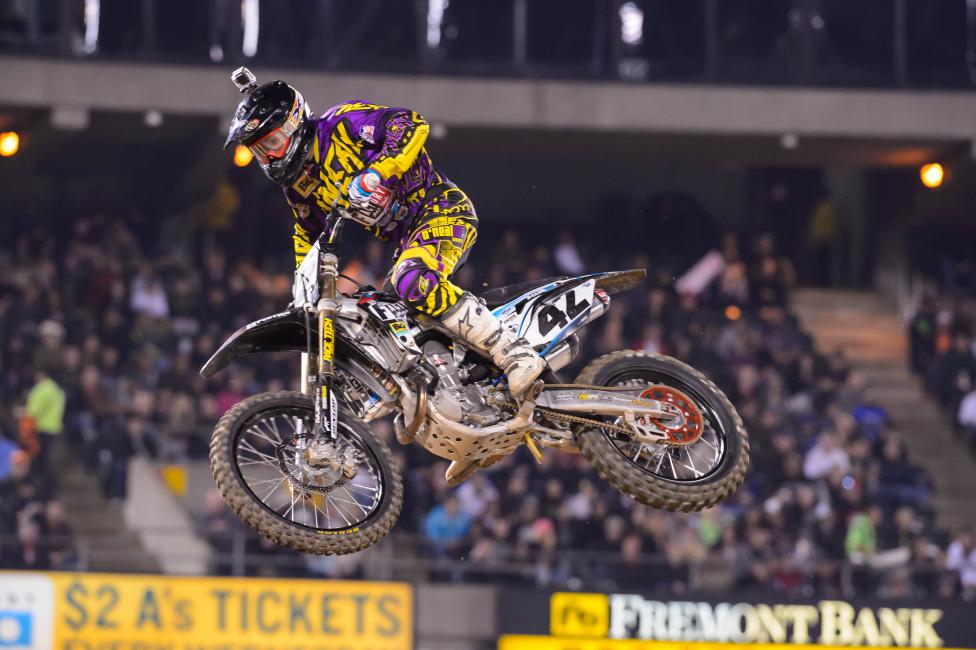 Some more news and notes this week:
Team RCH had one of those nights as neither rider made the main after crashes left both Broc Tickle and Josh Hill out for the count. Hill broke his collarbone and will probably be out for three to four weeks and Tickle is a race-day decision for this weekend. Tough start to the year for both of these guys. The general manager, team manager, innovator over there, Kenny Watson, told me his phone just lit up with texts and calls from racers looking to fill in. Geez guys, the carcass isn't even cold yet!
Woe Canada. As a Canadian it was exciting to see Rockstar KTM (managed by THE Ross Pederson's old mechanic Dave Gowland by the way) pick up Cole Thompson for an Eastern Regional 250SX ride when Joey Savatgy went down with injuries. And Thompson raced the last two 450SXs on a 350 to get his feet wet but truthfully it didn't really work out all that great. So the team has told Cole to just stay home and get ready for the 250SX East Region where I think he can be pretty good with that bike.
I drink a lot of coffee and factory Kawasaki only having Pumpkin Spice creamer for the last three weeks is really starting to get on my nerves. Pumpkin Spice? What in the hell? Dear Kawasaki, this is a notice that if you don't step up your creamer game, I will be forced to take my coffee stops elsewhere. Yours truly, Steve Matthes
Thanks for reading, send me an email to matthes@racerxonline.com if you want to chat about this race, basset hounds, Van Halen, food or the Toronto Maple Leafs.