Angel Stadium
Anaheim

,

CA
Anaheim 3 (A3)
Monster Energy AMA Supercross Championship
"I just want to come out swinging and let everyone know that I'm in it for real. Now that I know I'm on the pace, I don't think it's crazy for me to want to win the thing. If I don't hit that box at the first round I'm going to be very upset with myself."
This was Justin Hill talking a week before the opening round of the 2014 Monster Energy Supercross Championship. Hill, who had something of an inauspicious rookie season in 2013—his surname was slotted in at 12th on the final 250SX East Region AMA Racing Timing & Scoring Services sheets—was quite determined to pounce upon the 2014 Monster Energy Supercross Championship. He wanted to prove a lot of people that they had typecast him incorrectly. And although it took the 18-year-old Oregonian three rounds to string everything together, it all came right this past Saturday night in Oakland, California.
After shooting to the front of the pack right from the drop of the gate, fighting hammer and tong with 250SX West Region sensation Jason Anderson and the star-crossed Dean Wilson for 15 laps and then firing off the finish line jump in third place, Hill nailed down the first podium score of his young career. A long timing coming (at least in his eyes), Hill had proven to the industry, his competitors, and to the 47,339 fans present in the O.co Coliseum that he was, in fact, "for real."
Yesterday, while Hill was just rolling into the Rockwell Training Facility parking lot in Wildomar, California, to execute a light workout with trainer Johnny Louch, we crept up on him and put him in a sleeper hold (just kidding). Equal parts ecstatic and relieved with his run to the box in the Bay Area, the well-spoken young man reflected on his recent evening and also looked ahead to Saturday night's race in Anaheim.
Racer X: Justin, what are you up to this fine, smoggy afternoon?
Justin Hill: I just got to the gym here. I'm going to do a little bit of therapy and do a little recovery to get back in the swing of the new week and get ready.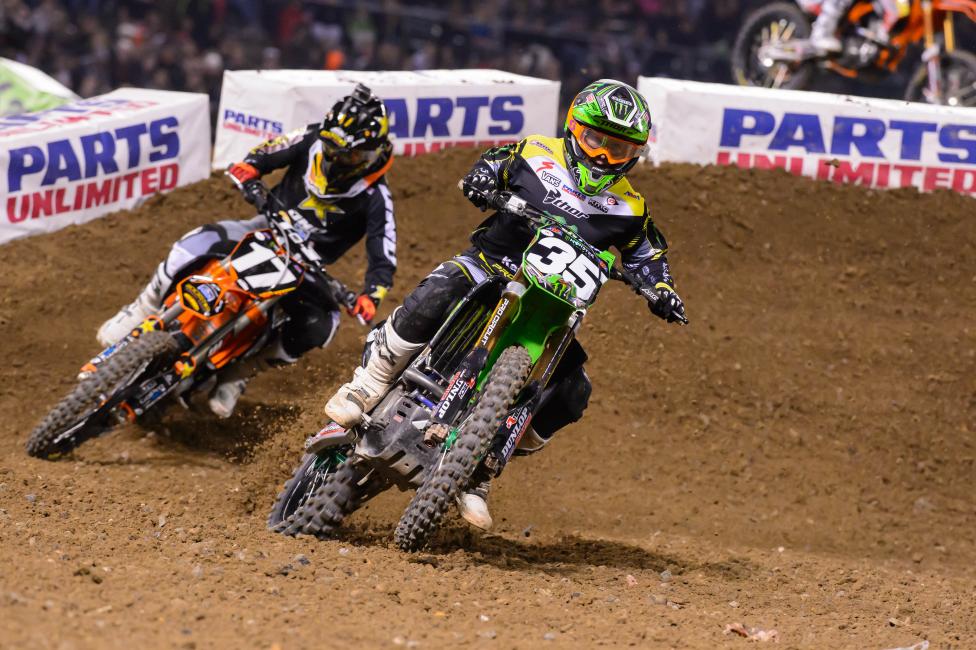 Did you ride at all today?
No. Not today. I usually just get on the bike Tuesday and Thursday. I just do a minimal amount of work. I don't want to spend too much time in the gym because I don't want to wear myself out.
I know you may not want to give your secrets out, but to fans who might be interested, just what do you do during a recovery workout?
With recovery will go on a light road bike ride and do basically the other stuff we do in the gym. We do everything, but just toned down a little bit. The goal is to just let your body recover. It's good for the body to just do a little workout with the heart rate low.
When you wake up on a Sunday morning the night after a supercross, are you pretty beat-down?
Yeah, you're pretty drug down. Actually, this last weekend was probably the easiest weekend that I've had on my body because I didn't have any crashes or anything. It's nice to start out front, man! You don't have to battle and put your heart out on the track when you have the first three corners behind you. But yeah, we're normally pretty drug down but once you start moving around and getting back into what you're doing, you're fine.
There's been a lot of super-positive chatter on both your performance and your result on Saturday night. Have you picked up on that?
You know, I watched the races a couple times. I'm pumped that I got on the podium; looks good for me, looks good for the team. Honestly, though, I've got a little bit of work to do. I'm so close to being able to start winning these things. There are little things I need to fix in my races to do that. I'm pumped on everything, but we've still got a little work to do. I'm glad to hear everybody is pretty pumped on it. It lifts my shoulders a little bit as far as putting the work in.
If you're willing to divulge them, what sort of little things did you pick up on via watching reruns of the race? What do you think you need to work on?
Pretty much the biggest thing is that those guys were on it, no doubt. They just had a little bit of speed on me. I think the track suited them pretty well. The top three of this past weekend, we were the only guys who didn't seem to be struggling with the track because it was really technical. There were some tricky obstacles. I think the biggest thing for me was a few corners that I could have cut tighter and cut some more distance off. One thing I watched probably five times was the corner before the whoops. After that corner I'd always get on the right side in the option lane and then I'd cut myself off into the corner. If I could do it over again, I'd probably be going over to that left side and get that corner swooped around and get a big drive through the whoops. Those guys were doing that thing and they got a lot of time on me. Just little stuff, man. If I can fix it, I can win this thing.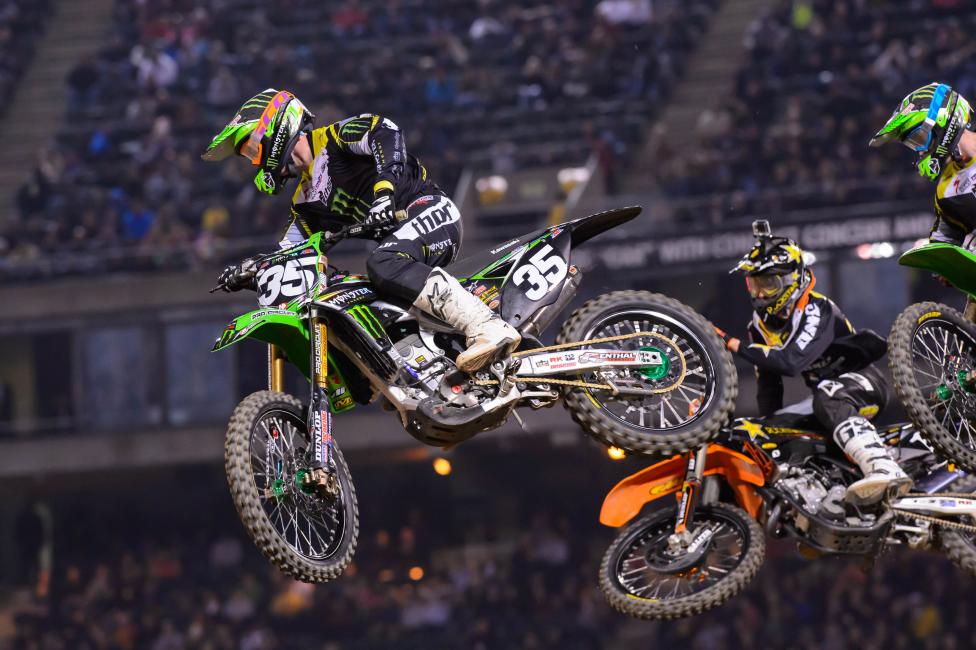 How hard is it to adjust during a race?
You know it's kind of funny. This was the first time I actually led laps and got on the box. It was brand new stuff for me. It was weird for me because I think I needed some more aggression. I'm so used to being aggressive and having to pass people from the back, it was almost like, "Hey, this is weird. What do I do now?" Really, I didn't feel like it was too hard to adjust because I found myself out breathing and thinking and breathing and thinking. I wasn't really laying it down as hard as I should have, probably. That's something huge that I learned just from that one experience. Now I can carry all that into the next time. Next time I holeshot you're not going to see me just out there trying to be smooth. I'm going to go out there and lay it down. I'm confident in myself and now I know.
I'm looking at a sheet with everybody's lap times printed on it. Could you tell what lap times were faster and slower?
Yeah, definitely. The first six laps that I led, I felt pretty fast. I definitely laid down some pretty good laps. From then on, I started making some mistakes and that's how they caught me. I had that big bobble in the whoops and I almost took a tuff block out. Little stuff like that slowed me down and just kind of made me have to reevaluate how I was riding and made me kind of smooth out. It was my first time being up there, man. I wasn't going to throw it away. No way. I reevaluated how I was riding and maybe just took the speed down just a notch just to make sure I made it through race and I got that podium spot.
How does it feel to get your first podium? That's certainly saying something, isn't it?
Yeah, it's a pretty cool deal. It was pretty cool waking up this morning and I had my little podium plaque sitting there. It's a good feeling. I know I've been close. I've had top fives and stuff. I think it's special because the West Coast is thick, man. It's no joke. For me, a podium on this coast, I impressed myself doing that. I've just got to get on the box a few more times before it all goes back East.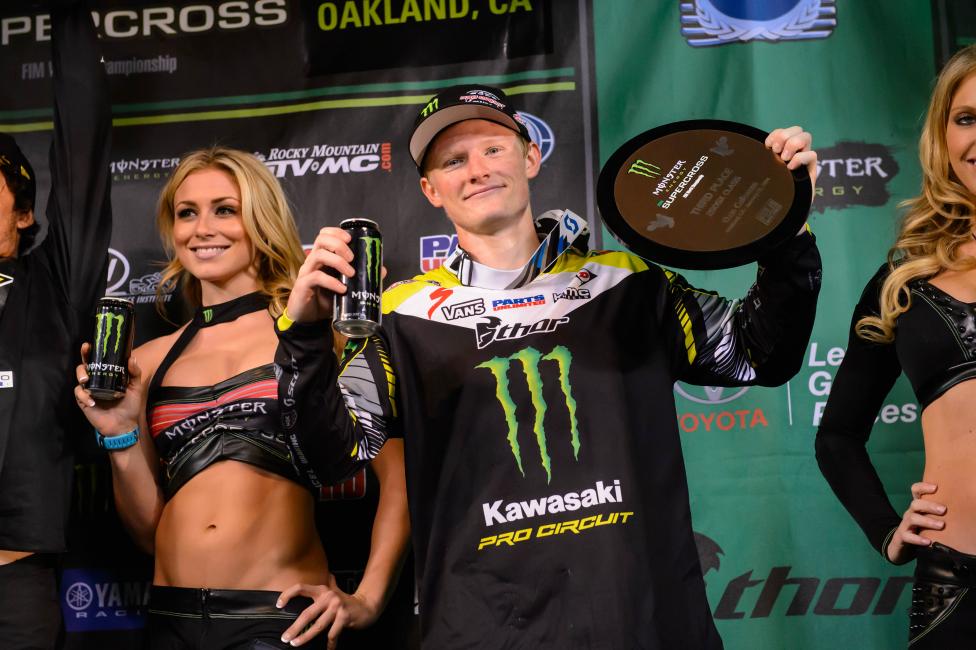 I'm assuming you got a great feeling for the pace that you now need to run. Can you beat those guys?
For sure. I just got done talking to my dad about it for a long time. We watched the races and I didn't even ride like myself. I didn't ride aggressive. I didn't ride the best I could. There's still a lot more things that can go better for me. If I get a win, I don't think it's going to take any more effort that I just put in to do it. It's just the little things that I need to clean up. I think I've proven week-in and week-out that I have the speed. I battled it out with those guys this weekend. I pulled away a little bit from [Cole] Seely and [Zach] Osborne toward the end so my third was pretty comfortable. I just have to get that little bit and then pick off the next two guys.
So you're going to go for the big win this Saturday night at the Big A?
I'm going for the "W" at A3 my friend!