O.co Coliseum
Oakland

,

CA
Oakland
Monster Energy AMA Supercross Championship
By: Steve Matthes, Jordan Roberts and Aaron Hansel
Chad Reed, Discount Tire Racing Kawasaki, 3rd in 450SX
Third place tonight, you've got to be happy. Stew caught you but he rode good. You'll take it, right?
Yeah, for me I was frustrated. I didn't do that quad. I wanted to do it all day. You've been around long enough, you know that I'm not the first guy to jump stuff. I felt like it was doable and every time out I'm like, do I go for it? Why is no one else going for it? Sometimes you've got to go by instincts and I was a little bummed that I didn't go for it earlier. Wilber did it in the heat.
He did it in practice, too. You knew right away?
I never knew he did it in practice. You've got to think that somebody's got to do it. Going into the main I'm just like, I'm going to go for it. I think the second lap or something like that I went for it and came up short, but still reeled RV in. For that I was like, this is cool. I almost got a little bit over-excited. Every time I came to it I just rushed it. So it was inconsistent. I did it maybe five or six laps of the 20 laps. I just got frustrated with it and it just kind of started ruining the rest of my lap. Basically Stew [would] just quad right up on me. I didn't think that anywhere else on the track I was giving up anything. Same as Dungey. [I had] Dungey covered everywhere but there. I just needed to cover him in there [the quad section] and then get to the whoops and then [it's] kind of see you later with him. For me it's all about the start. Look at practice. I was six-tenths off the leader and I'm seventh. So it's going to be all about starts week in and week out. It's 20 laps, too. You're kind of starting to see a little bit of a drop off around 12 laps, so it's a fight for 12.
And around lap 6, 7 and 8 you reeled RV in a little bit and caught up so that has to make you feel good.
Yeah, it's when I kind of probably did the quad maybe back-to-back laps. Like I said, I felt like I rode well, I just got frustrated with that jump. One of the things I felt like I needed to be better at this week was right away from the gate drop. I think I did a good job of that. RV and I kind of checked out. But then I struggled with that quad and I got frustrated and it kind of ruined the end of the race. I was happy that when Stew got by me I just started grinding away. I knew Dungey was dong the quad. I shouldn't say I knew he was doing it. I had him kind of covered and he wasn't really close to me anywhere on the track but there. So I figured that's what he was doing. I think the last lap maybe he missed it because I gapped him pretty good. So just improvements in some places, and some places not so much. So take that from it and just be happy. I think we moved to second, seven points behind RV, so keep grinding. – Steve Matthes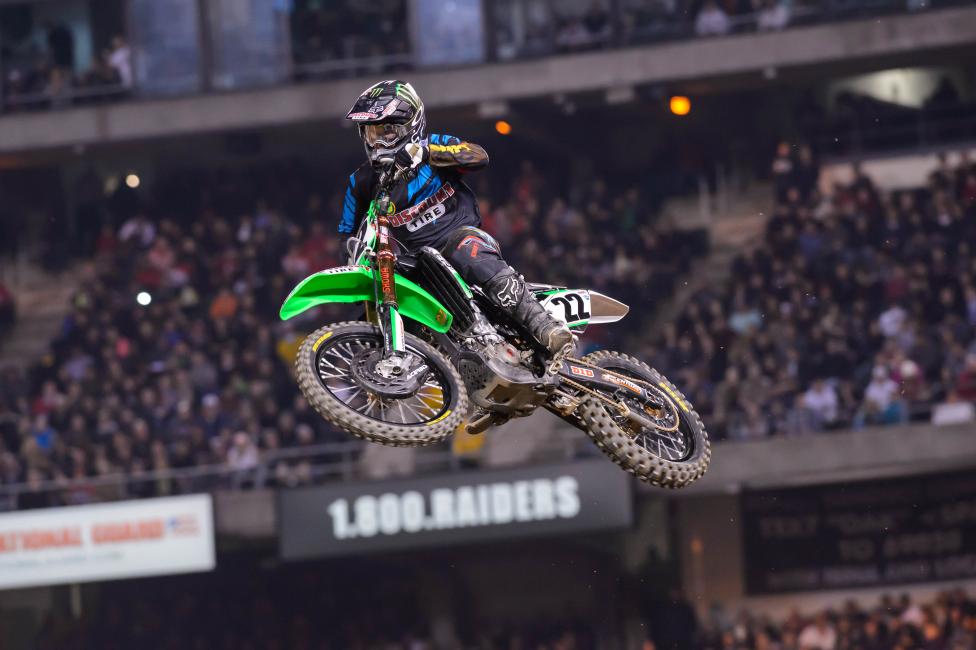 Dean Wilson, Monster Energy/Pro Circuit Kawasaki, 2nd in 250SX

It didn't end well but a big step in the right direction. Rode great, grabbed the lead, led most of the laps. You could still be happy after this race, or maybe not….
Obviously I'm pretty bummed out but a lot of positives came from the race. I pretty much had that race won, just had a little mechanical issue. Practice went well. I was the fastest out of everybody, so that was actually pretty cool. And then [the] heat races went well, my starts were good. So there are a lot of positives from it. I think things are actually stating to come together. It's just been crazy how this off-season I've been more prepared than I've ever been, stronger than I've ever been, fitter than I've ever been, the bike's better than it's been, and it's just been a constant struggle. Had a crash before the first round, was kind of injured a little bit in that one. Rode just really tight. Last weekend landed on [Dakota] Tedder on practice and landed on hay bales in the main. It's just been crazy. So I'm starting to find myself, I've just got to look at the positives.
Maybe the fuel injector, some sort of electrical problem. And then did it come right back and was fine after that?
Yeah, it came back but…

You still tripled before the finish.
Yeah but it was definitely scary because that last half a lap, I'm still trying to push to win this thing but in the back of my mind I'm like, I don't want this bike to die on me off a triple or something. So it was kind of scary, but I just rode it out.
Has to be a frustrating year for you so far. Maybe the toughest you've been through. Hopefully this is turning the corner and doing well. During the week you tweeted a photo of a gardening guy saying, "Hey maybe they're looking for someone to help at that job." So it's got to be tough being a racer this year.
Yeah, it's been tough for sure. Like I said, everything I've done is in the right direction and it's just been kind of a struggle. But I feel like tonight is hopefully the turning point. I showed myself that I can win these races. I'm pretty far back on points; I'm not even going to bother with that. I'm just going to do my best and try and win races and that's all I can do.
And the other guys got to have some of the bad luck that you've been getting.
I feel like nothing can go wrong for [Jason] Anderson right now.
He's got three wins and two laps led.
I think that guy could jump off a plane without a parachute and still race the next weekend. – Steve Matthes

Ryan Dungey, Red Bull KTM, 4th in 450SX
I got off to a slow start in the beginning. I was just trying to get into my groove. I was in fourth and made a pass to get into third, and then Stewie got by me. Honestly, I was just trying to reel in Chad [Reed]. Stewie got by me and passed Chad, and I was trying to keep that pace and follow him though the pack. I was right there by Chad the whole last part of the race and was just unable to make the pass with the lines out there. Nothing really came about and I couldn't get close enough. Chad was riding really good tonight, as was Ryan [Villopto] and Stewie. It was a good day. We kind of fought things in practice, but we were making good improvements. We're going to do a little work this week and try to get better. This is the first time we'll be testing this year during the season. Hopefully we can come up with some good stuff. Everything is there. I just need a little bit better of a start and little bit better positioning on the track, then just keep bringing that intensity.
Are you guys going to start testing in preparation for the east region tracks?
Honestly, we're just getting ready for everything. There's an area where we've seen multiple times that we can be better. We've got good people. Our suspension guys Jim and Mark are doing a great job. We haven't really dug into it too deep yet, and I haven't been able to do that with a few things going on. Now that we'll be able to do that, hopefully we'll be able to make some ground and gain a little bit of time.
That quad that you and Stew were doing … you guys were the only ones doing that regularly in the main.
I saw Chad do it one lap, and Wil Hahn did it in the heat race. I didn't know if anyone was going to do it. Then I saw James do it and I was like … man. I felt like I could do it all day, but I didn't really want to pull the trigger on something that was … well, it was big. The first time I cased it, but then I was able to get over the top of it every time after that. It was big, but it was definitely a good place to make up ground, that's for sure.
Did you do that in practice at all?
No, I just pulled it in the main. I saw somebody do it so I knew it was doable. I hopped on and came off the table, then I knew I needed to get over the three-footer clean and give it everything it had. It was a big gap. - Jordan Roberts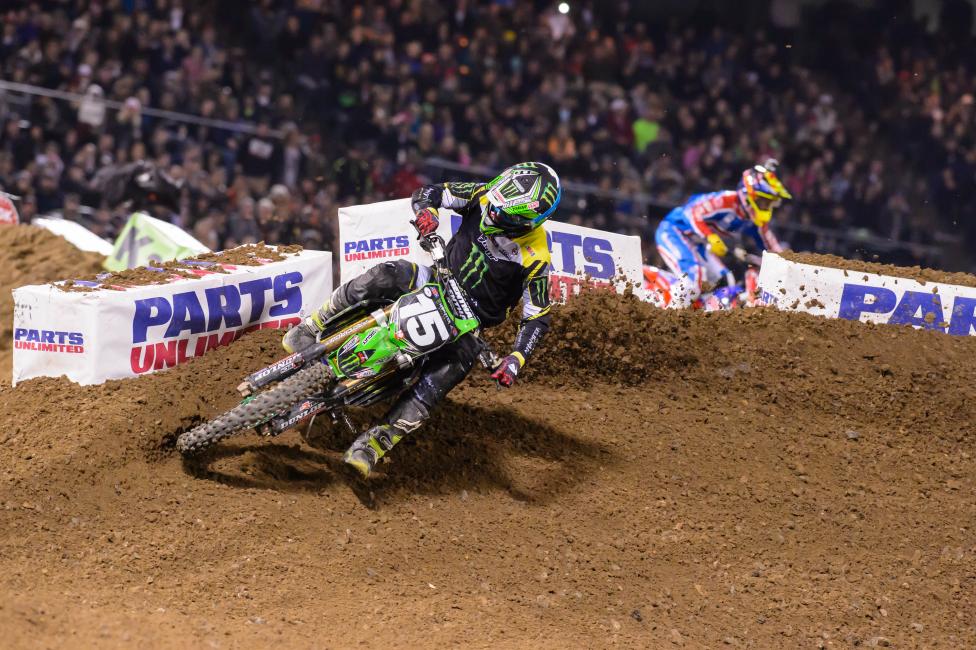 Justin Brayton, JGR Toyota Yamaha, 5th in 450SX

You got a win in the semi after battling with your teammate a little bit.
First off, I was a little bummed I had to go to the semi. Then I kind of switched modes and decided it was more track time and another gate drop. It was a positive thing. Overall, the main event was pretty good for me. I got a good start and didn't feel like I put it all out there in the first ten laps. I don't think I really found my groove until lap 12. I'll keep working on that, and I was struggling with a couple sections of the track. It broke down pretty good. It's the first race we've had a track break down like that and get pretty rutty.
And you've said you like the ruts so you can steer more with your front end, right?
Yeah, I really enjoyed that. It was just that dragon's back section that was giving me fits all night. I was hitting it clean every time, but I just didn't have much speed through there. I think that kind of held me back all night. Otherwise, I felt like I could've gone more forward with Chad [Reed]. I feel like I'm still getting better and battling with the guys I need to be battling with. I just need to get a little bit more speed. - Jordan Roberts

Wil Hahn, GEICO Honda, 8th in 450SX
Bummer Barcia got you. Kind of wrecked your main event and it was an uphill battle from there.
A little bit but it's more me not just going forward with it. I should have just been focused more on my race. Nothing you can dwell about. All those guys are out there and we're all racing pretty damn hard.
I don't think it was anything bad, he really just got in you and …
No, it's just something that I need to be more aware of. I haven't been up front in the main event, so it's something that I need to realize and fix for the next time out there.
Quad, bro. How was it? Good job on that. It looked like you had it down pretty good.
Yeah, I think it was good for me. I need to be able to do things like that. I've always been able to find something like that. Plus I'm little on this thing and it's plenty fast enough to do it. It was big for sure. For me, I got to keep getting starts like that and realize I can run up front. – Steve Matthes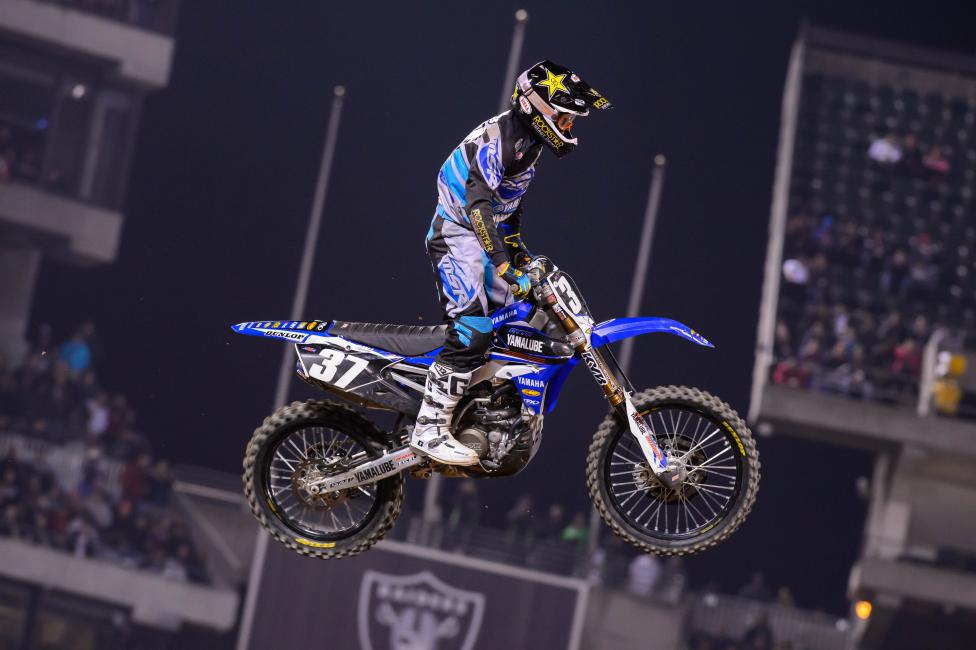 Cooper Webb, Yamalube Star Racing Yamaha, 9th in 250SX
The race was alright. I got a pretty good start and banged around a little in the first few turns. I tried to make my way to the front and made a dumb move trying to rush. I collided with Malcolm [Stewart] and we both went down. It sucked for sure, but we'll move on from here. Nothing we can do but look to the future. I had a really bad crash in practice and popped my wrist out of place and sprained it. Doc G helped me out a lot and got it back in. I was just trying to ride through that and do the best I could.
Did you and Malcolm get into it a little bit when you came together out there?
We're good buddies and he was bummed, and I was too. The crash was totally my fault. We're both pushing to be up there, and when you're both trying that hard your emotions can get high. We talked after the race and we're still good buddies. That's racing. I take 100 percent of the blame; it was my fault. I guess that's why I'm a rookie. – Aaron Hansel
Malcolm Stewart, Troy Lee Designs/MAV TV Honda, 16th in 250SX

What happened out there with you and Cooper [Webb]?
What happened with me and Cooper—unfortunately we both went down. I guess when we fell it snapped my rear brake lever. When I got back up I didn't have any rear brakes for the rest of the race. Racing is racing. I don't have a grudge with him. I have nothing against him. I actually walked over here and talked to him. I'm just going to let this race go like nothing ever happened. I've got a long season ahead of me.
Well A2 went pretty good for you. Do you think that'll carry over into A3 and you can get up on the podium?
I'm definitely going to try to get up on the podium, or I better be in that top five, at least. That's basically what I'm shooting for. I'm definitely proud of my brother. He rode a hell of a race for second. From where he was, he was definitely back there off the gate. I'm really proud of him. We'll just take that good vibe and start off Monday with some riding and finish off the weekend strong at A3.- Jordan Roberts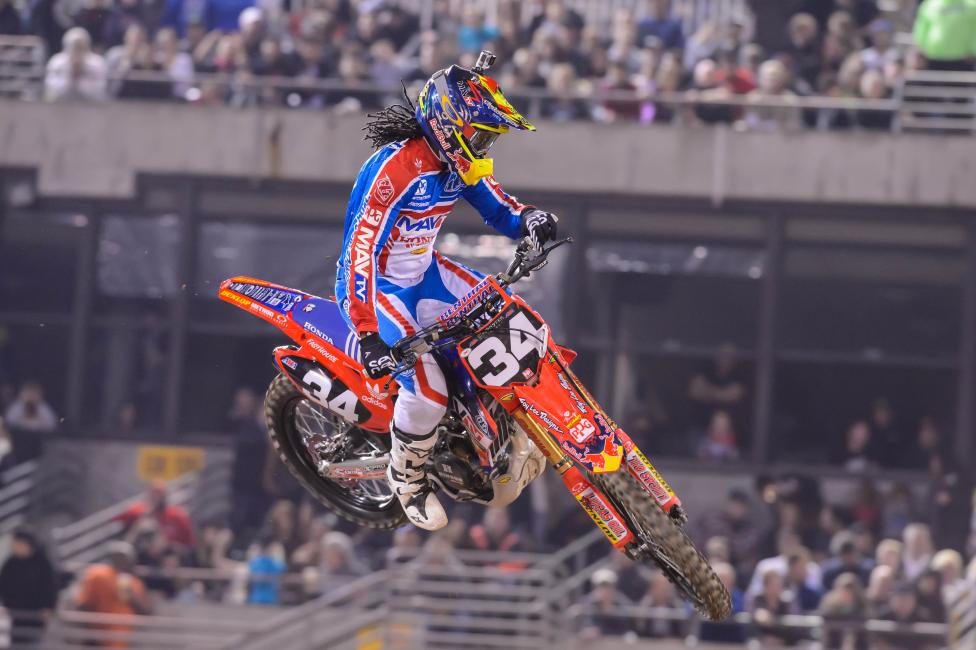 Dean Ferris, Red Bull KTM, 10th in 250SX
My start was just whatever. Mid-pack or something. The night was pretty uneventful, really. It was probably the best I've ridden, though. Minimal mistakes, but I was kind of off-pace because it was technical and I struggled a bit. But I'm happy with a tenth. I got eleventh last week, but I rode way better tonight, even though the result doesn't really reflect it. I got seventh in Phoenix, but I didn't ride as well as I rode tonight I don't think. We're getting there, but it's frustrating for me, just because I want to do better than I am.
How's the learning curve?
Well I'm learning! But I'm also learning to try to deal with not being one of the fastest guys. That's kind of frustrating, being upset all day about it. But it's just a learning year, and I have to accept that because my main goal is outdoors and I want to get through these races. I think I'm doing a good job of it, and I've just got to keep plugging away and do what the team tells me too.
Lots of experience on the Red Bull KTM, both with riders and personnel. Do you draw a lot from that or do you have your own program within the team?
The team is pretty good, they just let me do what I want and when I need help I reach out for it, which is most of the time. [Laughs] It's good, especially having the teammates that I do. I get to watch what they do throughout the week and I can pick up on that. It's better than doing it on my own, and that alone is awesome. The technicians are good too, and if I feel something I don't like with the bike they know what to do. It's a good team. -- Aaron Hansel

Ivan Tedesco, Rockstar Energy KTM, 12th in 450SX

Haven't talked to you this year. Talked to [his former mechanic] Franky [Latham] a lot this morning about you though. Your comeback to supercross, I think it's fine. Franky says it's fine. But Franky says that you're probably pissed.
Yeah, it's not going as good as I want but I got to look at the whole picture. I started on the bike December 5, I haven't really raced in a couple years [in] supercross. It's the best guys in the world and the class is stacked. I can't expect to just come out here and start running around these guys. But it's been getting better every week. I've been working my ass off. It's been getting better. Tonight I got a little tired. I think racing the heat, semi, LCQ … About lap 12 I kind of started feeling it. I've been working hard it's just these guys are the best in the world and starting as far back as I was it's tough. But I'm going to keep working at it and if I can keep improving like I am, I'll be happy. – Steve Matthes
Kyle Chisholm, Cycle Trader Rock River Yamaha, 17th in 450SX
It's tough to make it out of the heat but you made it through the semi no problem, where you should be. Main event, you've made two out of four. So it's been a bit of a battle but tonight maybe a positive step.
Yeah, it's good. It's tough. I have minimum days on the bike and not much testing done or any of that. It's good. Baby steps I think at this point. But I made it out of the semi which was good, same at Phoenix when I got in the main. The LCQ is definitely no fun. I should be out of the semi every week. My goal right now is to be between 10-15. I feel like that's where I should be. We're just outside of that. Phoenix I was 16 and here I think 17. There's a lot of good guys this year. There's 25 really good guys, so it's tough but we'll keep working on it. We're changing stuff constantly on the bike, just trying to get me more comfortable. The new bike is awesome, it's just all different and a lot of just going through parts. In the season there's only a few days during the week, you make baby steps and you try it on the weekend. So that's kind of where we're at. But a little better each weekend and we'll build on it. – Steve Matthes