Before Ryan there was Ricky, and before Ricky there was Jeremy. Before Jeremy there was Jeff, and another guy named Ricky—and another guy named Jeff (Ward). Of course, you can't forget Bob. But if you go all the way back to the beginning of the record books, you find Pierre Karsmakers in 1974.
Things were different back then in a lot of ways, but there was still a purpose-built track in a stadium, with huge crowds showing up to watch. Karsmakers was the first supercross champion.
For the 40th Anniversary of Supercross event at Angel Stadium, and in conjunction with the Legends and Heroes display, Feld Motor Sports brought out every past SX champion. We caught up with Karsmakers, America's very first supercross champion, as he walked around signing autographs, met with old friends, and got ready for the opening ceremonies. For a man in his late sixties, Karsmakers shows few, if any, signs of his age, and he still rides when he can.
Racer X: Pierre, welcome to madness that is Anaheim! What do you think of all this, with the big trucks and all the people here in the pits this afternoon?
Pierre Karsmakers: I think it's amazing! I'm really pleased to be included, and happy that Feld invited me over. Alex and the guys from the Legends and Heroes group have done an amazing job pulling this together, and for me, it is a great honor to be included. I think the atmosphere in the pits is very, very good. When I raced, the pits were a little more closed off to the public and things were quieter around our vans and trucks. The big show was inside the stadium, but for sure the pits are now part of the show. But everything is just bigger now. The riders have very nice equipment now, but for us, we thought we had nice equipment at the time, so in that sense, it hasn't changed.
The 1974 series was the first ever AMA Supercross Championship. Did you think that it would get as big and as popular as it is today?
Actually, well, yes. I think at the time, and if I remember, I always thought that if the stands stayed as full as they were for us, things would grow. If you attract such a crowd like we had, and like they have today, other people come, and so do sponsors, and it grows. So I guess I could see the potential, but it is also nice to experience it in person.
Lets talk about your career a little bit. You came over from Europe and established yourself here, but unlike guys like Roger DeCoster and some of the others, you stayed here in the states and spent the majority of your career racing in the United States, as opposed to going back to Europe and chasing the World Championships, which perhaps had more prestige at that stage of the sport.
Well, I did race many GPs, but for the most part it was for testing only. My career was primary here in the United States. I retired from racing in December 1979. During my career I rode for and had factory contracts with Yamaha and Honda. I rode for Yamaha in 1973 and 1974, and then switched to Honda for the 1975 season. I stayed there two years, then went back to Yamaha in 1977 and stayed with them through December 1979. But my career lasted those seven years, and for sure the best results came in America.
Do you still attend races, either here in the U.S. or overseas?
Well, yes, for many years I would try to come to the United States for business. I would always try and attend events at the [L.A.] Coliseum and San Diego. But it seemed that I mostly always went to Daytona. There is so much going on during that week, so it's an important event to visit. But now, maybe I am here every five years or so.
The top riders today make really good money. How were the contracts and money for riders in the 1970s? I know it was a lot less from a dollar-figure level, but top riders could retire from their winnings and contracts, right?
Yes for sure. I made good money and was very happy with what I did, and what I got paid during my career. I had enough money to retire, but that would have been boring for me. So when I was done, I went home to Europe and started a business with the contacts and friends I made in the USA. My business was to import American parts and accessories for dirt bikes and motorcycles into Europe. It was a good business and came naturally to me. I also eventually opened a Honda dealership as well. I did a lot of BMX stuff as well. It was all American products.
How old were you when you came to race in the United States?
I was 25, maybe 26 when I arrived to the USA, and I was 34 when I stopped. I came here and signed my contract with Yamaha. But then when I was 34 I retired. My career was actually pretty long. Back then riders normally did not race into there thirties. That was late for a career back in those days.
So what are you doing now?
Well now I am completely retired! I sold the Honda dealership and took a formal retirement, along with my wife. We have been married since I was in the United States and we have a family. But one thing that I did do, a few years back, I raced the Paris Dakar Rally. That was, I guess, something to do when you are retired!
Wow! That race is no joke. It takes months of planning and strategy to set that up. Dakar makes just about any other race look easy.
Yes, well, I decided I wanted a challenge, and my son and I both signed up and raced the event a few years back. It was really an amazing experience. I finished just around the top ten, while my son came in around 20th place. It was truly an amazing experience.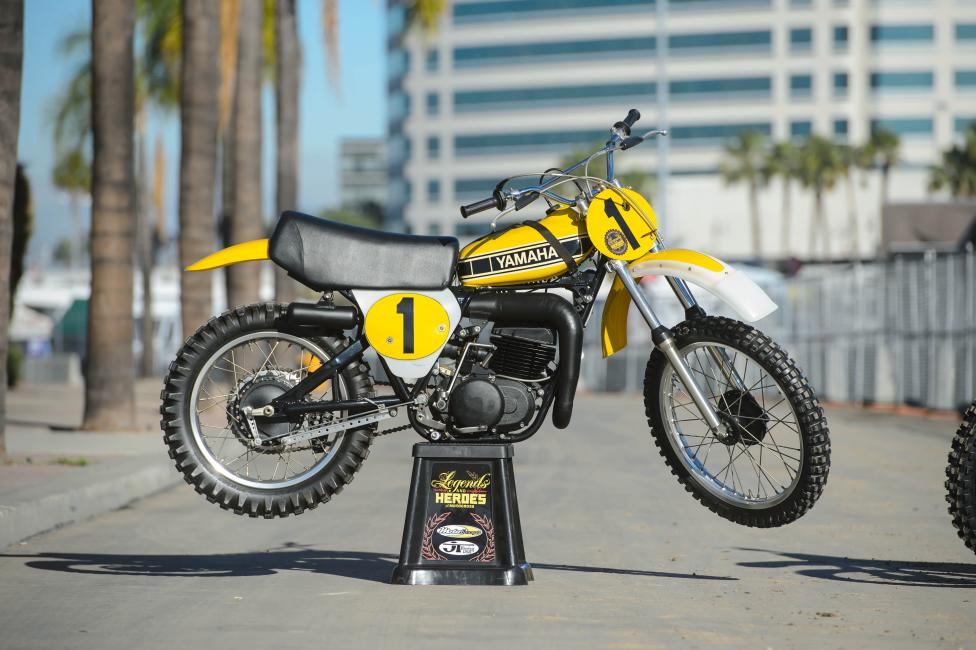 You rode for factory Yamaha and Honda when they had true hand built factory bikes, and during a special era of development for motocross technology. What stands out to you? Did you have a favorite bike from that era?
I would have to say all of my Yamahas were pretty good. Yamaha, for me, it's like family. And you know, everyone says it's the Yamaha family, and once you're part of it, you're there for life. Even today, I'm still friends with many people there and I feel welcomed when I'm around. For example, tonight we can go to watch the races in the Yamaha suite, with all the employees that work there. That's a special invite! Honda, it was more like a machine, much more corporate. You had your job as a rider, and that's it. It was very impersonal. That's why I went back to Yamaha, I just felt more welcomed. But the bikes, there were many good ones, and some not so good. Things changed very quickly back then with the technology, and we also tried so many things in testing. The evolution in development was very fast.
(At this point Pierre and the rest of the past champions were summoned to the stadium for their part of the opening ceremonies celebration)
Well, I better let you go here. Thank you for chatting with us. I can only hope to have the energy and stamina in retirement that would allow me to even consider racing Dakar—or any race for that matter!
(Laughs) Thank you for the compliment. Motocross was something very special for me, and it has kept me in shape and healthy, despite the normal injuries. You learn how to be tough; you learn how to take care of yourself and how to push. And for that, it stayed with me, and into other things as well.
And like that, Karsmakers was headed down to the floor, where he was introduced to the crowd as the first ever AMA Supercross champion.