Angel Stadium
Anaheim

,

CA
Anaheim 2 (A2)
Monster Energy AMA Supercross Championship
Officially, tonight was supercross' fortieth anniversary celebration. Unofficially, it was retro night. But it doesn't matter what anyone called it because tonight won't be remembered for either; it will be remembered as the night that Chad Reed came back and scored his first victory since round three in 2012. The veteran was running fifth early on, but crashes from Ryan Dungey and Ryan Villopoto promoted him to third. Then he went to work on Ken Roczen and James Stewart. And don't let the crashes by the Ryan's take anything away from Reedy--he was flying and catching Villopoto and Stewart as they battled for the lead. In fact, Reed set the fastest lap of the race on the eighteenth lap! When Reed passed Stewart for the lead the crowd exploded and stayed loud for the rest of the race. Even more impressive was the number of fans that stayed in their seats following the race. The stadium typically empties out extremely quickly when the checkers fly, but this time thousands of fans stuck around to hear what Reed had to say about his monumental win. And when it came time to pop the champagne, Reed ran to the nearest pack of fans leaning over the fence, completely dousing them.
James Stewart had his best night of the year, but it was obvious he was let down about giving up the lead, especially after leading for eleven laps. Afterward Stewart admitted as much in his podium speech, adding that he was still feeling the effects of the illness he was suffering from in Phoenix. He was quick to give credit to Reed, though. "Obviously, Chad's a great rider--he's fast. When he's on he's tough to beat."
The red plate will be back on Roczen's KTM next weekend in Oakland, as his third place was enough to propel him into the points lead ahead of Villopoto and Dungey, who finished fifth and sixth, respectively. Afterward Roczen was smiling about taking the lead back, but was quick to point out that the "series is a marathon," and a lot can happen between here and Las Vegas.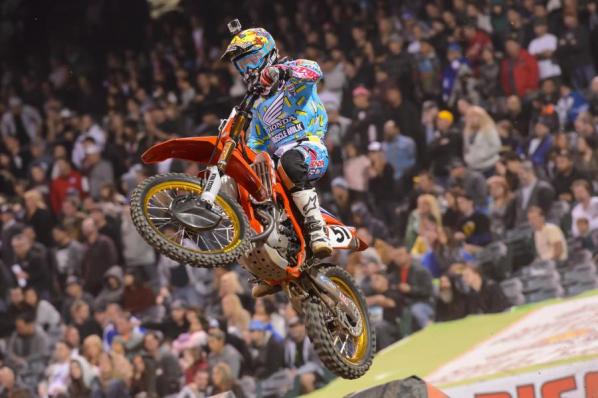 All of the expected contenders were up front in the 450SX main--except Justin Barcia. He was in comeback mode, got to seventh, then crashed back to 11th.
Simon Cudby
Speaking of Ryan Dungey and Ryan Villopoto, both riders went down twice in the main event. Dungey's first crash came while he was leading. As he was going through the whoops he got bucked and his feet came off the pegs as he was exiting the section. He attempted to steer through the corner but just couldn't make it. Villopoto's first crash came when he was challenging Stewart for the lead. As the two came out of the turn following the finish line, Villopoto hit Stewart's extended leg, which somehow locked up RV's front wheel, forcing the crash. And the second crash for the Ryans? It happened on the final turn on the final lap. Dungey came in hot on Villopoto and attempted to make a pass when there just wasn't a pass to be had. The two went down, quickly remounted and raced to the line, with Villopoto edging Dungey for the spot.
Great night for Weston Peick, who didn't ride all week after his big crash last week in Phoenix. Peick battled with Josh Hill for much of the race, coming out on top with seventh. Also, credit to Hill for rebounding to a top ten finish after failing to qualify in Phoenix.
Justin Barcia didn't have the night he wanted. After starting outside the top ten the Team Honda Muscle Milk rider was working his way through the pack. At point he was as high as seventh, but a crash dropped him down to eleventh, which is where he would finish.
Another fantastic performance from Justin Brayton, who kicked it off early by taking a heat race win over Ryan Villopoto. And he didn't just get a holeshot and check out. At one point Villopoto passed Brayton for the lead only to have Brayton come back and retake it in a table-table rhythm section. In the main Brayton got a so-so start, but charged and made slow but steady progress toward the front to log a fourth place when the checkers flew. Brayton now sits in fifth in points, just five points out of the lead.
Yes, read the line above again--five points seperate first and fifth in the standings!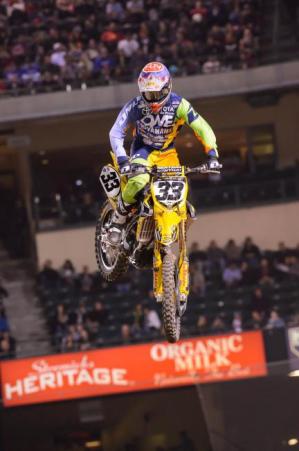 With a sore shoulder from last week's crash, Josh Grant toughed it out for a 14th.
Simon Cudby photo
After getting taken out by Ryan Dungey (yes, you read that correct) in his heat race, Broc Tickle went to the semi where he crashed hard and was done for the night. Initial reports are that he checked out fine, but we'll keep you posted on this during the week. Dungey was targeting the RCH Suzuki boys on this night, taking down Tickle and then Hill in his heat race. Then Dungey led the main until he crashed. What's getting into the Dunge?!
Another rider who didn't see action in the main was Darryn Durham. The Monster Energy Pro Circuit Kawasaki rider had a big crash during afternoon qualifying and knocked himself out cold. There were some scary moments as Durham didn't move for quite some time and was eventually taken away on a stretcher, but later during the night show he tweeted that he was okay, and that he had just "knocked himself silly."
Cole Seely finally had the night he needed. He led every single lap of the race and didn't falter once. After the race he gave Jeremy McGrath credit for helping he with his starts all week before A2. The icing on the cake for Seely? He leaves A2 as the new Western Regional 250SX points leader.
If Jason Anderson had six points on Seely coming into Anaheim, and he finished in second place, how can Seely be the new points leader? Well, Anderson physically crossed the finish line in second place, but he was docked two spots for jumping on a red cross, relegating him to fourth, which earns eighteen points instead of the twenty-two he would have earned for second. Seely isn't the only rider helped by Anderson's blunder, either. Malcolm Stewart finally got the first podium finish of his 250SX career because of the penalty dealt to Anderson. Unfortunately the penalties for Anderson weren't handed down until after the podium--so Malcolm never got to come up and celebrate.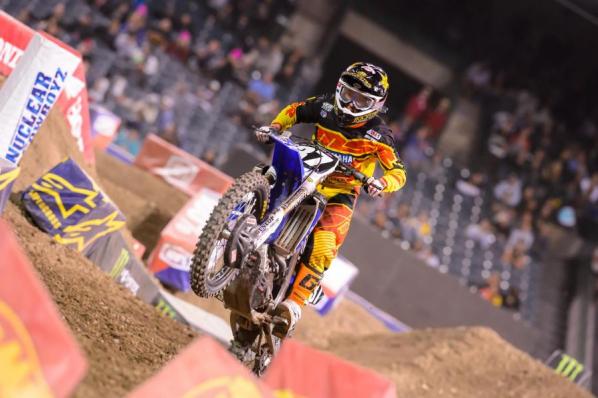 Cooper Webb was on it all night.
Simon Cudby photo
Things aren't exactly going to plan for Dean Wilson this season. After getting hurt just before A1, Wilson wasn't on point at the first two rounds, taking fourth at each. But things looked different tonight. Wilson was fast in qualifying, won his heat and was running third early in the main. Then he clipped a tuff block and went down and had to wait for some traffic to clear before he could remount. Malcolm Stewart was delayed in the carnage, and Zach Osborne was even less lucky. He hit Wilson's downed bike, crashed and lost several positions.
Dean Ferris was looking good early while running in sixth, but he went down all by himself in a corner and dropped to twelfth, eventually finishing in eleventh.
On paper Justin Hill scored a fifth, but that doesn't reflect just how well he was riding tonight. Hill went down in the first turn and was way back, but he didn't give up and charged hard to end up with a fabulous result.
Another superb ride came from Cooper Webb, who scored second (originally third, but was given second due to Anderson's penalty) to notch the first podium of his supercross career. Webb spent a good portion of the week working on starts and finding a suspension setup that would help him get off the line better, and it paid off tonight.