Chase Field
Phoenix

,

AZ
Phoenix Supercross
Monster Energy AMA Supercross Championship
Hello, everyone, and welcome to the Rev Up. American supercross hit the scene last Saturday night with a resounding ordinance. The season opener left rocket fuel in all our veins and we've barely had time to catch our breath as another tsunami of anticipation approaches. This week the setting changes from the concrete jungle of Southern California to the arid Arizona desert, and supercross fans across the world are set for the next burning pages in the opening chapter of the season. While nothing matches the season opener, round two of the Monster Energy Supercross series at Chase Field in Phoenix, Arizona is set for a donnybrook and I think I'm more excited than I was seven days ago.
Not only has the setting changed, but the Phoenix SX is a far different animal than Anaheim. The soil is different, typically looser and drier, and this Dirt Wurx constructed racecourse will create a challenge for settings, tire choices and overall machine preparation. They won't be reinventing the wheel, but when the top ten is separated by a mere second, every tenth that can be gained will be pivotal. Speaking more about this week's track, I forecast some major congestion following another long start stretch heading into a couple of tricky rhythm sections that are connected by a pair of 90 degree right-handed turns. The fastest rider in practice and heat races last week, Justin Barcia, was severely hobbled by a poor start and the penalty for such an effort this weekend looks to be more severe. For the favorites, gating outside the top ten will likely evaporate win aspirations and transition into an effort for a good points night. A long 20 laps it is, but we'll all be standing up to watch the starts in the main events. Overall, I think it is another strong racetrack and I love the long whoop section and the way they will rocket down the start stretch. Lastly, look for some "pick up passes" all night long in the final right-handed 180 before the finish line. It's going to be wild, so let's look at both divisions.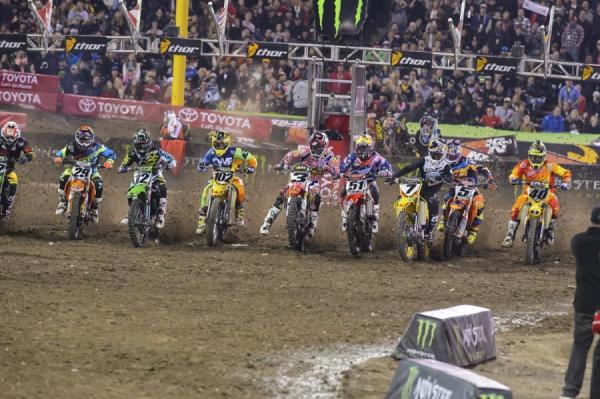 The opening round of Monster Energy Supercross left many questions heading into Round 2 in Phoenix.
Simon Cudby photo
250SX
At the conclusion of the 250 main event last week I knew there was a man that was smiling bigger than everyone except Jason Anderson. Dave Gowland, team manager for Rockstar Energy KTM, was dealt quite the poker hand when his team shifted from Suzuki to factory KTM equipment.
"KTM has streamlined everything we wanted and it was a welcome change of pace to have a manufacturer match our commitment," Gowland told me earlier this week. "Jason got on the bike and immediately said it was better than his 2013 machine. He liked the motor and yeah, the chassis took some time to get used to, but we ended up with a suspension package that he liked even better. Plus, we brought in Jeff Ward to work with Jason and they really connected. We've always believed it was just a matter of time with Jason and we have a shot at this championship. For all of us on the team, this 250 win felt perhaps even better than last year's 450 win."
The 250cc regional championships are a much shorter campaign than the premier, and year after year we see consistency prevail. Monster Energy/Pro Circuit Kawasaki has been the powerhouse, but a half-dozen teams have now matched them in talent and technology. The wolves have arrived and pre-season title favorite Dean Wilson is the only racer, in my opinion, who can carry the flag for Mitch Payton's championship winning wrecking ball. It will be interesting to see if he can shake off his mid-week slam before the opener and establish alpha male status. I said wolves for a reason, though: The 250-class top ten produces more slam passes, brake checks, and banzai moves than I've ever seen in supercross. Man, is it nasty! Lucas Oil/Troy Lee Designs Honda mounted Cole Seely was a couple less lappers away from victory last week, and he and Anderson had the field seemingly covered. Zach Osborne, Malcolm Stewart, and rookie Cooper Webb will be hungry to up their game and challenge the two early sprinters. Who here will rise up in Phoenix?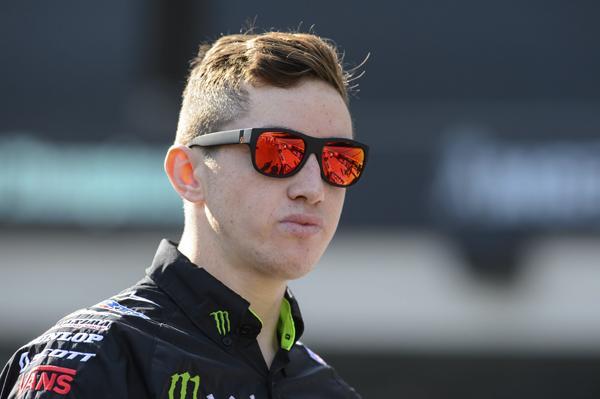 Will Dean Wilson be 100 percent heading into Phoenix?
Simon Cudby photo
450SX
Ken Roczen's victory last weekend sent shockwaves throughout the motocross world. The win was huge for KTM and all of his sponsors, but one in particular shared a special perspective on the feat. I received this e-mail from Fox Racing's founder, Geoff Fox:
It was sure a great thrill for me to see Ken's Anaheim performance. The fact that in his first full season #94 won a 450 Supercross came as no surprise, but the fact that he won the event of the year was not something I expected. I first met Ken in the summer of 2006 at his home and practice track near Apolda, Germany. His talent, desire and work ethic were apparent. Even at 12 years of age it was clear that his goals were extensive. At the time my German was better than his English, but Kenny was working on improving not just his riding but his language skills, too. Today I am almost amazed at his command of our language as I am by his control of his motorcycle. All of Team Fox congratulates Ken on his Anaheim win and wishes him all future success.
Thanks,
Geoff Fox, Founder - Fox Head, Inc.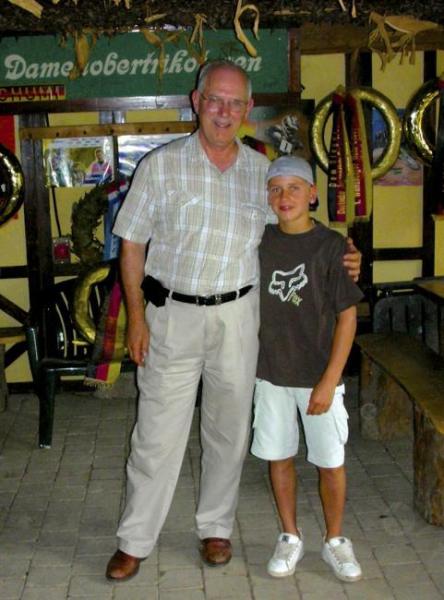 Geoff Fox and 12-year-old Roczen.
Geoff Fox photo
To my knowledge no rider in motocross history has won: An MX2 World Championship, the Motocross of Nations (several times in his class and also a team triumph in 2012), AMA Motocross Nationals, a 250 Regional SX title, and the 450 class at Anaheim 1. Quite an early resume for the 19-year-old German implant—and he seems to have all of the tools to be a 450 supercross champion. A glaring fact that nobody can take from him is that he will be wearing the red plate heading into Phoenix this weekend.
But, about those wolves again. Ho, ho. As the defending event winner, Justin Barcia will head into Phoenix expecting his chance to rise in 2014. He's my pick for the W and if there was any fluke last Saturday night it was Bam Bam's foul start. Barcia is historically a strong holeshot artist, and recent history—dating back to the MEC and the opening practices and heat races of 2014—show #51 displaying the longest fangs heading into round two. This leaves three-time defending champion Ryan Villopoto and the steadfast Ryan Dungey to fill out my podium prediction. I speculate the difference between Barcia and RV will be the previously mentioned opening section of the track off the holeshot, and Justin will bull his way through.
The leading podium challengers, in my opinion, are James Stewart and Chad Reed. Phoenix has been equally strong and punishing to #22. Dating back to 2003, a win has avoided Reed, but he has finished on the podium seven times, been runner-up five times, and only finished out of the top five once. That sub-top-five finish came spectacularly during the 2010 event where he and Stewart cleaned each other out. Take-outs have been huge at Phoenix. Remember Kevin Windham and David Vuillemin in 2004? As for Stewart, he was the man at Anaheim until he crashed. His attitude was great, he was scary fast and poised for victory... but he folded his bars around the gas tank and finished 17th. I don't make the news, I write the news and we'll all see if he can hold it together for 20 laps in two days.
My dark horse and long shot podium candidate is a racer desperately needing to prove himself: Jake Weimer. Weimer owns two 250 victories, and a 450 runner up finish in 2012 at Phoenix. Along with Weimer is a garrison of racers like Josh Grant, Andrew Short, Justin Brayton, and Weston Peick who are hungry for their chance to stand strong early in the season. Throw in rookie Eli Tomac, who experienced a nightmare at the opener and is a race-day decision due to a shoulder injury, and we are loaded for bear. That's all well and good, we're only 20 laps into this thing, and everything I've written is raging with speculation. That said, some hard facts spawned the theme for this week's column….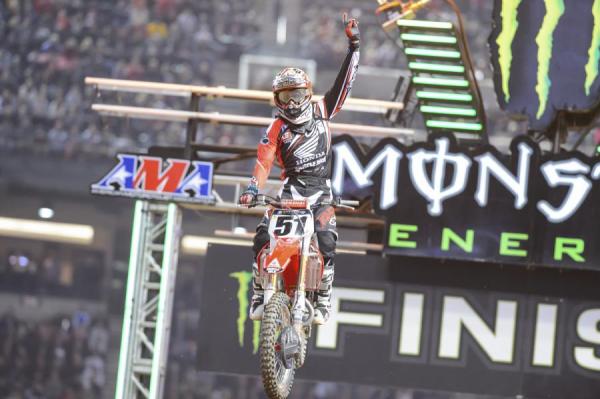 Justin Barcia returns to the site of his first career 450SX win.
Simon Cudby photo
Erik Arneson, VP of media relations for FOX Sports, reported some ratings to me following last week's live FOX Sports 1 broadcast. "Young male demos were up from 2013 with males age 18-49 posting a 15 percent gain (196,000 vs. 170,000) and males age 18-34 experiencing a staggering 127 percent jump (68,000 vs. 30,000)." In English, this means they've hit the target audience with a Louisville Slugger. It's no surprise to me that things are on the rise. Feld and FOX Sports are producing a Yeoman's effort and I expect it to build with each passing round.
There has never been a more thrilling time to be a supercross fan, and my hands are already sweating thinking about the next gate drops. Can Roczen back it up and further seat himself into the championship? Will one of the four former champions smack with a concrete fist, or will Justin Barcia announce that it is his time to rise? Two more days to find out!
Thanks for reading, see you next week.