BTO Sports is your number one source for all of your motocross parts, gear, accessories and apparel. BTOSports.com is a motocross company that is truly dedicated to the sport and to the customer. Proud sponsor of your Racer X Podcasts and the BTO Sports race team.
Yeah! Anaheim 1! Yeah! We're back for another year to bring you all the news and information (and some speculation) from the 2014 Monster Energy Supercross Championship. And continuing on with grand old tradition, the series kicked off in Anaheim, California. But unlike the last few years, we saw some new wrinkles for 2014.
It's the fortieth year of supercross and it looks like some much-needed cash was pumped into the presentation of the series. There was a brand new managers tower built with video screens on it and three other screens were added to the finish line tower. This was a serious investment into the look and feel of the series and I liked it. FOX Sports 1 is the new home of supercross on TV and they had a tower there for their announcers as well. The whole thing looked like a bit of a facelift. Not a Jerry-Jones-a-few-years-ago-facelift, just some nice nips and tucks here and there. I'm going to go out on a limb here, but someone I talked to (that is in the know) figures Feld dropped at least 300K into the look of the track. Bravo on this.
But still, the over/under bridge—which opens up the track and allows some fresh thinking, design-wise—isn't being used enough. And I'm still not happy about the deformed Canadian flag above the starting gate. It's not all roses and applesauce, folks!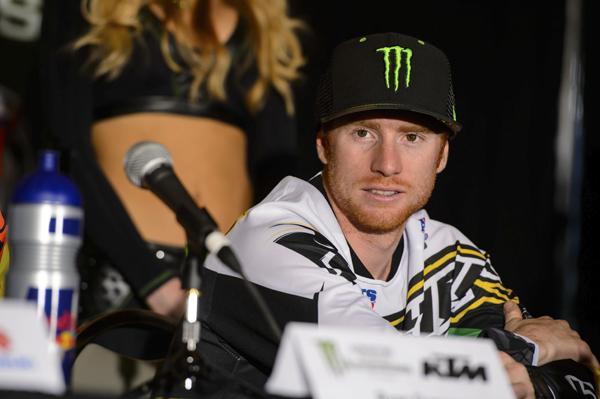 RV was off the podium for the second straight year at Anaheim. It meant little in the grand scheme of things a season ago.
Simon Cudby photo
Speaking of face lifts; we saw some new wrinkles added with the addition of the semi races. The semis were run forever and taken away a few years back to streamline the program (I was in favor of this by the way and just another thing I have been wrong about), but we've realized now that the sport missed them. With four to five riders capable of winning the heat races, there were a lot of teams and riders that were very, very good that were absolutely getting zero exposure in terms of TV time. Think of a guy like Broc Tickle who's on a big program (RCH) with some outside-the-industry sponsors and is top ten most of the time. He was invisible on TV most times except for when his team owner was making fun of him. Now with the semis back, Tickle could win a semi race and get that valuable TV time for his team and sponsors (and maybe even his dog!). Hooray for the semis coming back!
We had twenty-two gates down on the starting line forever but only took twenty riders. Why? I don't know! It would be like me getting a pizza with twelve slices and only eating ten, which is absolute crazy talk. But now we take twenty-two for each class and everyone gets a point! Yay! More main events for more riders like Nick Schmidt (more on him later) helps everyone out. Another nice change.
The 450SX class heats went first at Anaheim but that wasn't something that will be happening on the reg. It was something to try for now but with live programming running before the supercross races the promoters don't want the SX to be delayed and then the viewers miss out on the premier names in supercross—which I get and understand. Otherwise I feel like 450's first should be done all the time. They are the stars of the sport and should be spotlighted as such by being the first thing fans see.
Speaking of TV, it's a new channel, new look, with some new announcers—but some of you are as mad as ever about the coverage. There's never going to be any across the board changes that every moto fan will agree with, so why bother trying to make everyone happy? I was getting tweets and emails that it was the best TV coverage and also the worst TV coverage ever. I have to watch it again (and I have a column idea for that) but upon first watching (granted I fast forwarded a lot) I thought it was very good. I'm not a fan of yelling, "Ohhh" for stuff that we can't see, but what can you do?
Onto the track. Maybe I just haven't been in tune with supercross or maybe I'm losing my touch but I thought the track was tough for the first one of the year. The last four to five years the track builders haven't built the toughest A1 tracks ever (not like in 2000s or so when the whoops were like small VW bugs) and that's a good thing because it allows riders to ease into the year. Well this 2014 track looked to be pretty busy with lots of jumps, a tough whoops section and I thought it was a good test. But then nine guys ran into the same second as the leader in the main and no one else thought it was tough so I guess I was wrong.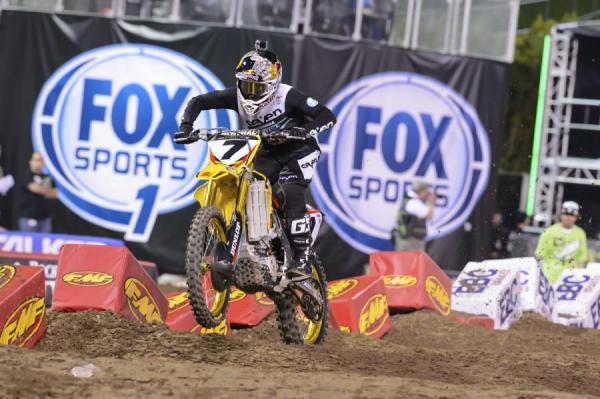 "I know you're going to look at the results and see James Stewart crashed out and go, "Yup, same old James Stewart." But I'm telling you, there was something different about this one." - Matthes on James Stewart's crash at A1.
Simon Cudby photo
There was a quad alongside the third base that was pretty gnarly and only the guys in the top ten to fifteen range were doing it. It required going a bit wide in the first turn, tripling in and then quading. It was pretty ballsy and about a half-second faster than the other rhythm. And Wil Hahn busting it out on the first lap of his semi race was super-double-ballsy. But then in the main no one did it, which sucked because I love tracks that reward the best and most skilled guys. I asked Ryan Villopoto why it wasn't used and got this: "There was another little tiny berm out there that got blown out and you couldn't do the triple."
So there you go. Stupid blown out berms cost us all a pretty cool track. As it was, everyone was doing the same thing and with no berms in a lot of the corners it was tough to make up time and do anything out there.
In the main, just like that, Kenny Roczen showed everyone what was up. The German wunderkind went out and won his first 450SX in his first race as a full-time 450SX rider (and his fifth 450SX race ever). And this after Kenny was caught and passed by Justin Brayton in the heat on the last lap and forced to ride the (new!) semi race. So with the eleventh gate pick, who would've thought Roczen had the stuff to ride away from the world's best riders? Not me. Yeah he finished qualifying with the second fastest time on the day and we know he's awesome, but a winner? I didn't think it would happen this fast, that's for sure. Southern California dirt gets slick at night and mistakes are easily made. Kenny wasn't the fastest guy on the night and at times was getting caught but he didn't panic, rode great, stayed smart and took an unexpected win.
The only bad news for Roczen is that, just as Rick Johnson told a 16-year-old Damon Bradshaw on the podium at the Osaka Supercross when Bradshaw had beaten him, "Now they're going to expect you to win every one, kid."
Most of us missed Ryan Villopoto's crash. He was out front and it was a foregone conclusion that Villopoto was going to check out and win the whole thing so why bother focusing on him, right? Wrong. Like last year, Villopoto went down and settled for a spot off the podium. Unlike last year he wasn't sixteenth, he was just fourth. It was weird to see RV just sort of settle for a fourth but afterwards he said it was too hard to make up those lost seconds and he was happy to take his fourth. And he's got a point because there were nine guys in the same second as the leader at A1. That tells me that the track wasn't very hard at all.
In talking to the Kawasaki guys, they felt like last year the switch to Showa suspension left them a bit behind the eight-ball. Remember when RV was having problems with crashing and we wondered about the switch to the Showa air forks? Remember when those guys denied that it was an issue? Yeah, they pretty much admitted that they weren't where they needed to be, and all season they were playing catchup. Well this year they worked hard on the chassis to get caught up and really got to know the Showa components inside and out.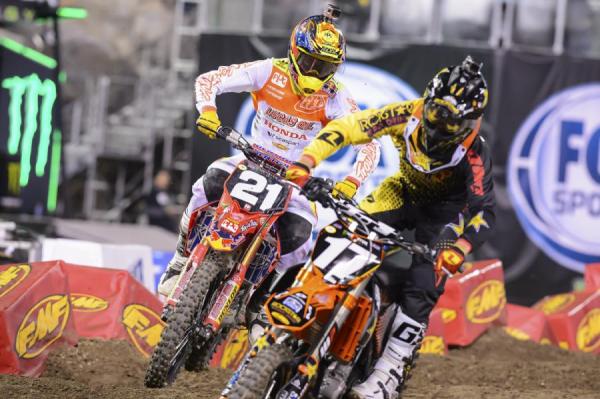 Jason Anderson (17) came away with a tough win over Cole Seely (21) in 250SX.
Simon Cudby photo
I felt like Ryan Dungey could have won the race had he been a bit more aggressive early on. Stop me if you've heard that before. A rather ordinary (for him) fifth in qualifying and a fourth in a heat race indicated that maybe it wasn't going to be his night, but smooth and steady dudes (Roczen, Dungey, Chad Reed) were rewarded more than the balls out guys (James Stewart, Ryan Villopoto and perhaps Justin Barcia). Dungey rode a smart race. He caught Reed two different times but wasn't able to get by quick enough. He was also stuck behind Reed for a while in their heat race. It was so bad that Weege remarked it was time for Reed to bust out the old, "Hi Ryan" butt-patch that Ping suggested a few years ago.
Eventually he did get his way by Reed and reeled in his teammate Roczen a bit (by the way, keep on eye on this relationship; Roczen practices every day with Villopoto, and if he keeps beating Dungey, things could get weird under the orange tent. How do I know? No real reason other than I've seen it time and time again in my fifteen years in the professional motocross pits) but it was too late. Dungey's probably happy with his second and he should be, but you hate to not go for the win when the opportunity presents itself.
I know you're going to look at the results and see James Stewart crashed out and go, "Yup, same old James Stewart." But I'm telling you, there was something different about this one. Weege and JT disagree with me, but this wasn't the balls-out Stewie that we have come to know and love. Stewart rode a calculating, smart and fast race where he passed Ryan Dungey, Chad Reed and Ryan Villopoto (RV was on the ground, though) and worked his way up to Roczen. And keep in mind he was around tenth or so on the first lap. It took the #7 fifteen long laps to make his way up to the front, not three or four balls out laps, and he was smooth and in control. But then as he went for the pass he got jiggy in the whoops and went down. That ended his night with a jacked up bike and everyone had thought about how they had seen this program before. It was as predictable as Archie Bunker making a very off-color joke.
I just think it's different. James was patient, he was very fast and an accident in a set of tough whoops (where he was taking a little different line than a lot of people) isn't an indicator that he's the same old James. Call me crazy (and people are) but I saw a very impressive James Stewart at A1. If he does his thing where he goes crazy balls and crashes out I'll admit I was wrong. Just wait a few weeks and we'll talk more about it.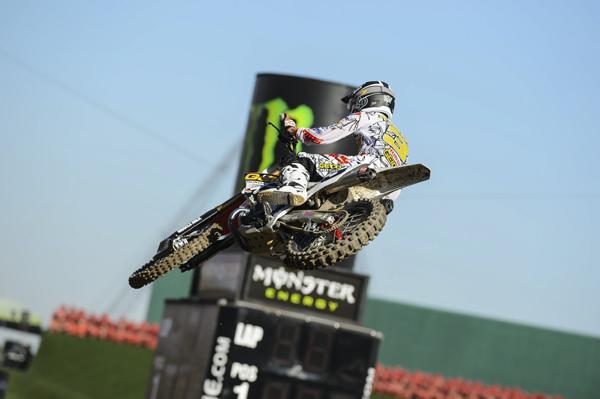 Eli Tomac missed the main in Anaheim due to a left shoulder rotator cuff contusion suffered in his heat race.
Simon Cudby photo
I was talking to David Vuillemin about A1 and he's a guy that knows a thing or two about winning supercross races. He had an interesting take on why James crashed.
"About his crash, everyone has their opinion and blames his history of yard-sailing or blame the slickness of the whoops. I analyze it differently. He hits the whoops with the rear wheel higher than everyone else. That's what makes him fly through them. While hitting them with the rear wheel lower isn't as fast, it is safer because you have more plant on the tire and since you have more inertia when you hit them you have less chance for the bike to go sideways. James barely touches them, which makes him so fast, but it's not as safe when you catch an edge with the rear wheel. If he were hitting the whoops a couple of inches lower, he wouldn't have crashed. Basically, he's too good and too fast in them and when something wrong happens, like catching an edge, he can't save it. He's pushing the limits of physics. Sometimes, like the French saying says, 'The better is the enemy of the good.'"
So basically DV is saying that James is too fast in the whoops and rides on that fine, fine line in them. I don't know if he's right or wrong, but it's an interesting theory.
Readers of this space will know that I've been predicting 2014 to be "The Year of the Anderson" (maybe that's a bit bold, but you get my drift), and Jason Anderson proved that this year, his fourth in the class, he's ready to become a contender for an SX title. Anderson won his heat and passed Cole Seely with two turns to go to capture his second career 250SX win in dramatic fashion. And props to Anderson, he was passed by Seely early in the main and just never gave up. He used a fortuitous bit of lapper problems encountered by Seely, combined with some speed in the closing laps, to take the win. As their team manager Dave Gowland told me afterward: "Can you believe we won here again?" Kawasakis, Suzukis and now KTMs—the Rockstar Energy Racing team is making it happen.
Let's take a look at the results shall we?
250SX Results
1 17 Jason Anderson Rio Rancho, NM KTM 250 SX-F- We wondered how Anderson would adapt to the KTM. I think he's good.
2 21 Cole Seely Lake Elsinore, CA Honda CRF 250- I was happy to see that Seely handled his last lap pass by Anderson with class. I'm sure he was pissed, that pass was probably a 50K difference, but he kept it together. Some racers would be tearing apart the podium like Godzilla after giving up the lead with two corners left.
3 16 Zach Osborne Chesterfield, SC Honda CRF 250- I believe in death, taxes and Zach Osborne. It's that simple. Should Wilson falter or get injured (I hope not) then Osborne is, to me, the next guy. I know, I know, he's never won an SX race and Wilson, Anderson and Seely have. And I know, I know, it's really hard to be a first-time winner and then go on to win your first title. But I like what Zach's all about. Plus he shaved his head and nothing says, "I'm ready bitches" like a shaved head.
4 15 Dean Wilson Wesley Chapel, FL Kawasaki KX 250F- Poor Dean Wilson. He came into A1 real close to not being in A1, as a crash in practice left him with a bad elbow. He decided to race and fought hard for third place before settling for fourth.
5 37 Cooper Webb Newport, NC Yamaha YZ250F- Webb's first ever supercross race wasn't too shabby at all. I'm interested in whether or not that new Yamaha YZ250F is any good. I hear it is but I need to watch it more and talk to some more people.
6 35 Justin Hill Yoncalla, OR Kawasaki KX 250F- I've been hearing that both Hill brothers have been killing it this off-season (and no, I didn't rely on a Dirt Shark video to tell me that) and Justin had a good heat race. But in the main he was just okay.
7 45 Darryn Durham Butler, PA Kawasaki KX 250F- This was Durham's first SX race in almost two years and he's never raced out West either. Timmy Ferry's second favorite rider did okay at Anaheim and I'm sure he'll get better. To me, he's one of five guys that can win a race on the west side.
8 34 Malcolm Stewart Haines City, FL Honda CRF 250- I know, I know, Mookie pulled a holie in the heat and a good start in the main, but I still think he's too big for that 250F, dammit. But no matter what, he's still got those sweet Stewart skills.
9 50 Jessy Nelson Paso Robles, CA Honda CRF 250- Quiet race for "The Thumb." But still a top ten and better than last year when he crashed out. I feel like in about two to three weeks we're going to notice Nelson a lot more.
10 61 Austin Politelli Menifee, CA Yamaha YZ250F- Guess who's back? Larry Effing Brooks, that's who! LB's working with Politelli on a Yamaha and helped the kid earn a top ten and become the first "guy with the least help" in the results. Wait, this just in: Politelli suffered a broken femur in practice on Tuesday. Bummer!
11 89 Michael Leib Menifee, CA Honda CRF 250- I see Leib is wearing AXO gear, which is a huge bummer to me because I had heard that because no one would pay him to wear their gear he was going to rock just all-white generic stuff with no logos. That would have been awesome. Fight the power, Michael. Fight the power.
12 66 Jake Canada Sun City, CA Honda CRF 250- Jake the Snake was way back off the start due to a crash and fought hard to get this finish on his 51Fifty (Coming at'cha!!!!) Honda. I'm very, very, very interested in who is going to be left standing at the top of the "guys who do the most with the least" pile at the end of the Western Regional 250SX Championship. Now that Politelli is hurt, Leib and Canada should battle it out.
13 83 Dakota Tedder Surfside, CA Kawasaki KX 250F – Look at it this way, no matter how he does, it's going to be hard for Dakota to lose his ride. He's locked into his team for a long time.
14 111 Dean Ferris MURRIETA, CA KTM 250 SX-F- It's weird. Some Aussies I talk to think Dean is going to kill it in supercross, others say he's much better outdoors and he needs to learn SX. After A1, I'm going with the latter. Just stay healthy and get ready for outdoors, Dean. Don't pull an Albee.
15 71 Zachary Bell Cairo, GA Honda CRF 250- Although he crashed a few times, Bell finished. That's a start and hopefully everyone can just work on fifteen solid laps before he unleashes himself.
16 87 Shane McElrath Chesterfield, SC Honda CRF 250- The TLD kid is learning the ropes and hopefully he gets better from here.
17 737 Valentin Teillet Lake Elsinore, CA Kawasaki KX 250F- I called this French kid for a possible top ten. Wow, was I off. He'll get better; he hasn't been over here for that long.
18 65 Zackery Freeberg Riverview, FL Honda CRF 250- Politelli bailed on this team at the last moment when he didn't want to run a team sponsored product so the guys at Strikt/Slaton Racing grabbed the talented Freeberg for the spot. He's a tad big for a 250F, but he made the main.
19 84 Scott Champion Orange, CA Yamaha YZ250F
20 97 Topher Ingalls Carmel, CA Honda CRF 250 –Ingalls couldn't start his bike before the main but then it fired right before the gate dropped. Whew! Ingalls has raced in Canada so much, he's practically Canadian. And his bike not starting proved that because he has no money for new spark plugs because the Canadian purse isn't very good.
21 142 Cole Martinez Rimrock, AZ Kawasaki KX 250F
22 565 Preston Mull Livingston, CA Yamaha YZ250F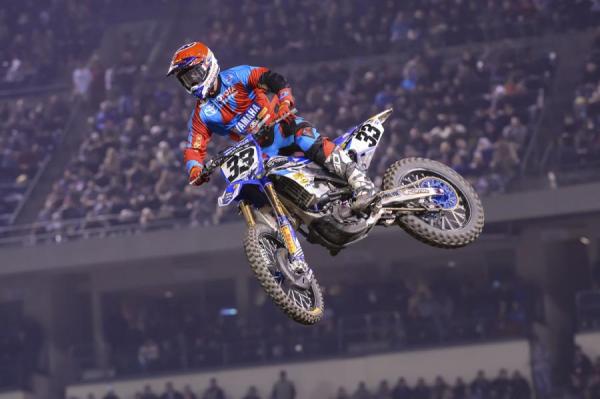 Josh Grant (above) and Justin Brayton got JGR Yamaha off to a solid start to the new year.
Simon Cudby photo
450SX Results
1 94 Ken Roczen Murrieta, CA KTM 450 SX-F- Kenny went with the air shock but then after a practice he was told that the team had discovered a problem with it and had to take it off. Roczen thought the air shock worked a little better in the whoops than the spring shock but Roczen also said that he'll stick to a spring one from here on out. I say, we'll see about that.
2 5 Ryan Dungey Belle Plaine, MN KTM 450 SX-F
3 22 Chad Reed Dade City, FL Kawasaki KX 450F- I heard that Reed preferred the standard transmission (just strengthened) over a Kawasaki works tranny and I can't believe that. So weird. No rider I ever worked with would turn down a taller first or second gear in supercross, but hey, it's Chad Reed. It's like looking a shark in the eye and apparently sharks like standard transmission ratios. By the way, Chad Reed is back. He's fitter and faster than he was last year. Watch out for the 22.
4 1 Ryan Villopoto Seattle, WA Kawasaki KX 450F
5 51 Justin Barcia Pinetta, FL Honda CRF 450- Do NOT sleep on this fifth place finish. Bam Bam was the fastest guy in practice, caught and passed Stewart in the heat race to win and was looking good (even if the glue on the grade five silver stars on his jersey were not). But a terrible start in the main did him in. That was all she wrote for Barcia but he did well to work his way to fifth. I'm on the Barcia bandwagon but it's a bit lighter after this weekend. Get on board, there's plenty of room now!
6 10 Justin Brayton Cornelius, NC Yamaha YZ450F- Sneaky-good race for Brayton this weekend. He charged hard all main event after a good start. He and his teammate, Josh Grant, both were up front all day long. With this field, a sixth is great. I have no issue with Brayton's ride and remember, he caught and passed eventual winner Roczen in the heat race.
7 33 Joshua Grant Corona, CA Yamaha YZ450F- JGR Yamaha was the benefactor of the suspension wars that are now going on. It's no secret that Showa has grabbed headlines with Kawasaki switching over. JGR was a Showa team (Yamaha's come stock with KYB's) and KYB felt like it was time to do some work. So they stepped up their support with JGR (and probably pressured Yamaha to pressure JGR to switch over) and KYB is back on JGR. They definitely want to break the perception out there (not fact, perception) that Showa is better and JGR will be better for this.
8 20 Broc Tickle Holly, MI Suzuki RM-Z450- I liked Tickle's look. It was strong. His mechanic Tony Berluti was wishing that Broc was a bit more aggressive out there with Grant at the end of the race. And it's something they're working on with Tickle, trying to get him to eye of the tiger status. Maybe a jog in the surf with Apollo is in order?
9 29 Andrew Short Smithville, TX KTM 450 SX-F- Short was solid. Andrew Short is always solid. Short's got the air shock on the back of his 450 and likes the feel of it in the whoops (like Roczen). Knowing Andrew like I do, I'd say that he was nervous all day about the race and he'll take his ninth.
10 12 Jacob Weimer Rupert, ID Kawasaki KX 450F- Weimer had a terrible A1. He crashed hard in the heat, got "Friesed" in the semi and then was only able to manage a third in the LCQ. And his elbow was all freakish looking at that. If you had told him after the LCQ that he would get a tenth, I bet he would have taken that.
11 23 William Hahn Menifee, CA Honda CRF 450- I loved Hahn's move in his semi where he was in a pack of guys near the front and then just quaded the crap out of the rhythm section to grab the lead. As far as Hahn in the main event? Yeah, I didn't notice him much. But eleventh is okay.
12 800 Mike Alessi Hilliard, FL Suzuki RM-Z450- First the good. Mike won his first ever 450 heat race when he basically guessed the gate drop and incredibly, nailed it. It might have been the single greatest holeshot in the history of supercross. And in my opinion Mike shouldn't have pushed his luck but he tried it again in the main and hit the gate. To me, if you're guessing the gate drop and you get it (which Mike did) then that should be it. You should be smart enough to know that the odds are incredibly against you to get it again. Mike wrecked a chance for a better finish with his amateur move and I hope he doesn't do it again. What if every guy on the gate just said, "eff it" and guessed? Alessi's working with Michael Byrne this year and it seems to be helping. After being dead, dead, dead last Mike got twelfth so there's that. As far as Mike's breakdown after the heat race, I can't sit here and pretend to be in Mike's boots so I won't judge. But I think we can all agree that it was a weird reaction to winning a six-lap heat.
13 102 Matt Moss Nerriga, Australia Suzuki RM-Z450- I predicted early on that Moss would make the main event and be the guy that caused program sales to go through the roof. Nick Schmidt had a different idea and became that weirdo guy who no one knew, but Moss was still pretty good as an unknown. He was an easy pick to make the main and his road to redemption from being perhaps the weirdest factory rider pick ever [Dunge's totally-forgotten teammate on factory Suzuki in 2010] to Aussie SX champ to top ten 450SX guy is almost complete.
14 415 Nicholas Schmidt Riverside, CA Honda CRF 450- Congrats to Nick for his second ever 450 main event and he caught my eye early on in the day when he looked pretty fast and had sweet Bradshaw-style hair out the back of his helmet. Turns out, a few people I talked to were not surprised at all that Nick made the main; he had been giving some big names some heat during the week at Milestone SX.
15 82 Kyle Partridge Canyon Lake, CA Honda CRF 450- Partridge rode well. He's a good supercross rider and a main event threat every week.
16 40 Weston Peick Wildomar, CA Suzuki RM-Z450- You might think Weston's sixteenth isn't very good and you'd be right, on paper. But this finish included him going into the mechanic's area for repairs at one point. I was talking to Weston's dad, Louie, earlier in the day and he was saying that Suzuki has helped out this year and their whole program is better than ever. Weston's lap times were very good.
17 7 James Stewart Haines City, FL Suzuki RM-Z450- I'm telling you, this was a different James Stewart. But check back with me in a few weeks.
18 75 Joshua Hill Yoncalla, OR Suzuki RM-Z450- Hill jacked up his back at some point and also jacked up his race trying to take out Matt Moss over something that happened in Australia.
19 77 Jimmy Albertson Shawnee, OK Honda CRF 450- Jimmy had a scary crash and then his bike broke. Or his bike broke after he crashed. Either way it wasn't good. Albertson got an absolute gift into the main event on the last lap of the semi when Kyle Partridge and Matt Goerke crashed into each other.
20 44 Matthew Goerke Temecula, CA KTM 450 SX-F- Goerke broke his finger when he got caught up with Partridge and might be out for a while. Bummer for sure.
21 9 Ivan Tedesco Murrieta, CA KTM 450 SX-F- Tedesco was not happy with Andrew Short for putting him down hard enough that there ended up being a hole in his KTM, and Tedesco's first SX back in over a year was a bummer. Nick Wey said that Short definitely got Ivan pretty good and with Andrew and Ivan having history in the past, look for payback at an upcoming supercross near you!
22 42 Vince Friese Cape Girardeau, MO Honda CRF 450- I watched Wil Hahn catch and dive underneath Friese in the main event. Vince is a fighter and probably should've checked up once he knew that Hahn had gotten him. But he didn't and kept it pinned around the outside while Hahn's momentum took him under Friese, then by Friese, and then Vince ran out of ground and crashed. It was a normal supercross pass and if you're Friese and you live and die by the sword, what you should do is shake it off and keep racing. Or maybe not. Maybe what you do is wait for Hahn and then chase him around the track trying to even the score before getting black flagged. C'mon Vince, we all thought you had changed! Not a smart move for the #42.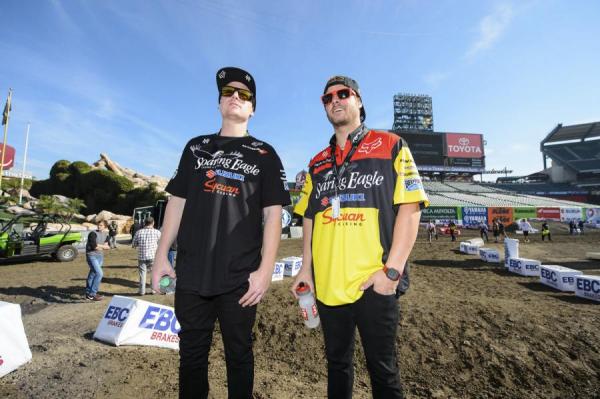 RCH brought on two former Kawasaki guys (Sergio Avanto and Kaipo Chung) to help the efforts of Josh Hill (left) and Broc Tickle in 2014.
Simon Cudby photo
Here's some news and notes from A1:
RCH has gone big with the addition of a couple of guys on the chassis side to help them develop some better bikes. It's no secret that the team already seems to have a ton of people underneath the tent but they went out and hired Sergio Avanto (of factory Kawasaki) and Kaipo Chung (also from Kawasaki) to help the team's bikes in the suspension department. Both of these guys have been around for a long time and it will be interesting to see if it helps out the bikes.
Speaking of Suzuki, wow, they're hurting in the 250SX Class. Just two privateers out of fifty-five riders entered in that class. They have no official team in the small bike class and no real fast riders. But hey, if Yamaha can turn it around so can these guys. The thing that Suzuki has going for it is that their 250F is a solid bike, whereas Yamaha wasn't producing a modern state-of-the-art bike that any racers wanted to ride.
It's always bugged me that Feld Motor Sports, because of a contract between them and GoPro, haven't allowed other competing camera companies into the pro pits. You can debate the logistics of exclusive deals all day long, but bottom line was GoPro guys got to watch film and learn some things while other guys that were getting money could not. It was a bit of a competitive advantage, no doubt about it. Well the GoPro and Feld guys have fixed that with the introduction of free GoPro's for just about everyone out there that so desires one. The racers are now free to use a GoPro for practice and watch footage of their lines and I say hooray for that.
Thanks for reading, I'm pumped to start typing these things out for you once again, and this is 5000-plus words, all for you and you only. Email me at
matthes@racerxonline.com
and tell me what you thought of Anaheim 1.