Angel Stadium
Anaheim

,

CA
Anaheim I (A1)
Monster Energy AMA Supercross Championship
By Jason Weigandt, Steve Matthes and Aaron Hansel
Ryan Dungey, Red Bull KTM, 2nd in 450SX
How did it go?
Day was good overall starting from the beginning. Practice one and two I definitely had kind of a harder time getting into things. Going into the third one we made a couple adjustments and I felt much better. I felt like I got the track dialed in, pulled the trigger on this triple quad we have going on, although we didn't do it all night racing. It's crazy with the lap times being practice qualifying the fastest lap is the first one goes to the gate. It's crazy; these guys are sprinting these all-out-effort one-lappers. Which, I personally don't know if they can run them for all 20 laps. I know that what I threw out there on the board was maybe not something I could do or 20, but maybe so. With that being said, qualifying's tougher. The heat race felt nice and got a good, decent start in that and ended up fourth. Made a few changes going into the main event and ended up second. So I was happy with things. Could have been a little bit quicker on the passing.
Last year you struggled the first few rounds and then things started to turn around. So it seems like you're much further ahead than that.
That's what we always shoot for every year. This year I feel like we've done a good job with the bike and setting it up. We've got some great key people at KTM helping us with that. That being said, it's still going to be tough. This race, these guys made mistakes and on any given night where they don't make a mistake it's going to be five, six guys battling for a top spot. – Jason Weigandt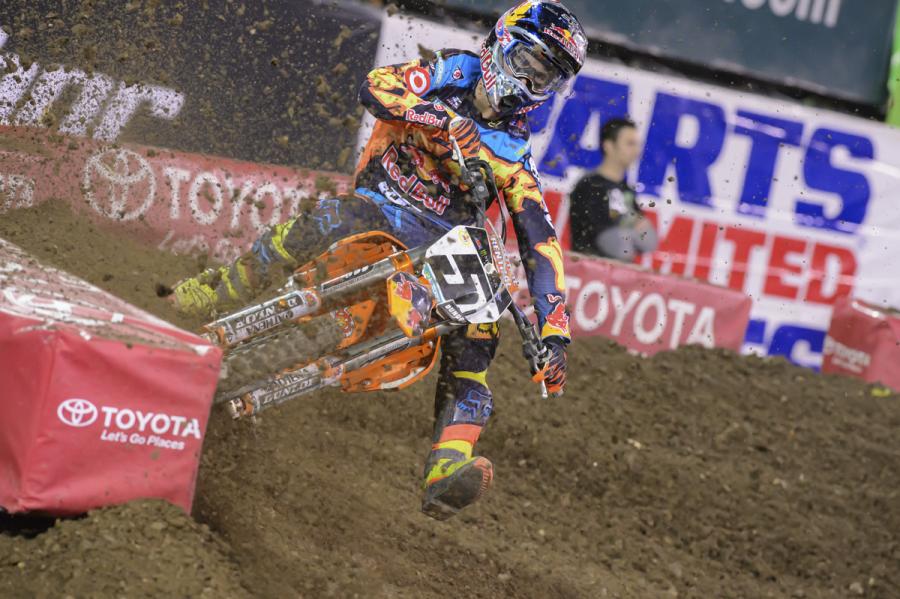 "This race, these guys made mistakes and on any given night where they don't make a mistake it's going to be five, six guys battling for a top spot." - Ryan Dungey
Simon Cudby photo
Chad Reed, Discount Tire TwoTwo Kawasaki, 3rd in 450SX
Do you care about… you had a bad a season. Are you like, "Yeah, I'm showing everybody!" Or do you even care about that kind of thing?
I mean, I'd be lying to say that there's not a certain satisfaction in coming here and being a podium guy, but you don't have 12 staff and millions of dollars getting spent to be just average. We've put a lot of effort into this. And honestly I'm happy, satisfied, but I feel like I have a whole lot more than that. There was a lot of opportunity to win tonight and I just didn't get it done. I rode tight. I think I put a lot of expectation on it. I worked my ass off this season and truthfully just felt that I had a good shot at it. I was prepared and knew all that. That should put me a position to just go out there and get it done. But for whatever reason I rode tight. But, a lot to be excited about. The fact that the feeling's back. Riding out there, doing opening ceremonies with Tate, it was big night.
The feeling is the most important thing. That's always been your thing. You've always used that term. It's there right now?
I hear so many times you're old, you got kids, you made your money, why? And for me, I have the passion. I absolutely love it. I couldn't think of my life any other way than coming out here. I've had best friends pass away, I've had best friends get hurt… it's part of it. I have a three and a half year old son that's probably going to do the same shit. It's just something that you do. If it's my turn, it's my turn. I want to come out here and lay it down like I did in 2012. I felt like I was laying it down then and I got hurt. We've been struggling ever since. I'm comfortable, I'm fit, and I'm excited to be at the races. So we'll see what we can do.
Can we take anything out of this being the first round? More specific, like can we analyze what each of you guys did on each lap, or is it the first round and it's not really necessarily the way the races are always going to play out? Say Kenny wins. Does that mean much or is it just round one craziness?
It's round 1. Kenny won. He's a talented kid. I think he's a mature 19-year old. He's going to be a threat I think every weekend. He's a good starter. Clearly has a good program now. A lot happened. It's Anaheim, the champ crashed, Stew crashed, one of the rookies didn't even make the main event. Just typical A1 stuff.
This is always a little weird anyway.
It's always weird and I think when February/March rolls around we'll have an idea of how this thing's are rolling. But I just see this thing being tough. You got young kids that are willing to throw down. They're going to have good nights, they're going to have bad nights. So as a seasoned guy that kind of knows that you got to be there every weekend I think it's just going to come down to starts and being up in the pace and…. The 20 laps is all that matters. For me, not to be too disappointed about being sixth or seventh in the qualifying practices, that's just going to be part of it unfortunately, just because I'm not prepared to go lay it down like they are. – Jason Weigandt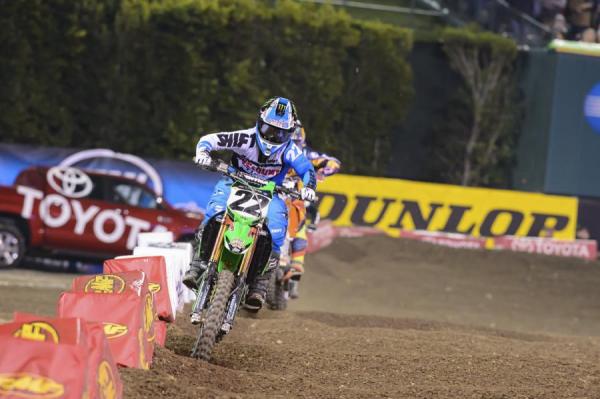 "I mean, I'd be lying to say that there's not a certain satisfaction in coming here and being a podium guy, but you don't have 12 staff and millions of dollars getting spent to be just average." - Chad Reed
Simon Cudby photo
Ryan Villopoto, Monster Energy Kawasaki, 4th in 450SX
It's a lot better than last year, still fell. I'm a little curious, are you okay bike and body-wise? You seemed to lose the pack a little bit. It's a little weird.
I felt like we started off decent with Anaheim 1, all the hype. The track is normally not very good for whatever reason always at Anaheim 1. I thought it started off all right. Had a decent heat race. Got a great start in the main event. I was putting in some clean laps. Track was a little awkward. I thought it was harder than normal, than typical Anaheim 1. It was pretty hard this year. Being that the layout was kind of funny, that also played a factor and it made it harder to race the track. So that played a factor. I felt like once I kind of got into a groove I just was laying on the ground. It was almost like the track didn't really let you find a good groove.
You weren't really pulling away much from anybody. I'm sure you were trying your hardest.
For sure. We were all doing the same rhythm section. Not that we're going to find a lot of tracks that the riders do different stuff but sometimes there's situations where we can do things that are a little bit faster. But being that after the whoops it was like a flat berm and after the finish was a flat berm, before the sand was a flat berm… It made it hard to really carry a lot of speed. We all kind of just made it through the turn.
So you maybe settled a bit? It's a little unlike you to sort of lose the gap from the front guy, so you were like, "Hey I'm in fifth and it's a hell of a lot better than last year?"
Obviously after I fell, I got up and tightened up a little bit. Those front guys were just inching away from me. Actually once I saw Stew kind of start to catch those other guys I was like, "Well this is going to be interesting." And then a couple laps later it got interesting.
How about that heat race? You and the 800. He pulled a start from… He just gassed and went and he got it, good for him. And then he hit the gate in the main. But that heat race was pretty gnarly.
Yeah, another little mistake by me. I stalled my bike and then caught back up. What can I say? When you get somebody that kind of has that mentality and that riding style you're going to always get that out of him. That's his MO.
Well you gave us a lot of emotion from him.
I saw that. It was very interesting on TV there. I'm sure it made some people uncomfortable.
Anaheim 1, lots of commitments, sponsors, media, new bike, everything. Is it a tougher race to focus on than say when we go to St. Louis?
For sure. Anaheim 1, there's a lot of hype around it. Obviously everybody comes out of the woodwork for the first race. Like I said, the track is always a little bit different here for Anaheim 1. Now that we're through this, Phoenix will be a lot calmer.
Nobody really did the quad in the main. How come?
Because there was another little tiny berm out there that got blown out and you couldn't do the triple. – Steve Matthes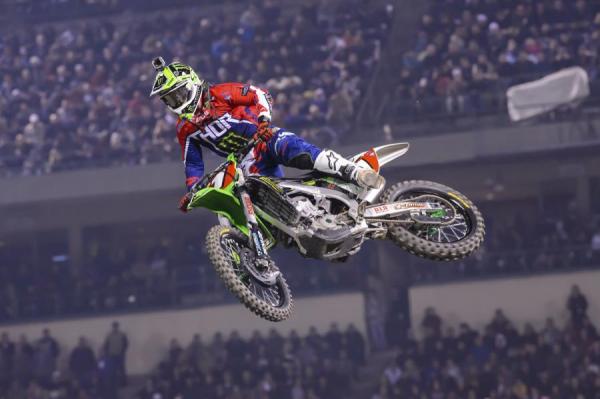 "Obviously after I fell, I got up and tightened up a little bit." - Ryan Villopoto
Simon Cudby photo
Justin Barcia, Team Honda Muscle Milk, 5th in 450SX
Take us through it.
The heat race or the main event?
The main, although we can talk about the heat race if you want, it went well for you.
Yeah, that was my good one tonight! The heat race was great. I got a good start behind James [Stewart], made a nice clean pass and that was pretty much how that race went. In the main event I got a bad start and I was way back. I think I was second to last, but I worked my way up through the pack up to fifth. My lap times were good, but when everyone is that fast you have to get a good start.
We were watching your charge up in the box.
Yeah, I felt like I rode really well today. I was fastest in the second practice and had a great heat race. I was really happy with myself. I've been working hard and I feel great. Obviously the main event doesn't show that, but the guys who were watching saw me charge through the pack and do what I could do. I just have to get that start! I'm going to go to the Honda test track this week and work on my starts.
How was the track?
It was tough. It was slick and hard, and the whoops were sketchy. Stewart, I saw him go down, so that sucks. Anaheim is always tough because it gets so slick by the end of the night; the moisture starts coming up.
Well Phoenix is next, and that went well for you last year.
Yeah, I love Phoenix! I never went to Phoenix before last year, and I ended up winning. I'm excited to go back and try to repeat. I think the competition is going to be really hard this year, but if I just go out and ride like I did today with a better start I'll give myself a fighting chance. – Aaron Hansel
Justin Brayton, JGR Toyota Yamaha, 6th in 450SX
How'd the night go? You happy with it?
Yeah, I think I met some of the goals tonight for sure, coming out of here with a sixth, and more so than the result of just being in the mix. I was battling with guys that I should be battling with. In the heat race I didn't get the best start but I came through the pack and passed guys that I should be racing with and worked my way up to the front. Same thing in the main. I was lined up next to Alessi and whatever happened with him…
Did that mess you up?
It messed me up big time. His gate, he's next to the box and I'm directly to the right of him. So when he goes it messes up my gate too. And you're kind of messed up; just the whole thing is tough. So the gate dropped and it was just weird. I ended up getting a bad start but I came through pretty good on the first lap. I don't know what I crossed the finish in but I made some good passes to begin with. Then rode kind of an uneventful race and was close to Barcia at the end. So I raced with guys that I should be racing with. I was aggressive in the heat, made a lot of good passes, did stuff I've been working on. To come out of here with a sixth I think is a step in the right direction.
It didn't look like opening night tentative like a lot of guys do. It looked like just a regular race, and not like opening night jitters.
What's funny, the longer I do it the more calm I am. For some reason I felt like today was like round 10. – Jason Weigandt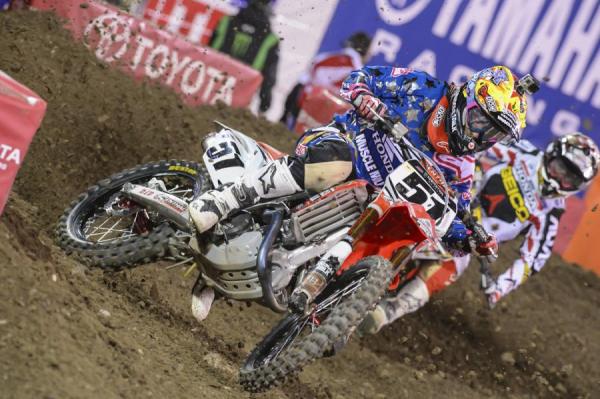 "It was tough. It was slick and hard, and the whoops were sketchy." - Justin Barcia
Simon Cudby photo
Andrew Short, BTOSports.com KTM, 9th in 450SX
First of all, I'm impressed. You're 45 years old and you quad the rhythm section. I like that. That's good.
Yeah I grabbed my balls in that one section but the rest of it I rode like a grandpa. Really nervous today, I don't know why. I think this is my 14th season racing, coming here to A1, and it wasn't pretty. But I made it through it healthy and I feel like each week I'll build but I think I need to work on sprinting for sure.
But it's a hugely deep field with all these kids in it, and there's Andrew Short, 9th place at the end of the night. It's not too bad for the opener.
Yeah, it was okay. Definitely had worse and I've had better. But it's crazy racing this year, the new format. I really enjoyed it, but it seems like you sprint quite a bit. You had to watch your back all night. It seems like people were diving in on you and you had to be really aggressive, so it was a crazy night. Glad to make it through it safe and looking forward to Phoenix.
What'd you think of the track? Generally they make Anaheim a little easier. I thought tonight was tougher.
It was pretty technical. It dried out in practice. I thought it was going to be more dry and slick as the night developed but the moisture came out pretty well. I don't know the weather or whatnot, I think it developed. It was pretty technical. The whoops, they were really tough early on and they kind of came around. But the rest of it, the dragon's back onto the table and slamming into that thing, those are the things that made the track hard.
How was the quad?
It was fine, but no one even did it in the race. It was too hard to go wide and it kind of wrecked the berm, as the night program went on. – Steve Matthes
Jake Weimer, Monster Energy Kawasaki, 10th in 450SX
If I had told you on the starting line for the LCQ that you would be able to get a 10th in the main event, you probably would have took it.
Just all things considered after the crash in the heat race… the semi was obviously my fault. Just a stupid move on my part. It was just rough. That crash beat me up, the heat race crash. I'll probably feel the effects of that for a little while. Considering everything that went down, yeah.
Are you mad at Tomac?
Yeah, for sure.
I watched it on replay…
You know what? I wouldn't have been mad at him at all had he not jumped up and threw every cuss word in the book at me. Had he not have done that I never would have said a word and I would have said, you know what, it's racing and that's how it goes sometimes. But him jumping up and throwing every cuss word at me that he could think of, that fired me up. – Steve Matthes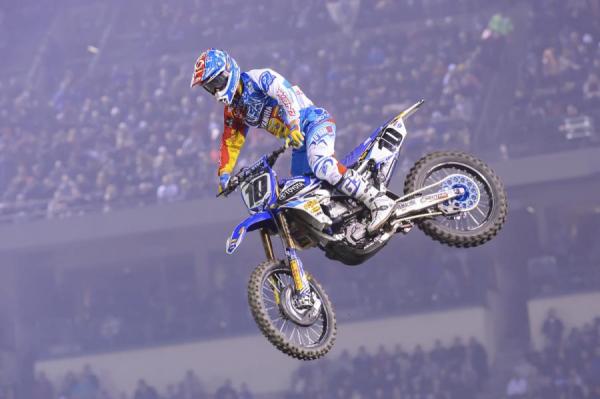 "I think I met some of the goals tonight for sure, coming out of here with a sixth, and more so than the result of just being in the mix." - Justin Brayton
Simon Cudby photo
Mike Alessi, SmarTop MotoConcepts, 12th in 450SX
Talk about the heat race. It was pretty awesome.
Yeah, just the feeling of winning. The emotion that was coming out, I was super excited. I couldn't hold it back. It's 10 years of professional racing, that [was my] first heat race win.
That is your first heat race win on a 450?
Ever.
That's kind of hard to believe.
I came really close the night that I podiumed in Indianapolis in 2009. It was Millsaps, me, Villopoto, like we were at Loretta Lynn's again. I came really close there. But tonight we finally sealed it. It was tough. I know a lot of people think six laps, heat race, it's not a big deal. But you know what, you've got to start somewhere and for me it's a great building block and a lot of positives coming out of this weekend. It's just a huge accomplishment.
Did you have the same gate in the main event?
Same gate, yeah.
The holeshot, you've obviously had a lot of them, but that heat race holeshot was ridiculous. Do you realize even how big a holeshot that was or did you not even really see it?
It was big. I tried to go for two. Tried to roll the dice in the main and it didn't work out. I mean straight up I choked it. I hit the gate, stuck in the gate, tried to get the bike pulled out…. I didn't ride that great of a race but I came back from dead last to 12th, which was pretty good. And we'll just build on that and look forward to Phoenix next week with some positives. It can only get better from here.
You didn't think you rode as well in the main? Once that kind of messed you up?
No, I rode good the first two or three laps to get back to the group and then once I got to the group everybody was… When you experience getting a great start and then you go from being out front to the very back it's a lot different of an atmosphere. Everybody's going left, right, up, down… So that was an experience. I was rolling the triples for like two or three laps in a row because the guys were backing out of the triples so I had to go with it. And I'm not used to that. Then everybody's like cutting each other off, cross-jumping in mid air. I started riding tight and I just wasn't hitting my marks in the corner, wasn't hitting the whoops properly. I just wasn't on my toes. I kind of stopped thinking and I just tightened up. – Jason Weigandt