Everything was on the line for Jace Owen in 2013. A year after losing his factory supported amateur ride with Suzuki, Owen's final amateur season was filled with pressure. His results in 2013 would determine his pro future. The Illinois native showed dazzling speed in the A classes at the Red Bull AMA Amateur National Motocross Championship at Loretta Lynn's, but untimely crashes—including a big get off in the Ten Commandments while leading moto 2 of 250 A—stifled his title aspirations. A few months later he was a lap away from taking the Amateur All-Stars title at the Monster Energy Cup. A last lap collision with eventual winner, RJ Hampshire, cut short those hopes. But Owen landed on his feet, signing a pro deal with Factory Metal Works/Wideopen/Club MX for the 2014 season. We talked with him earlier this week about his new deal, the pressures his final amateur season brought and much more.
Racer X: You recently signed a deal with the newly formed Factory Metal Works/Wideopen/Club MX team. Take us through how the deal came to fruition.
Jace Owen: Yeah, just recently I signed a deal with the Factory Metal Works/Wide Open/Club MX team. This will be the team's first year and my teammates will be Vince Friese and AJ Catanzaro. Loretta's didn't really go as planned; I had some ups and downs. But I learned a lot and I just felt like it was time to turn pro. I wanted to move on and race with the big guys. I train down at Club MX and I've been talking with Lucas [Joyner, The Factory Metal Works founder] and he came down and watched me ride and I was able to ride one of the race bikes—Vince Friese's—and it was really good. We worked some things out and got the deal signed.
The deal came together late in the off-season. Was there a point in time where you were getting worried about what you were going to do next year?
Yeah, definitely. But I had sat down and talked with my parents and I was going to race supercross whether I had something or not. I didn't think staying back in amateurs would have done any good for me, so I felt like it was time to move up. I think supercross suits my style a little more than motocross. I've been riding supercross down at Club MX and everything has been awesome.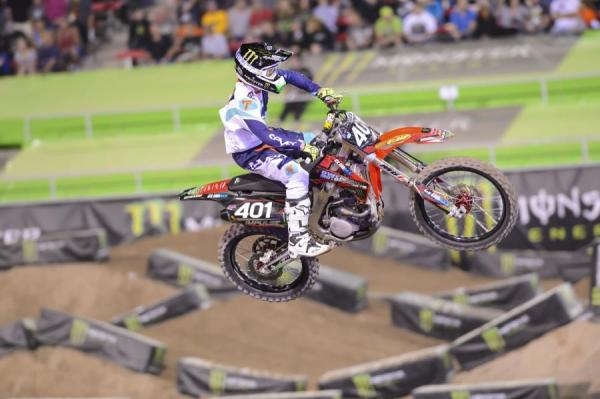 Owen will make his pro debut with Factory Metal Works/Wideopen/Club MX in 2014.
Simon Cudby photo

After years of being backed by Suzuki in the amateurs, you were essentially a privateer at Loretta's this year. How much pressure did you feel going in, knowing that you had to race your way into a ride?
There was definitely a lot of pressure. Like you said, I have had a ride throughout my whole amateur career riding for Suzuki and everything was really good. Then my last year for amateur A everything kind of happened at once and went downhill. I had no ride for my last year in amateurs, and that's really the worst thing possible to be left with nothing. I wanted to go out there and win championships, and I knew I could, but I ended up second in Pro Sport and in the 250 Class I just had lots of bad luck. It was unfortunate that every moto we had was a little bit muddy because you couldn't see everyone's speed. But if I wasn't on the ground, I was either winning or top three. I definitely had the speed and I think that showed something. But there wasn't consistency there like I wanted.
The same thing happened at the Monster Energy Cup. You were in line for the overall up until the last lap. There was a little controversy at the end, but it was a solid ride. Did you have the same thought process heading into the Monster Cup as you did Loretta's?
Yeah, because at the Monster Cup I still didn't have anything heading into supercross. That was somewhat of a supercross track. It was a little more high-speed. I wish it had been a little tighter. The first moto I got a second. I was in contention to win the overall in the second race on the last lap and me and another guy got together and I ended up going down—but that's part of racing. I would say 2013 wasn't that great of year for me, so for these guys to come to me and offer me what they have is a blessing.
How important will next year be going forward in your career?
I think next year will be really important, and good for me, also. I think the past few years have been a learning curve for me, but I have definitely taken the good out of it and thrown the bad away. I think in 2014 I can do really well and hopefully open a lot of people's eyes.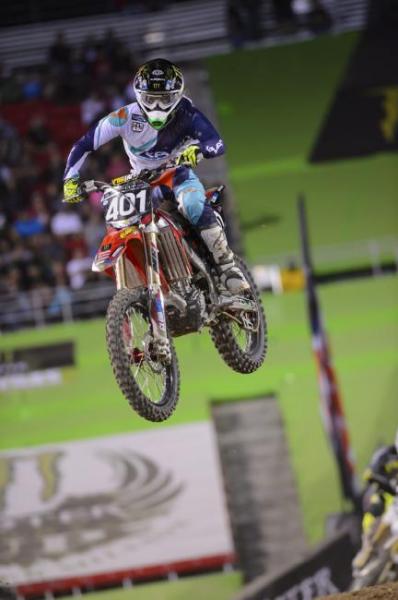 Owen is hoping to open some eyes in supercross next year.
Simon Cudby photo
You're looked at as the under-the-radar rookie coming into 2014. Does that provide extra motivation?
Yeah, I would say so. All the kids I've raced with throughout my amateur career have factory rides. I have an awesome ride too, but my deal came a little late. I think I was overlooked a little bit, but I think it provides motivation and will make me drive to push harder.
Thanks, Jace. Who would you like to thank for helping you out this upcoming season?
I would like to thank Factory Metal Works, Wideopen Garage, Club MX, Playground Poker, Seven, Engine Ice, Impulse Design Co., Hinson, DT1, Pickett Weaponry, Guts Grip Seats, Boyesen, TLR Performance, Spector Oil, Harry Beck with Gun Safes and Cases, Shoei, Motostuff, Dunlop, Acerbis, Ryno Power, Dubya, StockCar Steel and Aluminum, and Yoshimura.