100% and GEICO Honda Join Forces
100% is excited to announce its partnership with the GEICO Honda 250 Team featuring Zach Osborne, Justin Bogle, Zach Bell, and Matt Bisceglia. 100% will be the official goggle and eyewear sponsor of the 250 riders and the eyewear sponsor of the team mechanics and staff.
The team approaches the 2014 season having successfully secured both the 2013 AMA 250 Supercross East and 2013 AMA 250 Motocross Championships. Osborne, Bogle, and Bell return to the team with the addition of new team rider Matt Bisceglia who has moved up to the pro ranks after claiming two more amateur titles this year along with coveted AMA Horizon Award.
"Partnering with a championship winning team like GEICO Honda is amazing. Everything they do as a team is top level and we're excited to support them with the best goggles and eyewear in the industry," said 100% Brand Ambassador Bevo Forte.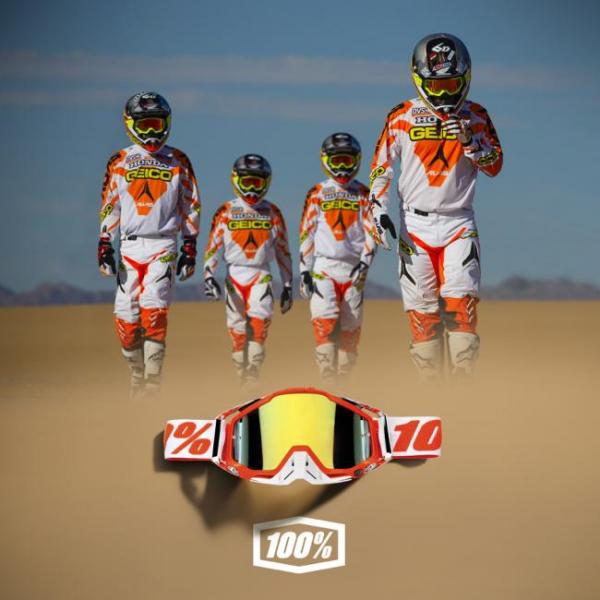 "The GEICO Honda 250 program is excited in forming a long term relationship with 100%," said GEICO Honda's Darren Borcherding. "The 100% company and employees are passionate about motocross and developing the best products available."
"We look forward in being a part of the 100% family and providing our team riders with the best product and support in order for them to succeed on the highest level of Professional Supercross and Motocross racing," added GEICO Honda's Mike LaRocco.
The GEICO Honda 250 Team will make their debut in 100% at the season opener in Anaheim, CA on January 4, 2014.
For more on 100%, visit www.ride100percent.com
Follow us on Facebook, Twitter and Instagram @ride100percent