On the heels of a career-high fourth overall in the 250 East Region in 2013, Missouri's Vince Friese has signed with the new Factory Metal Works team for 2014. Just like he did a season ago, Friese will moonlight on the 450 for West Coast rounds—he finished 20th in points in just seven races in 2013. We caught up with Friese yesterday as he was headed to Club MX in South Carolina to test his new 250F for the first time.
Racer X: You have a new deal for 2014. Can you fill us in on the details?
Vince Friese: Yeah, it's with Factory Metal Works, a new team that is starting up. It [The Factory Metal Works] originated with him doing triumph parts and I think this year he wants to get really heavy into motocross parts. He started a race team with AJ Catanzaro and myself doing East Coast Lites. He's also helping me out a whole lot for the West Coast 450. Last year it worked out pretty well for me to do West Coast 450 to get ready for the East Coast 250. I wanted to do that same plan this year and Lucas [Joyner, The Factory Metal Works founder] was real cool with letting me do what I wanted and helping me with whatever I felt I needed to do. The program is going to be really good. We have TLR engines and we are on Hondas. I'm on my way to ride the 250F for the first time right now, so I'm pretty excited about that. I have two brand new bikes all built up with the Factory Metal Works parts on there with good engines.
Other than the obvious financial gain, what are the advantages of riding the 450 before switching back to the 250?
Honestly, for me it just gets me warmed up for the East Coast 250. Eventually it's where I'm going to have to be, the 450 class, so I want to make sure I keep my toes wet in that class and try and stay up in the mix. There's the financial part as well. It's good money every weekend and I live in California, so they are all really close and I'm able to drive to all of them. I'm also lucky enough to have a guy like Lucas step up and help me get to those races. Last year was kind of a struggle. It was basically just me and my mechanic scrambling to figure things out. I was pretty much on a bone stock bike and had to find rides to races and things like that. So my program is a lot more advanced this year than it was last year. I think I'm in way better shape and I'm already riding better than I was last year. I'm really looking forward to having a better year than last year. I feel last year went pretty good for me, so if I can improve on what I did last year I'll be happy.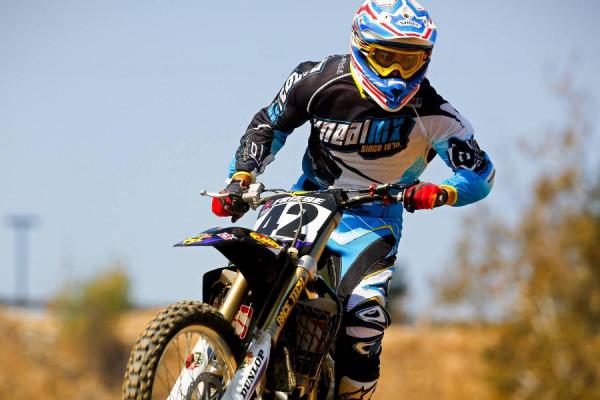 Vince Friese will race both the 450 and 250 in 2014 for Factory Metal Works.
BrownDogWilson photo
How do you balance riding the 450 and 250 during the week?
I kind of ride them both, just whatever I'm feeling. I have some buddies I hook and ride with, so if one of them is riding their 250F I'll bring my 250F and if they're riding the 450, I'll bring it out. Right now I've been spending all of my time on the 450. I'm going to test my practice 250, my race 250 and my race 450 today and then right after that, the race 250 and 450 are getting shipped out to California so I'll have that to practice on. I'll try to put a lot of time on that [250F] because my main focus is the East Coast 250. That's where I really want to do good. Like I said, the 450 is just to warmed up, get the experience and make a little bit of money.
After a number of years at MotoConcepts, you mentioned that last year you were scrambling a lot and it was kind of a struggle. How at much more at ease will be this year that you're back under a solid program?
Honestly, this is probably the best program I've ever had. At MotoConcepts they pumped a lot of money into it and all that, but I'm really hands on with this program. And for whatever reason, I'm the kind of guy that really likes to be hands on with my program and know what is going in my bike, when they're making changes, know what company is doing what. It just makes me feel more comfortable to know what is going on in my program. I think this is by far the best program that I've ever had because I'm in the mix. I'm talking with Lucas, the owner of the team, everyday. Any sponsor that he is talking to, any part that he's thinking about putting on the bike, he's checking with me. And if I'm thinking about doing anything, I'm checking with him. We are both working together. It's not, "Hey, here is what you're going to ride," type thing.
Last year was one of your most consistent years. Does that heighten expectations for this year?
I mean, yes and no. Last year I planned on doing what I did. If you look back at the results over the last four or five years since I turned pro I have consistently gotten better every year. Yeah, I've had a few injuries and a couple bad runs at certain times. In 2011 in the 450 class I felt like I had a really good year, but just couldn't catch a break. I just couldn't get off the gate, and in the 450 class that's what making the main is all about. My whole theory throughout my pro career is that I want to consistently get better every year. If I have a couple of years where I'm going backwards I'm gonna call it quits pretty quickly because there is too much risk in what we're doing and not enough reward right now to be taking steps backward. As long as I'm moving forward, as long as I'm improving on what I did the year before I'm going to be happy. This year there isn't too much more expectations. I know what I did last year, and I know I can top that. And that's the plan. I think my program is going to help with that also.
We are about a month away from Anaheim. A lot of riders approach this time differently. Some like to take time off, some really ramp it up. How do you approach going into a new season?
I kind of go into the West Coast stuff like I'm not even racing. I use them almost like a big Saturday night practice and they are going to pay me to do it. I will change up my program a little bit going into the first round of East Coast 250, where I will let myself recover a little bit. I might skip the last couple West Coast races if I feel it is necessary. But if I'm feeling it I'll do it, but I'm going to do whatever it takes to get ready for the East Coast.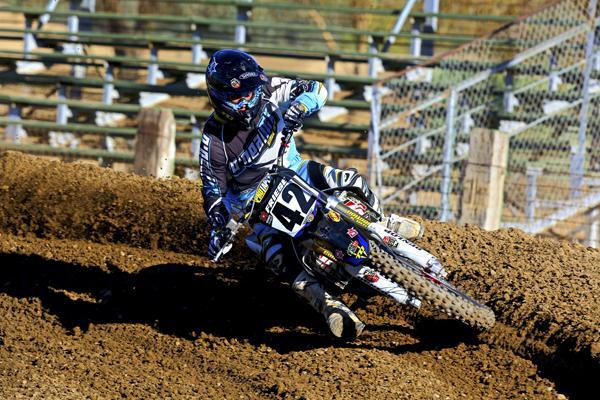 Friese is coming off a career-best fourth overall in the 250 East Region.
BrownDogWilson photo
You're heading down to Club MX to train. That's probably a little new for you. Do you plan on spending some time down there this year or is this just for prep?
It's just for testing right now. I definitely would like to go and spend a lot more time there but I plan on doing a race at Milestone next weekend to try and make a little bit of money. And obviously Anaheim 1 is in a couple weeks, so it's coming up pretty quick. I'm not exactly sure how long I'll be here. I don't think I'm going to be here too long because the weather is kind of hit and miss and my bikes are in California and I have a good program going on out there. My trainer Charles Dao is helping me out there. I worked with him last year and he has a really good program. I excited to be down here at the Club MX facility. I know they are a big part of the program and I'm excited to get there and check it out. I've heard nothing but good things about it.
Charles is well known as one of the top trainers. How much has he helped you?
He's been awesome. I actually worked with him a long time ago in amateurs and I always wanted to give it a shot in supercross and I couldn't be happier with the program we got. He got me in the best shape I've ever been in last year. I did it last year, and now I know what my strengths and weakness are, so we are working on all that and I think I'll be better this year.
Thanks for your time, Vince. Who would you like to thank for helping you this season?
I want to thank The Factory Metal Works, Club MX, Big St. Charls Motorsports, Wide Open, Playground Poker, Pickett Weaponry, TLR, Shoei, Dunlop, Spectro, Acerbis, DT1, Factory Connection, Supersprox, Pro Taper, Dubya, Ryno Power, Guts, CFR Stuff, Engine Ice, Stock Car Steel.