Round two of the ADAC German Supercross Series took place last weekend in the east German city of Chemnitz. Chemnitz sits squarely in what was once Communist controlled territory and the remnants are easy to be found. Old, shoddy buildings from yesteryear are still standing but are now starting to be surrounded by modern progress. In my 10 or so years of visiting there, I have witnessed huge strides in the visual landscape. Once inside the building, most newcomers are shocked at the slippery/oily yet soft and rutty dirt that Chemnitz offers. The dirt here is truly unlike any other I have encountered anywhere. And having raced in 30-plus countries, that is saying something.
As for the racing, Frenchman Gregory Aranda was nearly unbeatable in his 2013 debut in the series. He missed the first round in Stuttgart as it conflicted with the Paris-Bercy SX, but he made up significant ground in the points standings by winning both nights in Chemnitz. In my recap of the first German round a few weeks ago, I mentioned that the points system is very top heavy and that winning main events can turn the tide in a hurry. Case in point, after missing the opening weekend, Aranda now finds himself in the top five in points and only a few points out of the lead.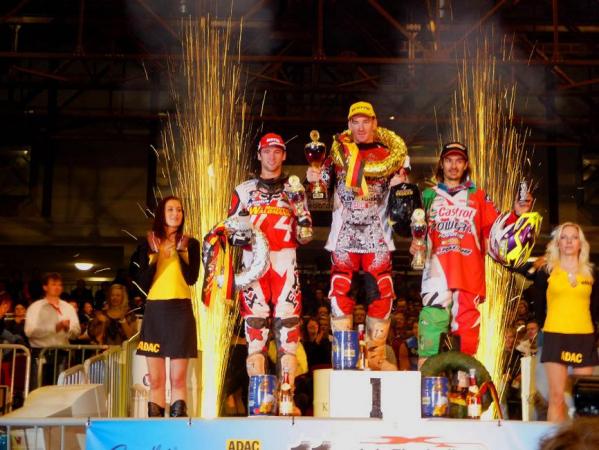 The podium at round 2 in Chemnitz. From left: Gavin Faith, Gregory Aranda and Fabien Izoird.
Oskar Zehmer photo
Speaking of the points lead, Teddy Maier had a rough weekend going DNF-6 but retains the red plate going into round three. Multi-time champ Florent Richier remains in the hunt with a third overall in Chemnitz and is within immediate striking distance of another championship. Kyle Chisholm had an up and down weekend but still turned in a fourth overall, which is good enough for second in points. Chisholm will be one to watch. Look for him to improve as he is still getting back to 100 percent after sitting out all summer with a lengthy leg injury. Gavin Faith got on the podium on Saturday night with a second place finish, which may give him some confidence after struggling thus far in his German ventures.
Arenacross legend and 2012 King of Chemnitz Tyler Bowers struggled a bit in the 2013 version as he was still not 100 percent after his big crash in Stuttgart. If he can get healthy and up to speed before Munich, he is surely a threat to be up front from here on out.
With two weekends left in the championship—which will total up four races—the title is very much up for grabs. The riders will all convene again in Munich just before Christmas. The Munich round is popular among those in the paddock and anyone who has been to Bavaria around the holidays can attest to the great atmosphere. Most of the American riders will be in full preparation mode for the looming supercross series here in the U.S. in the meantime. It's interesting as the focus shifts a bit during the down weeks but once it's time to head back across the pond, all attention will once again be directed to a tiny arena that once played host to the 1972 Olympics. It's what German SX is all about.
King of Chemnitz Overall Results
1. Greg Aranda
2. Fabien Izoird
3. Florent Richier
4. Kyle Chisholm
5. Boris Maillard
6. Gavin Faith
7. Cyrille Coulon
8. Dennis Ullrich
9. Tyler Bowers
10. Teddy Maier