Racerhead is coming to you from the mother ship in Morgantown, West Virginia, and we hope everyone is having a good and safe Thanksgiving break. We have folks spread all over the country, some at the races in Florida, some riding in the desert, and some shopping at the mall. So forgive me in advance for making this a shorter-than-normal Racerhead.
There is racing going on down south with the 42nd Annual Winter Olympics at Gatorback Cycle Park, also known as the Mini Os. The Mini Os is an American motocross tradition going back to the seventies. It was founded by the legendary promoter Bill West, and its first home was Chicken Farm in Homosassa Springs, Florida. Back then the race included dirt track racing and an off-road GP-style race, but when it moved to Gatorback, the short-track racing aspect fell off in favor of supercross. Eventually, due to the growth of the event, the off-road segment went away too. Now the Mini Os is a full week of SX/MX racing on the old national track at Gatorback.
It also serves as both the last major amateur race of the calendar year and the de facto opener of the new season's big race dates. RacerTV is streaming it live right now and will continue to do so tomorrow. Check it out right here: www.racertv.com.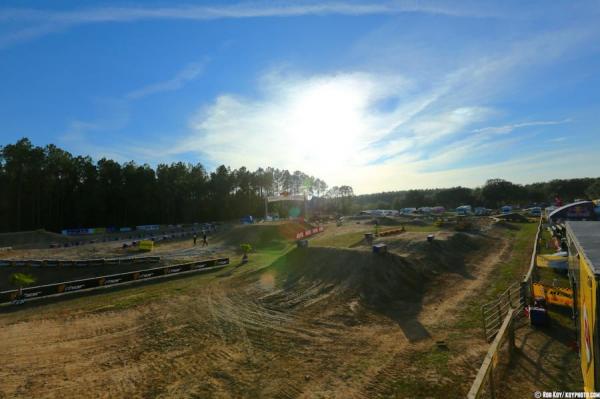 The 42nd Annual Winter Olympics are drawing towards their conclusion in Florida.
Rob Koy photo
There are also cool videos going up every day from the Mini Os by the gang at Vurbmoto.com. This one caught my eye.
And if you just want to click in and watch the laps going off, here's the link to the electronic timing and scoring.
Among the standouts so far have been Factory Connection Honda prospect RJ Hampshire, KTM's Dakota Alix, Team Green's Thomas Covington and Austin Forkner, Yamaha-mounted Ryan Surratt, Florida's own Hannah Hodges, and a whole slew of fast young kids with names like Jett and Ryder and Enzo and more. Look for a full race report and results on Monday here at Racer X Online.
There's also some supercross going on over in Germany. The Chemitz SX will feature visiting Americans Tyler Bowers, Kyle Chisholm, Teddy Maier, Les Smith, Gavin Faith, P.J. Larsen, Cole Siebler, and Mike McDade. If you want to know more, here's the place.
Out in California, the big A Day in the Dirt weekend race/party is ramping up, this time at Glen Helen Raceway. The event looks like a whole bunch of fun for everyone, as it brings together motorcycle enthusiasts with the movie industry. Look for photos and reports over the weekend on their site: www.adayinthe-dirt.com.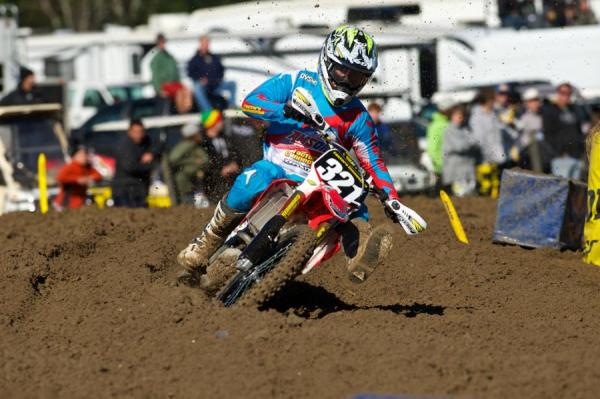 RJ Hampshire is getting used to his new gig with Factory Connection.
Christian Munoz photo
Meanwhile, out in Idaho, there's been something of a tempest brewing as the town of Twin Falls gets ready to commemorate the 40th anniversary of Evel Knievel's notorious Snake River Canyon Jump. Back in 1974 this event was a huge deal, as Knievel, one of the most recognizable people on the planet at the time, put together a massive stunt in which he was going to attempt to clear the canyon in his X-2 SkyCycle. Of course the rocket didn't work the way it was supposed, Evel ended up in the river, and a lot of people left feeling they had been duped. The event aired live on ABC's Wide World of Sports, and it included a big motocross race that brought out the best riders in America to compete for a huge purse. It was a wild event to say the least—especially after it all had to be delayed a week due to poor weather on the original date.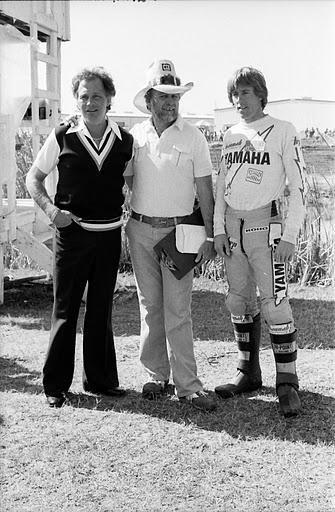 That's Evel Knievel on the left, with Bill West and Bob "Hurricane" Hannah…. Would have LOVED to be in on that conversation!
Evel is now gone, of course, having passed away a few years back. But his son Robbie wanted to jump the canyon on the 40th anniversary in honor of his dad. Instead, the town put the "jumping rights" up for bid, and the high bidder was not Robbie Knievel but a Texas-sized stuntman from the Lone Star State who calls himself "Big" Ed Beckley who says he "jumps for Jesus." Big Ed bid $900,000 for the right to risk his life—$895,000 more than Evel paid back in 1974. Here's more on the story, sent to us by Idaho's own Trent Howie.
Meanwhile, over in England, the recently-retired-from-NASCAR Travis Pastrana was back on the motorcycle when the Nitro Circus visited Birmingham. Our friends from MOTO magazine were there and posted this gallery.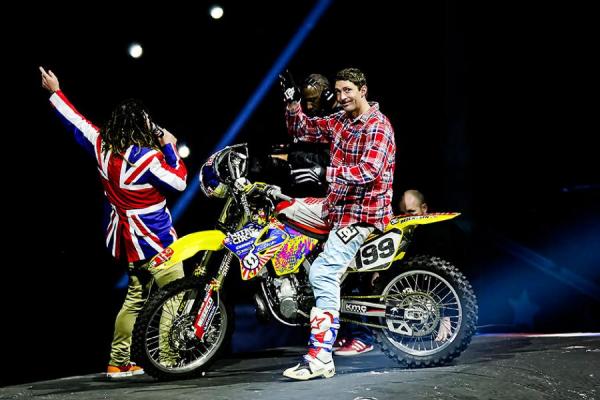 Travis Pastrana back on a bike for the Birmingham, England, Nitro Circus show.
Photo by MOTO
One cool thing that I did see this week that I wanted to share was a surprising photo by my longtime friend Pete Fox, of Fox Racing, on his Instagram feed. It was a photo of James Stewart, likely in 2001, riding a Honda CR125 with the factory "Woody Woodpecker" graphics. There was also this photo of Stewart sitting in his garage with Dan Betley, the longtime Honda mechanic and now team manager.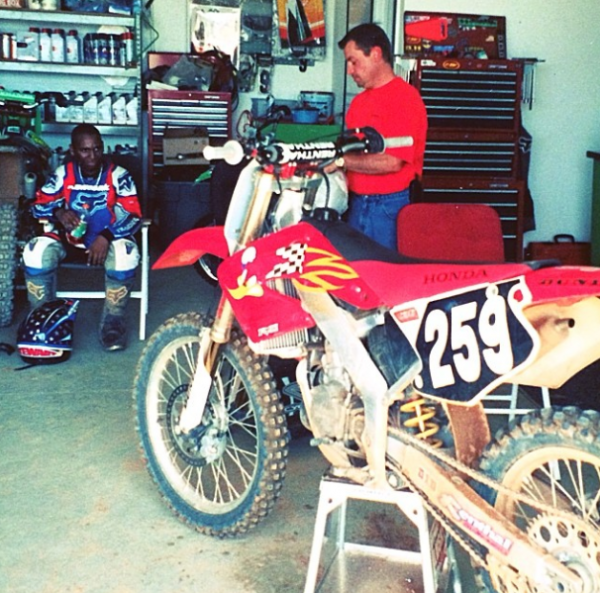 "Lots of great feedback from my earlier post, so here's one more from that secret Stewart/Honda test session years ago. I believe my pics are the only photos in existence - everything that day was top secret. The Honda team brought out one of their amazing Factory 125s for James to try. They wanted the young prodigy bad, but so did Kawasaki. As we all know, he chose Green. Crazy to think of how every choice we all make in our lives effects our future... Who knows how this might have gone for Stewart if he has chosen Red? As a Moto fan, it's fun to think about…"

I hate to admit it but I never knew this test happened! And Pete's right about what a big deal that would have been, Stewart going red as a pro instead of green! It's pretty cool that it was kept secret so long...
And finally, there was the news that Erin Bates is turning in her headset and microphone and retiring from her role as pit reporter for Monster Energy Supercross. Erin has been on the job for nearly ten years, and she was well-liked in the paddock and did a great job promoting our sport every way she could. We will all miss Erin, and we wish her good luck in her new endeavors.
That's it for a short week of Racerhead. Enjoy the rest of your holiday and we'll get back to our regular work next week.