A native of Ohio, Brock Sellards was a fast amateur racer who grew up racing in the shadow of Ricky Carmichael. After turning pro in 1996, he enjoyed a lengthy 14-year pro career, which included several 125 supercross and National motocross wins, and a bunch of arenacross victories. On a Thursday afternoon in late November, we found Brock driving down a lonely Ohio interstate looking for a local Cat heavy equipment dealer.
Racer X: Brock, what's happening? It's been three years since you retired from the arenacross races, and your professional racing career. What do you have going on now?
Brock Sellards: 2010 was my last year racing—I raced arenacross for those last few. It was fun and low key compared to the supercross stuff. But I have been real busy since I retired, and have my hands in a lot of stuff. I got my pilots license, and bought an EAA (Experimental Aircraft Association) plane. It came with no motor, and I built my own motor for the thing, which worked pretty well. With that, I started my own airplane engine company and started building engines for other pilots. We were shipping those engines all over the world. It was not big numbers, but we did quite a few of them. But then back in 2009 or so, I got a job offer to work for Western Power Sports (WPS) as a sales rep here in North East Ohio. WPS is just like Parts Unlimited and Tucker Rocky, we distribute parts and accessories to motorcycle shops. So today, my main job is selling parts to powersports dealers. This is my fifth year with them, and I love it. I call on about 60 dealers or so and it is a full time job.
That's cool. You were racing and working for them at the same time toward the end of your career, right?
Yes, I started with them while I was racing. They let me race during the winter, which was really cool. I love the job; I would never go back to racing. I like talking, so it's fun for me to sit around and talk about new parts and talk orders and sales and the business. So that's cool. Oh, and one other thing I'm doing, I'm Davey Millsaps' agent, so I do all of his contracts and his business stuff. Ezra is his rider coach and I am his agent slash everything else guy. I really enjoy that, and working with Ezra is fun. We are close friends from back in the day.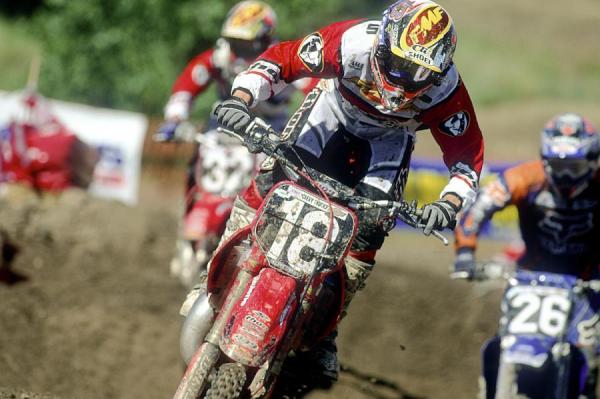 Sellards raced Kawasakis, Hondas, KTMs and Yamahas in his pro career.
Fran Kuhn photo
Are you still doing the airplane engine thing?
Not as much. I actually just finished building a new little bush plane. Kind of like an Alaskan bush plane. I honestly just don't have time for it though. I also have an excavation company, which I don't have time to do, and I am also a race promoter here in Ohio.
Man, you have some stuff going on! That's crazy! Tell me about the race promoting.
Well, my top priority is my job with WPS, the other stuff is cool, but it's more for fun and keeps me going. But the WPS thing is full time during the week, five days a week. The racing is nothing too crazy, just local stuff here in Ohio. I promote at Beans Road Raceway in Dennison, Ohio, and we put on three night races and a GP. I also do some events at Crow Canyon, which include an OMA motocross and GP race at that facility. Crow is a club, and I serve as president of the MX committee at the club. They have 400 acres and it is a pretty special place.
You certainly are busy! What about your personal life, you are married, right?
I am married to my wife Tricia, we met in 1996 and got married in 2004. We have two kids. Our son just turned four, his name is Brody, and Tatum, our daughter, is two. I am so busy. I was only able to promote six events last year, just because we have so much going on. Oh yeah, one other thing I did not mention, I am also Martin Davalos' rider coach. I write his daily riding programs, and help him as much as possible. I am going to all the rounds he is racing this year, and we are trying to raise his game. He has the speed, but needs the results, and I think I can help him get to the next level.
Can you elaborate on what you mean by writing a riding program? That is not a term I hear kicked around very much.
Sure. I built him a weekly program, I figured out what days he rides, and we build out what he does every day on the bike. It is pretty much preparing for racing 15 lap main events at 100 percent speed. I guess you could say it is more like endurance training, but not totally. I spent my life hanging around guys like Ricky (Carmichael), Ezra, Gary Semics, Aldon Baker and Jeff Spencer. There are not many out there that can say that. I lived with Aldon Baker as well back earlier in my career. You see someone like Martin, he has all this speed, and he has never put it together to win. He always gets up there, and then something happens. Everyone says it is mental, but I say it's not. It is nice to help someone like him, he wants it so bad, and we really work well together.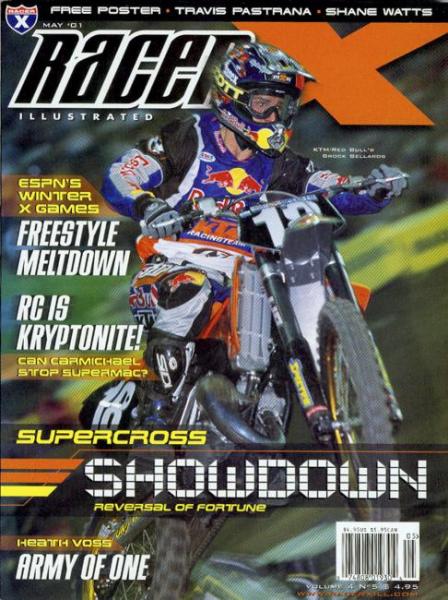 Cover boy!
Switching gears here, how did you know it was time to hang it up on your own career?
Well, it started with injuries. I had two bad shoulders. I could only lift my right one halfway up and riding was a real struggle. I raced for five years with wasted shoulders and it started to effect me mentally. I had complete reconstructive surgery on them, but then it took a year and a half to recover from that. I knew I was getting older, so I started to think it was time. Also, I had my job with WPS, and that just worked out. With the WPS gig, I did not need to race anymore to pay my bills, so it just kind of happened.
Speaking of which, how was the money for you? You raced during the time of some of the biggest contracts in the sport, and it was not uncommon for riders to have seven-figure deals.
Well, I never really had any of those really big years. My biggest contract was around $300,000 and that was only for a couple a years. It does not last. Most people don't realize how fast it goes, even when it was coming in hot and heavy. For example, in my case 40 percent went to taxes right off the top, maybe more. Then $30k goes to your agent, $20k goes to your trainer, plus your accountant—it's all right off the top. Then throw in maybe buying a house in California, and whatever else it costs you to get the job done. When it was all done, I was lucky if I had $60K a year leftover! But I was really fortunate though, I had some good years and today I have over 100 acres and we live comfortable. The sport was good to me. We have a lot of toys, four airplanes and more, and I feel that I have done well. But yeah, I do have to have my job and a monthly income to survive and pay bills, but I have no complaints from what I accomplished while racing.
You worked with both Jeff Spencer and Aldon Baker. How do they differ?
Well, I worked more with Spencer, but because I was living at Ricky's, I was around Aldon quite a bit. Aldon was just part of the deal with Ricky. Jeff is a stand out, awesome, unbelievable guy. He is one of the coolest guys ever. Aldon is a hands-on guy that works with you 24/7, while Spencer tells you what to do, but he was not always around. He doesn't go on a 50-mile bike ride and does not come out to track and take your lap times like Aldon does. With Aldon, it is a huge program that he offers. Spencer is very smart with the body though; he was very good at that aspect of it.
You seem to be very mechanically oriented and good with your hands. From my viewpoint, it is rare for a modern rider to have their hands on technical skills that you seem to possess. How did come about?
I was always very mechanical. Back in 1999 or so, I built a sand rail from the ground up and took it out to Glamis. That kind of started it. But anything with a motor I have always been into tinkering with. I restore a lot of bikes as well, and have rebuilt everything from dirt bikes to Volkswagens. When you understand how an engine works, it's pretty easy to build, no matter what it powers.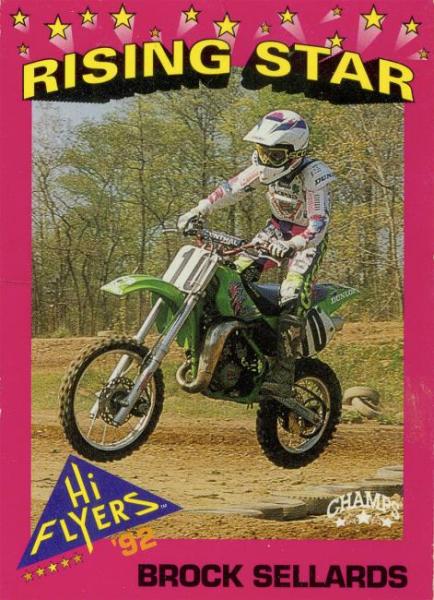 This is just awesome.
What is your deal with those funny old VW trucks? I seem to remember you had a passion for those from an old interview I read.
[Laughs] When I went to California, it seemed to me that everyone who got a nice contract, the first thing they did was go out and buy a big 'ole Mercedes Benz and a set of rims. I saw guys like McGrath, Langston, Casey Johnson, Tedesco, Hanson, Hamblin, Button, all those guys. They all went out and got a big Benz. So for me, I went out and had a blinged out little truck, an S-10. But then the thing got stolen, and I was all bummed out. So I was kind of over that whole cool car thing. I found a little "pos" VW truck for $1000 and bought it. I decided I would never drive anything else while I lived in California. I did not want anything cool, that's just how I rolled. So, every supercross, every national, every magazine test, whatever, that VW was the truck I rolled into the pits with. And for what it's worth, I drive a piece of crap Ford Ranger right now as well and still own a few of those VWs.
That's funny. I can appreciate the counter culture thing. Moving along, what do you think of the four strokes we have today?
Not a big fan. I build all two strokes, that's what I ride. I am not a big lover of the four strokes. Anyone can ride one, but very few can still ride the two strokes. I did one race this year at my event, I rode my Suzuki 144 with an Eric Gorr motor and won the 450 Pro class on it. You can go as fast as any four stroke on a two stroke if you know what you are doing. But you will get smoked on the start. But a two stroke is fun. You can make it up with corner speed and better lines, which are not always the easiest things to sort out.
Where do you think the sport of motocross racing is going today?
Well, I think it took a nosedive there for a little while. But today, it is too expensive. It has priced itself out of contention in many places. Even as a race promoter myself, it is hard to get people to show up. The cost of the bikes and parts, and what it costs to repair one. You drop a valve on the four stroke, it's $1500, minimum. That is what you used to get a used 125 for back in 2002! I think more people would still do it if two strokes were still around. To go race at the top local and amateur level, who can afford that now? You are talking $20k to just get started in equipment each year if you are good.
You sell riding gear and safety equipment, what are your thoughts on where that stuff is going?
Well, now that you mentioned it, I have something I have invented for concussions, but I need to finish it out. The headgear is not as strong as it should be. Everyone focuses on neck braces now though. I actually don't wear one, but I can see the benefits. It is hard for me use one though because I never did through my career. But chest protectors are a must. People are insane if they don't wear a chest protector. Those are tried and proven, and that is important in the sport. I think safety gear can always be better. It will never stop improving.
If your son wants to race at the top level, how would you feel?
I would support him, but it wouldn't be what I want right now. I am sure he will ride, but my goal is to just have him enjoy and try different sports, and perhaps enjoy the stuff I did not get to do as I was coming up. I won't push him. It's up to him to find what he likes. If he wants to race, then sure, but I hope he gets a broad experience. But racing is dangerous. I had a good run, and I'm still healthy. I'm lucky, where a lot of others are not. It sucks to take the high risks though that come with the sport, but if you want to reach the top, you have to. There is no way around them.
What are some your favorite memories from your career?
The biggest was probably my win at Washougal. It was my first outdoor national win, and I won against RC—and he didn't crash or anything, so it was a legit win. He was going good, he passed me right toward the end, but I got pissed and passed him right back through the whoops and right at the finish to get the win. That is my favorite memory of what I have done, as very few have beaten him in that way. But there are lots of others. Nearly winning those two [East Region 125 SX] championships, they came down to the last rounds. That was a bummer, I feel like I lost both of them because of other riders and there mistakes, but that's how it goes with racing.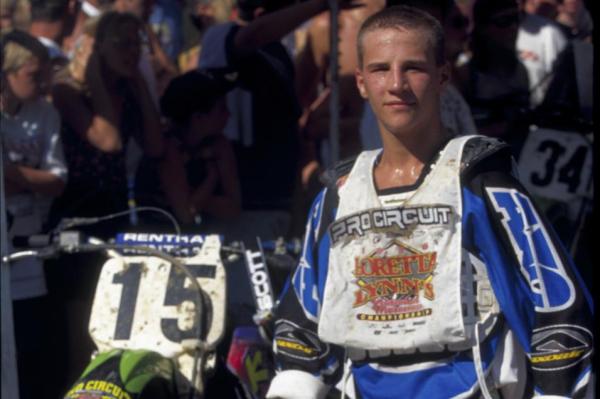 Brock came through the ranks with Team Green.
DC photo
What do you think the difference is between guys like Ricky and James and a guy like you?
There are three things: The first is God given talent, which only certain people have. Guys like Kevin Windham, Davey Millsaps, Ezra, etc. all have that talent. The second is that you have the mental part—the heart and confidence to be the best. You've got to have a program, the right people around you to make you elite. A lot of people put in the work, but it's quantity over quality. Racing at the top level really does not come easy, and very few people even ever get to experience a true quality program such as what Aldon or Ezra offer. My problem, I put in a lot of work and effort, but did not always have a guy helping me make the right decision and with the right program day in and day out.
One last question, you and Ricky both made your debut at Steel City in 1996, right?
Yes, that's correct. And our first supercross was together as well in 1997. I beat him in that first moto at Steel City though in 1996. I was faster than him that time around (laughs), but then he found another gear! But yeah, we debuted at the same outdoor race and the same indoor (supercross) race. He scored national number 70 that next year, and I got number 80. But I am one year older than him. A lot of people do not know, but we kind of grew up together. I moved to his place in Florida when I was 16, and went to school with him for the winter. He and Jeanie taught me a lot about practice time and the laps you have to put in. That was a big eye opener, living with Jeanie and Big Rick. Both Ricky and I, we went to Leon County High School in Tallahassee… which itself was an interesting experience. But I stayed in school and graduated, no home schooling for me!
Well, this is long and I have to wrap this up. You seem like you are really doing well, thanks for chatting today.
Thank you, I really enjoyed my career, and what the sport has done for me. It's been a great time, and call me if you need anything else!