ODI, Emig Announce Grip Collaboration
Riverside, CA – ODI is proud to announce the release fo the EMIG V2 Lock On MX Grips. Working with AMA Supercross and Motocross Champion Jeff Emig over the last year, the team at ODI has put together the grip that Jeff always wanted while racing, but never had. Designed with a low profile pyramid pattern and a custom designed half-waffle pattern that eliminates the inside corner where other grips used would irritate Jeff's hands. The EMIG V2 grips are as Jeff says "The perfect racer's grips."

The V2 Lock-On System utilizes a clamping system on the clutch side grip. The grip is molded to a thin plastic tube that allows you to easily slide the grips on the handlebar and then tighten the pre-installed clamp to lock it in place. The throttle side grip is pre-molded to a throttle tube which utilizes a snap-on cam specific for your make and model of motorcycle. The benefit is that you can spend less time working on your bike and more time riding it.

Jeff was instrumental in the grip design process and his racing experience and sense of style certainly influenced the design 100%.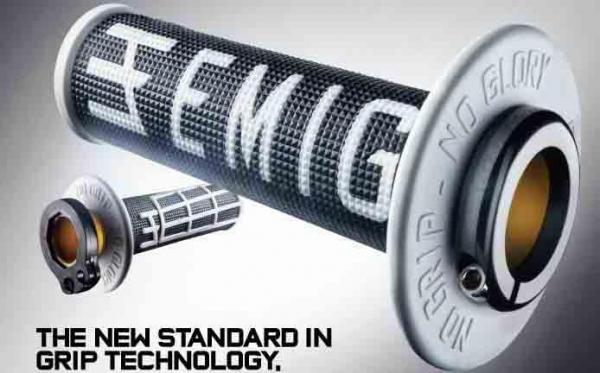 To introduce the new EMIG V2, we invited the press out to Lucas Oil Motocross Park and challenged them to a grip changing contest. A two moto format, the first moto required them to change a slip-on style clutch side grip. Although the average time to change the grip was around 1 minute, all editors agreed that the grip was not safe to ride on at that moment because they would need to wait for glue to dry and to add safety wire to ensure it didn't slip off. For the second moto, editors were challenged to change the grip using a V2 Lock-On grip. The winning time was 22 seconds and everyone not only agreed they were comfortable to race right away, but that's exactly what they did.

Click here to watch the video.

The EMIG Lock-On Grips will be sold exclusively through ODI and its authorized partners for $24.95 USD. Look for them in your local retail shop starting November 25th. For more information, please contact Kevin Stevens: Phone: 1-951-786-4755 ext 107, Email: sales@odigrips.com
Don't forget to visit us on Facebook at ODI and follow us on twitter and instagram @ODIgrips and YouTube at WatchODI .