Stefan Everts is motocross royalty, with a World Champion father and then his own record collection of World Titles. Everts has remained in the sport as the MX2 Red Bull KTM team manager and seems to be enjoying it. Of course this is all secondary to his family, where his son Liam is starting his way onto a path in motocross and has forced Stefan to be a moto-dad much like his father Harry was all those years ago. At the recent Bercy SX, Stefan was brought out each night to be honored before the night show. With some downtime during the day, I caught up to SE72 for some bench racing.
Racer X: First of all, Bercy here we are. Talk about your days racing here a little bit.
Stefan Everts: I was here my first year in 1990. I was racing against Buddy Antunez, Denny Stephenson, I think Jeromy Buehl. A bunch of young American kids here on the 125s. It was four nights. First night I just went over the bars a few times. The second night I got second and the third and fourth night I was winning. It was really good memories [and] when I saw the 125s out there, it brought back those memories. Then I also raced '91. I went to the 250 class. I had one good night. I got third, I think, behind JMB and Larry Ward. At that time it was a lot of top riders here. I still raced Jeff Ward at the time also here in Bercy.
It was like an AMA Supercross back then!
Yeah the field was very, very big. I think I did another one in '94 but then my supercross career was almost over by that time. I really raced a lot of supercross in '89, '90, '91, '92 and then after '92 it started to go down. Also the supercrosses in Europe started to go away. The big events like Bercy and Genoa and Geneva, they are still there, but before we had so many. In Spain, Finland, Sweden, Italy, Holland….
I was looking through the Racer X Vault a little while ago and you did about six supercrosses in the beginning of '92. You were good in a stacked field. Did you ever come close around that time to staying in America?
Yeah actually it was my plan. The '92 season I planned to do those six rounds in the states just to investigate it a little bit. It was really on my mind to come back to Europe, win the 250 title and then I would go full-time to the states and race supercross. This was my plan.
Suzuki gave me great support. Those six races, everything was organized by Suzuki through the USA who dealt with it. Everything was good. But my plan didn't work out. I got a big injury during the GP season. I lost my spleen that year and I was out for two months. Then I couldn't win the 250 title so I went another year and I got my ass kicked by Albertyn so I got second. So it was another year gone by. And then we went to the '94 season and I got another time second, again Albee. By the time I won my 250 title I was 23 and it was done. I couldn't keep up with it anymore because before it was supercross, winter, GPs, supercross…. It was just nonstop racing. For five years I did that and I was out, I was finished. Mentally I was worn out. I couldn't bring it up to start training again for supercross for the whole winter through those races. Plus the races were going away slowly. So I stopped it and by the time I won the 250 title in '95 I made the wise decision to stay in Europe and go for [more] championships.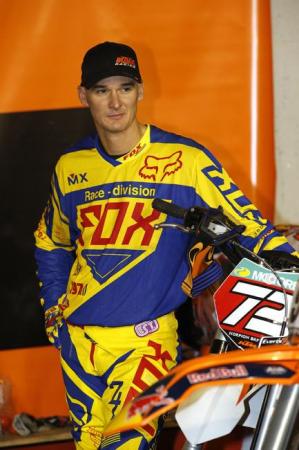 He says he isn't, but Everts sure looks like he's still in fighting shape!
Ray Archer photo
As the MX2 Team Manager for Red Bull KTM, you have a rider in Jeffrey Herlings who is almost unbeatable. I know this is great for you and KTM but is it good for the sport?
We know that the racing is boring but it's up to these other guys in the MX2 class to step it up and try to beat Jeffrey and learn from him. It's a good opportunity for these kids to really learn from him, and they should take it. I think it will be his last year and then he will move up to MX1. So 2015 it will get really interesting in MX1.
Jordi Tixier has been good but maybe a tad inconsistent this year. You probably want to see a little bit more consistency from him?
Jordi, overall in the last two years, he's done what he wants to do. He wants top five and now he got the top three. He got second. The consistency is not there yet, and also the time when it was time for him to shine he was not there. He faded away. There are still some points we need to get him better. Like when Jeffrey was injured, he was ready to normally take over and win and he didn't win. These are points we will have to work on. He wants to work on that. But as far as the results, purely the results, he did what he had to do.
He was there to get on the podium right?
He did his podiums. He could have done more podiums. He should have won his first GP but he didn't do it. That was for me a pity because this was the steps he had to do. Last year he did his steps to the podium and this year he should have won one GP but it is like it is now. We will soon start working on next year.
Are you getting rewarded in your job by having Herlings listening to you and using your guidance, the same with Jordi?  Are they taking your advice?
With some guys it works, with some it doesn't work. With the situation from Jeffrey, Jeffrey is the one who can talk really well and you can have deep and open conversations. For me it's important that I'm honest with him. You can have these kind of discussions with him and that's good, where others are shocked and they don't even want to talk to you anymore. But with him that's possible. He's not accepting everything, but [also] he doesn't forget anything. He comes back to me and he says, "Yeah, you were right, what you told me." It takes some time and I see now after four years, I see that Jeffrey made some good steps forward and he stops to respect and appreciate more of the things that people are doing for him. But he stays like he is and that's why he's also so good. We also need to take him like he is but we try to help him and put him in a good direction. We're slowly getting there with Jordi, also. He's been trying hard. I'm really making his riding program. He's been listening good. He's been also doing what I've been trying to teach him. It's going good with the family. The father is still really involved with Jordi. I'm happy.
You yourself don't need to work so I imagine you're enjoying this job?
I'm enjoying it. This is also my job to be there. If you don't go to these races there comes more distance. I need to see everything and I need to be there. This is also what KTM is expecting me to do. Not only to work in the week and work with the riders on the sport side, but also on the weekends. Besides that I also do some test work for WP and KTM sometimes with the new upcoming production bikes, we do tests. I'm still riding a lot and also the boys like when I'm coming out to ride. "It's the boss coming! It's the boss coming!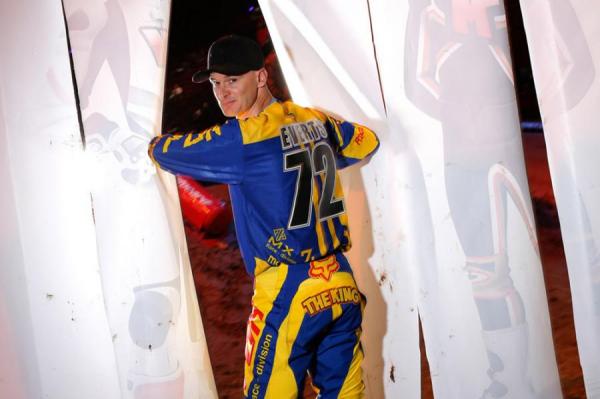 Forever a legend in Europe, Everts was introduced to the crowd each night at Bercy.
Ray Archer photo
Do you go show them what's up?
It's difficult. On the sand, no way. With Jordi I still can battle a little bit for some laps but it's becoming tough, also. I lost physically a lot and every winter it's getting worse and worse. Now the shitty weather is here and you can't ride. I do some enduro riding now, ride a bit in the mud. That's what I like to do, take them to ride in the mud so they get some good feeling on that. That helped in the past with some boys to get more throttle control, [find] where the grip is.
As a fan, what's going on with the GPs? We've got 20 riders on the line, sometimes less. The MX2 age rule I don't like, I don't like the lack of riders.
A few weeks ago we had a meeting in Geneva. It was a good meeting. It's opening a bit more and listening to what the teams have to say. I think we can expect some more stability, which was important. This year [we had] the super final and then there were other rumors. I think now for Youthstream they've got it, this is the system we need to keep, the two motos.
They talked about a 250 only class….
All that bullshit is off the table. We keep it like it is, two motos [each], MX2 and MX1. The age rule we've been talking about and if we have a good solution for it, it might change in the future, but not next year and not in '15. I had a good feeling with it. MX1 is having some difficulties with riders and this is also a pity to see. It's prices and it's tough for everyone. Some things I don't fully agree with Youthstream but we've got to accept that and we have to go with that.