Welcome to another version of Cool as Hell, the column that features Craigslist clunkers that look like they've spent the last few years in actual Hell. Normally we pick four of the worst ads featuring crap jacks that are in such bad shape they wouldn't even be allowed on the set of Mad Max or Waterworld, but not today. Thanks to the faithful readers of this column, we've come across a game changing ad that, just like the scrub revolutionized motocross, promises to affect future Cool as Hell columns for generations to come. Below is the exact text, cut and pasted from an ad selling not one but TWELVE slabs of metal that aren't worth their weight at the local recycling depot. And of course, you'll find our italicized comments sprinkled in. Be sure to add your thoughts in the comments section at the bottom.
"I'm located just 20-25 minutes from Saint Louis, MO and just 10 minutes south of Millstadt, IL. Unfortunately I CAN'T TEXT, deliver, or meet. Email is the best way to get ahold of me but it could be up to a few days before I get back to you. I'm horrible at calling people back who leave their number."
Judging by the amount of time this fine chap says it could take to return your query, he doesn't seem like a very motivated seller. Either that or he finds himself lost for days at a time in what appears to be an infinite maze of machines whose model lines got canceled faster than the reboot of Knightrider. He's horrible at calling people back that leave their number. Perhaps you should not leave a number and see if he calls you back more quickly that way.
"I really only want to trade for either a Polaris ranger razor, which i know is a long shot, or a Yamaha Rhino. Either one can need work and I can throw some money in on the deal depending on what you have and the condition. I did include prices if anyone wants to buy just one but most are priced high because I don't really want to sell them, (except 11, 12, and 13) just trade. But I'll consider trading for other similar things. the list and pictures do not line up with each other."
Really? He'll consider trading for similar things before he sells you something at a fair price? A fair price for these rust heaps, as is the case with most lumps of lard featured in this column, is below the $0 mark. We get it though, we really do. After all, who wants to free up space on their property and end up with stacks of dirty, flammable cash? Who needs that drama?
"1. 2004 Honda TRX450R 2nd owner, bought in '05. I have it listed separately with a lot more info and pictures on it."
This thing actually looks clean, and we don't really have anything to make fun of. Except for you know, the extra two wheels. Fail.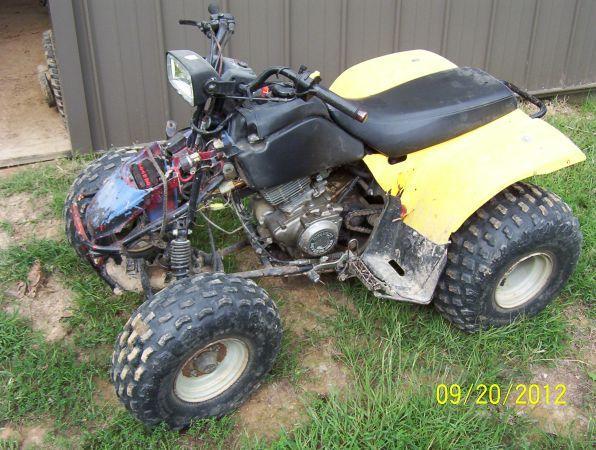 "2. 1993 Suzuki LTf160 When i bought it, it didn't have any fenders on it but i made some fit from a YT175 and they look pretty good and are mounted very sturdy. It's still missing front fenders and rear brake shoes. Battery may be questionable I'm flexible on the price of $500 or I would buy another one that has good front fenders, or one that needs an engine."
Front fenders? Who needs bodywork? Only status seekers need bodywork. Same goes for rear brakes. Actually, we doubt this thing actually runs, so the rear brakes aren't really necessary anyway.
"3. decided to keep."
What did you decide to keep? Since the list and pictures don't line up with each other, we have no idea what this goon is talking about, but we're wondering why you'd even bother to put a photo in an ad of something you've decided YOU'RE NOT GOING TO SELL!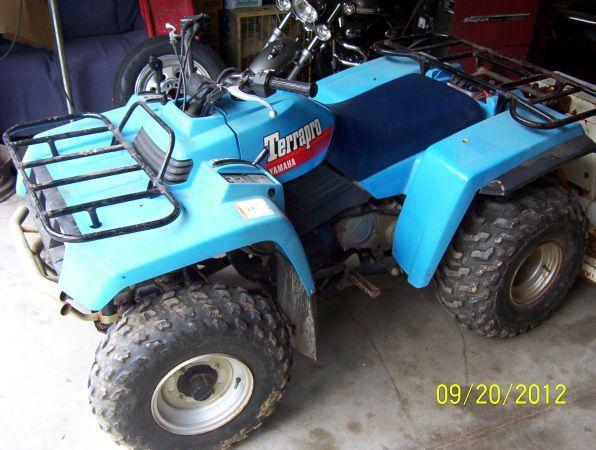 "4. 1988 Yamaha Terrapro the only atv ever made that has a rear pto and it was only made one year. I put a brand new piston and rings with new valves, a new battery and gas tank petcock. It runs great. No attachments though, but if anyone has a mower, roto tiller, or snow blower I'm very interested in buying 1 or more, ideally a rough cut mower, a RC42. and without a trade I would like to keep it but i would take $1600"
The fact that Yamaha only made this model for one year is not cause to brag, nor does it make it more valuable. Hell, even leg-mangling deathtraps known as three-wheelers were available for longer than that before the American Government realized they were a nothing more than a thinly veiled attempt by the Japanese to settle the score from World War II.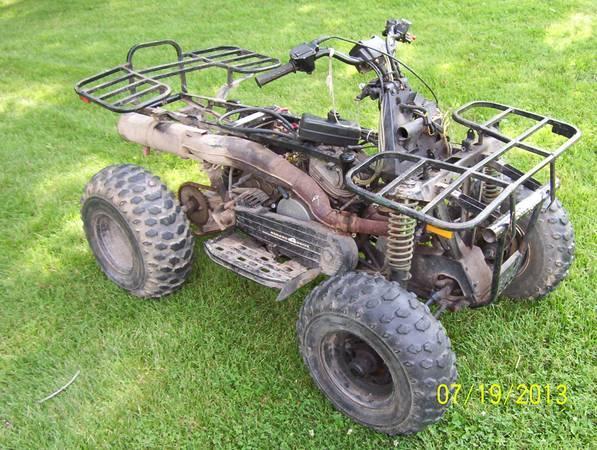 "5. 1994 Polaris 300 4x4. It's basically missing almost everything plastic on it and the starter. I cleaned the carb out and got it running and drove it in all gears and the 4x4 does work. My plan for it was to find a cheap Polaris around the same year and put all the plastic over on this one. I will sell for $450. But if anyone has a similar year Polaris with descent plastic i would be interested in buying it."
That's twice in a row now that the seller has attempted to turn a sales pitch into a quest to acquire more rubble on wheels. He really wasn't kidding when he said he didn't really want to sell this stuff, was he? We're guessing he's a regular reader of this column, but not for the entertainment factor, but to look for more bits of scrap metal to decorate his front yard with. You think he's reading this right now?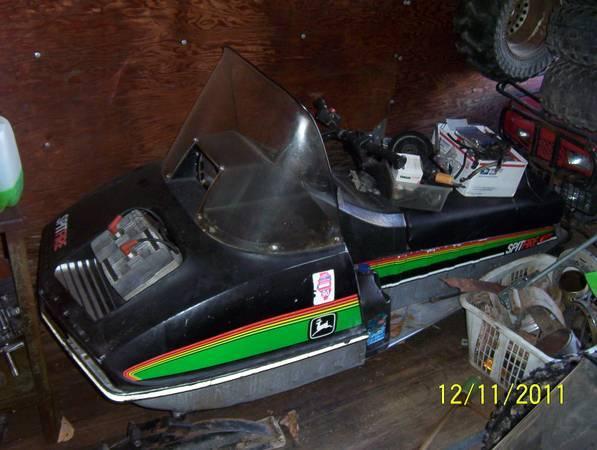 "6./ 7. Both snowmobiles are the same thing, 1980 John Deere Spitfire 340 with Kawasaki engines. One has a brand new seat, custom made. The other one could use a seat cover. Late 2 winters ago i put new crank seals in both, i readjusted the carb on the one and it runs great. I haven't had the other one running since then, but it does run, it just needs the carb readjusted and needs a new fuel line that runs inside the tank. and I have kits to put tachs, and speedometers in both, which neither had. One for $500 both for $875"
No. Way. Did you have any idea John Deere made snowmobiles? The name Spitfire is cool too, although it's hardly appropriate to give this waste of resources the same moniker as one of the greatest and most iconic fighter planes of World War II. Oh well, there's always a slim chance that that's actually not the name, but a warning label of what might happen should you attempt to crank this baby over. John Deere's slogan is, "Nothing runs like a deer," but if someone tried to sell us this, it's us who would be running. Fast.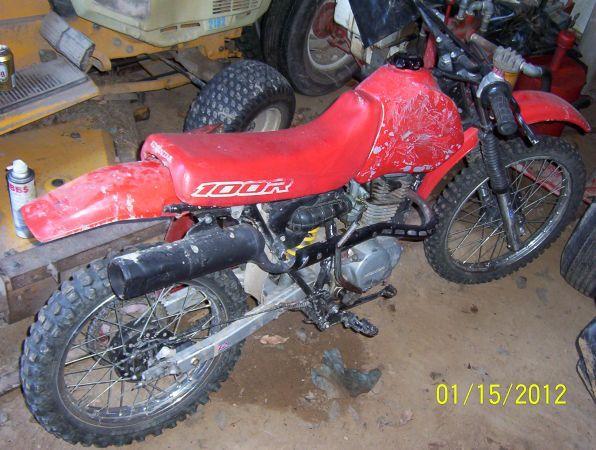 "8. 2000 Honda XR100 It looks rough but starts pretty good and sometimes smokes and has an '82 100 engine in it. I drive it around every once in a while, rarely does it foul the plug but it has a few times. price would be $450."
This thing's got an engine in it that's eighteen years its' junior and is a four-stroke that fouls plugs, which means it's got some serious issues. The only thing this conglomeration of shit is good for is racing the junk class that a few local-level flat track facilities have. Even with a $200 claiming rule in place this baby would be safer than Jeremy McGrath's record of seventy-two supercross wins.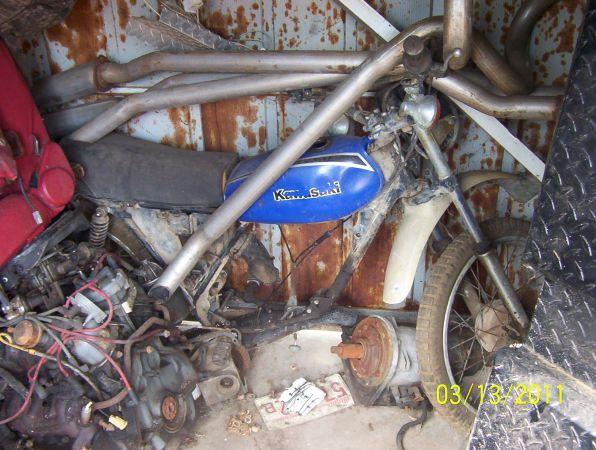 "9. I'm not sure of the year but i think a 1976 Kawasaki KE125 dual sport bike, the engine is out and apart, which is how I got it, half of the main case is broke and it may have small parts missing. I'm open to offers or trades on it. no title. $300obo"
Here's an offer for you. How's about YOU pay ME $300 to get this thing off your property? Considering how long it's going to take to untangle that mountain of exhaust pipes from the rat feces, you'll be coming out way ahead. Taking the engine, which may or may not have small parts missing (the small parts aren't important, right?), will run you an extra $150.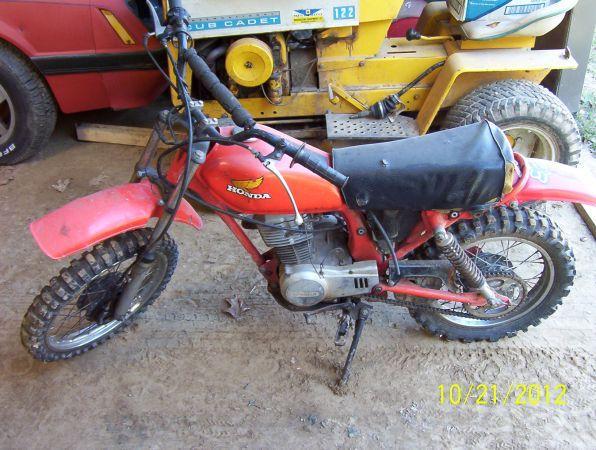 "10. 1980 xr80 that needs work but will run $450"
This thing is in need of a little TLC, but it actually looks like it could be rescued. It's cool and we like it, and we don't care who knows.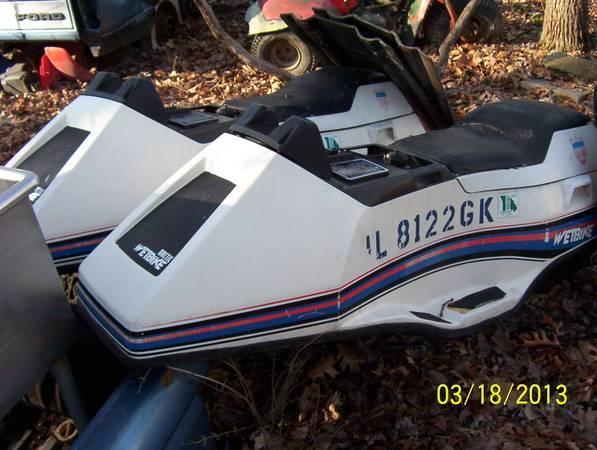 "11. / 12. 2 wetbike s for parts, missing the engines and few other parts. no titles $75 obo both."
What the hell is a wet bike? It sounds like more of a condition that one of Travis Pastrana's bikes might be in than the name of an actual machine. You think a chick was ever impressed with, "Hey want to cruise down to the lake and ride some wetbikes?" Geez, we're crossing into Brotocross territory here. Wait a minute, these Earthbound, floating (we're assuming they still float) Flash Gordon rocket cycles don't have engines in them, which means they no longer qualify as machines. It's surprising that the seller is choosing to get rid of these things instead of turning them into some type of heavy-duty bobber for ocean fishing.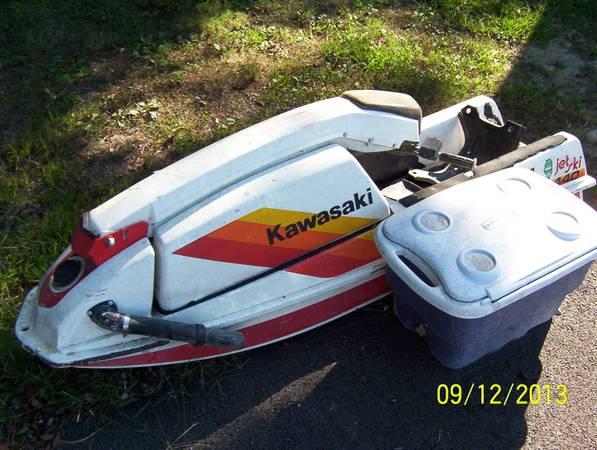 "13. Kawasaki 440 jetski stand up model. Engine came in a cooler, no title. make offer."
Did you know Kawasaki also makes freight ships? Freight ships require bilge pumps, which require engines, which Kawasaki built for their freight ships in the form of two-cylinder two-stroke engines. Later they took that same engine and dropped it in these super early Jet-Skis. Since the engine wasn't designed to be run at variable RPM, tons of them blew up, which is probably why the engine to this one currently calls a cooler home. These things did have one redeeming quality though; the tube for the fire extinguisher is the perfect size for a pair of frosty silver bullets. It's all true, at least as true as any of the other mechanical legends that float around motorcycle shop service departments. Whatever you do, don't Google it and call us out in the comments section.
"I also have a small 3 point 4 foot finishing mower, a woods RM48, i would sell or trade it for either a roto tiller attachment for my terrapro RT38, a snow blower YB46, a finishing mower FM48, or my first choice a rough cut, RC42 mower. or i'll just buy one if you don't want to trade.
Some stuff i'll trade for anything listed above is mainly stuff that has or is suppose to have an engine on it, nothing made in china though. and i'm looking for zero turn mower, but not one that looks like a vacuum cleaner from the '70's, crf250x, dana 44 out of a '71-'77 bronco with ALL linkages and brackets even the ones the axle bolts to on the frame or a fullsize ford dana 44 narrowed. If you need more pics of anything just let me know. Thanks"
No, good sir, thank YOU, and if we come across a zero turn mower that doesn't look like a vacuum cleaner from the 70s while we're busy trying to figure out what an RM48 is, we'll be sure to let you know.
Got a junk ad from Craigslist you want to share with the world? Share it with us first by sending it to aaron@racerxonline.com.