Saxony-Anhalt, Germany
Motocross of Nations
Motocross of Nations
BTO Sports is your number one source for all of your motocross parts, gear, accessories and apparel. BTOSports.com is a motocross company who is truly dedicated to the sport and to the customer. Proud sponsor of your Racer X Podcasts and the BTO Sports race team.
And that's a wrap. The 2013 Motocross des Nations is over and done with. All that's left is the crying and trying to get over being jet-lagged. Jason Thomas and myself headed over to Teutschenthal, Germany for this year's edition and it was a glorious four days of soaking in the sights and sounds of Germany. Once again, I'll say it: Europe is weird. I'm not judging here but it's just so radically different from America (or Canada) that I'm happy to visit the great continent, but I'm also happy to get home.
First, the track. Thanks to Marionna at Youthstream media services, JT and myself had terrific access to the track and we could see that it was rough. In fact Justin Barcia thought it was rougher than any U.S. track as did Phil Nicoletti of Team Puerto Rico. When I was last here for the GP in 2009 it was pretty hard packed but this year, early in the weekend they had it ripped and watered like an AMA track. And then, in a departure from what is usually done at GPs, they just left it from Saturday to Sunday. Square-edgy, rutty and hard to pass on were the name of the game for the riders. I liked it though. It was good viewing and had a little bit of everything to challenge the riders.
One thing's for sure, it was great for 250Fs. Kenny Roczen and Eli Tomac are great riders no doubt but they were the fastest guys on the track by a good margin. Plus Dean Ferris of Australia holeshot both motos (I know that doesn't have anything to do with the track but it just stamped the "250s rule, 450s drool" kind of weekend it was) and in general the small bikes were great. In talking to some riders they mentioned that there really weren't any hills to rob horsepower, the ruts were bad, the corners were tight and it was easier to point and shoot a 250F as opposed to a 450F.
In fact in the combined MX2/MX3 race eight out of the top twelve were 250Fs. Put that in your 250F pipe and smoke it.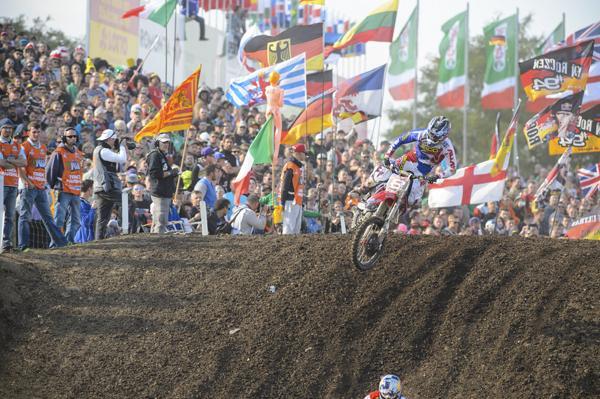 All caps, please: AMAZING SPEED.
Simon Cudby photo
This just in, Team USA got beat. Yep, two years in a row the red, white and blue have lost at a race that they've dominated for years. After the "Licking at Lommel" the team took last year most wrote it off because of the deep sand track and truthfully, the team wasn't even close to winning last year so I went along with that theory. This year, however, they just got beat. The three guys we sent over (Ryan Dungey, Justin Barcia and Eli Tomac) rode hard, they gave it their all but mistakes cost them. And this just (also) in, the Europeans are fast. They're especially fast in Europe and on their tracks.
The USA lost by three points to Belgium and I know people want heads to be rolled and fingers to be pointed blaming everybody and everything but if Eli Tomac doesn't go down in that first moto and takes his easy second or third in MX2 and if Justin Barcia doesn't fall in the first turn in the final moto, USA wins. I know it's so easy to say that and certainly other countries have their own ifs and buts (see Clemente Desalle crashing out of the race in the same first turn that claimed Barcia) but it goes to show you how everything needs to break right to win this race. With five out of your best six scores counting towards the final tally, it's a real challenge. And I guarantee you that the next time USA wins this, they'll have a bit more appreciation for it.
The Europeans are fast. I know when I went to the Grand Prix at this very track in 2009, I was very impressed with the MX2 class and how the Euros just looked like Southern California kids. Scrubbing, attacking, aggressive—there was a drastic difference to the MX1 class and now these kids are all here and learning the tricks of the trade.
Out of the last nine motos of the MXdN, which stretches through three races, all held in Europe, Team USA has only won one single moto (Ryan Villopoto, France 2011). One American moto win out of the last nine. And that should tell you all you need to know. Winning this race is no longer a given (unless, I think, it's held on U.S. soil).
Let's touch on Team USA first. As I was saying, Eli Tomac threw it away in an amazing Chad-Reed-at-Millville-type-of-way. Wow, it was something else and I'm glad he was okay. Before that he was showing amazing speed. Seriously, let me capitalize that to get the point through: AMAZING SPEED. In both of Tomac's motos he had the fastest lap time out of anyone—450s and 250s. Whatever size bike and whatever rider you wanted to put out there, Tomac was faster than them.
A rookie on the squad, Tomac probably let his over eagerness get the best of him but it wasn't like his crash was something he (or us) could see coming. He had caught up to Roczen and was all over him. Eli knew he was better than Kenny (judging by the AMA MX number 1 plate on his mantle and from how far back he had caught Kenny) and it was the first moto of the day. Had it been the third moto, had Team USA knew what they needed to do to lock up the win, then maybe Tomac backs it down. You can't fault the kid for going for it. He was on fire and the last thing you want to do is douse that. Great ride for Tomac, as crash or not, he put on a show.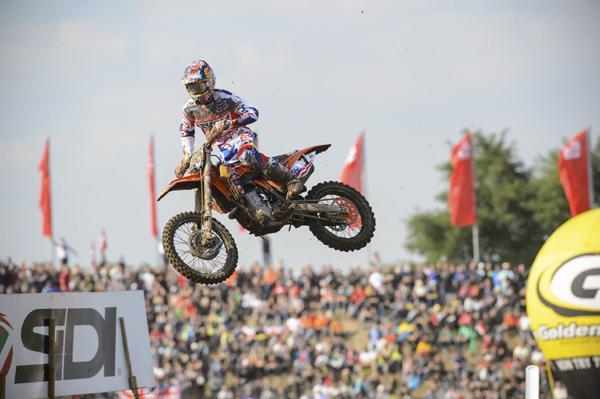 Was there a difference between the #7 Dungey and the #5 one?
Simon Cudby photo
Justin Barcia was good. Not great, not bad, but good. Last year I thought he was the best guy on the team and like Tomac this year, you can't blame Barcia for the mistakes he made—they happen when you're pushing and trying to, you know, win the race. I was surprised in Saturday's qualifier that Clement Desalle just up and left Justin behind. I wasn't surprised that Clement beat Barcia, because he's a world class rider, but to drop him that badly was a shock. Barcia and his team made some bike changes for Sunday's race and it seemed to go better for him but in moto two he was once again passed and dropped by Desalle, who came from tenth to third behind the 250F duo of Roczen and Tomac.
Justin did come from last to eleventh in the third moto after a fall in the first turn and keep in mind his performances (winning the MX3 class, going 4-11 in his motos) came without having the better gate pick in either of his motos. So his results were admirable. As I said, he rode good, he could've done better but in the end, he won his class and was okay. Crashing in the first turn wasn't great but then again, when you're picking 22nd going to the gate, sometimes shit happens.
And then we come to Ryan Dungey. There are plenty of people putting the blame on Ryan for the loss but you win as a team and you lose as a team. And if you're a Dungey fan you should point to the scoreboard and point out that Ryan's 6-7 finishes were the most consistent of any member of Team USA. So yeah, there's that.
But as a four-time champion, the MX1 rider on the team and one of the very best riders in the world (heck, he had people calling him Captain America!), more was expected of Dungey. It's that simple, that's why he makes the big bucks that he does. The pressure is there for him to come through and for the second year in a row, he was off his game. It was very bizarre out there to watch this fantastic rider struggle to find his pace. In the third moto when America needed him to come through (like he did in Italy in '09, Colorado '10 and France '11, scoring 1-1-2 finishes in those third motos) the most, he didn't have it. He couldn't get by Gautier Paulin and Tommy Searle and in fact he lost a lot of time the last few laps. Where in the heck did "The Dunge" go that I've seen time and time again over here?
Team USA team manager (and Ryan's team manager in America) Roger DeCoster had some harsh words for Ryan after the event, courtesy of MXvice.com:
"Ryan thinks the bike was the problem, it's himself. Mentally, he is not focused on finding the best solution on riding, and finding the best lines. You know, it's not a bike issue. It was not a setup issue – he used the same setup as Ken Roczen. I mean Cairoli is on a 350, but he has the same options. Ryan needs to look at himself, right now, and deep inside he knows that."
Wow. That's all I can say to that. It's not that I don't believe Roger's quotes; I do tend to lean his way when it comes to riders sort-of blaming the bike (I have some experience on race teams) but it's ballsy of RD to put this statement out there. So we now know that Ryan wasn't happy with his motorcycle but as Roger said, there's the Antonio Cairoli and Kenny Roczen factor. Yeah, they weren't on a 450 but they were on KTMs and it's not like there isn't an abundance of smart people standing around to help Dungey with his bike.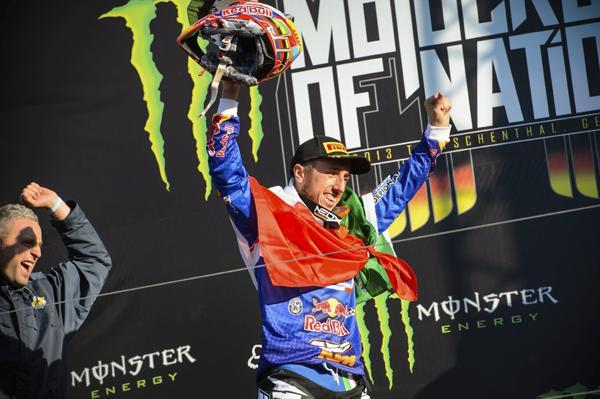 Matthes, and pretty much any other motocross-loving soul on Earth, would like to see AC222 try a U.S. National.
Simon Cudby photo
Whatever the issues are it's not like Ryan Dungey forgot how to ride or choked in Germany. Dungey's come through for Team USA big time in the races before (as stated above) and he's gnarly. He's just picked the last two MXDN's to not have his best days and unfortunately for him, in his position, all eyes are on him. It's not Ryan's fault Team USA lost the race but he needed to be better.
You know who was better? Team Belgium, that's who! The mighty Belgians won the MXDN for the 25th time (counting Trophee des Nations) with solid and steady scores. And they won with Desalle dislocating his shoulder in the third moto in the first turn crash that claimed Barcia. Ken de Dycker had a so-so first moto but he rode a terrific third moto to get second. Jeremy van Horebeek dropped down to the 250s (thank you Youthstream for ridding us of the asinine under 23-years old rule in MX2 for the MXdN. Now can you please strike it from the GPs also?) without a lot of prep time and put in two solid rides. Belgium is always a threat at this race, I don't care what people say. They have great riders and a history of doing well. And to think that some people, myself included, wondered about putting de Dycker on the team instead of Kevin Strijbos. Big Ken came through with a nice second place in that final moto to help Belgium win by three points.
As I've written about time and time again I believe that Antonio Cairoli is truly one of the best riders in the world. And he once again swept both of his motos to extend his MXDN victory streak to four motos. That helped Italy get on the podium. AC222's first moto ride was remarkable; he was buried off the start but ripped his way up past Kenny Roczen and into the lead. What a ride for the Italian. As great as he is on the bike, off the bike he's also a class act and a nice guy. I hope he races in America one day, even just for one national. Please?
On Saturday it was the green and gold of Australia that was sitting atop the board as the best motocross country in the world. Brett Metcalfe went out and won the MX1 qualifying heat in a great performance as he held off Dungey. I know it was just a qualifier but it still has to rank up there for Metcalfe. And keep in mind this is a guy who can't get a decent paying gig in America. On Sunday Metty wasn't able to keep the mojo going although he was pretty good to get seventh overall in MX1. Dean Ferris on his three-speed Cosworth-powered rocketship Yamaha YZ250F had a great day in holeshoting his two Sunday motos and finishing second overall in the MX2 class. Ferris will be in MX1 next year and then I predict he will be racing in America. He has that much skill and in talking to him after the race he mentioned that he would like to come to the USA one day. After a good MX3 qualifier, Todd Waters didn't have the day he would have liked on Sunday but he put in some good efforts to help the Aussies get fourth overall. That tied Australia's second best ever MXDN finish.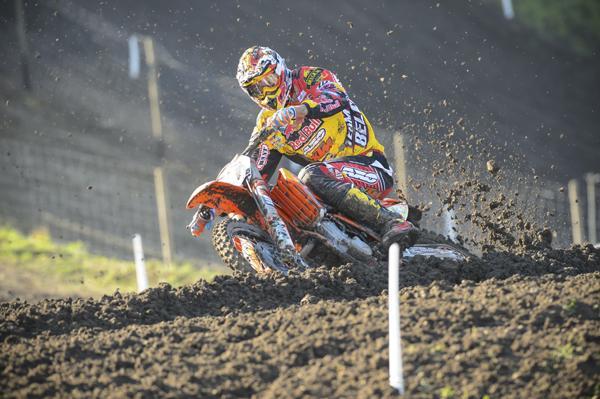 Kevin Strijbos would have also been a good MX3 pick, but there's no arguing that Big Ken came through for his team.
Simon Cudby photo
Some other news and notes from a guy that's super-pumped to pick up this sickness on the way back home:
- Team Puerto Rico consisted of Phil Nicoletti, Alex Martin and Roberto Gonzalez. While I'm sure Gonzalez is a nice guy and all, he was 19 seconds a lap slower than Brett Metcalfe in the MX1 qualifier so basically this meant that Nicoletti and Martin were on their own when it came to the race. They tried but Martin got some sort of cramps on Saturday that affected him all weekend and caused him to drop back on Sunday's B main. Still, team PR was at one point in the lead for the win in the B main which would have gotten them into the A main. But when Martin went backwards it was all over. The guys had fun though and appreciated the moment of being there. It's also comedy to hear Phil and Alex bust on each other non-stop about anything and everything. They should really think about taking their act out on the road. I can see it now, The Filthy and Troll Show—Now Playing!
- Tommy Searle has always been pretty good at these MXdN's. He's really put in some good rides, even when he was forced to jump onto the 450 when he usually rode 250s. Great Britain was in the mix this year thanks to him. Interesting to see Searle debuting WP Suspension on his CLS KX450F, in talking to him about it he mentioned that he really thought it was a massive improvement over his suspension that he'd been battling all year. Next year the CLS Kawasaki team is not going to be using Pro Circuit motors and suspension, which I found interesting to say the least.
- In case you're wondering about the bike differences for the MXdN, the USA guys had to get a bit quieter and use a little less volatile fuel for this race to meet the FIM standards, along with running a counter-shaft guard and steel axles. The guys didn't really complain that much about the reduced performance of the bikes due to the sound and fuel regulations. Another way we can point to how good the race bikes are these days.
- There's no official awards or anything like that but I really liked Brett Metcalfe's bike/gear combo. In fact I award Brett the best looking out of anyone there so how's about that? The MXDN is always strong with custom graphics and gear and this year, Metty's green and gold on the Kawasaki was on point.
- Kenny Roczen stated on Saturday that his goal was to win a moto overall and by golly, that's exactly what he did. Roczen got some arm pump in the first moto and dropped back a bit but second time out he was great. The defending champions couldn't overcome Jan Dennis Ulrich's crashes that led to two DNF's but Roczen joins an elite field of Ryan Villopoto, Antonio Cairoli, Steve Lamson and Sebastien Tortelli in winning a moto outright on a small bike. Roczen holding off Eli Tomac in that moto was definitely something I'll never forget. And neither will the thousands of fans there.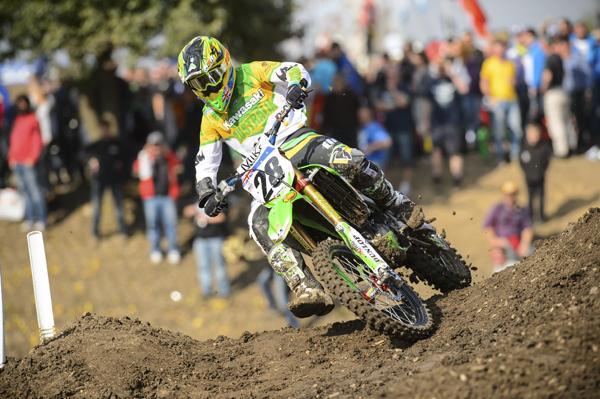 Metty looking good.
Simon Cudby photo
- As far as my country, well, it wasn't good. Canada fielded a team for the first time in two years and really, we were looking good coming into the race. Yeah there wasn't a Colton Facciotti there but we had the next three best riders in Cole Thompson and Tyler and Jeremy Medaglia. We had great help from a German connection that got us the Sarholz Honda truck and the team shipped its race bikes from home. Everything was lined up! Except then it wasn't. For whatever reason Canada struggled, lost one rider to injury on Saturday and suffered an epic collapse by going from first place in the B main to fourth all on the last lap. It was amazingly awful and a bummer for me. And of course JT and all my friends from other countries also didn't help my sorrows out by constantly pointing out the collapse and asking about it.
- Traveling with Jason Thomas was fun, we had a good time and constantly bickering back and forth made for some good laughs. I don't understand why he has to drink his coffee in the morning before he eats anything and I don't understand why he thinks he has to look like he's hitting the runway when it's just a dirt bike track but hey, that's what friends are for. We also went out to dinner with TWMX's Brendan Lutes to a nice pizza place, I caught up with a bunch of friends that I only see once a year and overall it's a cool deal to be able to be lucky enough to go cover this race. I'm more and more appreciative of this as the years go on. If you can ever catch a MXdN in Europe, I highly recommend it. Good times indeed.
Thanks for reading, send me an email at matthes@racerxonline.com if you've got your own theory on what happened in Germany.