6D Helmets New Graphic Color
6D Helmets is introducing a new color way to their ATR-1 helmet collection. The 6D ATR-1 is the most technologically advanced off-road helmet available today. The White/Red Intruder is a more traditional 'race' style graphic featuring bold logos, high contrasting colors, and is finished with a super hi-gloss clear-coat. The White/ Red Intruder made its public debut at the Lucas Oil Pro Motocross finale at Lake Elsinore Motocross Park on current 250cc Motocross Champion Eli Tomac. The White/Red Intruder is available for pre-order in sizes XS-XXL and will be in-stock later this month!
Retail Price: $745.00 USD
Website: www.6dhelmets.com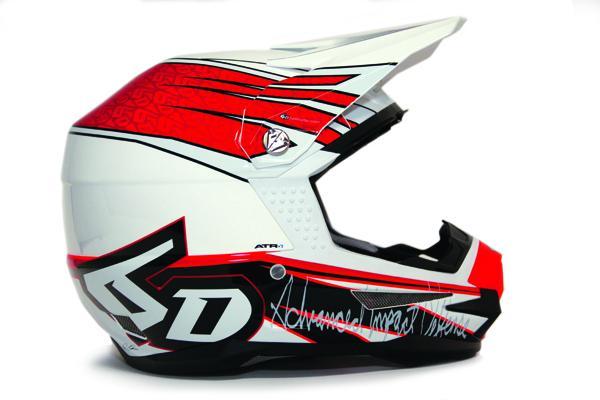 6D ATR-1 Features:
· ODS™ ( Omni-Directional Suspension ) Technology.
· Shell – Tri-composite aerospace carbon fiber, fiberglass and Kevlar®.
· Sternum Pad – Provides added protection.
· Comfort Liner – Genuine CoolMax® anti-bacterial fabric.
· Emergency Release Cheek Pads.
· Shear-away Visor Screws – Improves safety.
· Interior Air Gap improves cooling.
· Delta Vent - Increases air flow and aids heat transfer.
· Titanium 'D' rings and chin strap rivets.
· Exceeds ECE, DOT, and AU standards.
· Weight: +/- 1,525 grams.
· 3-year limited warranty.
About the 6D's ATR-1 helmet:
The 6D ATR-1 off-road motorcycle helmet brings an entirely new helmet technology to the athlete and is the only helmet specifically designed for the rigors of Motocross and Off-Road competition. Exclusive patent pending ODS™ (Omni-Directional Suspension™) provides protection capabilities unmatched by any other helmet. ODS™ works to mitigate critical angular acceleration force and low-threshold impacts, while maintaining all of the necessary protection for extreme hits as well.
Visit www.6dhelmets.com for more information.