By Chase Stallo, Jason Thomas, Steve Matthes and Jason Weigandt
- Reigning European MX2 Champion—a stepping stone class before MX2 in the GPs—Valentin Guillod led a young Switzerland team to its first top ten performance since 2009. Guillod led for a brief time in Race 1, before finishing ninth. He was also up front in his qualifier on Saturday. Along with fellow EMX250 competitor Jeremy Seewer, recipient of the Ricky Carmichael Award, which is awarded to the best youngest rider at the Motocross of Nations, Switzerland looks to have an impressive 1-2 punch for years to come. Switzerland: they may be neutral, but their motocross program is in gear.
- Alessandro Lupino, whose struggles in three previous MXoN stints (Colorado (20-25), France (36-39), and Belgium (25-37) have hurt the Italians chance at a podium, had his best performance at the MXoN in Germany. Lupino rose to the occasion, finishing fifth best in MX2 (13-8), and helping Italy reach the podium for the first time since their win in 2002.
- Australia's Dean Ferris came on strong late in the GP season, winning his first career MX2 GP in the absence of Jeffrey Herlings. He was the catalyst for the Australian effort at the MXoN. After helping led the team to its first-ever overall qualification win on Saturday, which led to the best gate picks in the motos (and two holeshots!) Ferris finished second in MX2 (4-5) behind Roczen on Sunday, leading Australia to a fourth place finish.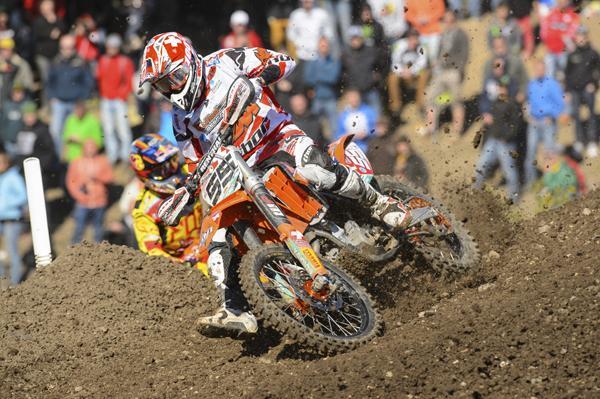 Valentin Guillod had a breakout performance at the Motocross of Nations.
Simon Cudby photo
- After those starts, the pits were abuzz with talk of the Cosworth-powered Dixon Yamaha YZ250F of Ferris. Most of the other tuners in the pits acknowledge that the bike might even be faster than the mighty KTM 250Fs!
- Australia really did rule qualifying on Saturday, with Ferris putting in a fine effort for second behind Roczen in the MX2 race, and Brett Metcalfe winning the ultra-competitive MX1 race over Ryan Dungey. Todd Waters took fourth in the Open race. The Aussies couldn't quite find that magic on Sunday, but all in all in was a great weekend for the boys from Down Under.
- Thanks to the FIM ditching the under-age-23 rule for MX2, Jeremy van Horebeek was able to compete on a 250F for Team Belgium (van Horebeek had to race the MX1 class this year in the GPs, which still uses the under-23 rule in the MX2 division). Van Horebeek had only two weeks to prep on the 250F, but was resilient in his charge to seventh in Race 2 following a crash off the start. The result was key to a Belgium win after Clement Desalle exited Race 3 with a shoulder injury, and Belgium had to use its drop score for that.
- Lost in fantastic individual performances by Italy's Antonio Carioli and Germany's Ken Roczen was Tommy Searle's second overall in MX1. The Team Great Britain rider logged 3-5 scores, topped only by Cairoli's 1-1. Great Britain also got some good rides from Jake Nicholls and Shaun Simpson to end up sixth overall on the day. Searle has now ridden very well at the last three MXoN's on the big bike.
- Searle debuted WP shock and fork on his CLS Kawasaki and reported that they were much better than his older Showa set-up that he had been running this year. And it showed in his results. Next year the CLS Kawasaki team is not going to be using Pro Circuit and will be switching to European aftermarket companies.
- Tony Cairoli, after years of MXoN anguish in the MX1 class, is now 4-0 over the last four motos.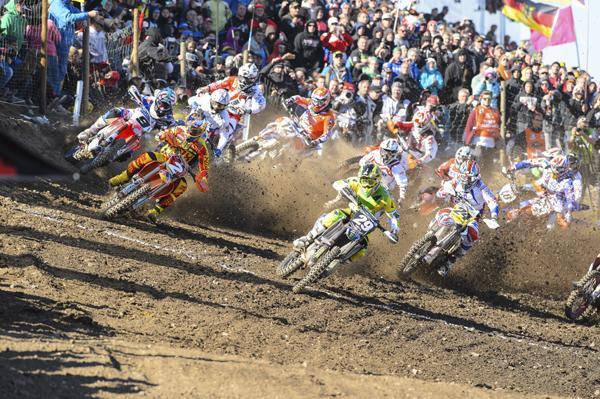 Dean Ferris (29) took the holeshot in both his motos on Sunday.
Simon Cudby photo
- What's buzzing right now for Team USA? The European site MXvice.com grabbed a quick interview with Roger DeCoster after the event, which included this question and answer:
MX Vice: I saw Dungey making a lot of bike changes throughout the weekend, specifically with the shock. Was he struggling with setup over the two days?
DeCoster: "Ryan thinks the bike was the problem, it's himself. Mentally, he is not focused on finding the best solution on riding, and finding the best lines. You know, it's not a bike issue. It was not a setup issue – he used the same setup as Ken Roczen. I mean Cairoli is on a 350, but he has the same options. Ryan needs to look at himself, right now, and deep inside he knows that." Wow!
- Interesting stat: The Open Class provided only five top ten performances over two motos (Justin Barcia (USA), Tanel Leok (EST), Christophe Charlier (FRA), Clement Desalle (BEL) and David Philippaerts (ITA)). And when the Open riders were paired up with MX1 class in Race 3, only one—Philippaerts in tenth—managed to break through.
- Tough day for New Zealand, who failed to have one top twenty finish en route to a 20th place overall finish.
- One of the best races of the day was actually the battle for the last spot into the A main. With two laps to go, there were four nations in the running for that coveted ticket to the show. Canada was left heartbroken as a last lap pass made the difference, sending Latvia onwards to race for their country.
- The Hondas of Max Nagl and Evgeny Bobryshev were outfitted with some very trick hardware on the weekend. As GP rules differ from our series here in the USA, they are allowed to push the envelope with bike development in ways we simply are not. There were many photographers clamoring to get photos of the more interesting updates on the CRF450's. Notably, the shock was configured quite differently and updated chassis components.
- Tough break for Germany's hopes to repeat: Dennis Ullrich was racing in place of last year's Open entrant, Marcus Schiffer, who was out injured. But Ullrich went down in the first turn of Race 2, and soon after he was down again in what looked to be a small pileup at the bottom of a jump. Injured, his day was over before it really even started, and Germany's chances to win were squashed.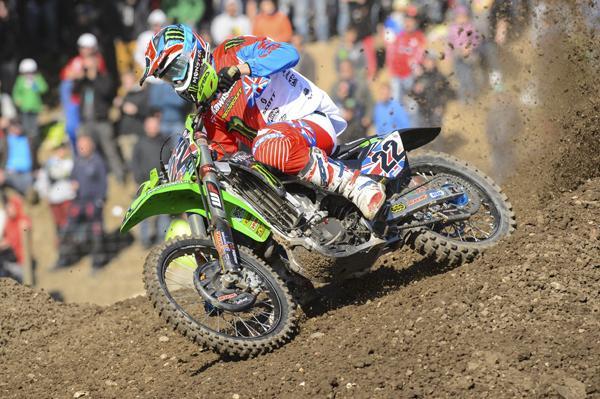 Tommy Searle finished second in the MX1 Class in Germany.
Simon Cudby photo
- Tanel Leok once again put Estonia into the top ten almost single handedly. Riding a blue and white TM, he led his team with 6-17 scores, and that was enough for them to finish tenth in the overall results.
- There was another team of Americans at the MXoN. Team Puerto Rico had Phil Nicoletti and Alex Martin there along with Puerto Rican Roberto Gonzalez. Unfortunately they weren't able to make the A main but they both put in a spirited ride in the B main where at one point late in the race they were in position to win and make it in (the B main seeds the top team into the main A race). Gonzalez struggled out there big-time and so it was up to Nicoletti and Martin to make it happen but they weren't able to. Still, in talking to both riders after the race they expressed happiness at being able to race the most prestigious race in the world.
- France's Jordi Tixier (second in this year's MX2 GPs) was looked upon as one of the reasons why France was thought to have a podium shot, but he had a terrible day in Germany, crashing early on in both of his motos. Jordi definitely wants a do-over on his race as his scores of 12-12 aren't an indicator of his talent. France was fifth overall on the day.