Seven rookies garnered deals with factory supported teams in 2013. Former Team Green amateur prospect Dillan Epstein was not one of those seven rookies. Unprepared for the daunting task of Monster Energy Supercross, Epstein struggled—making just one West Region 250SX main. He would rebound in Lucas Oil Pro Motocross, standing as the top privateer before a knee injury at Southwick ended his season. Epstein is scheduled to undergo surgery on his knee October 1, costing him 4-6 months off the bike. He hopes to return for the 250SX East Region in 2014, but may have to hold his comeback off until outdoors.
Racer X: We talked a few months back after you suffered what was thought to be a torn ACL, but it appears that the injury may be worse than originally thought.
Dillan Epstein: I injured my MCL and it healed, but it healed with scar tissue. The best example I can give you is that it's a piece of rope and that piece of rope had an inch added on to it. So they have to detach my MCL and then reattach it. My ACL is still torn, so I have a torn ACL and MCL. My lateral meniscus floated to the other side of my knee and they are going to see if it's even operable and how damaged it is and if it's not too damaged they will sew it back on.
What are your plans going forward? Are you having surgery soon, and what will be operated on?
I was supposed to have surgery next Tuesday but that got bumped to the Tuesday after that. So I will be having surgery on October 1. I've been able to swim and cycle, so after that I will probably go back to doing the same thing and stay in shape off the bike and see what happens from there.
Obviously it's early, but have they given you a timetable on how long you may be off the bike?
They said four-six months, nine at the most. But they don't think I'll be reaching the nine-month mark because of how the MRI results came out. They think if everything goes to plan it will be four months and if not it will be six.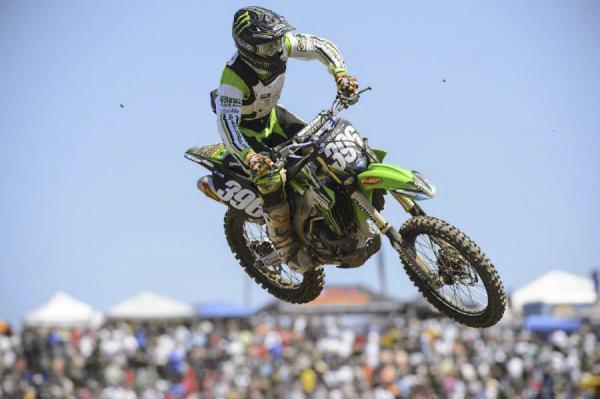 Dillan Epstein was the top privateer before suffering a knee injury at Southwick.
Simon Cudby photo
Are you going to try and race supercross or are you putting your focus toward returning for outdoors?
If I am able to ride supercross it will be East. But that's if we can figure something out. If not, I will just get ready for outdoors.
Things were going pretty well for you before the injury, how big of a setback is this?
On top of everything that has happened over the past year and a half … yeah, it's definitely a setback, on top of not getting a ride and not knowing what I was doing, but honestly I'm not worrying about that because I'm working hard and in time hard work will pay off.  Hopefully someone will notice my hard work and I'll be able to get something together. I just have to put the results in, and really there is no excuse for this past year. I definitely could of done better on the bike in supercross and I could have done better outdoors, but I didn't. I guess you could say this is my last go and we will see what happens. But I can say I will be working my butt off and nothing will be less than 100 percent.
You mentioned that you were able to still train. How much does it hurt and how beneficial is it to be able to keep your core base intact?
I'm not able to run or anything like that, but cycling puts no stress on the leg so my doctor said I could cycle and swim, but I can't kick while swimming. I can go in the gym and lift weights and all that. In the pool I basically tie a noodle around my leg and I just swim with my upper body, and then obviously I use my lower body cycling, so it all pans out pretty good.
Outdoors was much better for you than supercross this year. If you are able to race supercross next season, what adjustments will you make in your routine?
Honestly I was so worried about crashing in supercross, because I was worried about doing so well so badly that I would freeze up because I didn't want to crash and that actually ended up making it worse for me. This time around I have nothing to lose and nothing to worry about. If I lose, I lose. If I win, or top five, it doesn't matter, because I'm just gaining.
Do you think not getting a ride last year played into those early struggles to where you were trying to do too much too soon?
Exactly. Not having a ride and showing up at Anaheim 1 not being prepared and knowing we weren't prepared was a struggle too. I discussed it with everybody, saying I don't think I'm ready. The bike may be ready, everyone else may be ready, but I don't think I am. But knowing how well I can ride, we just went for it. Last year was an eye opener because of how little I trained and how I trained and what I needed to do for next year. After the break I was ready, but the team ended up pulling that because we wanted to get a head start for outdoors so we didn't have the same issues for supercross.
The trend for most rookies now is to start at Hangtown and then move into supercross. Others started at the East Region opener. You don't see many jumping straight into the West Region as a rookie. How much of a struggle was it to grasp the concept showing up at A1 instead of Dallas (the East Region opener in 2013)?
Seeing the East Coast, there was only five of six factory guys, everyone on the West Coast was biting their nails asking what we were doing on the West Coast. Maybe I would of done better on the East, or maybe not. I would have had more time, so truthfully I think I would have done better on the East. If I had the choice I would have went East in a heartbeat, but we didn't have a choice and [we had to] rush right into it and we just had to deal with what we had and hope for the best and it didn't turn out so well. But this year I have nothing to lose and all to gain.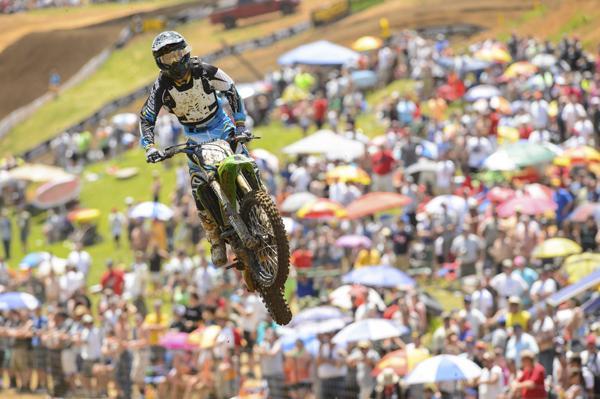 Epstein hopes to return for Monster Energy Supercross, but may have to wait until the 2014 Lucas Oil Pro Motocross season opener.
Simon Cudby photo
Any plans of what you will be riding on what your set up will be for next year?
That is all up in the air. I have no idea right now.
Obviously the injury is not helping. Are you planning on trying to put something together once your healthy?
Exactly. Maybe even try to work something out while I'm hurt. As long as I have a little bit of support and I'm able to get to the races that's all I need to do is have my bike at the races. That's a big thing for us is travel. It's a really big dent in our pocket. It is for any privateer, but me and my family aren't the richest out there, I can tell you that. So if I could get someone to take my bike, that's all I need.