AIMExpo Names Roberts AIMC
IRVINE, Calif. – With the inaugural American International Motorcycle Expo (AIMExpo) nearing, the Marketplace Events Motorcycle Group has made one of its biggest announcements to date with the naming of American motorcycle racing legend Kenny Roberts as their "American International Motorcycle Champion." In this role, Roberts will serve as the proverbial face of AIMExpo, joining in the celebration of the inaugural show with the entire powersports marketplace – industry, trade, media and consumers.

A dirt-track rider from Modesto, Calif., Roberts became an icon in the world of racing during the 1970's as arguably the most well-rounded competitive rider of all time, possessing a refreshingly energetic, charismatic, and brash persona but with an unrelenting determination for success. After capturing multiple U.S. Grand National Championships, which featured dirt-track and road racing disciplines, Roberts made the move overseas to compete in road racing full time. He became the first rookie rider and the first American rider to win the FIM 500cc World Grand Prix Championship, now known as MotoGP, and cemented his status as one of the all-time greats by capturing three consecutive world championships from 1978-1980. His record of winning the championship as a rookie still stands.

"I've admired KR's longstanding world champion stature, his instant recognition to many generations of motorcyclists, and his continued commitment to the sport today," said Larry Little, Vice President and General Manager of AIMExpo.

In addition to his incredible talent on the track, Roberts also established himself as an advocate for competitors, openly expressing his dissatisfaction with the status quo and fighting for much-needed change in how Grand Prix was operated. His efforts led to greater financial support for riders and long overdue improvements in safety regulations. He became a true champion of the sport both on and off the track and his dedication helped him achieve even greater success as a team owner, overseeing the three-year run of world championships by fellow American Wayne Rainey.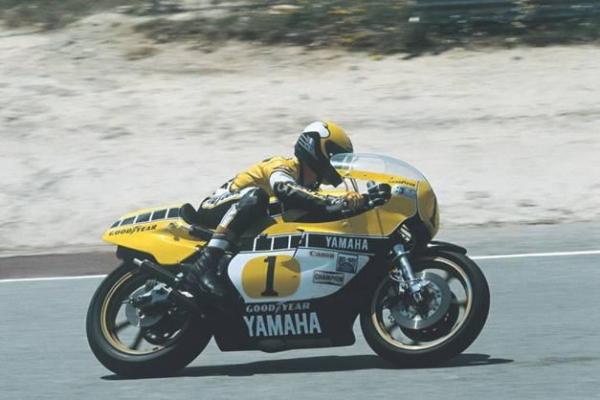 Photo Courtesy Yamaha
As "AIMExpo Champion," Roberts will play a key role in the festivities of the inaugural event. He will "Champion" the show via pre-event publicity and promotion, play a role in the grand opening of the expo, and share his championship experiences during the consumer days of the show. In an effort to recognize his significance to AIMExpo and to pay tribute to his American dirt-track roots, show producer Marketplace Events Motorcycle Group has commissioned a Star Bolt by Yamaha in Robert's now famous yellow "track-graphic" livery, which will be given away at AIMExpo.
"Like Kenny did for his fellow competitors and the fans of Grand Prix, AIMExpo is bringing needed change, energy, and excitement to the business of motorcycling, so we've got a lot in common," added Little. "The Bolt represents a fun way to recognize our appreciation for everything KR has done for motorcycling in the U.S."

"I've known Larry and other members of the AIMExpo team for a long time, and they are the right group to bring the popular European model of an all-inclusive motorcycle event to the American market," said Roberts. "And, having it in the fall makes so much sense for dealers and consumers when all the new products are coming out. I really appreciate and relate to their enthusiasm to challenge and change things up, and I look forward to seeing everyone this October in Orlando!"

The inaugural AIMExpo will revolutionize the powersports industry as North America's first combined consumer, trade and media event. It will be held on October 16-20, 2013 at the Orange County Convention Center in Orlando, Fla.  

For more information, visit the AIMExpoUSA.com web site, and keep up to date on the continued progress by visiting AIMExpo's social media pages. "Like" the American International Motorcycle Expo on Facebook by visiting the AIMExpo page, and "Follow" on Twitter: @AIMExpo.