1.7 Cleaning Solutions Expands Line
1.7 Cleaning Solutions expands line to now include 14 unique speciality cleaning formulas.
Formula 1- Wash /Degreaser
Formula 2- Four 'N' One Shine
Formula 3- Plastic/Rubber Conditioner
Formula 4- Hard Parts Dressing
Formula 5- Brake Cleaner
Formula 6- Pre Ride Mud Release
Formula 7- Goggle/Window Cleaner
Formula 8- Tire Lube
Formula 9- Hand Cleaner
Formula 10- Multi Cleaning Wipes
Formula 11- Combo Kit
Formula 12- Aluminum Polish
Formula 13- Sticker Remover
Formula 14- Graphic Applicator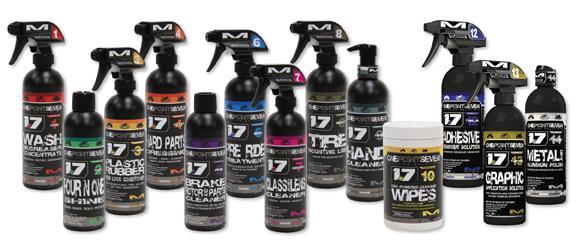 1.7 was developed in conjunction with and is now used and endorsed by the top race teams in the country including RCH, Rockstar Suzuki, JGR and Geico Honda. All formulas are available in 16oz spray bottles and Formula's 1, 3, 4 & 8 are also available in 1 gallon refills.
The new 1.7 line also has all the cleaning accessories you need to clean and care for your motorcycle. The line includes Wash Mit, Micro - Fiber Wash Clothes, Wash Mat and Pump Sprayer.