Tooele, UT
Utah National
AMA Pro Motocross Championship
This thing is winding down folks. With the conclusion of the eleventh round at Miller Motorsports Park, the new venue just outside of Salt Lake City, the 2013 Lucas Oil Pro Motocross Championship has one more round left. It was an entirely manmade track where the promoters got a butt-load of dirt and moved it around impressively to create a motocross track that was typical of a Southern California track. It was choppy, square-edged, slick and pretty much like nothing the riders see all summer at the Nationals.
With it being totally flat, the track designers had no choice but to create some jumps and some elevation. The start was raised up and banked and there were some pretty big jumps out there as well. Was it the best track of the season? No way. Most of the riders weren't fans of the track at all, but it's really a combination of three things that caused the dissention. The first issue was the dirt. This just in, you're not going to escape that type of dirt if you're building tracks in what is the desert of America. There's such a fine line between the dirt turning out awesome and being completely garbage, and even the best track builders in the world have long battled this issue. Build a manmade track in New York and it's probably pretty good. In fact I watched the German GP, built in a speedway with what looked like pretty good dirt, and it seemed like a decent track. It had ruts and bumps and all that.
The second issue was the fact that it was manmade and it's not Millville. Well, what the crew did at MMP was pretty impressive. They tried to replicate a motocross track and I think they mostly hit the mark. Some of the jumps were a little big for a motocross track (but have you noticed some of the big jumps at Millville, RedBud and others? Everyone's doing it) and I'm not sure why it had to have a lot of fast straightaways running one way and then another. Why not more switchbacks, inside humps and more natural whoops? Did we have to have 90+ foot jumps?

Matthes thought the track was okay, but maybe the hangtime was a bit much.
Cudby photo
The third issue was the massive windstorm (and no I'm not talking about a young Kevin Windham) that flew in rather quickly during the second 250MX moto. It got pretty hairy (at least it looked like that, I was in a sealed press box that was comfy and air conditioned. Yes!). It seemed like something out of movie! I half expected flying camels and sheiks to go by. The dust picked up, the big jumps weren't ideal in the wind and the riders were pretty much unrecognizable. Although the banners flying everywhere were pretty recognizable! I thought the red flag was coming out and I bet it probably was close to being called. Eventually it settled down somewhat, but it got crazy there for a bit.
So if you were against this race from the beginning because The Hurricane and The Jammer didn't race on no manmade track, then this windstorm was your perfect storm. Not sure how MX Sports could have prevented that (next time it downpours at High Point I'll be sure to talk about how the track sucked so bad because of the mud), as it was an act of God, but some want to hold that up as everything that was wrong. The dirt is the dirt; Glen Helen is usually overwatered as crap and develops to be dusty and slippery as well and there's not much you can do with it. I do think the design left a little to be desired, but they'll figure it out. I didn't see Short Stack and The Rhinestone Cowboy out there but I did see lots of bumps, whoops and berms, and it was hot. In short, it was motocross, just a little different. In addition, there seemed to be a lot of people who were indeed into it because the crowd seemed big.
Do I want to see all twelve rounds like MMP? No way, but there were a lot of positives to the event that are big picture-type of stuff and at the end of the day, yes the riders complained about the track. Guess what? Every single weekend this year I've got riders on tape complaining about the track. Riders complaining about the track is as old as starting gates that fall forward. Overall, I'd say that it was better than many of the Texas races I've gone to. Take away the windstorm and it wasn't too bad.
Because I wasted so many words talking about (and somewhat defending) the track and because it's the second to last race of the year, let's just skip the small talk and get the results, shall we?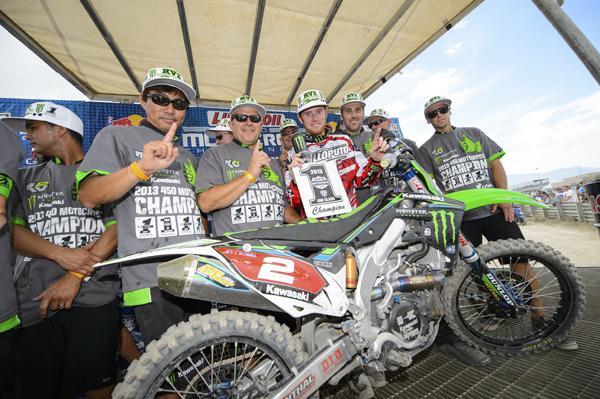 RV found another gear at these last two races and wrapped 'er up early.
Cudby photo
250MX RESULTS
1 17 Eli Tomac Cortez, CO Honda CRF250R 1 1- Eight motos in a row for Tomac and congrats to him and his team on the title.  His mechanic Brian Kranz should also get some props for keeping his bike from falling apart during the long and treacherous National season. A mechanic is a huge part of a championship run.
2 1 Blake Baggett Grand Terrace, CA Kawasaki KX 250F 2 2- The best Baggett's been in a while on a surface that he knows how to ride on. Blake's season has been weird. I want to blame the wrist injury, but then he has some rides like this one and Budds Creek where you're thinking that the track is choppy and brutal and should be hard on the wrist. He does well there, so then you're thinking that he must be okay. He's still coming from the back in many motos, but it's not been the same as last year. Was it the split from trainer Aldon Baker that's responsible for this? I just don't know.
3 94 Ken Roczen Germany KTM 250 SX-F 4 3- There's no doubt that that crash at Millville really took the wind out of Kenny's sails. He's not been the same rider since. Maybe he's battling an injury, but it was a hard crash and it's got to be demoralizing to lose the points lead like that. So now the focus is on the MXoN. Can Kenny win the MX2 class yet again?
4 292 Adam Cianciarulo Port Orange, FL Kawasaki KX 250F 3 9- Well, well, well, look who had a breakout ride at MMP! The kid known as Baby Jesus to some in the paddock had a great day, and all those people who said he was nothing are probably eating some crow. Adam fulfilled his promise with a strong third in the first moto and a last-to-ninth ride in the second. It was by far his best race of the year and I'm happy that he gets to end the year knowing that he can indeed go fast.
5 34 Justin Bogle Cushing, OK Honda CRF250R 9 4- Bogle led some laps and also busted out a no-footer while in the lead which is always fun to watch. Justin's been very good this outdoor season. From a kid who was immature and perhaps a bit injury-prone last year, his career is back on track.
6 44 Darryn Durham Butler, PA Kawasaki KX 250F 8 5- Good day for Durham.  In fact it was his best National of the year on a track that he didn't really like.
7 25 Marvin Musquin France KTM 250 SX-F 5 8- Musquin has been slowly losing some momentum here late in the series and it's understandable. There's not a lot for him to race for. He's not on the French MXoN team and he's basically locked into third in the series. It seems like so long ago, but remember when Marvin ripped off two National wins in a row?
8 175 Cooper Webb Newport, NC Yamaha YZ 250F 7 7- We've gone from "Cooper Webb broke his arm" at Unadilla to "He's got nerve damage and may not race" to now going 7-7 at MMP. Ladies and gentlemen, he's a miracle baby! Good day for Webb and by the way, since his amateur archenemy Adam Cianciarulo has entered the series, AC's scored four more points than Cooper has. I'm sure this will really help fan the flames between the two villages.
9 338 Zach Osborne Chesterfield, SC Honda CRF250R 6 10- Osborne didn't have his best day, as he went from first to sixth in the first moto and third to tenth in the second go around. He's got fifth in the series (which is a great result) locked up and he's thirty-three points ahead of Jake Weimer for tenth overall in combined points, which means he'll get a career number.
10 317 Justin Hill Yoncalla, OR Kawasaki KX 250F 10 14- Hill's gotten tenth or eleventh this year twelve times out of twenty-one motos (not counting his mechanical DNF in a moto at RedBud).
11 19 Will Hahn Decatur, TX Honda CRF250R 12 13- Along with Osborne, Hahn didn't have a good day either. Not sure what was up with this since I didn't get a chance to speak with him. MMP definitely doesn't strike me as a "Wil Hahn" type of track, so perhaps that was it.
12 77 Jeremy Martin Millville, MN Yamaha YZ 250F 37 6- Martin got cleaned out by Seely in the first moto (#flaggerissues) and it looked ugly. Props to him for not only starting the second moto, but doing pretty well in it also.
13 36 Jessy Nelson Paso Robles, CA Honda CRF250R 14 15- Consistent day for Nelson, who started eighteenth in the first moto and twentieth in the second moto and moved up a bit from there.
14 43 Cole Seely Newbury Park, CA Honda CRF250R 19 12
15 38 Kyle Cunningham Aledo, TX Yamaha YZ 250F 36 11- One of the rumors going through the pits is Cunningham on a Valli Yamaha for next year teamed with, wait for it, Christophe Pourcel. Yes, I'm serious. It seems that Pourcel is definitely talking to some teams for a comeback next year.
16 40 Martin Davalos Ecuador Kawasaki KX 250F 11 37-
17 127 Shane McElrath Canton, NC Honda CRF250R 17 16- As Weege said in our podcast, McElrath's gone 17-17-17-16 in his first four pro motos so there's improvement there. In about fifteen more motos, he should be winning!
18 37 Alex Martin Millville, MN Yamaha YZ 250 15 19- Martin didn't like the track either but it's hard to say if those are his true feelings or if he was just repeating what his idol Phil Nicoletti said about the track. He was basically dead last in the second moto from a fall so that's a nice comeback.
19 21 Jason Anderson Edgewood, NM Suzuki RMZ 250 13 28- Anderson should have been better. This is the surface that he grew up on and to be honest, I'm not sure what happened to him on Saturday. There was a dust storm halfway through the moto and I couldn't really make out any of the number plates.
20 677 Matthew Bisceglia Tualatin, OR Honda CRF250R 20 17- The star of Loretta Lynn's is getting his feet wet in the pros.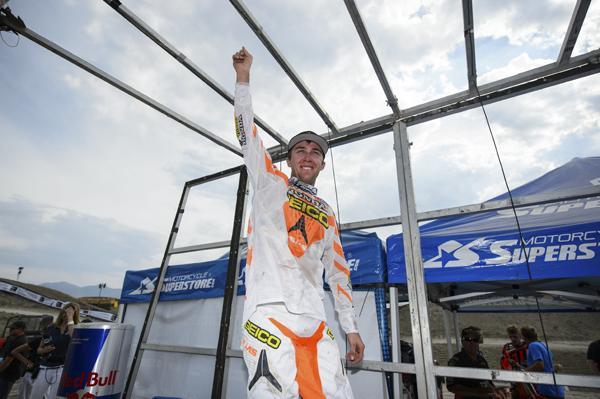 We already knew his dad was gnarly, and now we can officially say Eli is, as well.Cudby photo
450MX RESULTS
1 2 Ryan Villopoto Poulsbo, WA Kawasaki KX 450F 1 1- What a day for RV once again. Two dominant performances and he clinched his fifth Lucas Oil Pro Motocross Championship. I do the Racer X Twitter on race day and there was a guy who was asking why Team USA didn't pick Villopoto for the MXoN because, in his words, "He's got the most wins and is leading the points this year!" Poor guy, he's so confused.
2 1 Ryan Dungey Waconia, MN KTM 450 SX-F FE 2 2- As badly as Villopoto beat Dungey, Dungey beat everyone else. He had a good day at MMP but probably not the day he wanted to have. What I can't figure out in the last two weeks is whether Dungey is slipping a bit and Villopoto is not, or did RV just take the level up a notch?
3 41 Trey Canard Shawnee, OK Honda CRF450R 3 3- Trey didn't have a good qualifying session but he emerged from that to put together a couple of solid motos. What a rollercoaster ride for Trey lately; second overall at Millville, zero points at Unadilla and now third overall at MMP.
4 46 Weston Peick Wildomar, CA Suzuki RMZ 450 5 5- Peick just did what Peick does. Great ride for Weston and one that he earned with some hard charges from the back. He also had to bump-start his bike to get to the line for both motos because he probably had some stator issues.  And guess what? Look for him to be great again this weekend at Lake Elsinore, as it's the stuff he rides on all the time. Did you know that Davi Millsaps used Weston Peick to test a 2014 Yamaha for him when he was deciding whether or not he wanted to ride one next year because his team was switching brands? Yeah, that's right. Rockstar Energy Racing had offers from KTM and Yamaha, and because he couldn't ride due to injury, Millsaps went to Peick to see how the new bike was. Weird, right?
5 10 Justin Brayton Fort Dodge, IA Yamaha YZ 450F 6 7- Brayton had a good day at MMP. He started up front in both motos and as any racer knows, that's a big help. I can't really figure out Brayton's outdoor season though. He's been hot and cold.
6 51 Justin Barcia Monroe, NY Honda CRF450R 11 4- Barcia got taken down by Mookie in the first moto and in the second he was catching Canard for a while before Trey got away from him. I'm guessing that MMP and this weekend's race in Lake Elsinore aren't Barcia's favorite terrains. He's an east coast guy through and through.
7 12 Jake Weimer Twin Falls, ID Kawasaki KX 450F 8 6- Weimer was right up there in the first moto before doing some sort of donut in the third turn and losing a ton of spots. And just like that a third went to a twelfth, which became an eighth.
8 49 Phil Nicoletti Cohocton, NY Yamaha YZ 450F 12 8- Filthy absolutely hated the track. But he got two good starts and stayed out of trouble. His buddy Zach Osborne says that Phil didn't like the track because "He doesn't like it when his wheels leave the ground."
9 62 Matthew Goerke Sun City, CA KTM 450 SX-F FE 9 11- Goerke's wrist injury that he suffered in supercross was pretty bad, and I'm sure it was hurting a lot out there at MMP. The square-edged bumps probably didn't feel very good but to Matt's credit, he put in a couple of good motos.
10 57 Ben LaMay Wasilla, AK Yamaha YZ 450F 13 10- LaMay's best finish of the year and he's been riding pretty well lately. Unfortunately for him, there's only one race left in the season. LaMay mentioned on the Pulpmx Show that he'll most likely be back with Rock River Yamaha next year.
11 29 Andrew Short Colorado Springs, CO KTM 450 SX-F FE 15 9- Not Shorty's best day but still okay. He fell at one point in the first moto and was thirty-third, so a fifteenth is a good comeback. The battle for sixth in the points is raging with one race left. Weimer passed Short this week and it's going down to the wire! I'm probably the only guy who cares about this, by the way. After practice I asked Short how the track was and he just told me there's a big jump out there that he's scared of! He really is a regular guy…
12 28 Tyla Rattray South Africa Kawasaki KX 450F 4 25- I can't figure it out. On a track that the moaners called a supercross track, Rattray shows his best speed of the year? A solid fourth in the first moto and he was on his way to at least another fourth (or maybe better) when the motor let go on his Kawi. When it rains it pours for the South African.
13 35 Ryan Sipes Vine Grove, KY Suzuki RMZ 450 7 26- Sipes pulled out of the second moto with a back injury but was pretty good the first go-around. I'm not sure what Sipes is going to do next year but I really hope it involves a full-time 450 ride.
14 595 Evgeny Mikhaylov Russia KTM 450 SX-F 18 12- This is, by far, the Russian's best finish here in America. Like, by a lot. The weirdo dirt and lack of horsepower due to the elevation were right up Drago's alley, it seems. I can't explain this finish, I really can't.
15 27 Nicholas Wey DeWitt, MI Kawasaki KX 450F 17 13- Wey was back from injury and had his best race of the year. Weird right? On a Big Nasty-tuned Kawasaki KX450F, Wey put in a couple of solid rides. I didn't get a chance to talk to him but I wonder who he knew to get such a sweet parking spot in the pits?
16 32 Malcolm Stewart Haines City, FL Honda CRF450R 10 29- Mookie did Barcia pretty dirty during the race, apparently for something that Justin tried on him earlier in the race. Of course Barcia had no idea what it was (the victim never does right?), but I'm sure Justin made a mental note for the next time he and Mookie meet up. I watched the footage over and over and while I do think that Stewart got stood up a bit with maybe a little bobble in the corner, there was no doubt his intention was to take Justin to the banners.
17 982 Akira Narita Japan Honda CRF450R 23 14- Narita did pretty well last week in Unadilla and this week he backs that up with another good finish. By the way, my two lasting memories of Narita are that in the race my rider won in 2000 (Kelly Smith, High Point) Narita was gone in the first moto. Like, checked out before crashing. The second is Erv Braun calling him "The Asian pilot" over and over when he raced supercross.
18 63 Derek Anderson Arvada, CO Kawasaki KX 450F 19 16- Anderson's best National of the year at MMP, and I bet he does well this weekend in Lake Elsinore as well. This kind of terrain suits him better than the East Coast stuff.
19 20 Broc Tickle Holly, MI Suzuki RMZ 450 14 32 7- Tickle was up there in the first moto and fell. Second moto his bike broke and if you combine it with Stewart's DNS and Ryan Sipes pulling off, you then have zero factory Suzukis or semi-supported Suzukis finishing the moto. The top Suzuki riders were Weston Peick and Austin Howell. Props to the RCH team for the anniversary colors on Tickle's bike and on the crew shirts. The yellow and blue bike was a sweet reminder of Suzuki's powerful past.
20 26 Michael Byrne Australia KTM 450 SX-F FE 21 15 A good day for Byrner in a season that hasn't gone very well for one of the nicer guys in the pits. It's been three or four years of injury for the Aussie and it's finally catching up to him.
Here are a few other notes:
- Chad Reed had a terrible day. The 22 qualified decent and then while running in fifteenth place in the opening moto, simply rode off the track. Nine laps was all it took for Chad to seemingly be over it. His motorhome pulled out of the track before the start of the next 450 moto and that was it, he was done. As I watched him ride off, it was eerily similar to when he pulled off the track at Millville in 2010 when he rode for Kawasaki. Reed's having a terrible outdoor season and I don't think we'll see him race this weekend at Elsinore and as a matter of fact, I think that's the last time we see him on the Honda, also.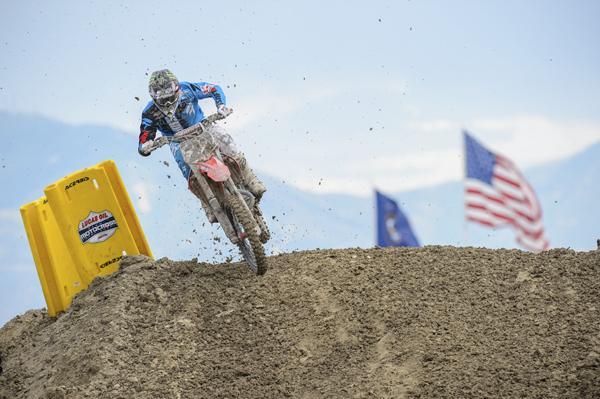 Place this image in your head for posterity. Could be the last time you see the TwoTwo on a Honda?
Cudby photo
- No matter what, James Stewart and Chad Reed are linked together, whether they like it or not. Both riders went DNF-DNS this weekend. Stewart was third in the first moto when he over-jumped something and tweaked his back. That was it for him on the day. He's already battling a neck issue, so like Reed, I wonder if we'll see him this weekend at Lake Elsinore. Bad days for a couple of badass dudes.
- The 450MX guys were dropping like flies in the second moto. It was so weird to see crashes, mechanicals, a few DNS' and before you know it, there were only twenty-four guys out of forty that were still circulating. And a couple of those guys were two or three laps down. Definitely not something that you see every day.
- Earlier in the day Coy Gibbs told me that I can never talk to him again because I wasn't a "real journalist" and I said okay. Then at the end of the day he called me over to chat about the race. Coy Gibbs- a mystery wrapped in a riddle.
- I made a bold prediction in the pre-race Pulpcast HERE that N-Fab TiLube Yamaha's Chris Blose would score his first points of the year on a soil condition he's used to and a track that's probably more up his alley. But I was wrong, and Blose struggled once again. He's better than what he's been showing, that's for sure.
Thanks for reading this week. Email me at matthes@racerxonline.com if you want to chat about this race, Tim Ferry or anything else.