STREAMLINE Reflex Lever Sets for KTM
Rancho Cucamonga, CA – Streamline Industries is proud to announce the release of their new RELFEX Unbreakable brake and Clutch levers for most late model KTM MX and Off-Road applications, as well as Honda, Kawasaki, Suzuki and Yamaha. These levers fit the OE clutch perch and Brake master cylinder. Once again Streamline has raised the bar, producing a new generation of quality racing products.
REFLEX Brake and Clutch Levers start with a precision machined 6061 billet aluminum knee which attaches to a Forged aluminum bead blasted & anodized lever blade using stainless pivot bushings, silicone coated tension spring, and stainless hardware which allows the lever to flex forward in case of an impact. Reflex levers are available in Black and Orange for KTM and Black, Red and Blue for all others. All Reflex levers are fully adjustable to accommodate different comfort levels for each rider.  Levers are sold individually or as a set.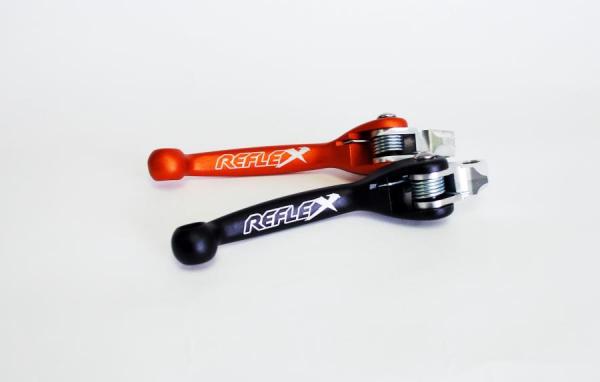 Key Features:
- Unbreakable Folding Lever
- Billet Aluminum Knee construction
- Bead blasted and Anodized forged lever blade
- All stainless steel hardware
- External Pivot Bolts, Bearings, & Bushings
- Available in Orange & Black Anodized Colors
- 5 Year Warranty
- Individual levers start at only $59.99 MSRP
- Lever Sets start at only $113.99 MSRP
For more information contact: STREAMLINE BRAKES & CONTROLS at 800-310-5519 or visit our website at www.streamlinebrakes.com