Miller Motorsports Park
Tooele

,

UT
Utah National
Lucas Oil AMA Pro Motocross Championship
Hello, everyone, and welcome to the Rev Up. In what has already been a summer to remember, we take the charge into the land of the unknown for round 11 of the 2013 Lucas Oil Pro Motocross Championship. Miller Motorsports Park in Tooele, Utah, will be a horse of a different color with its setting inside an auto racing facility, complete with paddock, seating, and all the facilities associated with that discipline. This is as far removed from box vans, EZ-Ups, and grass fields as you can get. The buzz surrounding the most unique outdoor national in motocross history has been mixed. While purists have scoffed at the manmade jumps, a lot of the industry has been open-minded about the event's possibilities.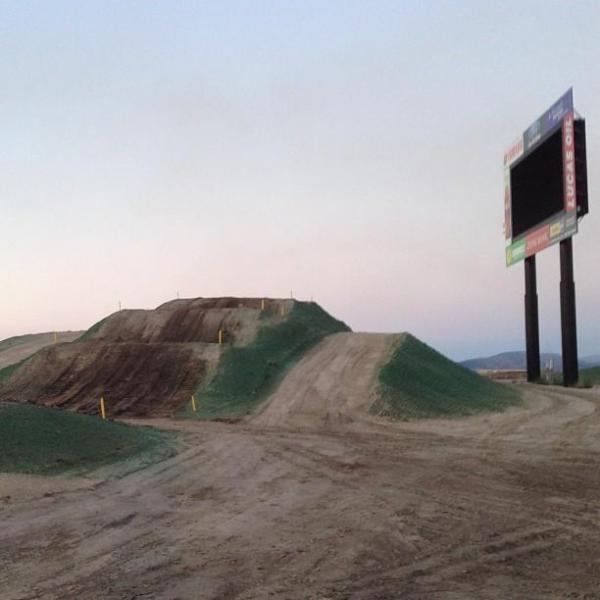 A part of the Utah National track early this morning.
DC photo
As my broken record spins along, I've repeatedly written about the diversity of the outdoor nationals. Across the country, we visit about every kind of venue imaginable. We have sand (and it sounds like we still have sand), hard pack, high altitude, old school, and now extremely new school. Folks needn't worry about pro motocross going all NASCAR, or the sacred ground of the historic venues dropping off in favor of this type of offering. In my eyes, supercross has a single outdoor-style event—Daytona—and there is room in the nationals for a round or two of this style. This noted, that's all I'm going to write about on this week's race, because until the crowd fills and and the gate drops, as the old adage says, "the bullshit stops." Then we'll see how this works. I think with the scenic backdrop and the ever-growing moto demographic in this area of the country, we are in for a treat.
Now, taking a step away from the outdoor nationals, I wanted to write a little about riding some of my local North Carolina motocross tracks lately. I'm up to my neck in moto right now, as I am working on a bike rebuild project (about a month away from appearing here on www.racerxonline.com) and I've been riding about three times a week again. From my perspective, a lot of people are riding again. This time of year—after the X Games, Loretta Lynn's, and of course the nationals—people start looking at their gear bags again. It feels so good to be riding again—I'm even typing with sore hands. The subtle pleasantries of moto, like a blistered thumb and mirror driving (checking out the bike in the truck bed), are fresh in my mind.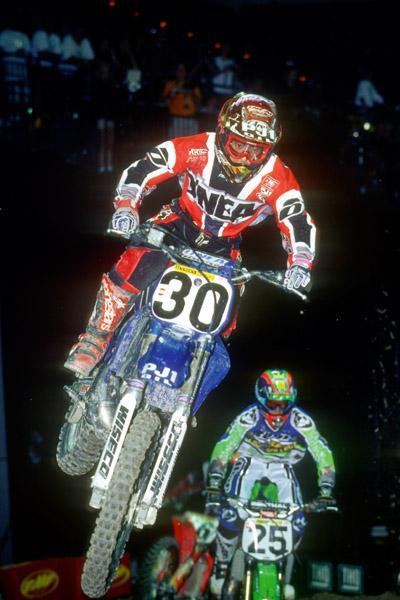 Bowyer was churning out laps with Takeshi Koikeda (above) yesterday.
Simon Cudby photo
I had an extremely great session yesterday afternoon at a local track, and some of the names and faces really made me smile. Out there were former supercross podium finisher and arenacross stalwart Jim Neese, along with GNCC star Josh Strang and former supercross regular from the Land of the Rising Sun Takeshi Koikeda, who recently finished eighth in the +35 class at Loretta Lynn's. I've been riding with the Strang once a week or so, and he introduced me to the ever-smiling Koikeda. As I was driving home with the windows down and checking out the muddy number plate in my mirror, I began laughing remembering the post-session conversation between an Australian off-road ace and a Japanese vet rider who hardly speaks English. Hand gestures and grunts made up the bulk of the interaction until we had run out of moto fat to chew and turned to start loading up almost simultaneously. It's cool when you don't even need to talk; you just sit together and ponder the ride for a few moments. It was a scene straight out of an Old Milwaukee commercial, minus the beer. If motocross is your passion, it just doesn't get any better.
Thanks for reading, see you next week.